Trip:
Mt Huntington - French (NW) Ridge (FWA)
Date:
3/1/2014
Trip Report:
Summary:
On March 1st, Brad Farra (Portland, OR), Jason Stuckey (Fairbanks, Alaska) and I, John Frieh (Portland, OR), flew from Talkeetna to the Tokositna Glacier (~8600') below the west face of Mt. Huntington. We skipped establishing a base camp and instead immediately started climbing the French (NW) ridge, reaching an elevation of ~10,500' before bivying for the night. On March 2nd we started climbing around 8 am and reached the summit of Mt. Huntington just under 16 hours later around 11:30 pm. Due to the late summit we
enjoyed
a second bivy just below the summit at >12,000 feet. Six hours later we defrosted ourselves with mass quantities of coffee before beginning a descent of the West Face Couloir (Nettle-Quirk) around 9 am. As Jason and I had climbed and descended the WFC in the
winter of 2011
we were able to move quickly down the route and reached landing zone around 3 pm on March 3rd, making for ~51 hours on route. I believe this was the first winter ascent of the French Ridge of Mt Huntington during the winter season and the third overall winter ascent to date.
Bob Butterfield's photo of the French Ridge (sun/shadow line):
Brad on route; Jason Stuckey photo:

Itinerary:
Feb 28/March 1: PDX -> ANC -> Talkeetna
March 1: Paul/TAT flew us to the East Fork of the Tokostina Glacier (~12 pm). Climbed to ~10,500'
March 2: Mt Huntington summit
March 3: Descent via the WFC; evening pick up
Back story:
I would be willing to bet most would agree Mount Huntington is a beautiful mountain. Classic lines, big faces, no "easy" way to the summit... dig out Alpinist 20 for a sweet mountain profile. For no particular reason the French ridge has always appealed to me... part aesthetics, part history (Lionel Terray!), and part commitment (you can't exactly bail off the route easily if conditions change).
I knew the amount of snow and the size of the cornices would determine how quickly one could climb the ridge (if not summit at all) so I started considering the French ridge as either a fall climb or a late winter/early spring climb in hopes of finding ideal conditions. My thought was if one timed it just right this would be the best time to encounter minimal slogging and more importantly minimal cornices.
I almost attempted it a few times over the last few years but something always prevented me from trying or a different line in the range looked better. Finally it all came together so we went for it... and it just so happened to be winter. That is to say I wasn't intent on making the FWA; I just wanted to climb it.
This trip likely would never have happened if it not for the excellent beta that Paul Roderick of
Talkeetna Air Taxi
provided on conditions. Best pilot and best flight service in Alaska. Also Mark Westman has been an excellent source of AK beta for me over the years; I know I asked him for his opinion of my Huntington idea more than once.
Pictures:
Early on climbing to get onto the ridge top: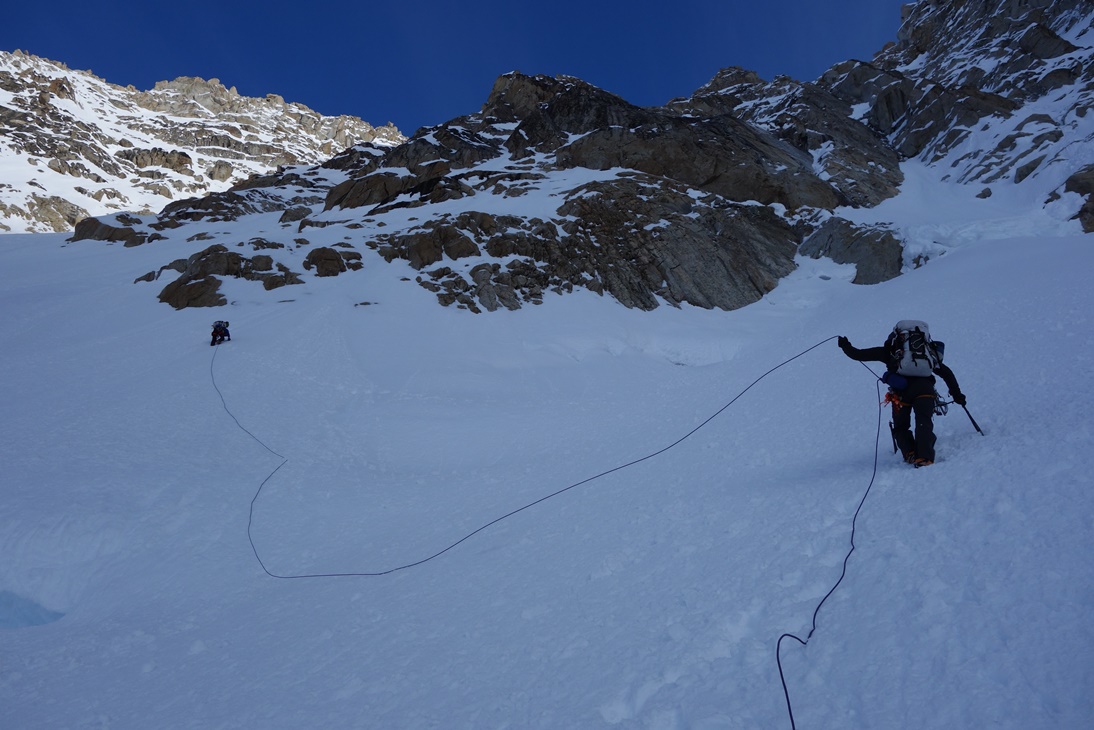 Almost on the ridge: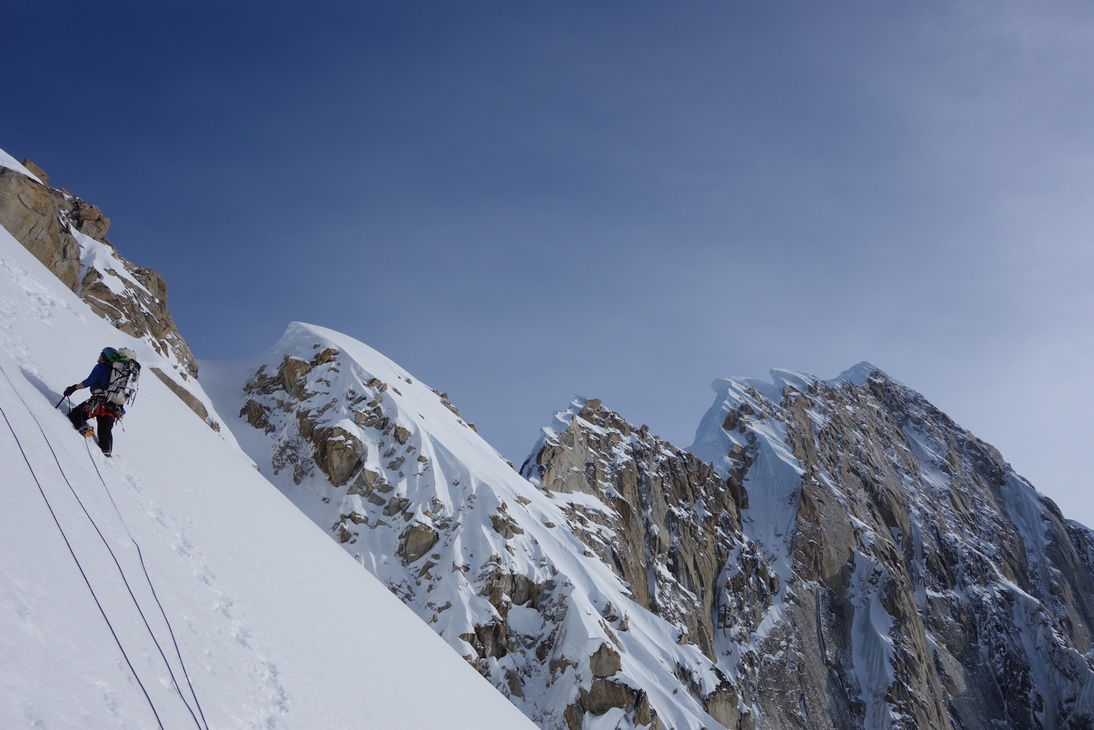 First bivy: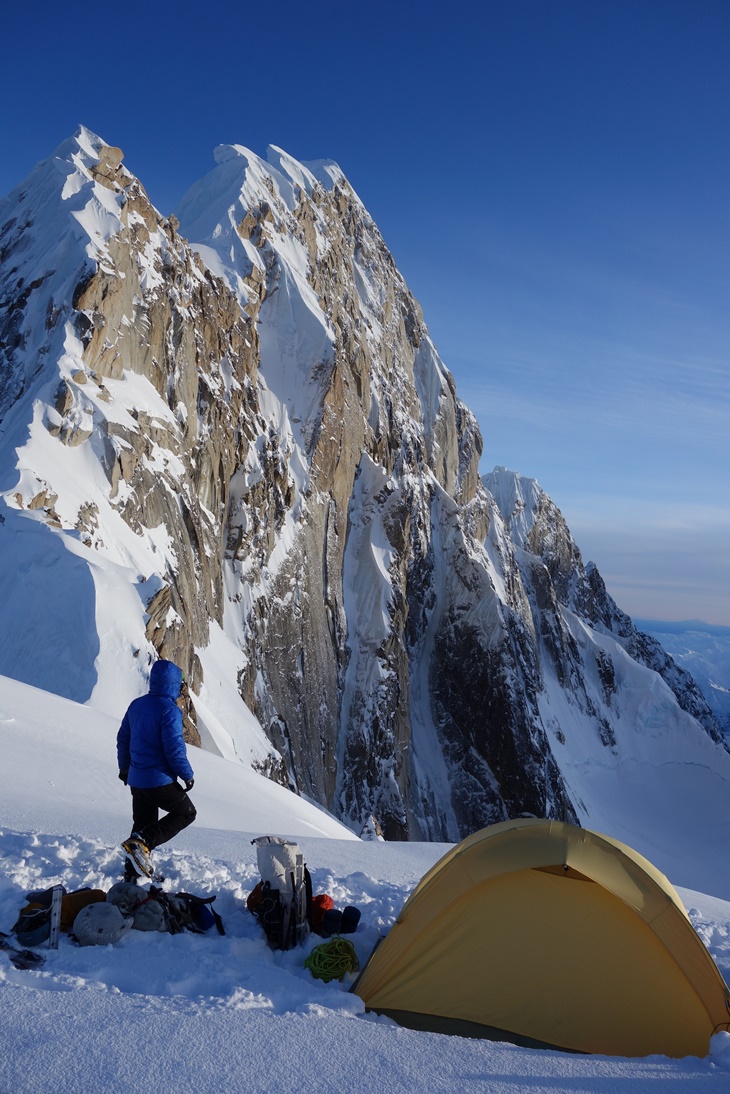 Second day sun: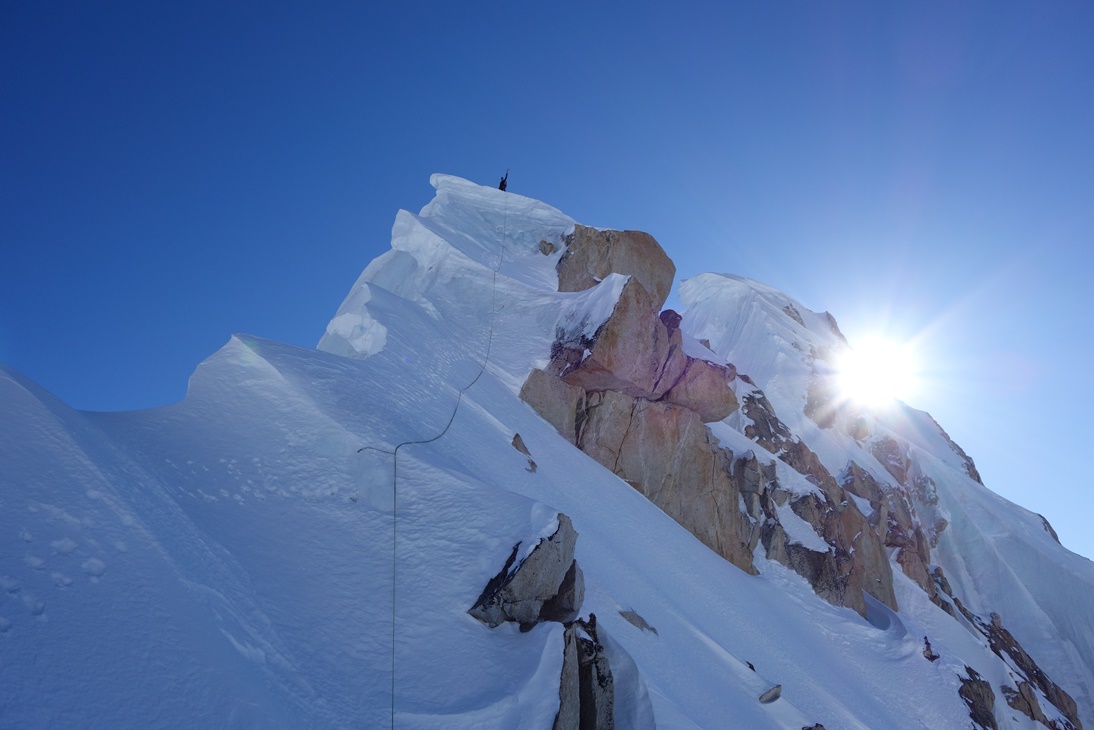 Early on second day: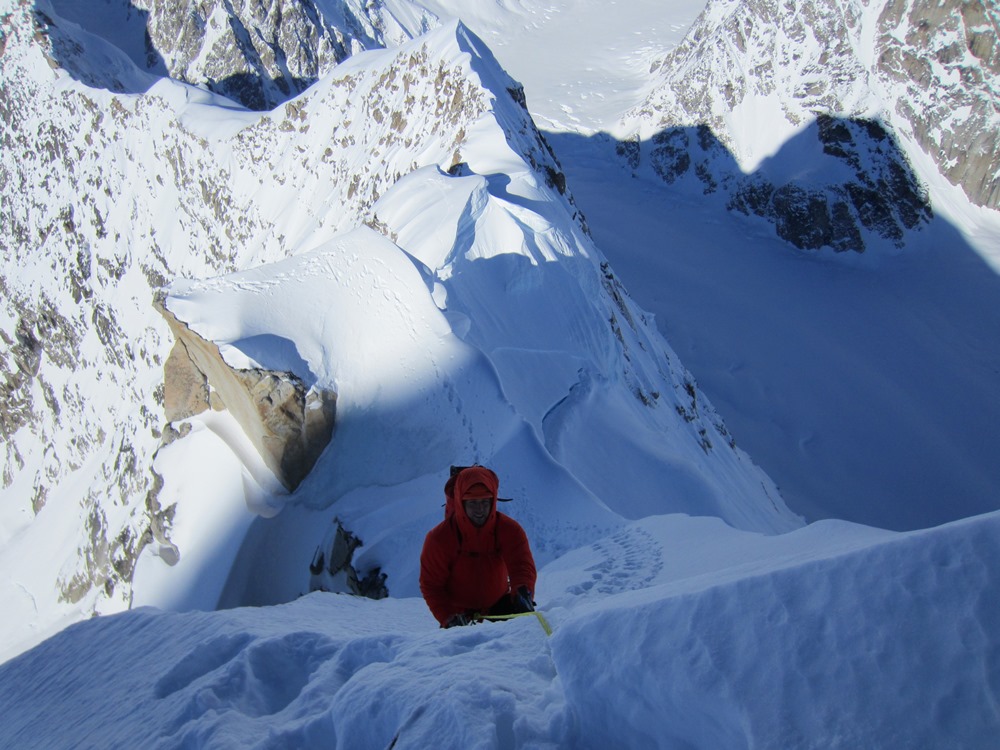 Getting closer... but not that close: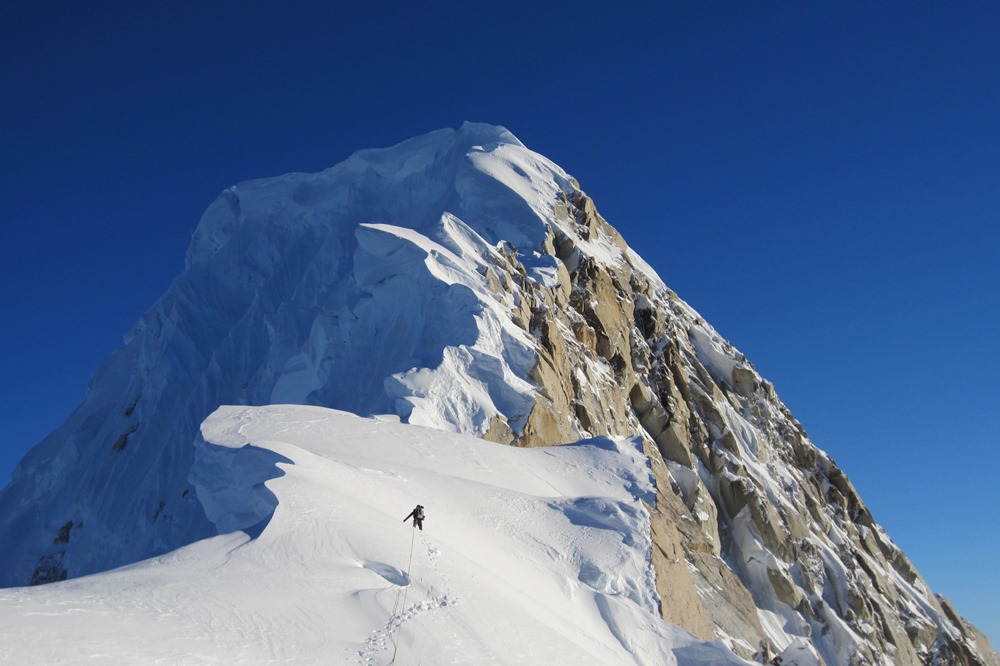 Gear Notes:
Light is Right!
Petzl Quarks + Vasaks, new Arcteryx FL 45 liter pack (so sweet!), coffee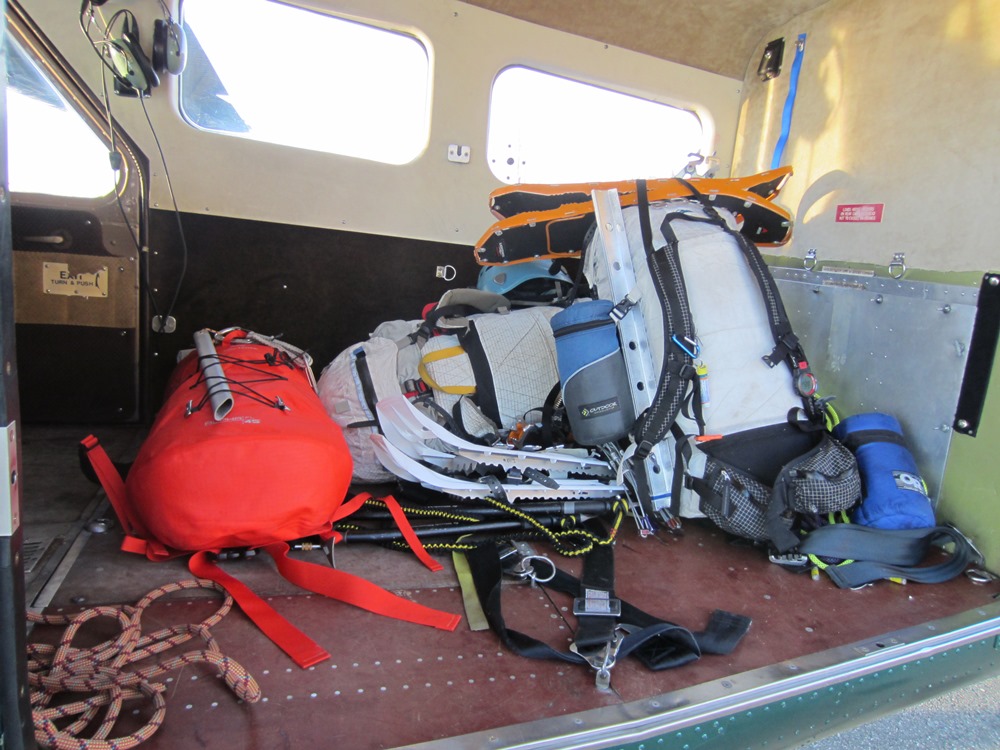 Approach Notes:
Talkeetna Air Taxi