Trip:
Vesper Peak - The Ragged Edge
Date:
8/18/2013
Trip Report:
Back in August Gene Pires and I wandered up to the north face of Vesper Peak to check out the steeper and much neglected eastern half of the face. We managed to climb the obvious exposed edge along its right-hand side. The position and the underlying rock quality were generally fantastic but the climbing itself was horrible due to a thick layer of lichen, heather and dirt that covered the face. Rock cruxes were protected by beaks, belays tended to be marginal and the actual crux involved mantling across a series of quivering hummocks. A good time was had by all (I think) but it sure as hell wasn't anything you'd recommend to a friend.
So when I finally finagled two days to myself rather than hang out with friends, or go somewhere new or actually get in some pitches I carried a 70 pound pack of bolting, cleaning and bivi gear back to the summit of Vesper Peak. A dozen retro-bolts and fifteen hours of scrubbing later the end result is a potentially enjoyable six-pitch 5.6 or 5.7 rock climb in a stellar setting. The rock is excellent, the climbing is sustained at a very moderate grade, the position is spectacular and the protection and belays are solid and well situated. It's pretty easy to overestimate the quality of your own routes but this has to be one of the better moderate and accessible alpine rock climbs on the west side of the Cascades.
I should point out that what we did was essentially a series of major variations to the "Center Route" established in 1969. The fourth pitch was shared in common and probably the first pitch of the original start otherwise we had stayed further right near the edge. Pretty bold climbing they did back in the day.
Until nature gives it a solid pressure washing the grit left behind from cleaning will inevitably collect in some of the cracks and edges I scrubbed. If someone heads up there this year consider bringing a small stiff bristled brush or at least a nut tool to clean off some holds. Would be psyched to hear feedback if anyone climbs it.
Click image for larger version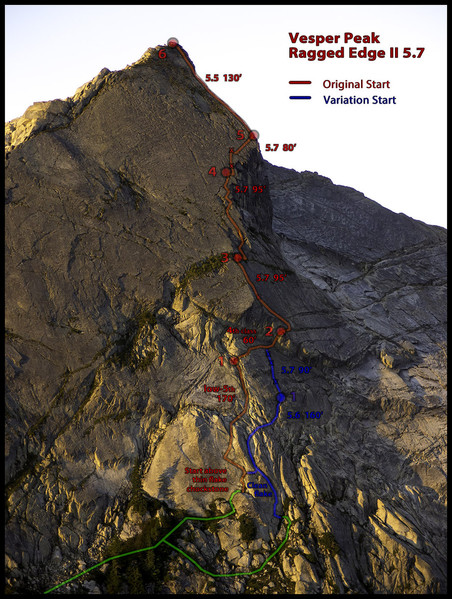 Approach Description
The trail fades out as you enter the basin between Vesper and Sperry Peaks. Cross the outlet of the lake and follow an obvious talus ridgeline up to a col between the peaks. The climb is accessed by a ledge system that cuts across the north face of Vesper at about 5800' elevation and begins at a small notch overlooking the Vesper Glacier. Allow 3+ hours for the approach.
Walk out the ledge on steep exposed heather (snow until mid-late summer?). When you can't walk any further either (A) scramble up over an obvious chockstone formed by a large, thin flake to a belay ledge or (B) as a variation backtrack a bit and figure out an exposed 3rd class traverse down and around the toe of a buttress before scrambling back up to an obvious and clean 5.6 layback crack (better start). The 3rd class slabs at mid-height on the first pitch could easily be accessed after climbing the lower half of the north face as well.
Route Description:
The ratings below are potentially soft. Bring a full set of nuts small to large and a single set of cams from #0 TCU to #3 Camalot with extra #0.75 and #1.
Original Start - Red Line
P1) Climb approximately 60' of low-5th terrain to 3rd class slabs. Continue up the obvious flaky gully and arrange a gear belay just below a short overhanging wall (low-5th 170').
P2) Traverse right on a long, thin ledge then a short gully to a fixed belay on the skyline (4th 60').
Slightly contrived variation start with better climbing - Blue Line
P1) Climb a nice layback flake then a low-angle groove to 3rd class slabs. Traverse hard right then follow the highest grassy ledge system approximately 40' to a gear belay below a faint white dyke splitting a slab (5.6 160'). Note that you can also reach this belay from the original start as well.
P2) Climb the dyke past three bolts to a thin ledge. Traverse right and up a short gully to a fixed anchor on the skyline (5.7 90').
P3) Step right then traverse back left on positive edges towards the skyline. Find a bolt then continue up a nice arête protected by fixed pins. Arrange a gear belay atop a heather ledge (5.7 95').
P4) Step right and climb steep, stacked blocks. Easy zig-zag cracks above lead to a fixed anchor. I aggressively trundled loose and semi-loose blocks off this pitch but some caution is still advised (5.7 95').
P5) Step right again and climb straight up in an exposed position. At the second bolt traverse right 50' to a fixed anchor on the skyline (5.7 80').
P6) Follow the nice arête to a final touch of heather and the summit. (5.5 130'). Walk off to the southeast.
A lot of the greenery in the following three photos is now gone.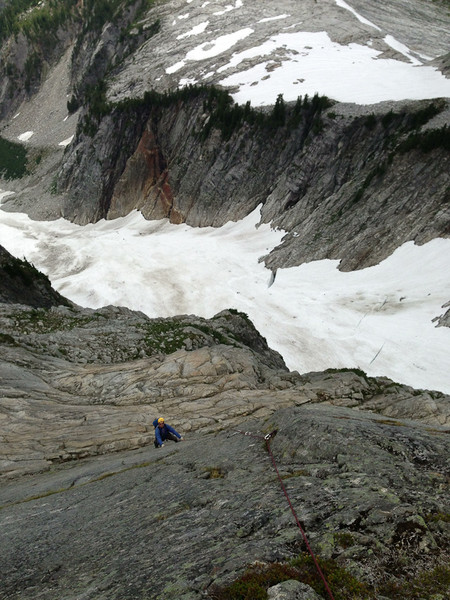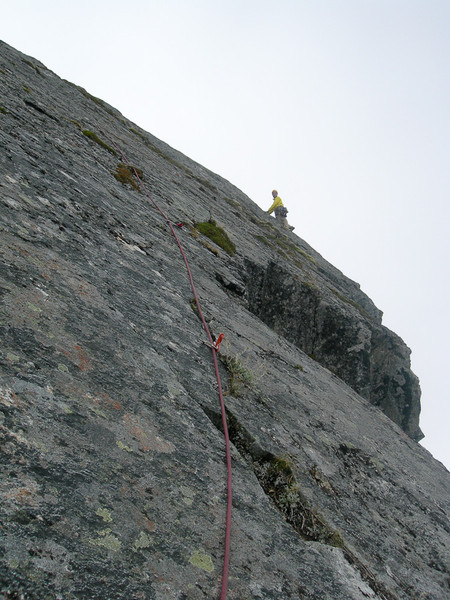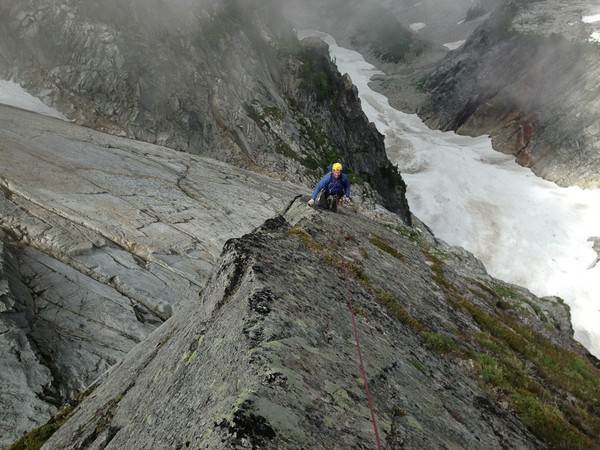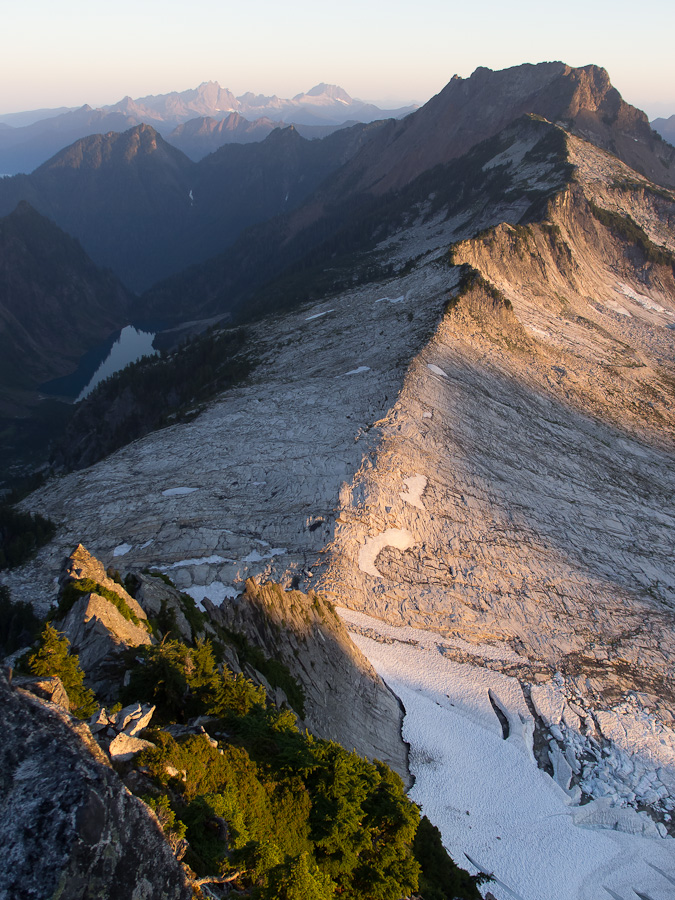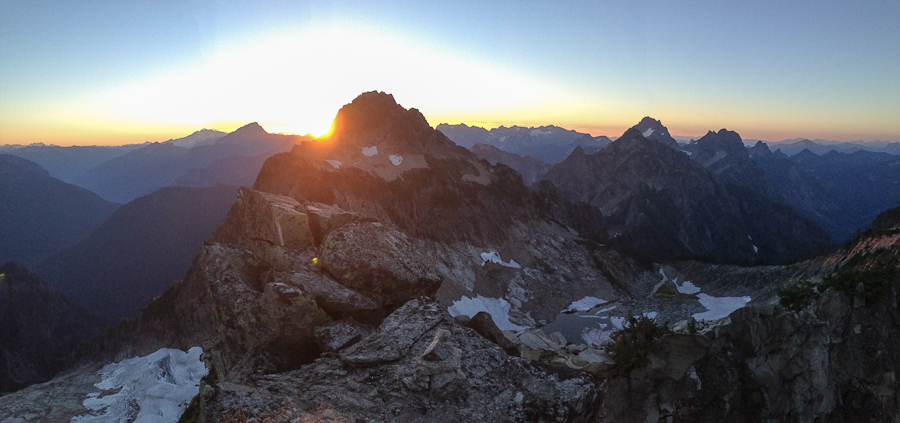 Never heard good things about the lower wall. Maybe a direct starts needs a scrub-down next year.