Trip:
Mamie Peak - Ellation Crags
Date:
8/30/2010
Trip Report:
So Mamie Peak is the large lump of granite that sits above the Hannegan Pass Trailhead. I'm sure every climber who passes through takes at least a moment to consider it but I'm only aware of at least two prolific route developers over the years who have wandered up there climbed a pitch or two then never returned.
In July of '07 (the same day Sol got married) I was hiking to the pass with my wife and daughter Araya when I took the first photo below. While most of the rock has the appearance of choss I could make out a distinct, large smooth buttress of rock in the center of the face that appeared to be split by a single long crack system. Dissuaded by significant amounts of greenery as well as an unfounded reputation for friable crappy rock I managed to more or less dismiss it as a possibility.
Mamie Peak from the Hannegan Pass Trail. Ellation climbs the center of the rounded buttress in 5 pitches just left of the central gully system starting off the obvious treed ledge. 3 pitch "approach" slab is somewhat out of view. The small, clean looking dihedral pretty much in the center of the photo is "Dave's Grand Dihedral" and is about 175' long.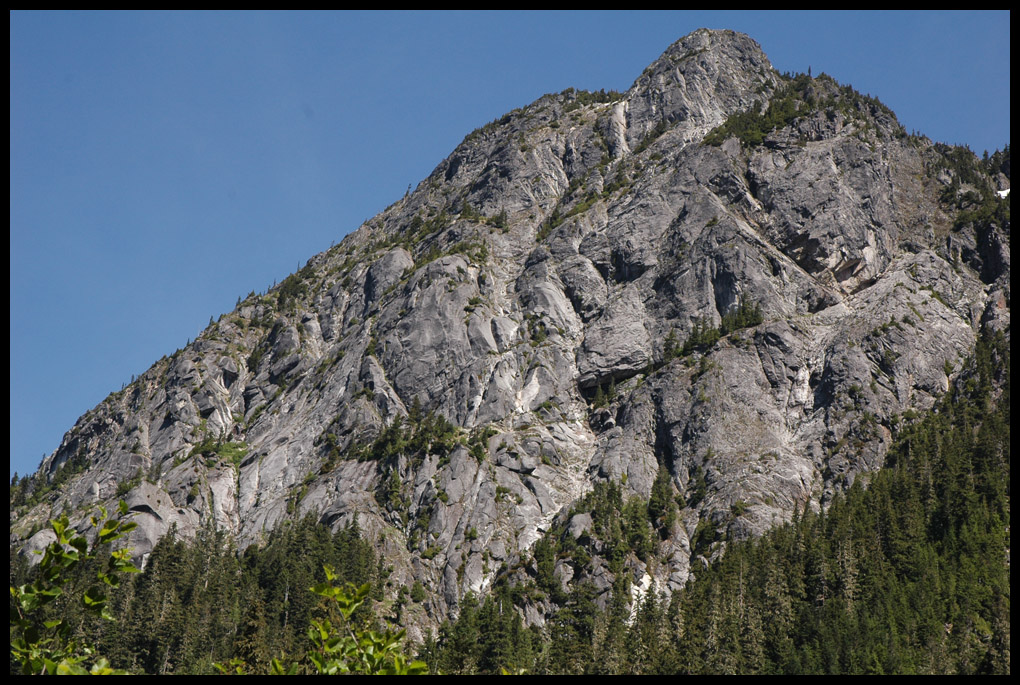 Another year, another daughter Ella. On a beautiful late fall day in September '08 I'm out alone reenacting the Sound of Music by traversing the superlative ridgeline from Hannegan Pass back over Hannegan Peak, Granite Peak, Peak 7020' and Mamie Peak. I'm surprised to find that Mamie Peak is composed of excellent, compact white granite when not covered in large mats of moss and krumholtz.
The east ridge of Mamie Peak is a nice 4th class adventure.
Several weeks later my first attempt to reach the base is stymied by steep dirt, wicked brush, and deep impassable gullies. Once again I almost dismiss it, but a week later I'm back this time nailing a more or less reasonable approach that reaches the rock at the base of a 100' long splitter finger crack. Right before Halloween I managed to spend a cold, wet day cleaning out the start of the crack.
"Woodland Critter's Christmas" is a beautiful 100' 5.8-5.9 finger crack. This was the first pitch established. The 5.8 hand crack nearby is excellent as well.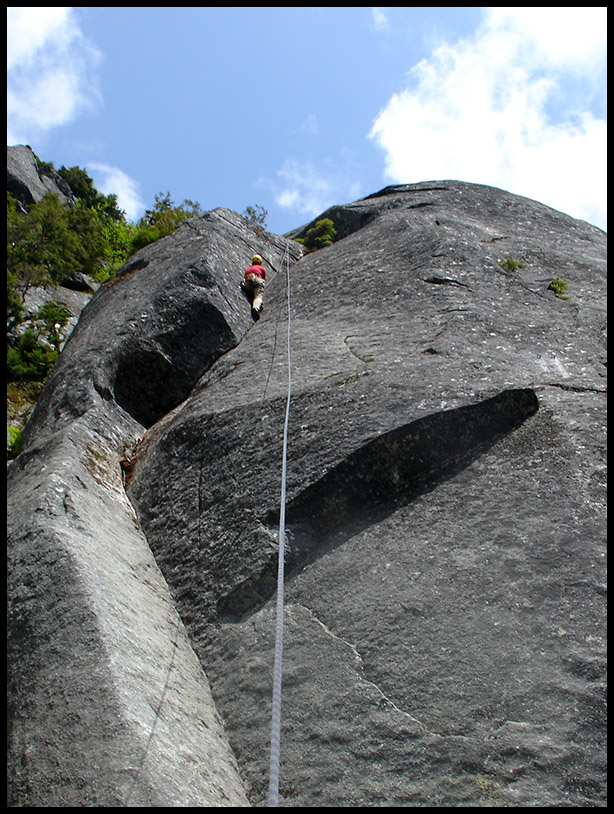 A winter, a spring, massive piles of avi debris close the road a mile before the trailhead. A ridiculously heavy load of ropes, brushes, saws, biners, bolts and other gear is hauled to the base. With the exception of a desert trip that spring every single day I "climbed" in '09 was spent scrubbing, scraping, trundling, drilling and generally thrashing around on ropes. Of course I didn't do this alone and am heavily indebted to the help and hard work of Gene, Justin, Matt, Tyree, Owen and Dave all of whom gave up a day of their lives they'll never get back to bring these climbs to fruition.
As the summer turned to fall the possibility that creating "Ellation" might drag into another year became very real. With weekends consumed by other responsibilities there were mornings I'd get up at 3 am drive and hike-in in the dark, start jugging fixed lines at fist light and scrub for a couple hours before rushing back down the trail to get to work before my absence was noticed. Seeing the sunrise on Ruth and Sefrit from high up on the wall was always well worth the loss of sleep.
The colors changed, the weather deteriorated yet somehow it got done and on what might have been the last climbable day of the year up there Matt Alford and I finally climbed the route with a glorious backdrop of fresh-snow covered peaks. At the end of the day Matt just says "cadillac Darin, cadillac".
Another winter, another year and I'm off chasing new obsessions. I finally made it back up yesterday morning. Brushed out and flagged the path which had remained surprisingly intact and gave the first pitch another light scrub. So many good memories for me, a happy place. The bugs were absent, the smell of fall in the air, colors will be changing soon, a perfect time to climb. I hope somebody gets out there and enjoys it!
Ellation is 8 pitches long and can be rappelled with a single 70m rope. The climbing is varied with everything from full-on friction to finger and hand cracks to insecure face climbing to slightly-overhung jug hauling. Cruxes are short and the protection is excellent. The few moves harder than 10bish? can easily be french-freed. FYI pitch 5 starts by climbing alongside a precarious looking flake. I jumped up and down on it, bounced tested cams behind it and pried at it with everything I had short of a 3' crowbar. It's still there and will remain so in all likelyhood just climb ..ah..mindfully.
Matt A approaching "Ellation" in October '09. The first pitch ends just above the obvious roof at the bottom of the photo. P2 & P3 climb the slab above. P4 through P8 climb the buttress above with P8 going through and ending just above the highest visible point of rock.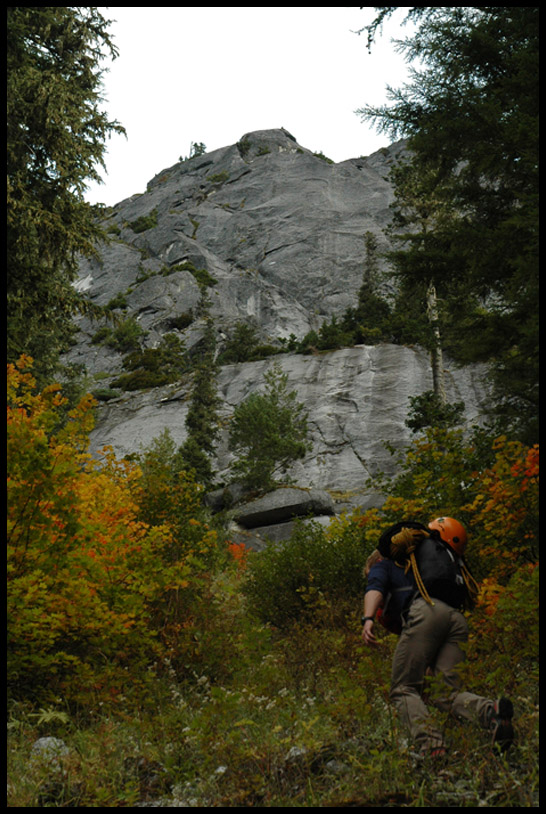 Pitch 3 of Ellation, exciting and sustained climbing on small chickheads. Mount Ruth in the background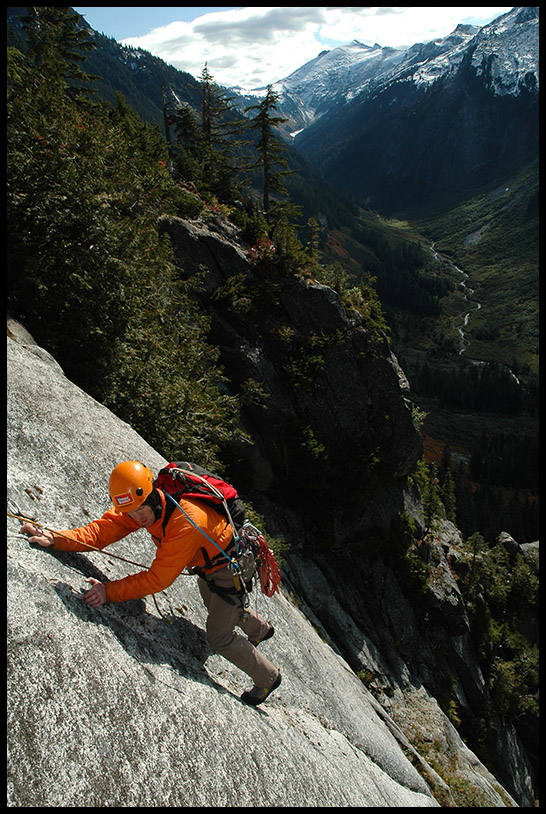 The ramp on Pitch 6. This was the feature that orignally caught my eye several years before hand. When it peters out, really fun face climbs leads to the only ledge on the main wall which is all of 6" deep.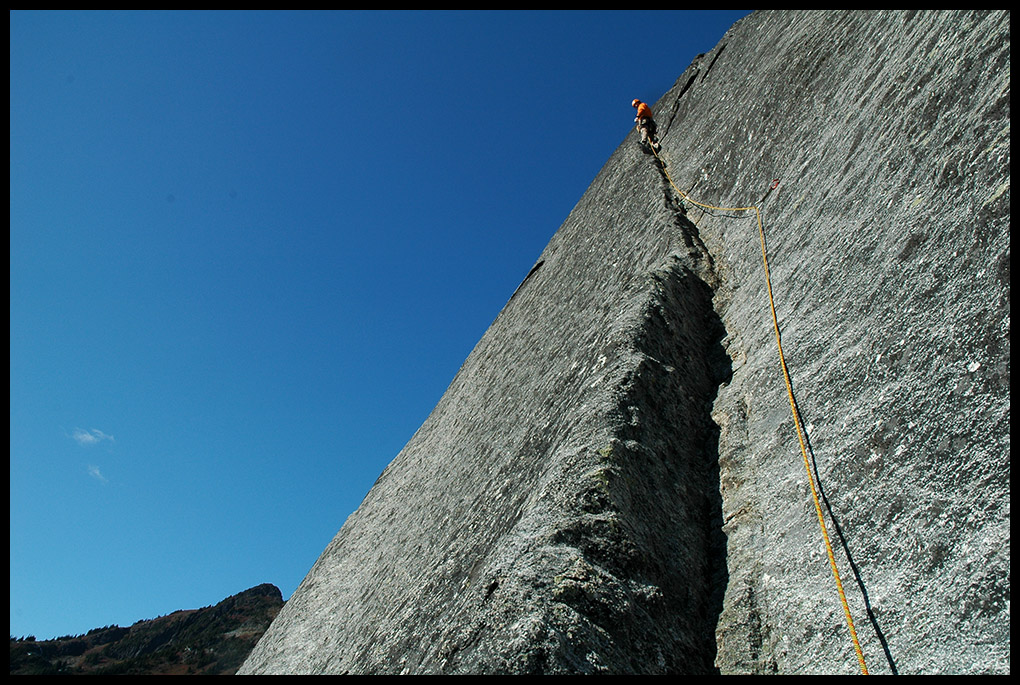 Pitch 7 offers sustained but well protected slab climbing in an awesome position.
Starting the first rappel. Amazing views of Sefrit, Baker and Ruth.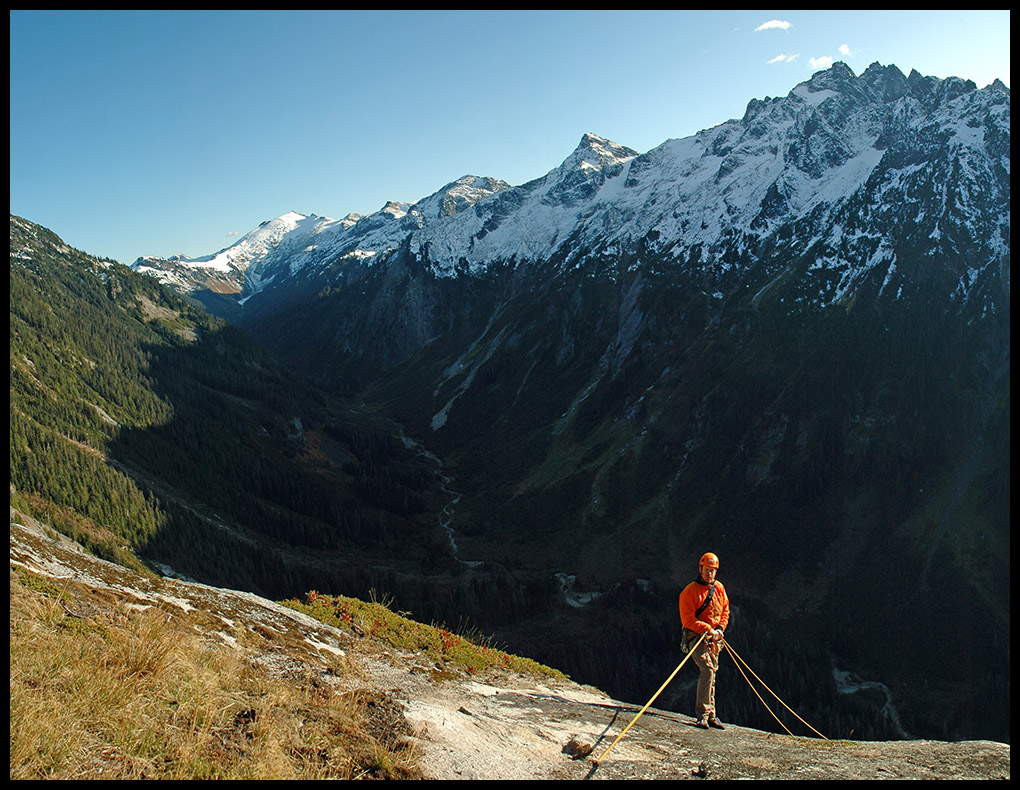 Looking up the valley from somewhere on the approach.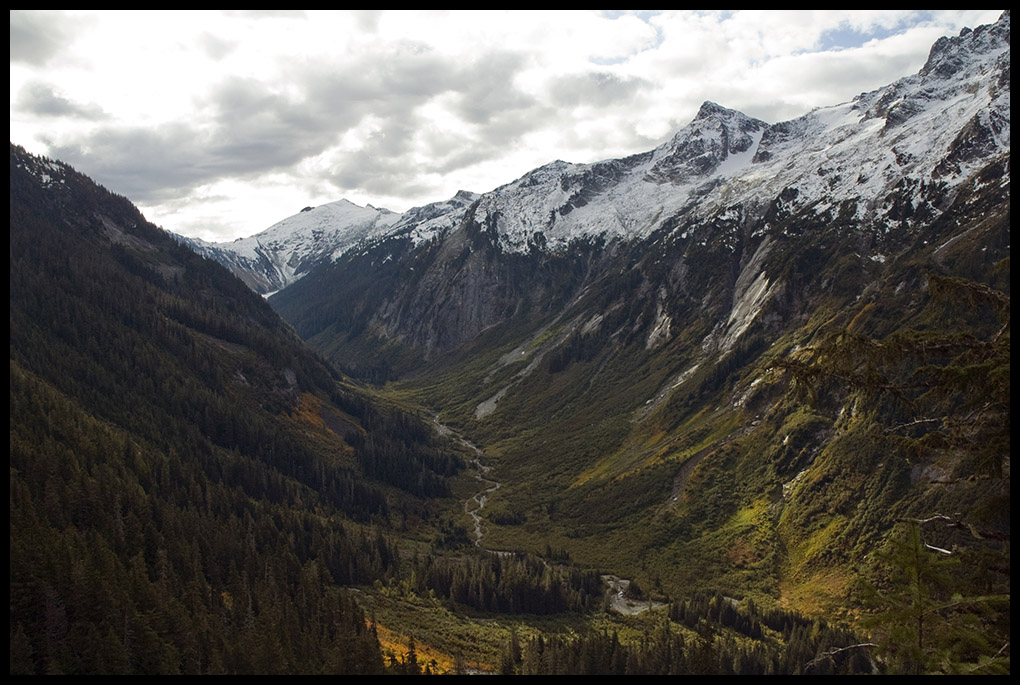 Link to Topo, print at 200 dpi
Gear Notes:
70m rope.
nuts, double set of cams tiny to 1.75", single set to 3". 12 draw/slings.
Approach Notes:
There are some nice car camping spots at the trailhead.
Follow the Hannegan Pass trail about 4 minutes to a large clearing full of slide alder. A large white granite boulder is visible several hundred feet above the trail. Follow the trail through the clearing then another 40' until you reach a very small dry watercourse crossing the trail. Immediately after this leave the trail and thrash left through brush then into forest picking up the much larger extension of the water course, which now appears as a dry streambed. If you do not pick up a dry streambed within 30' of the trail start over or you will be in for a world of hurt!
Follow this about 10 minutes up to the aforementioned white boulder, a great place to hang out or maybe even bivi. Continue up the drainage past the boulder maybe 150' until you can bushwack straight left through a clearing in the slide alder to reach forest at a 30' tall snag. At this point a heavily flagged trail switchbacks up through very steep woods. The next 10 or 20 parties (is that presumptuous?) are going to determine if there will be one good or many poor trails. Please make an effort to follow the existing path, I promise it's the best possible route, and leave the ugly flagging up. I'll go clean it out before winter.
It takes about an hour from the car to reach the base of the climbs.