Trip:
Sloan Peak, Southwest Face - Diamond in the Rough (FA)
Date:
9/11/2011
Trip Report:
Diamond in the Rough: a new route on the Southwest Face of Sloan Peak. 1100 feet, Nine pitches, 5.10, Grade III. Brandon Workman and Rad Roberts. The route had some greenery and loose rock in a few spots, but it's much cleaner and safer now. Should be good to go.
The image below is a Scurlock shot of Sloan in winter. The cliff was snow-free when we climbed it. Diamond in the Rough is blue. Fire on the Mountain is red. The unroped summit scramble is green.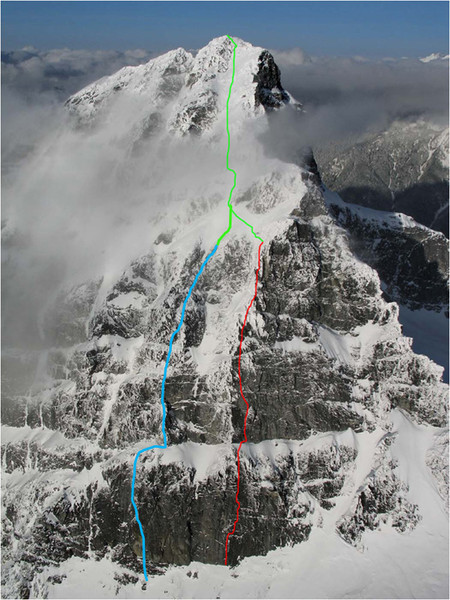 There are many dimensions in climbing to explore, but I'm pretty much a one trick pony: Rock climbing.
Actually, I'm an aging, day-job-holding, 3-kid-parent, weak-sauce, weekend-warrior pony who should've been sent to the glue factory years ago.
Blake and I had a perfect day in the mountains in 2009 on the first ascent of
Fire on the Mountain
, a stellar eight pitch 1100 foot 5.10+ route on the unclimbed Southwest Face of Sloan peak. The rock and movement were fabulous and the line flowed naturally.
Sol and Rob repeated the route last year.
In a world inundated by a deluge of digital information, it's refreshing to know that our local mountains still hold amazing new adventures.
Since that day, I've been itching to explore more new routes on Sloan. Time and weather conspired against in 2010, but the stars aligned this year on September 11th, the 10th anniversary of THE September 11th. It seemed fitting to spend that day trying to forge a new route up a pristine cliff in our wilderness.
Brandon has pioneered a variety of new rock routes in Darrington and the foothills around Highway 20, but this would be his first time going ground-up on a first ascent. I'm still a new to the game, but I love the uncertainty and adventure of these outings. We decided to leave his hand drill at home.
We met in Sedro Wooley at 4am and drove past Darrington toward the Bedal Creek trailhead, spinning tires and bumping my oil pan on the final gravel road. Two other climbers were crashed out in the parking lot, catching some ZZZs before their own adventure. We departed as quickly and quietly as we could, starting by headlamp.
The first waves of daylight brought us to the meadows below the immense West Face of Sloan. We left the trail, gained a notch in the ridge, and soon found ourselves below the Southwest Face.
The lupine bloomed like it was mid-July instead of mid-September, no doubt due to the giant snow pack last winter.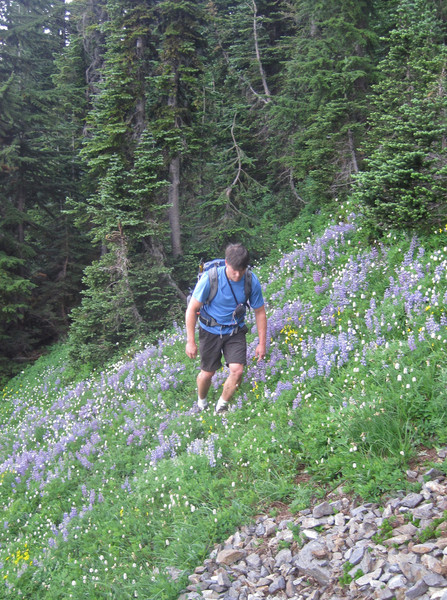 Fire on the Mountain starts at the right edge of the photo.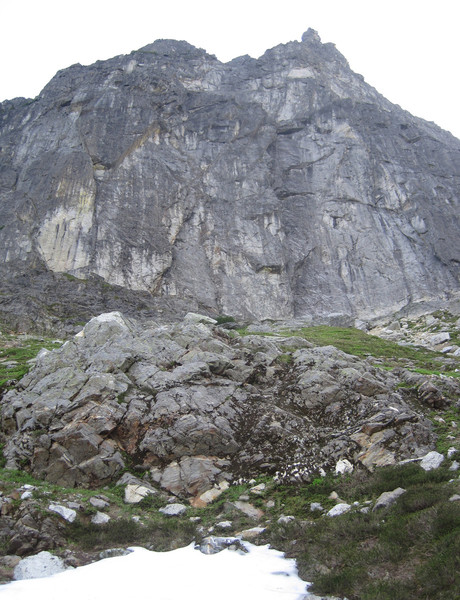 We scoped out a few possibilities and settled on the striking giant diamond feature seen on the left side of this photo from 2006.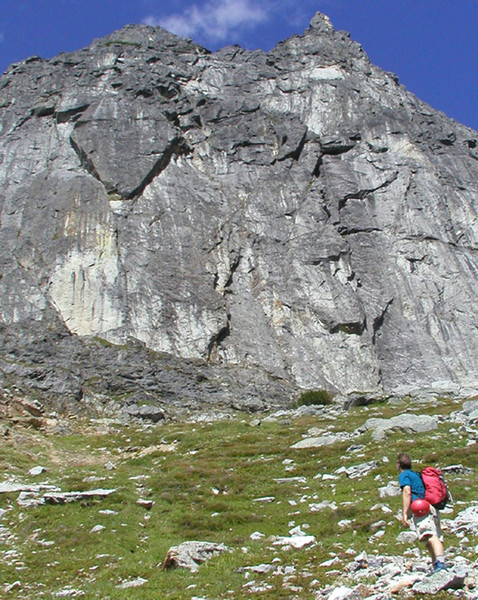 This cliff has amazing dike features reminiscent of Lover's Leap in Tahoe.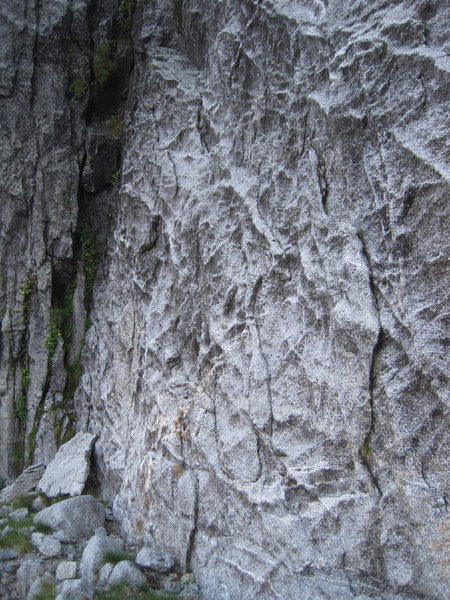 We considered soloing the 4th class section below the first pitch but roped up instead. It was a good decision. Brandon found himself leading loose, vegetated, unprotected, and steeper-than-expected terrain to gain the target hand crack (Side note: it may be possible to traverse in from the right and avoid this).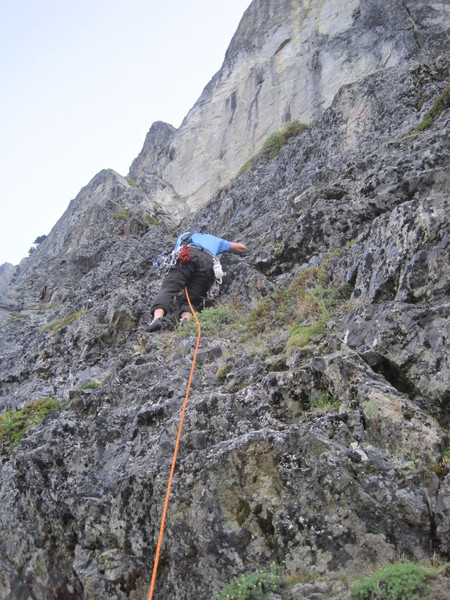 Brandon climbed up the crack and set up a belay at a small ledge. Looking down at the first pitch.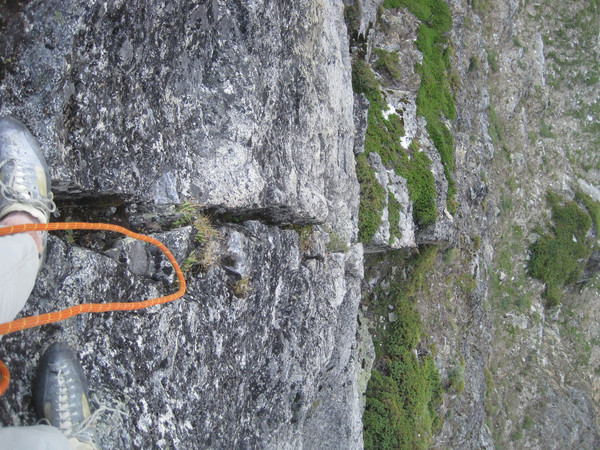 I followed, and then Brandon continued past a crux to a fun corner leading to the base of the diamond. The sun peered around the mountain as I cast off on the much-anticipated diamond pitch. At this moment, the climbers from the trailhead passed underneath us. From a few shouts, we learned they were headed up the South ledges scramble route to the top of Sloan. We bid each other good luck and got back to our separate adventures.
But the diamond pitch would not easily give up her treasures. We could see a small section of finger crack above us that seemed to lead over a bulge and up into the target dihedral, but it was guarded by 20+ feet of vertical, unprotected, and difficult face climbing, with a loose flake just before the crack as a bonus. It didn't look promising. I traversed across a small ledge to take a look. The face climbing started with an airy traverse out right to a bizarre tooth of rock the size and shape of an ancient book protruded vertically out of a shallow scoop in the cliff. I climbed over to check it out, half expecting it to levitate out of the rock, glow white, and unfold its unearthly pages. It seemed solid. I slung this bizarre feature, but it was smooth and had no constrictions. I was concerned the sling would slip off as I climbed past it, leaving me with a possible long fall and pendulum back toward Brandon. Nope. This pony wasn't going to stick his neck out on this section. Maybe another day.
So I returned to the belay and headed up a beautiful finger crack on a buttress that led to the left side of the diamond.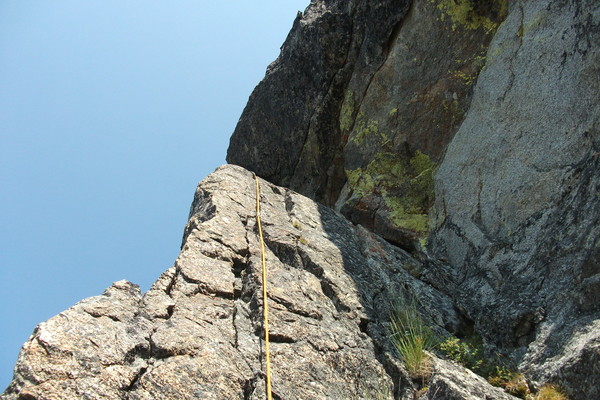 Around the corner, the angle eased a bit and I considered my options. The left side of the diamond was low-angle for forty feet before a vertical section that didn't look very protectable. Shoot. I traversed left to a vegetated crack and was able to get a better view of the steep diamond corner. It did have some cracks and features and might go after all. So I traversed back and started up the steep corner.
The moves involved improbable combinations of high steps, stemming, palming, liebacking and other opposition moves between decent features. They were strenuous and devious. The gear was decent, but it didn't come easily. In a few spots I had to scrape dirt out of the crack with my fingers while locked off on a lower hold with the other hand. I wished I'd had the nut tool to clean out the crack, but I'd left it with Brandon. Fingers would have to do. Sunblock plus dirt is not the best combo.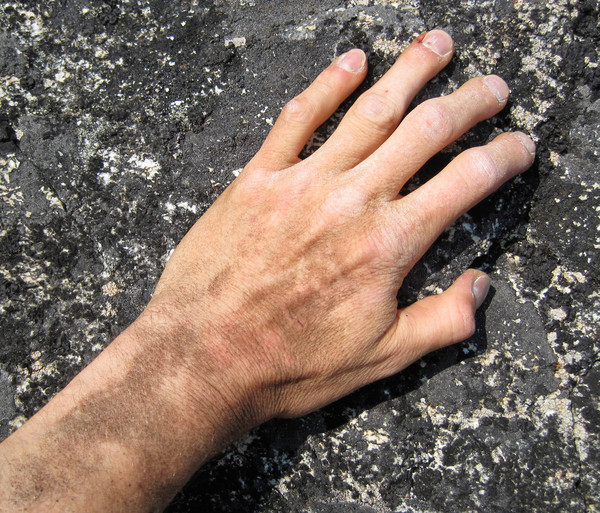 The resulting gear placements didn't always inspire confidence. One was a cam in a flaring, smooth, and dirty crack. I've never zippered out gear, where multiple pieces of protection pull out of the rock when the rope comes tight in a fall. The prospect of a zipper fall above a ledge several hundred feet up a cliff, miles from a remote trailhead, motivated me to spend precious energy placing extra gear and setting it well. I got a good green camalot and made tricky moves to a large flat edge. Unfortunately, I couldn't rest there because it was still vertical and the footholds were crappy. The pump clock was ticking. Brandon at the same spot: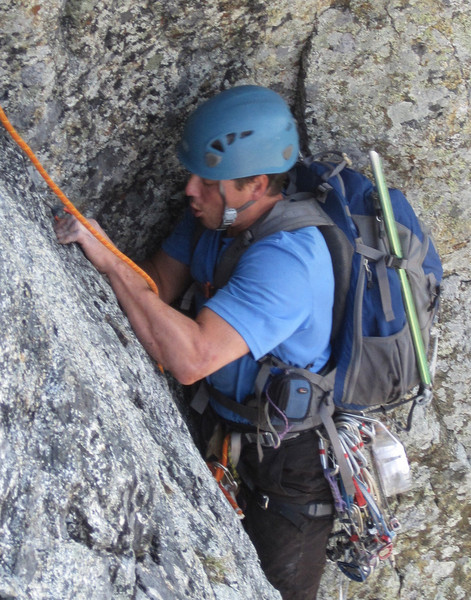 Lactic acid demanded a quick decision. I reached down and grabbed the sling on the camalot below my waist, gingerly lowered my weight onto it, and clipped myself to it.
And that was it. No more "onsight". No more "all free". No more instant classic route for the guidebooks. No more perfect story for the internet. What? Neil Young warns us against such folly: "Media image slaves live by random selection".
When experience fails to meet expectations do we toss in our cards and head for the bar? It can be tempting. I traded a few shouts with Brandon, asking if he wanted to rap down and climb Fire on the Mountain. Perhaps I was searching for an excuse to bail. Brandon reminded me that we'd come for the experience of climbing a new route ground up. He felt we should continue, even if the line wasn't perfect. I'm really thankful he didn't let me back off. Sometimes you just have to play the hand you've been dealt.
Oddly, I felt relief when my dream of a ground-up, onsight free climb on flawless rock was dashed. I had been released from the weight of expectations. I was reminded of a Zen realization hammered home for me in the Pickets: let go of the past, let go of the future, and allow yourself to fully experience the present moment.
I looked at the moves above me again. Could I climb them without falling? Maybe. Were they protectable? Probably. Should I go for it? Definitely. I placed another piece of protection, equalized it with the camalot, and started up again. But the difficulty didn't ease. I made some more moves and placed a few pieces of gear, including a micro-cam in a tiny crack in a small lip above me. The climbing got harder, the gear got more tenuous, and my muscles started to burn with lactic acid again. I might be able to punch it and climb past the lip, but it looked like the difficulty would not ease up, there might not be any more places for protection, and it might not be possible to reverse the moves above me without falling.
I hung on the tiny cam and looked at my options. A series of small edges led left. I followed them to a small ledge with a crack behind a block. It looked solid. Mostly. There was a small ramp leading back up to the diamond dihedral. I started up that and found a flaring cam placement. A hard move guarded the traverse to the dihedral, and there didn't seem to be opportunities for protection above that. No crack at least. So I reversed the moves, cleaned the piece, and went back to the little ledge. It was not an optimal belay, so I traversed left to a shallow corner with a couple of cracks. Upon inspection, one "crack" was behind a large block that looked detached. The other was behind a flake that rang like the liberty bell. So once again, I headed back to the little ledge. I slung the top of the block, locked it in with a directional nut, and placed a couple of small cams. This anchor would have to do. I'd mentally assigned the probability that the key the block would fail as less than 10% and then put that thought out of my mind. No sense dwelling on it. OFF BELAY!
I hauled up the remaining rope and put Brandon on belay. If it seemed like a long time to read about this one pitch, at least you didn't have to hang in slings and belay me! Brandon did it with a smile.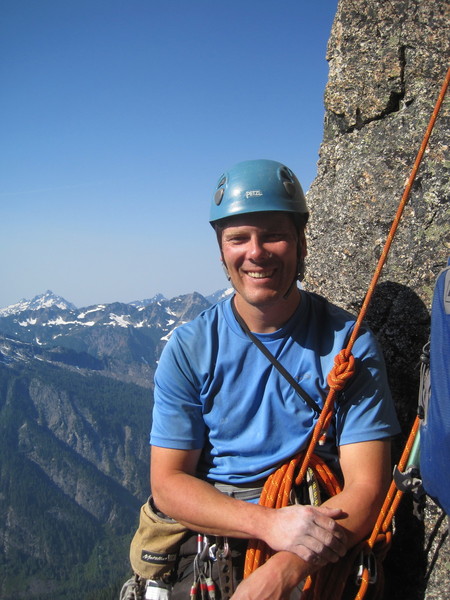 Brandon followed. Despite carrying the pack, he fought through the section where I'd rested on gear and followed the pitch without falling or hanging on the gear. He climbed the last 25 feet with a long sling dangling by his ankle because it was too strenuous to stop to remove it.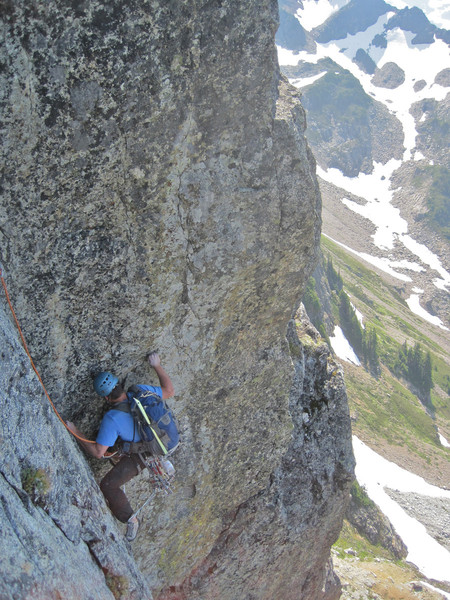 Finally, he found a decent stem.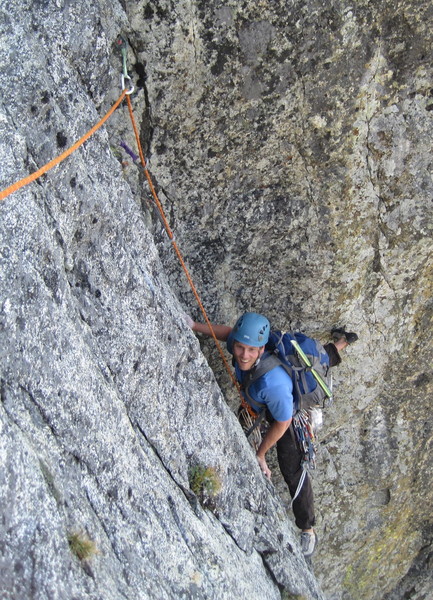 I brought him over to the belay, gave him the gear, and sent him off up the next crack. It was the only game in town.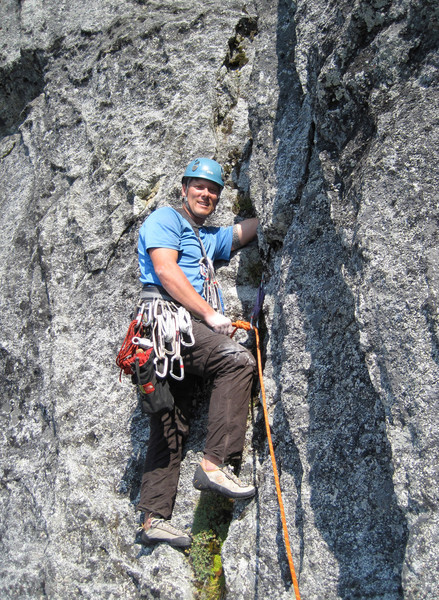 Brandon floated up the corner.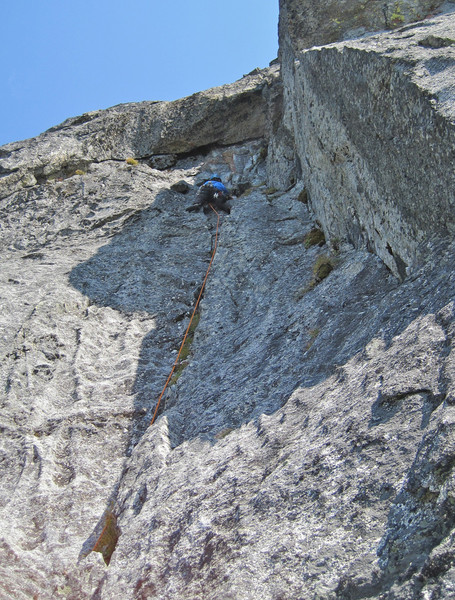 He paused to contemplate the giant roof, found a line around its right edge, and zipped up out of sight. I felt the rope come tight, waited for the telltale tugs, and started up the pitch. Sure enough, the large block at the start was detached. I checked to make sure there was no one below us and then did a leg press on its upper edge and launched it into the void. It fell clean for sixty feet and smashed into three pieces that hurtled several hundred feet to the slopes below. Boom! Boom! Boom!
The rest of the pitch was quite nice. The crack took gear and the rock around it was covered in small dikes. The moves around the right end of the roof proved engaging and interesting, with good sidepulls and poor footholds. Tenuous opposition moves led to pumpy fingerlocks in a solid crack before the difficulty eased. Nice onsight Brandon!
And then we were at the halfway ledge. We unroped, soaked in the sunshine, and scoped out possible lines up the next section of the wall.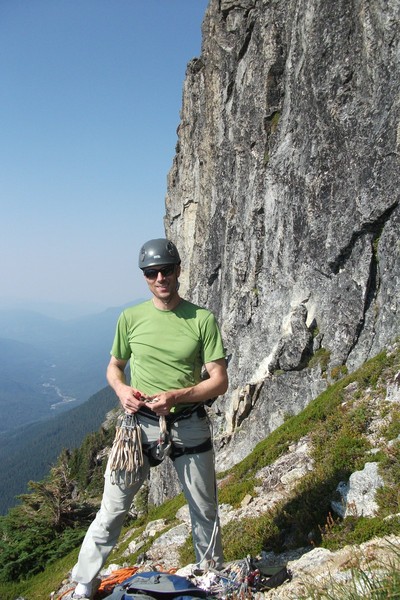 I chose a "changing corners" pitch that starts in a rock scar, goes over a roof, ascends a dihedral, changes corners, and goes over a second roof into a final dihedral.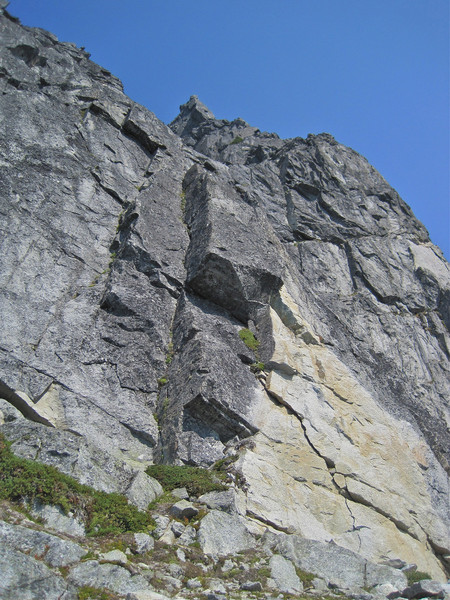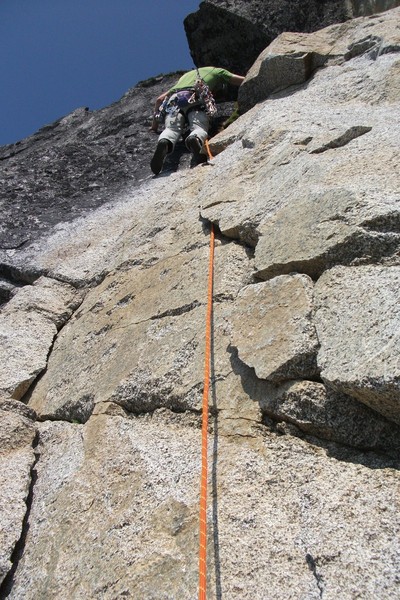 It was a stellar pitch with a really fun changing corners crux. I cruised past some crispy lichen at the second roof, and danced up the aręte above that.
Brandon scowled upon hearing the time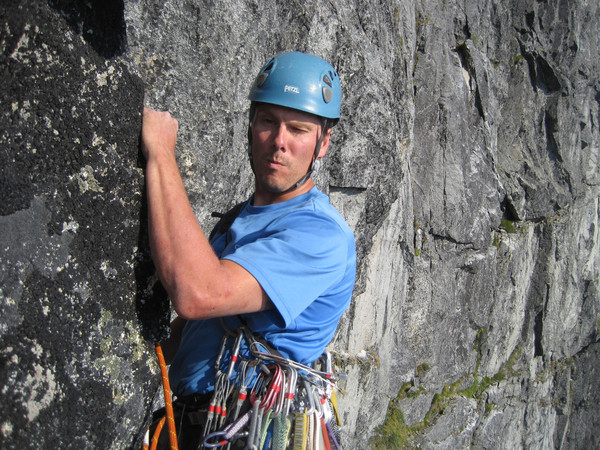 and started off on the next pitch.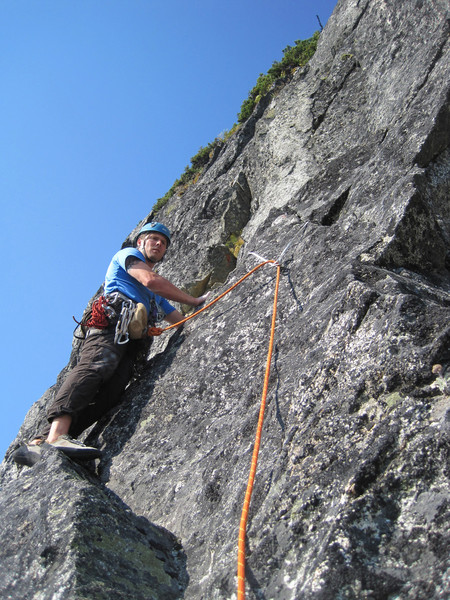 He climbed up to and over the top of a pillar reminiscent of the Finger of Fate on Cannon's famous Moby Grape.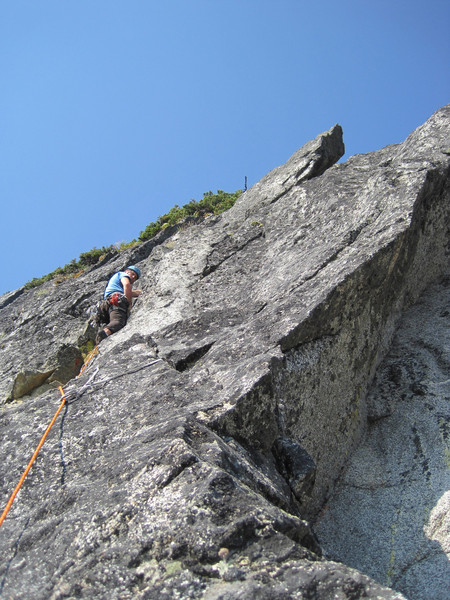 Twilight was fast approaching, and we still had a long way to go.
I zipped up a short cliff to another ledge and looked at the next section of cliff. It didn't look too hard, but this pitch would turn into another epic. Here's the short version: tenuous moves to a mediocre cam placement to a steep face with few holds – deadend #1. Reverse. Traverse left to a corner with stacks of loose blocks – deadend #2. Reverse, downclimb to main ledge. Go left. Weave up, find gear, zag left to a crack below an unprotected face – deadend #3. Partial reverse, traverse right, find ok gear, traverse further, belay at a decent crack. It took 45 minutes to gain 50 feet of elevation!
Brandon 50 feet below me with a rock band between us: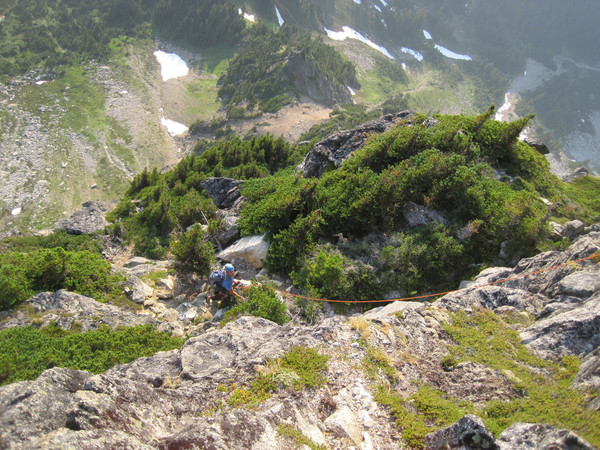 The traverse end of the pitch: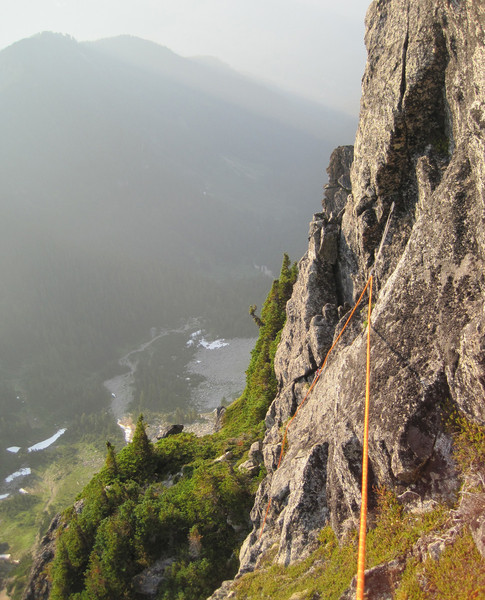 The sun was heading down into the smoky haze of the horizon, and the guys who'd slept in the parking lot were heading back down to their car. They shouted up at us, but we were too far to hear anything. I waved once and gave them the thumbs up so they wouldn't think we needed a rescue.
Go time. It's funny how it can take 45 minutes to climb 50 feet, and 20 minutes for the next 300 feet. Brandon cruised up 5.fun terrain.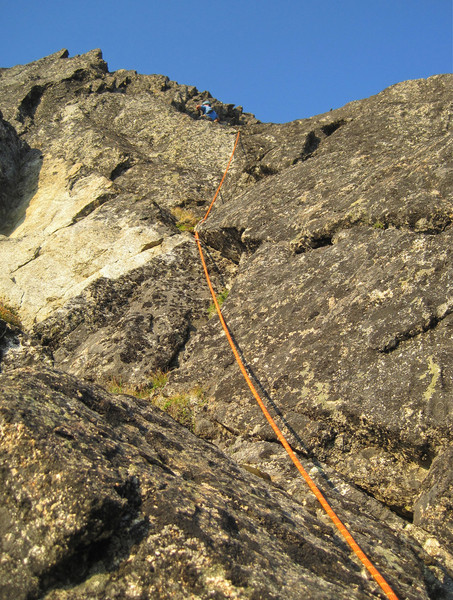 I cast off on what we hoped would be the final pitch. There was one 5.8 move and then the rest was a romp.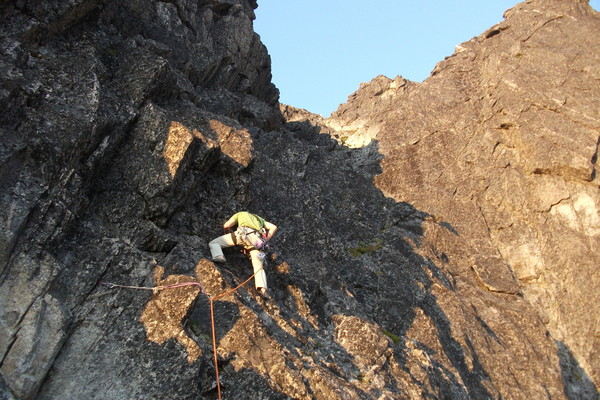 Looking back.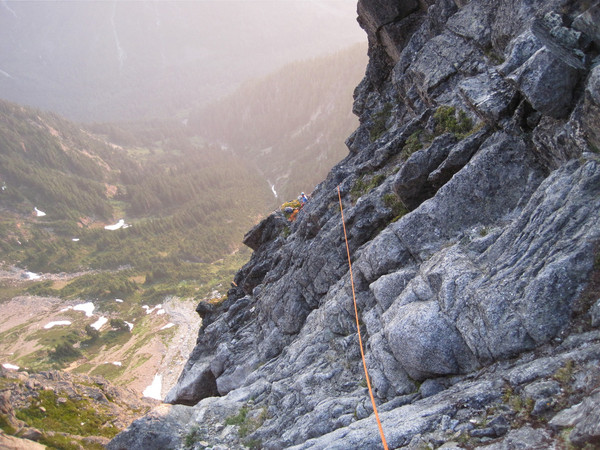 We unroped as the sun turned fiery red in the haze of smoke on the Olympic peninsula.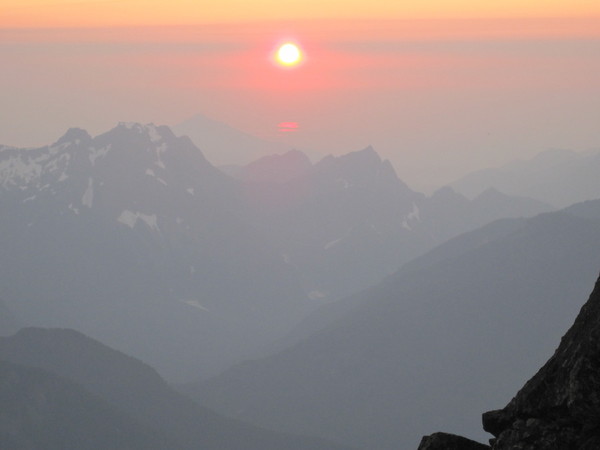 The ancient orb was reflected in the waters of the distant Puget Sound.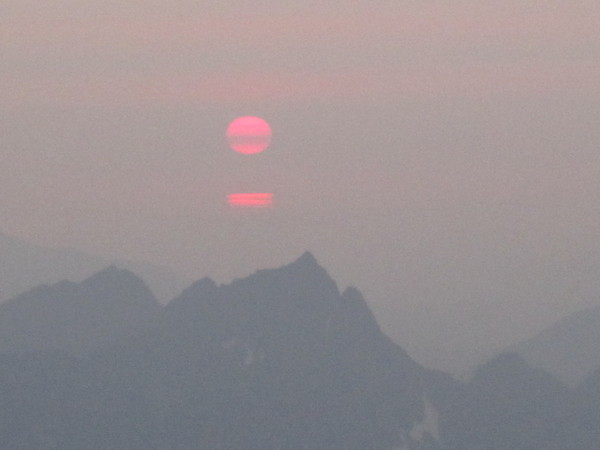 We ditched our gear on the corkscrew trail and soloed directly to the summit.
You can see the full moon in our summit shot.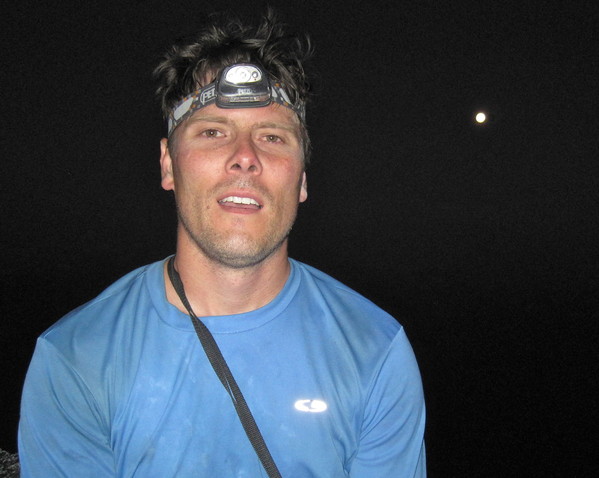 I'd done the descent a twice before and wasn't worried about doing it in the dark again. We zipped down to our packs and headed off down the corkscrew trail to the South descent. Melting snow blocks on the lower ramp provided some much needed drinking water. We made a fun moat leap onto the snow. Thankfully, it was quite soft. The air was still. The moon was high. It was late, very late, and we had lots of terrain left to cover, but we didn't care. The Diamond in the Rough was in the bag.
When we reached the car there was a note on my windshield from the guys we saw during the day. They expressed concern that we were still on the wall at sunset and asked us to call them when we got down, or they would "send help otherwise". It was pretty cool that they were looking out for a few strangers they'd never met. At 2am we reached Sedro Wooley and made the call:
Ring. Ring.
You out?
Yep.
Get to the top?
Yep.
……………….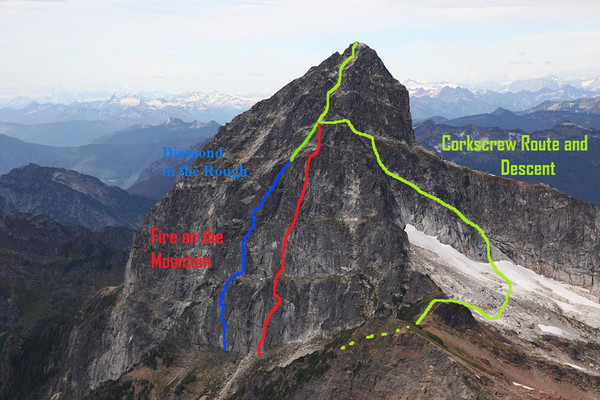 p1 5.9. Hand crack and face holds to a small ledge. This could easily be linked with p2.
p2 5.9+ Vertical crack to a stemming groove to a belay on small ledges 25 feet below the point of the diamond.
p3 5.10 Finger crack on a buttress, 5.easy, a strenuous and tricky corner, and a traverse left to a belay. It is possible to bypass the 5.10 corner by making a 50 foot, 5.easy, unprotected, left-ward traverse to the obvious crack followed on p4.
p4 5.10- Follow a crack up and right past a large roof. End at the mid-way ledge.
p5 5.10 Changing corners pitch to an aręte above that.
p6 5.7 Rambling face to the top of a small tower and then up to a large ledge.
p7 5.7 Meandering madness.
p8 5.6 Blink and you missed it.
p9 5.8 One 5.8 move and then a romp to the end of the technicalities.
I hung on gear on the third pitch, but I didn't pull on protection to ascend. Lowering back down to the belay for a redpoint attempt didn't make sense at the time. Brandon freed the pitch. What does it all mean? I don't know. Maybe it's a two-hang, follower-freed, non-aid, two-dad ascent. We did what we did. Nothing more and nothing less.
Gear Notes:
Gear: We took one ice axe, a rack of double cams to #3 camalot, a single #4 camalot, and a set of stoppers. We took my 70m rope, but a 60m rope would have been better. Sadly, I left my helmet (dark gray) on the corkscrew trail above the SW Face. It's probably still sitting there, covered in the first winter snows.
Approach Notes:
WTA Bedal Creek trailhead directions:
Take exit 208 off I-5 and drive 4 miles east on SR 530 to Arlington. Continue on SR 530 for 28 miles more to Darrington. At a three way stop turn right (south) onto Mountain Loop Highway, and continue 17.2 miles (not sure how accurate this mileage is as we were not looking at the odometer) turning left on FR 4096 which is about a mile past Bedal campground. Continue on FR 4096 for 3 more miles to the trailhead!
Maps (Google and my old Gazetteer) suggest you'd take fS4080 and then bear left on 4081 to get to the Bedal Creek trailhead. This is wrong. 4081 is blocked off and you can't drive there from 4080. 4096 is not on either of those maps. FS49 wraps around to the backside of Sloan. Basically take the road that heads East that is between 4080 and 49. There is one 'road-looking thing' that deadends at a redneck gun range in 50 yds. The other is 4096.
From the end of the trail, head for the lowest notch marked in the photo below (traveling close to the West face of Sloan is rather loose and unpleasant).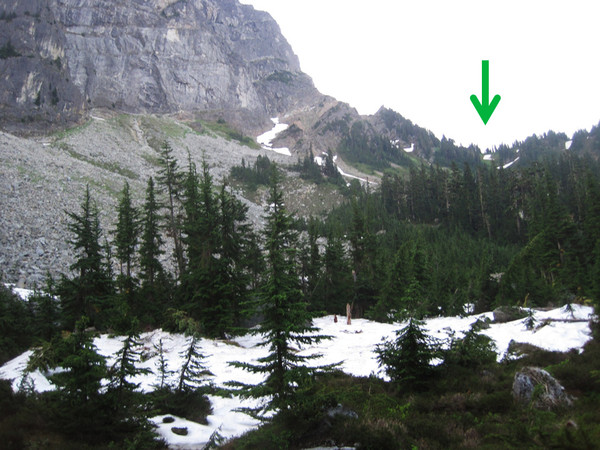 Traverse the spine of the ridge on an obvious climber's trail and drop down into the basin below the SW face of Sloan. Traverse straight across to an obvious gully and ascend this directly to the SW face.