Trip:
Distal Phalanx - North Arete (FA)
Date:
9/6/2008
Summary:
First Ascent of the North Arete of Distal Phalanx 5.10, A0 Grade IV. Sept 6th 2008 John Frieh and Craig Gyselinck
Distal Phalanx courtesy of John Roper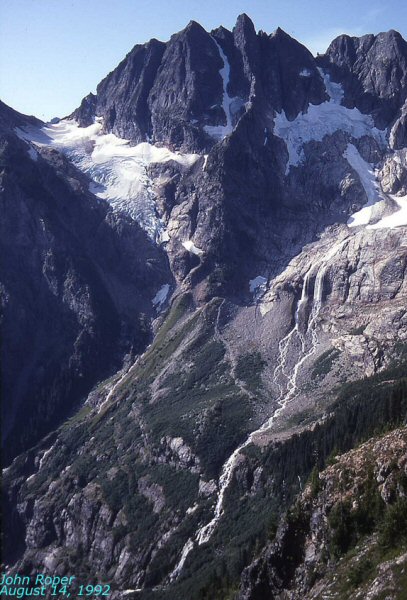 Connecting the dots...
Sure enough. Surf
Mr Scurlock's
long enough and you'll find something that'll make you swear under you breath and scramble for your stack of CAGs... seems to be a weekly occurrence for me. Only this time
the offending picture
had a link..?
Click.
Hook. Line. Sinker. Dr Roper roped me in with this:
"Distal Phalanx (7615+) is the central climax of the long, untouched north arete above Neve Creek"
I immediately fired off an email to the good doctor only to learn the untouched had recently
"been touched though was still unclimbed"
Touched but still unclimbed? Why I wanted to know... Too chossy? Too hard? Beta? Details?
The good doctor forwarded my request for details and got this in return:
"They went up to McAllister Creek bridge to cross Thunder Creek."

Hmmm...
But whatever it was... chossy, hard, etc... it didnt really matter. I had sent the pic to Craig (Alpinemonkey) and he was stoked! Both of us had to be @ work Monday morning so we figured we had to be at minimum halfway up the arete on Saturday if not on the summit to allow enough time on Sunday to get out and home. After examining the terrain and mileage we would have to cover before the actual climbing we agreed we needed to be underway by 2:30 am. Unfortunately both of us had to work a full day on Friday so we didnt get to the TH until late... I had time for 2 hours of shut eye in the parking lot next to my car before having to puke and rally.
(Funny side story: some walking by around midnight felt the need to tell me to "get a tent"
)
We were on the trail @ 2:40. We reached the bridge across thunder creek quickly and promptly began the schwack up Thunder creek to Neve creek and on up to Distal Phalanx.
Neve Creek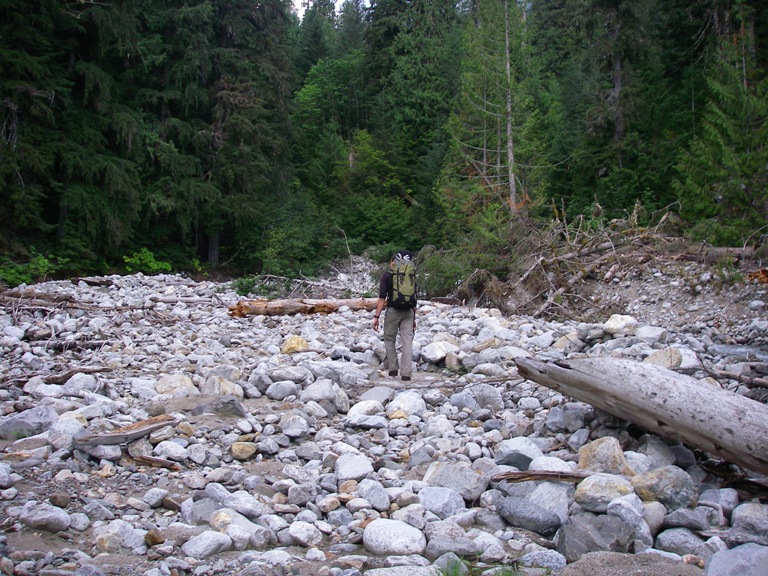 Craig in a sea of Stinging Nettles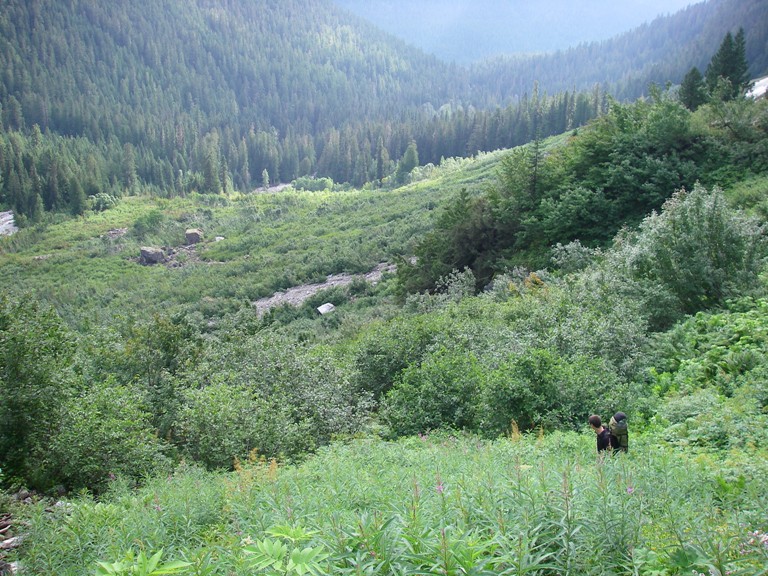 Craig and I joked
"When I first saw the route my skin tingled! Then I realized it was just the stinging nettles"
Local riff raff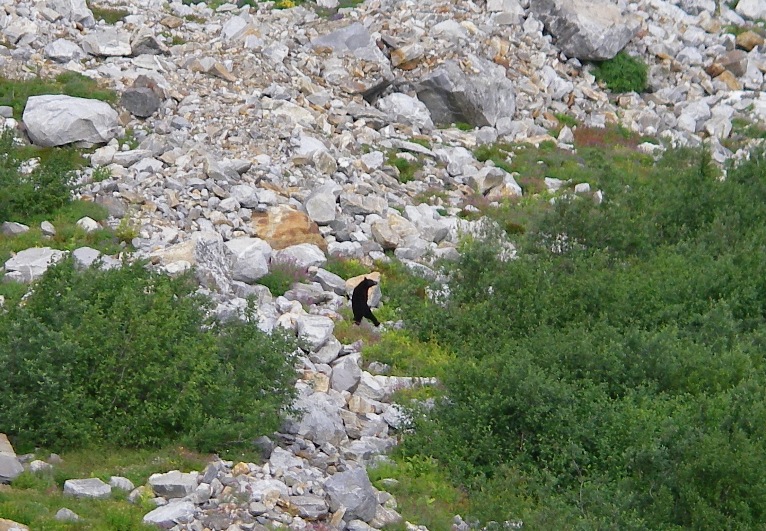 Neve Falls
Other falls (summit in upper left hand corner)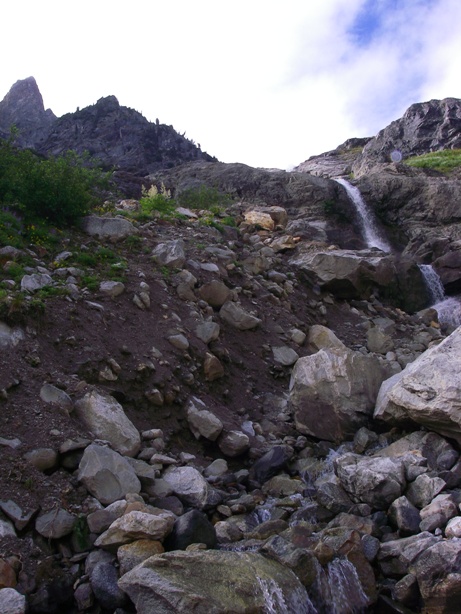 We started the arete around 11 am. Taking advantage of ramp systems and vegetation (veggie belay!) we were able to simul solo the lower half the arete (maybe a move or two at most of 5.6). As we didnt know where the next water source would be we started the arete with 4 liters each in addition to overnight gear on our backs... unfortunately the heavier packs, lack of sleep and effort already expended getting up Neve creek was starting to take a toll on each of us... it was apparent we were moving slower than normal. I was worried we werent going to make the summit by night fall.
We busted out the rope at the halfway point where the arete gets much steeper and began simul climbed until the terrain demanded we pitch it out. I think we each found our second wind or the fact that dusk was coming quickly and the upper arete lacked bivy ledges but we started climbing much faster.
Craig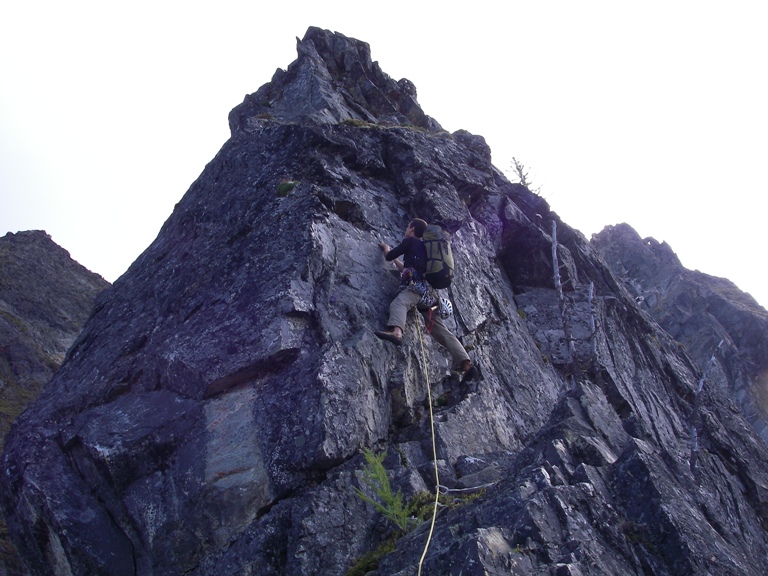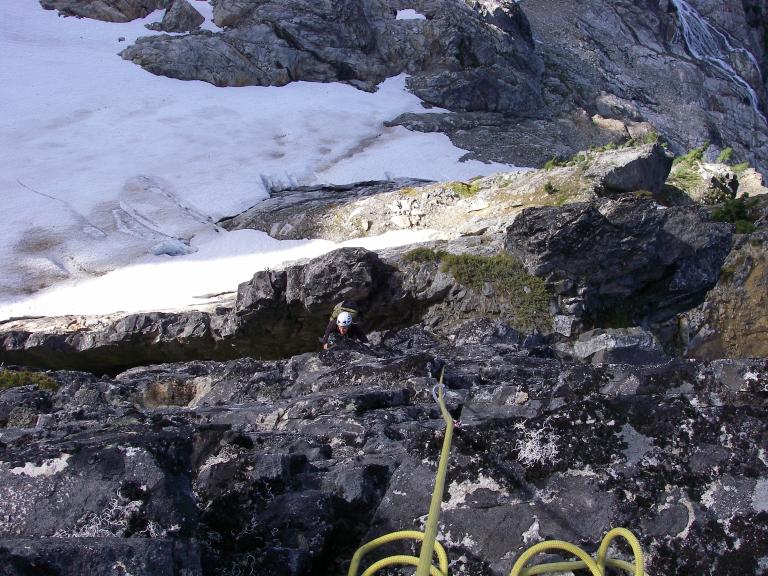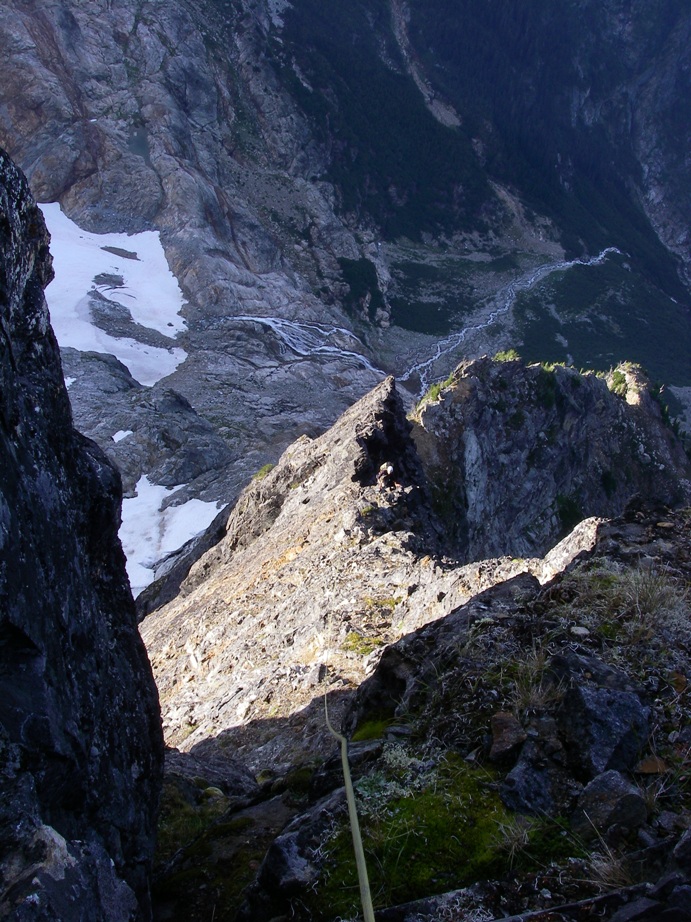 Neve Falls visible below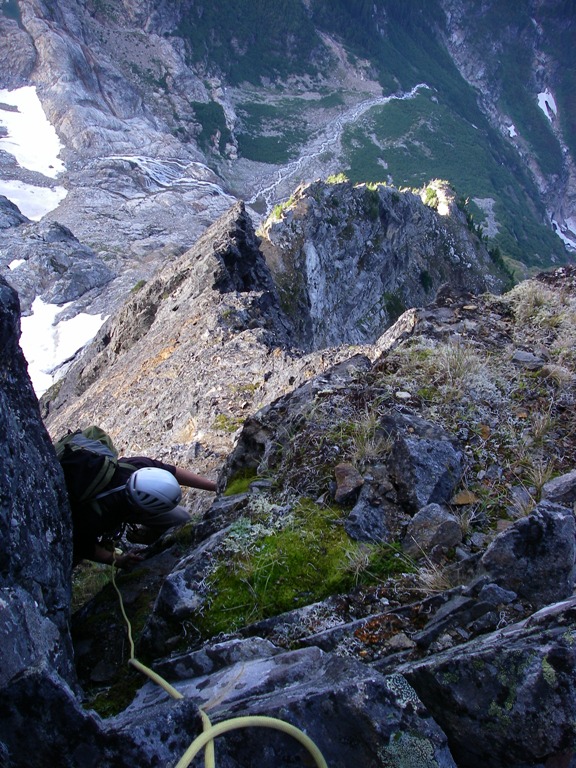 Closing in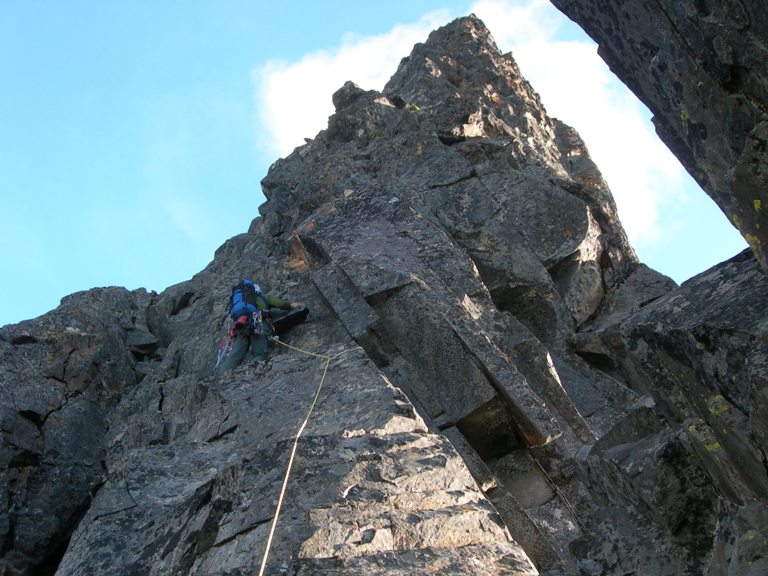 Ask me about my windshirt!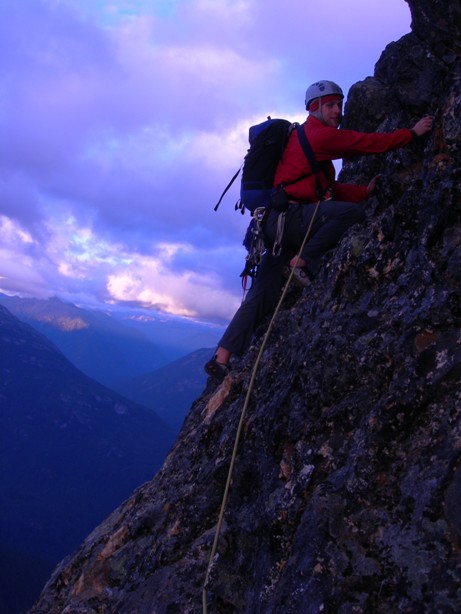 Summit!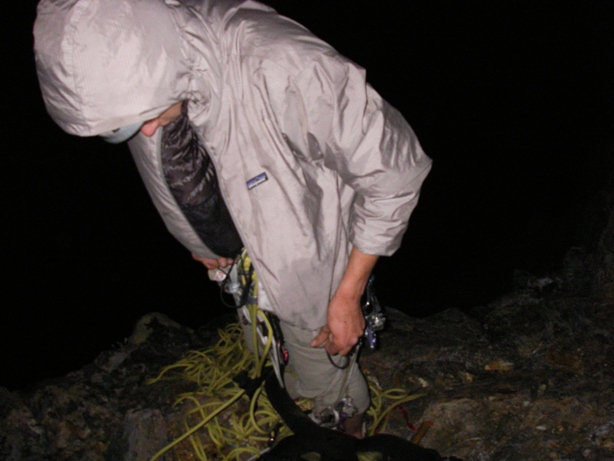 We
barely
made the summit by nightfall... I followed the last pitch by headlamp. In the interest of finishing before dark we opted to A0 one or two moves instead of hauling packs (we both climbing the entire route carrying bivy gear + water for the next day).
We spent two hours trying to get a head start on the awaiting descent but more or less created more work for us the next day. We passed out in some bushes SE of the summit around 10 pm... 20 hours of effort on two hours of sleep had finally caught up with us
Craig: So you're going to make coffee... right?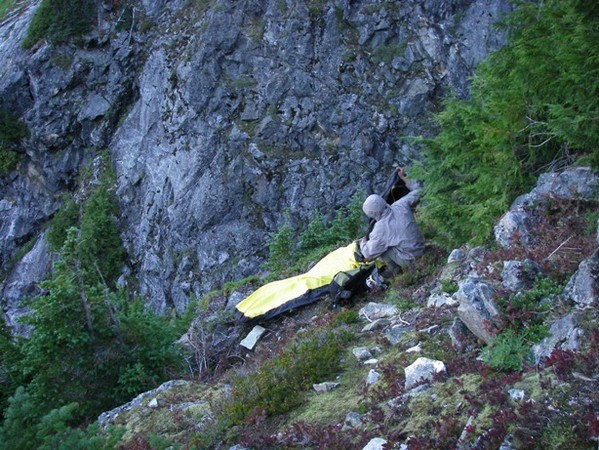 The next morning we sorted out where we were and proceeded to climb back up over Styloid Peak and down to Thunder Creek. We searched in vain for some way across Thunder Creek to the easy trail on the other side... no such luck. Two days of schwacking had driven us
we spent a good 15 minutes trying to prop a bean pole across one narrow point of the creek
Down thunder creek we marched... I repeated "one less step... each step counts" over and over in my head. To our surprise we made much much better time on the way out than back in and we back to the TH around 4:30 pm.
Epilogue:
I had a blast. Yeah... the approach is brushy but it is no way as bad as going into Bear. In fact... if you've climbed the CNB of Bear and felt the climb was worth the approach chances are you'd like this climb. It is after all awaiting a FFA!
Gear Notes:
green, red, yellow c3
x1 0.3
x2 0.4
x2 0.5
x3 0.75
x2 1
x2 2
x2 3
x1 3.5 (old style)
x1 4 (old style)
70 m rope
5-13 nuts
hammer/pins (didnt use)
Approach Notes:
Ill edit my post with some maps and such.