Trip:
Yosemite Valley - Cocaine Corner V5
Date:
9/30/2007
Trip Report:Cocaine Corner: An eight year love affair.
How do you write a trip report about 15 feet of climbing? Usually, you don't. But this one was different. This one bouted me off and on for eight years.
Summer 1998
: I roll into the valley for the first time, feeling strong but slack jawed and intimidated by the huge walls. I work my way up through alot of long moderate classics, but am most intrigued by the bouldering where I can pull hard without worrying about taking whippers on gear.
Of course Midnight Lightning is the grand prize, but well beyond me at this point in my climbing career. But just on the edge of camp, on the main circuit, is a beautiful slanting arete with a low angle face on one side and a vertical face on the other. It's gorgeous, a fantastic line, perfectly cleaved with just enough tiny feet to look reasonable. The drop zone has a horrendous chopper block sticking up a few feet, directly under the crux, which has claimed many broken ankles and legs.
With a partner I start working it and holy shit, this thing is hard right off the ground. Slippery, technical, and powerful. It must be 90 degrees in the ditch, and with nothing but slopers for the left hand, conditions are grim. But we work it almost every afternoon anyway. At the end of the trip, I've got the bottom wired and am almost halfway up, thinking I'm close. Little do I know that the crux is yet to come.
Spring 1999
: Ahh, back in the ditch. More long moderate classics, a first valley wall route, and more bouldering. Many classic problems go down for the first time, but it takes me an entire session just to work out the bottom sequence that I'd done the previous year. Shortly after, a tendon pulley explodes on a tips crack, and my hard pulling is over for the season. Back to the moderate classics, ibuprofen, and alot of tape.
Summer 2000
: More wall routes, harder free climbs, and finally the Lightning goes down after falling off the mantle at least 15 times. I should be ecstatic. I am not. Cocaine Corner resists all attempts. I've still not made it to the crux move.
Fall 2001
: I've only got a week or so this time. An El Cap route gets started, but we bail at pitch 4. I try to do Half Dome in a day, and we never even get onto the route itself after marching up the slabs. I work on the problem a few times, but my head and heart is not in it. I hate this place, I want to be anywhere besides here.
Fall 2003
: On my way to Alaska for a three year job stint, I'll be damned if I'm driving from Atlanta to Alaska without spending time in the ditch. I try it a couple of times while looking for a wall partner. I can't even do the bottom anymore. A wall gets done, but takes so much out of me that I lay in the meadow drinking King Cobras for a day or two afterwards and then leave. I won't see the valley again for 3 1/2 years.
Spring 2007
: After quitting my job the previous fall, and spending all winter climbing in Joshua Tree, I somehow score a position as a Camp 4 campground host. I arrive to cold, wet, snowy conditions in early April. I'm feeling reasonably strong, fit, and tuned. Showing some euros around the bouldering circuit one blustery afternoon, we tick classic after classic, from slabs to mantles to aretes to cracks. Initial Friction, Blue Suede Shoes, Bachar Cracker, Ament Arete, Kor Face all get done . We lounge on pads near the Dominator, directly across from Cocaine Corner, drinking Olde E tallboys, talking maximum shit.
Restless, I boot up and work out the bottom sequence. It's about 40 degrees with a slight breeze. Amazing what good conditions will do. Soon I'm at the crux but can't commit. Over the next week or two I put in a couple of sessions on it by myself between free soloing and seeking out the few longer climbs that are dry and sunny. I've got the section up to the crux ruthelessly wired. A plan is hatched to get 3 pads, and the biggest spotter I know, a 6'2" german kid named Martin who we call the Bezerker, and come back the next day. Overnight, a warm front rolls in with some rain and temps rise 20 degrees. By the time everything dries out, it's in the 80s and too hot for the sloping arete holds. "Shit! Now I'll have to wait until October to have a chance".
September 2007
: I climb in the ditch until August, go to Vedauwoo to climb wide cracks for a month, then Darrington, Leavenworth, two weeks of bouldering and fly fishing in Bishop, and at the end of Sept, go back over the pass for the Yosemite Facelift cleanup event. My only goal is Cocaine Corner.
After picking up trash for a day, I set to work. Temps are good, but ten degrees colder would be perfect. I have the bottom wired and show up late one afternoon to see Uncle Stu and some YOSAR guys with a stack of pads over the chopper block. We work it together and I am sticking the extremely tenuous crux move, but falling off the last move with my hand brushing the top jug over and over. I do some other problems and after firing Bachar Cracker again am feeling pretty good watching friends work this classic crack problem...until Sweeney does the Cracker like it's 5.6 and then repeats it in flip-flops.
Two days later I'm back at the Corner, to find James Lucas (the kid who decked free soloing North Overhang at Josh) and crew working it. What luck! I rarely see people working it, and the multiple pads and spotters makes commiting at the crux trivial. But I do no better, falling off the last move over and over.
The forecast calls for cooling temps by the weekend. I have only a few more days, and Saturday is the best chance for a crowd with pads to be there.
Saturday, September 29 2007
: I show up mid afternoon, crank the iPod, and wait. Sure enough, an hour or two later a posse of pad people come rolling through and I join in the crew. We warm up on alot of things and then go to the corner. I see a climber who has it wired use a subly different sequence at the crux. I fall off three more times. The crew is about to wrap it up for the day. They ask if I want to try a couple more times before they split with all the pads. I clear up my vision with a little glaucoma medication and nod yes.
Cleaning my shoes, cranking some Crystal Method on the headphones, and zoning out I get into a meditative breathing rhythm. The jacket comes off, and I pull into the bottom moves that I know so well. I botch a sequence, but recover and hit the giant high step in control, pulling to the crux. Chalking off a good foothold, the murmur of the crowd gets louder. It's the usual cacophany of "C'MON!"s and "You Got It!"s. I paste my foot onto the black diorite sloper, adjust my hands on the arete, a high upside down thumbcatch pinch for the right, and a subtle more acute angle on the arete for a pinch with the left down low. Rocking onto the sloper foothold I squeeze the arete with all I've got and stab my left foot up onto another smear. The foot sticks and I'm stable. Adjusting the right foot up two inches, there is only the final move to the jug remaining.
Normally, the yelling and enouragement from the spotters doesn't do much for me. I tune it out and only notice the general hum and roar, the volume, the urgency. But this time was different. As I'm contemplating adjusting my feet again, a girl is yelling "LOOK AT IT! LOOK AT IT!". I look up at the jug and it's right there, just at the end of my reach. Forget moving the feet again, I lunge. As my hand latches the top it's like waking up from a dream. The roar rising from the crowd blends with the one coming from my chest and I'm standing on top, vibrating, stoked.
I must have sat at the bottom for an hour afterwards, trying to make sense of it all. What will I do now? The eight year project is over. Am I happy to have finally done it, or sad that the process is over? Is it a validation of my improving skills, or just a load of attempts and good conditions? I leave the valley with these questions still swirling.
Cocaine Corner V5, Camp4, Yosemite Valley: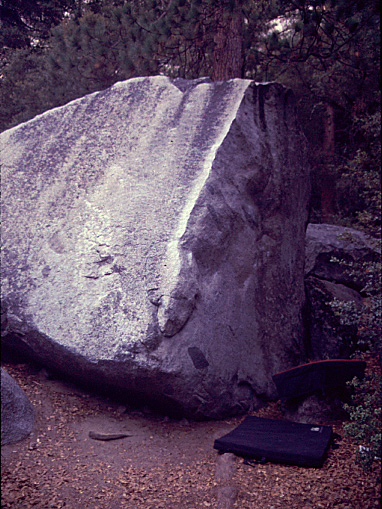 Gear Notes:
A few pads and spotters.
Approach Notes:
Two minute walk from the center of Camp4 along the old horse trail.