Trip:
Mt. Olympus Speed Record - 11.5 hours
Date:
7/31/2007
Trip Report:
I climbed Mount Olympus in 11 hours, 30 minutes round trip. As far as I know, this is the new speed record on the mountain. I went solo and the climb was unsupported. I started at 2:46 am and finished at 2:17 pm - 45 miles and around 8,000 ft of gain. I have been aspiring to speed climb Mount Olympus for some time so it was great to finally get it!
I thought I could climb the mountain in 14-15 hours and the idea was to run 6 mi/hr pace for the first 12 miles. I basically stuck to the plan for the first 12 miles (I was a little fast, especially at the beginning), but went a lot quicker then anticipated for the rest of the climb, especially the glaciated parts. I think the climbs in the high Sierra at 13k+ ft helped. I really surprised myself when I reached the summit only 5 hours, 55 minutes after starting! At this point I knew I could go under 12 hours roundtrip.
Location (Elevation): Time Elapsed / Split / Real Time
Trailhead (578 ft) :
0
/
0
/ 02:46
5 Miles (800 ft) :
42.16.63
/
42.16.63
/ 03:28 (5 Mile Island)
[5.7 Miles :
49.57
/
7.40.89
/ 03:36]
9.1 Miles (950 ft) :
1:22.46
/
32.49.05
/ 04:08 (Olympus Guard Station)
[12.4 Miles :
1:57.53
/
29.00.89
/ 04:44]
13.1 Miles (1,370 ft) :
2:08.43
/
10.49.89
/ 04:54 (Hoh River Bridge)
15.1 Miles (2,558 ft) :
2:44.23
/
35.40.22
/ 05:30 (Elk Lake)
18.5 Miles (5,100 ft) :
4:10.12
/
1:25.48
/ 07:26 (Blue Glacier Moraine)
Snow Dome (6,600 ft) :
5:05.11
/
54.59.13
/ 07:51
Arrive Summit (7,969 ft) :
5:55.20
/
50.08.86
/ 08:41
Leave Summit (7,969 ft) :
6:17.14
/
21.53.89
/ 09:03
Snow Dome (6,600 ft) :
7:11.05
/
53.51.21
/ 09:57
18 Miles (4,500 ft) :
8:08.02
/
56.56.44
/ 10:54 (Tarn Below Moraine)
15.1 Miles (2,558 ft) :
8:48.51
/
40.49.22
/ 11:35 (Elk Lake)
13.1 Miles (1,370 ft) :
9:08.50
/
19.58.88
/ 11:55 (Hoh River Bridge)
9.1 Miles (950 ft) :
9:58.24
/
49.34.06
/ 12:40 (Olympus Guard Station)
5 Miles (800 ft) :
10:38.58
/
40.34.13
/ 13:25 (5 Mile Island)
Trailhead (578 ft) :
11:30.54
/
51.55.75
/ 14:17
I drove up to the trailhead Monday evening, taking the southern route from Seattle through Olympia and Aberdeen (4:30 total driving). I was asleep by 9:30 pm with the alarm set for 2:30 am. A quick pack up, snack, and drink, and I was off. Passing the first couple mile markers made the task seem daunting, but I soon found myself in a great running rhythm that carried me to the 12.4 mile marker. This marker is right before the first hill, where the running stopped.
I powered up the hill to Elk Lake, Glacier Meadows, and the Blue Glacier Moraine. Mount Olympus doesn't make an appearance until the crest of the moraine is reached so it is a very dramatic first appearance.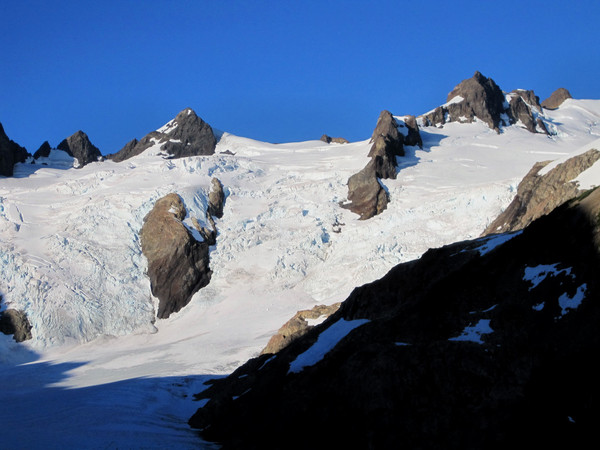 I put crampons on at the bottom of the moraine, which were essential at this time in the morning (7:20 am) because the glacial ice was super slick like an ice cube. The neve up to snow dome was perfect and I quickly caught up to a party of 6 at the Snow Dome flats.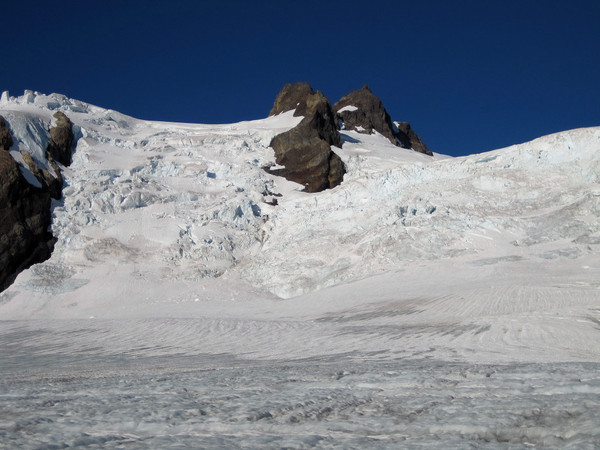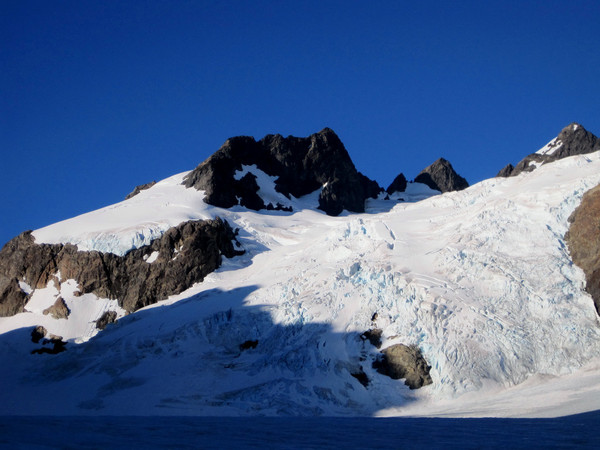 This is the only photo of me not taken by me or the self timer.
There were a few crevasses to hop over and I was soon atop the false summit. For the final scramble up the true summit I ascended the ledges on the northeast side, beginning before the steep snow pitch. These ledges were class 2-3 until an easy class 4 move brought me to more easy scrambling and the summit.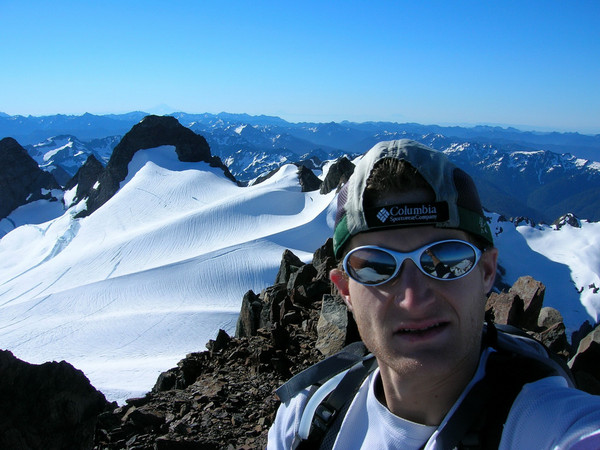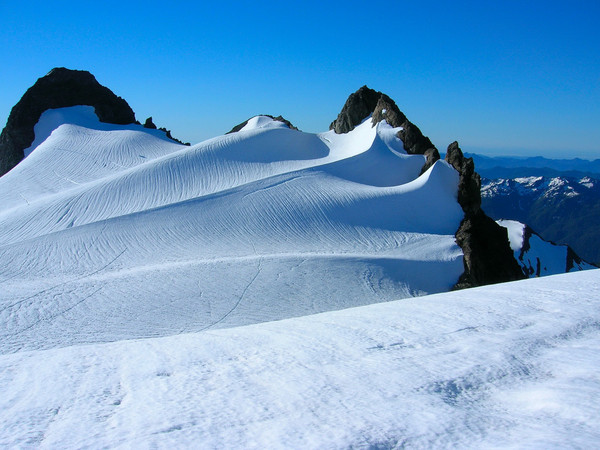 Famous series of "wavy" snow ridges.
I enjoyed the gorgeous weather on the summit for 22 minutes, taking in views in all directions, including the Valhallas, the Coast Range, the Pacific Ocean, the Cascades, etc.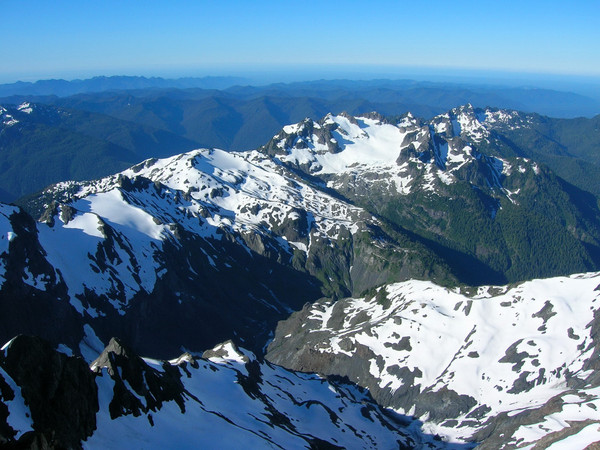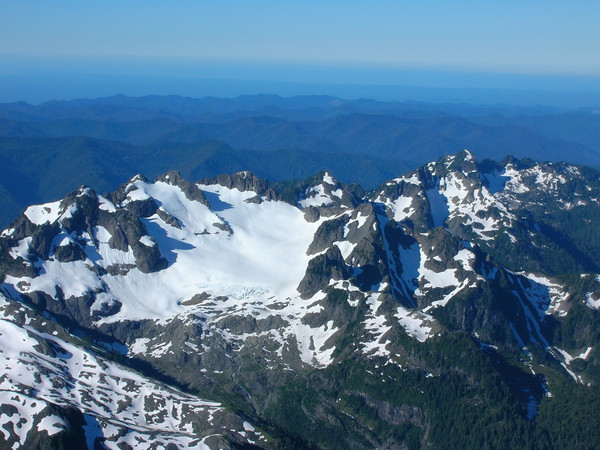 Valhallas Close-up
On the descent, I found the class 3 "Eagles Nest" route on the south side (avoids the 4th class move), which is not obvious on the ascent.
Blue Glacier from Snow Dome.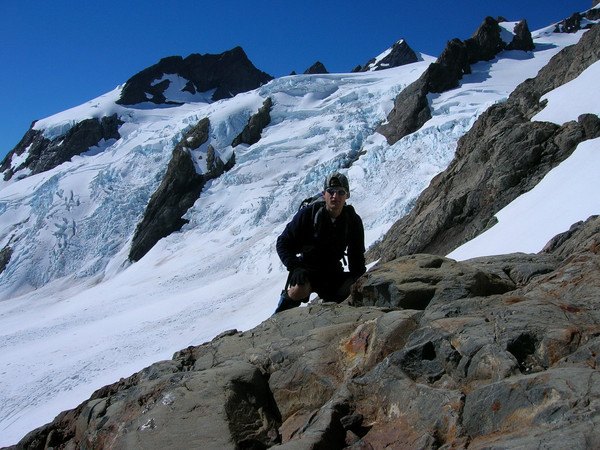 Self-timer photo turned out pretty good...yeah!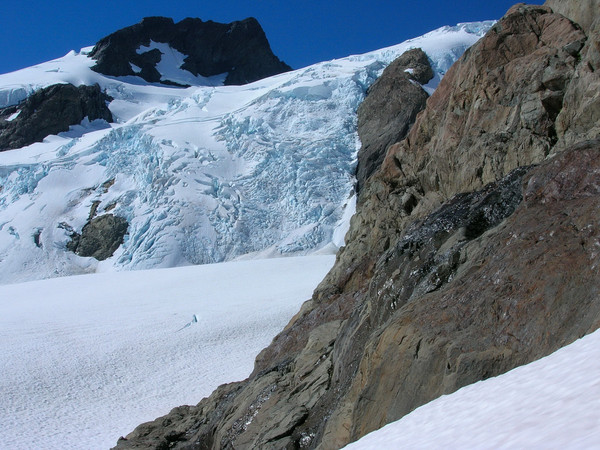 Sweet icefalls!
Panorama from the Blue Glacier flats.
I stopped to take many photos on the way down the glacier and took a long break at a tarn below the moraine to pack up my gear, hydrate, and eat.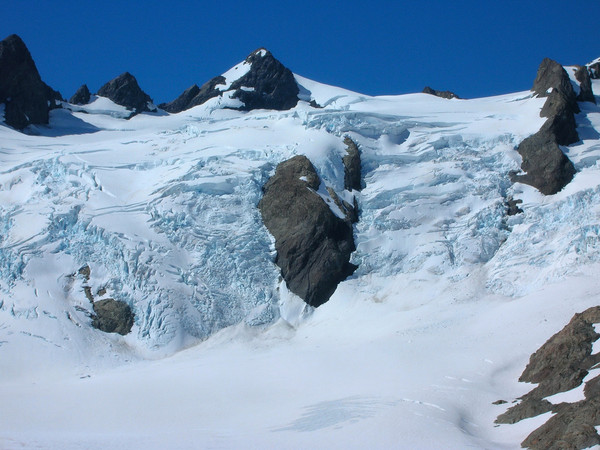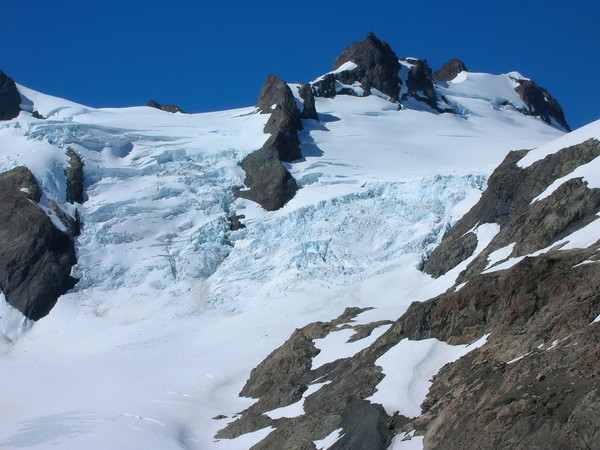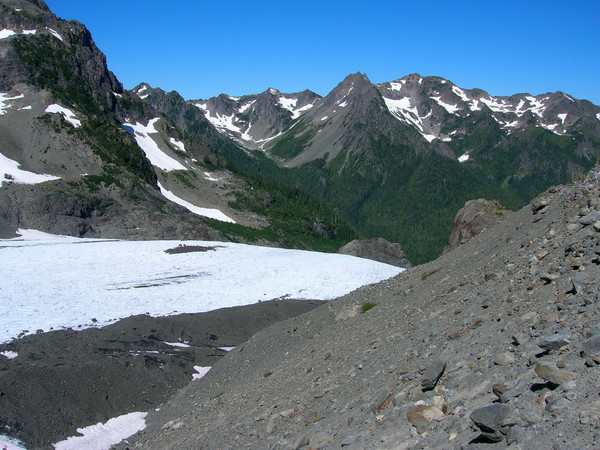 Terminus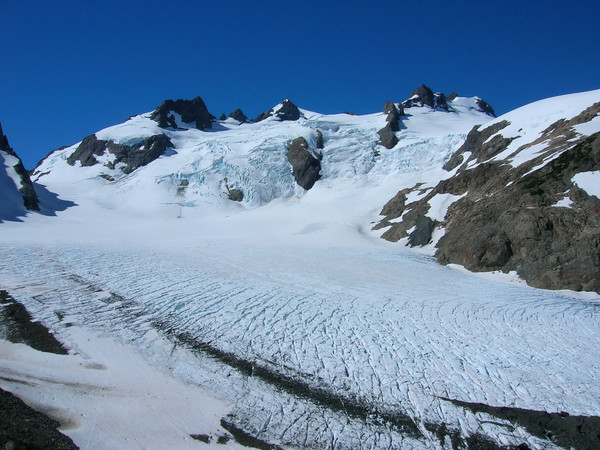 Once on the move, I was back in a rhythm and felt great. Somewhere between Hoh River Bridge (13.1 miles) and Olympus Guard Station, however, I started to feel the first signs of tiredness so I took a break at the Guard Station to refortify myself. The final 9 miles went well and I was able to maintain around 10 min per mile pace all the way till the end. I was quite tired, but not destroyed. It was nice to chat with the ranger at the visitor center whom I spoke with before the climb as well as the backcountry ranger below Elk Lake.
I came away with no blisters, but I did come through with an idiot move by glissading into a shaded (icy) patch resulting in a scraped butt - ouch!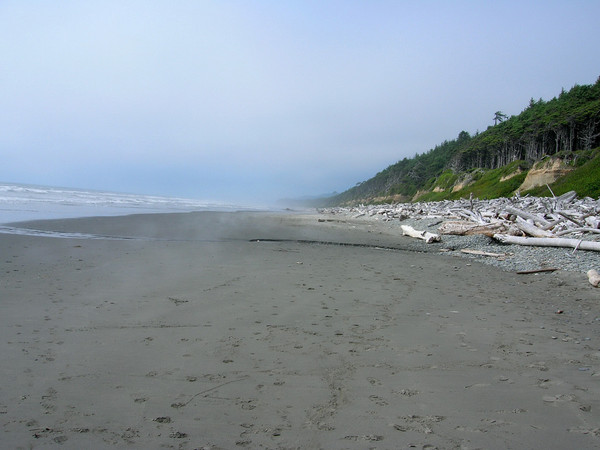 7 hours after standing atop Olympus my legs were in the cold waters of the Pacific Ocean. What an awesome climb!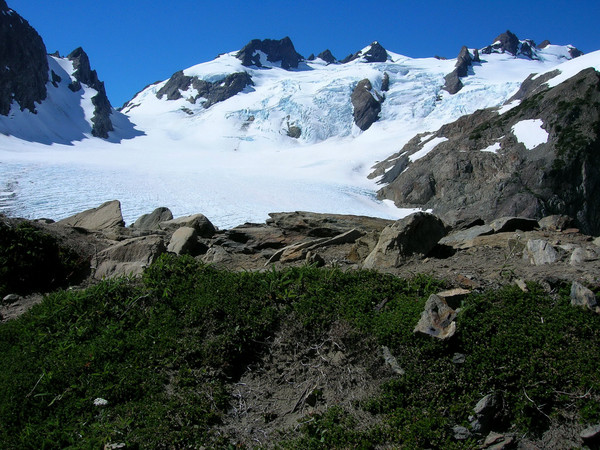 Gear Notes:
Ice axe, crampons, energy bars, gu, extra layer.
See California section for training.
Approach Notes:
Trail in fabulous shape with no impediments.
39 miles of trail roundtrip (I ran/jogged about 30 of those miles)