Trip:
Ptarmigan Traverse FKT -
Date:
8/16/2012
Trip Report:
Uli Steidl and I completed the Ptarmigan Traverse in 12:17, a new FKT (fastest known time). It has been
three years
since I last enjoyed the Ptarmigan Traverse so it was time to come back to see some of the most beautiful scenery in the Cascades and refresh the prior FKT, which was set by Colin Abercrombie and me on
July 28, 2009 (14:36)
. This time I was joined by distance running legend Uli Steidl who has innumerable running victories and accolades to his name from road marathons to mountain running to ultras. Conditions were very similar to 2009 with nearly identical weather (hottest days of the summer). Prior to this run I figured somewhere in the 12 hour range was possible and we were able to hit that target finishing the traverse in 12:17. We started at the Cascade Pass trailhead at 4:49 am and finished at Downey Creek Bridge at 5:06 pm.
Overall, the 2 hr, 19 min improvement from the 2009 time was due to a consistently faster effort throughout the traverse (see comparison below). I attribute this to more route experience and dialing in on nutrition and hydration, which helped keep energy levels high especially in the second half of the traverse. Bachlor Creek was as lovely (brushy) as ever although we avoided making any time consuming errors in the brush and the Downey Creek Trail felt as long as I had remembered. The 8.5 mile jog along the Suiattle River Road seemed especially needless because there were five forest service vehicles parked at the Downey Creek Bridge. In fact, the closed portion of the road is in better shape than the open part! It seemed like they were prepping the road, perhaps for opening?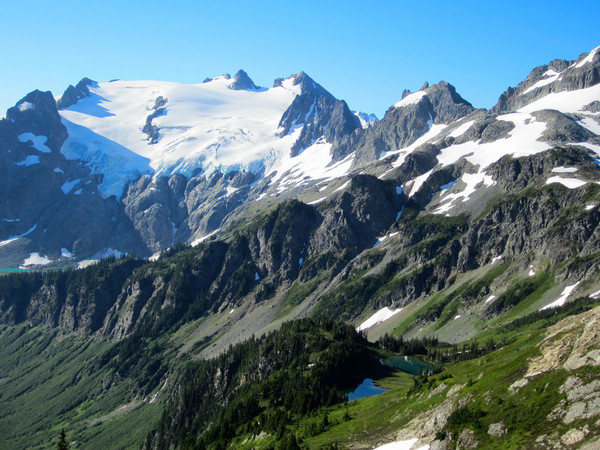 Comparison:

2012

vs. 2009 vs.

2008

(difference 2012 to 2009)
Cascade Pass TH (3,600 ft) :
0
/ 0 /
0
Cascade Pass (5,392 ft) :
43
/ 48 /
55
(- 5)
Cache Col (6,920 ft) :
1:39
/ 1:50 /
2:13
(- 11)
Spider-Formidable Col (7,320 ft+) :
3:26
/ 3:40 /
5:00
(- 14)
Yang Yang Lakes (5,830 ft) :
4:10
/ 4:26 /
6:20
(- 16)
White Rock Lakes (6,194 ft) :
6:25
/ 7:11 /
9:51
(- 46)
Spire Col (7,760 ft+) :
7:52
/ 8:54 /
11:55
(- 1:02)
Cub Pass (6,000 ft+) :
8:55
/ 10:16 /
13:42
(- 1:21)
Bottom of Bachelor Creek (2,440 ft) :
10:51
/ 12:48 /
16:30
(- 1:57)
Downey Creek TH (1,415 ft) :
12:17
/ 14:36 /
18:10
(- 2:19)
Location (Elevation):

Time Elapsed

/

Split

/ Real Time
Cascade Pass TH (3,600 ft) :
0
/
0
/ 04:49
Cascade Pass (5,392 ft) :
43:10
/
43:10
/ 05:32
Cache Col (6,920 ft) :
1:38:34
/
55:24
/ 06:27
Spider-Formidable Col (7,320 ft+) :
3:25:37
/
1:47:02
/ 08:14
Yang Yang Lakes (5,830 ft) :
4:10:17
/
44:40
/ 08:59
White Rock Lakes (6,194 ft) :
6:24:54
/
2:14:36
/ 11:14
Spire Col (7,760 ft+) :
7:52:01
/
1:27:07
/ 12:41
Cub Pass (6,000 ft+) :
8:54:49
/
1:02:47
/ 13:44
Bottom of Bachelor Creek (2,440 ft) :
10:51:23
/
1:56:34
/ 15:40
Downey Creek TH (1,415 ft) :
12:17:15
/
1:25:51
/ 17:06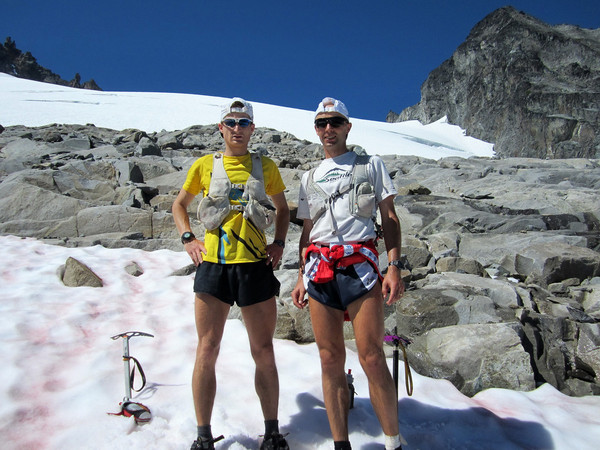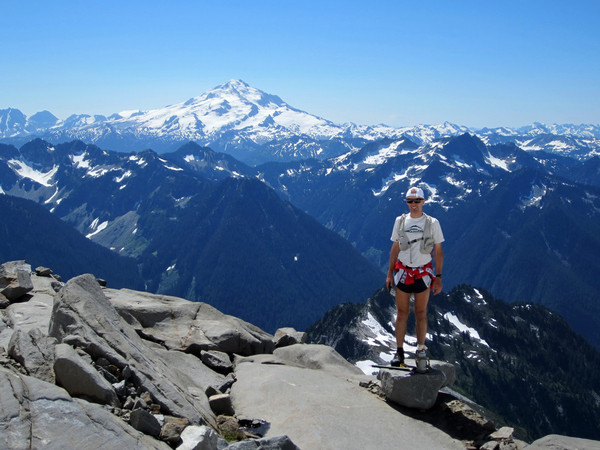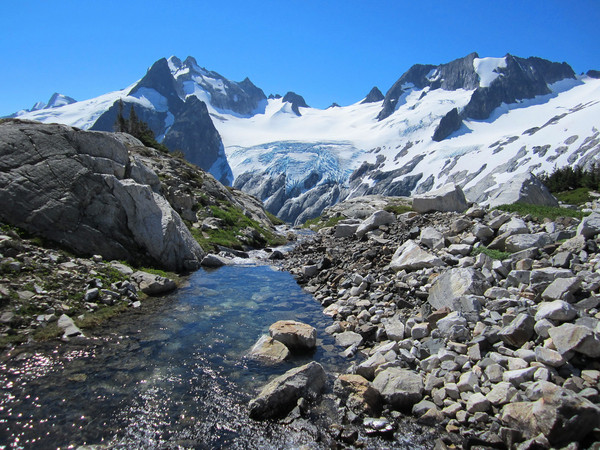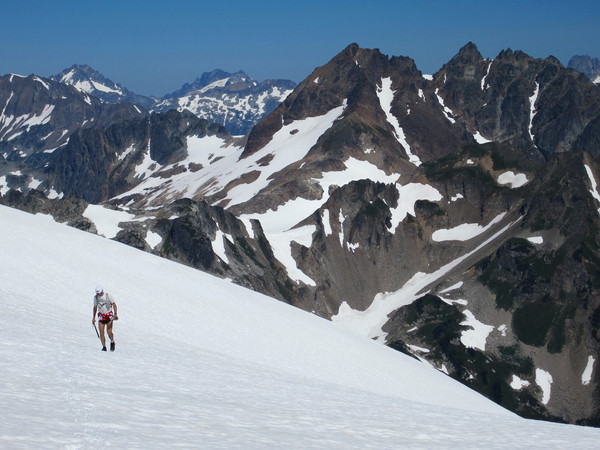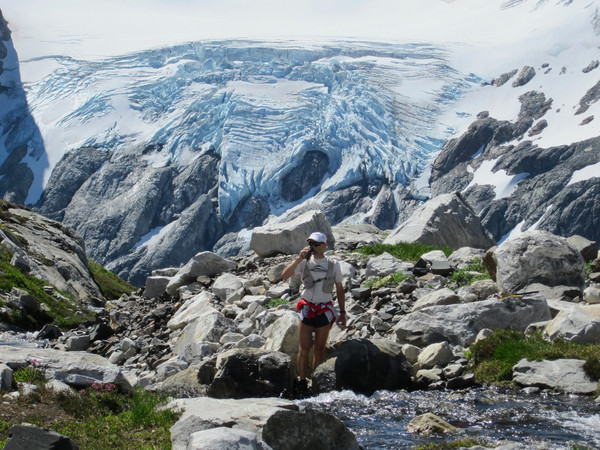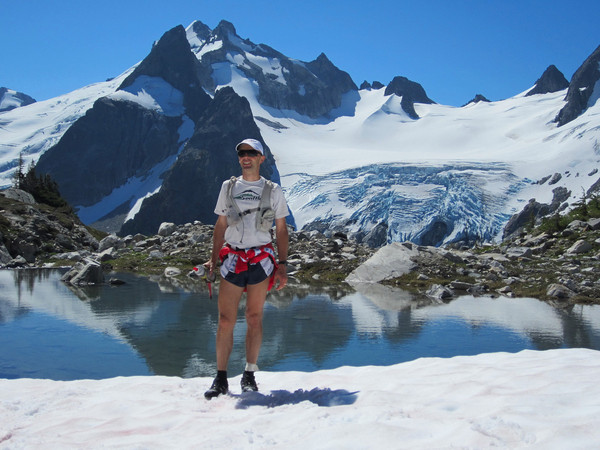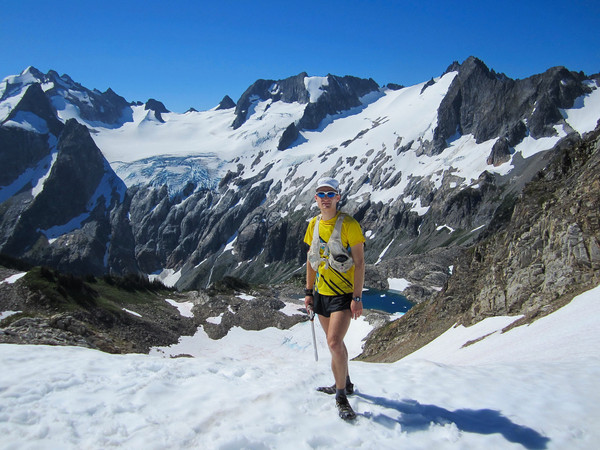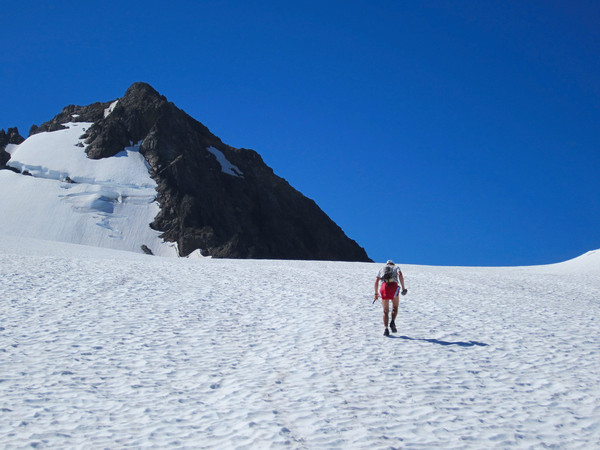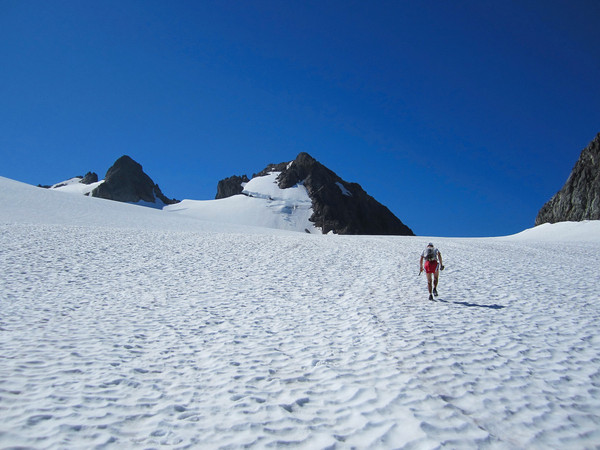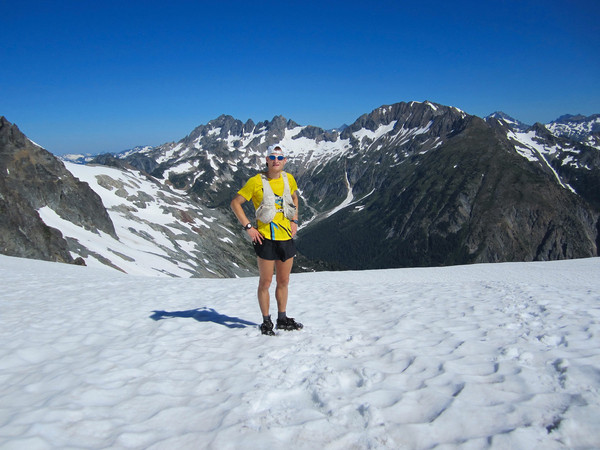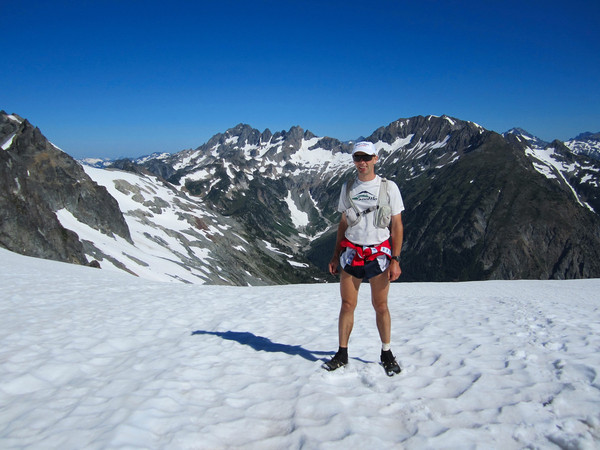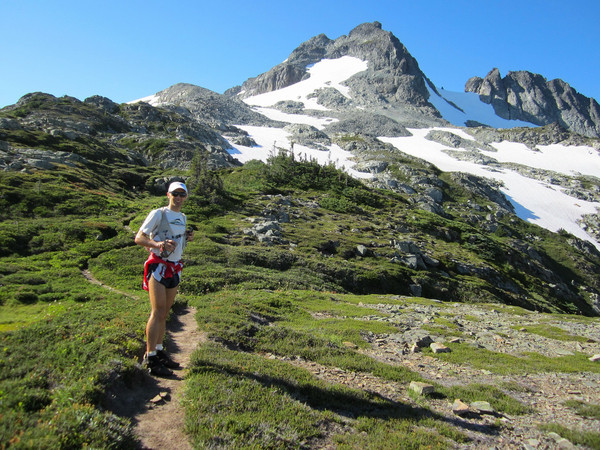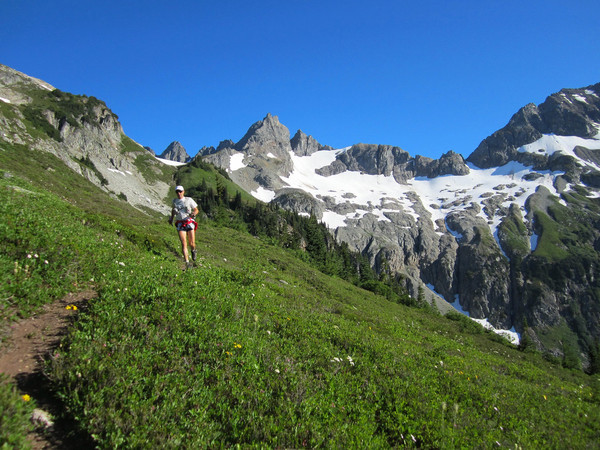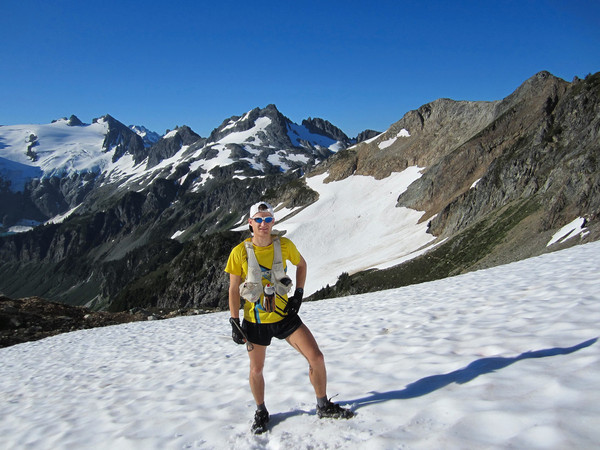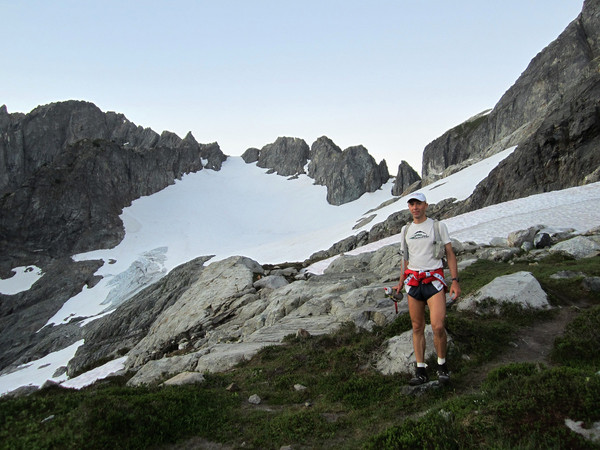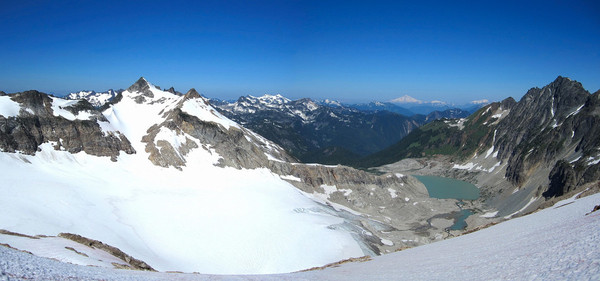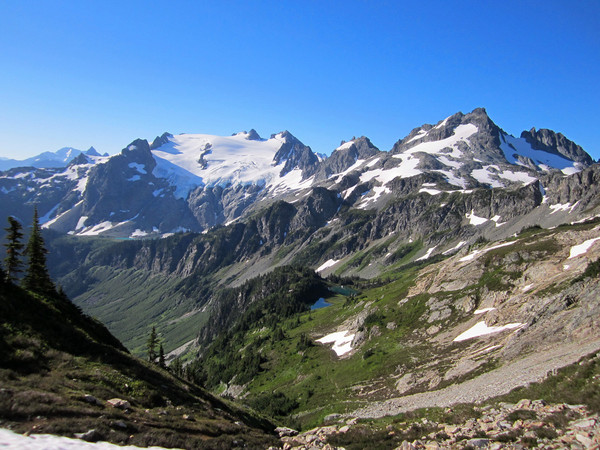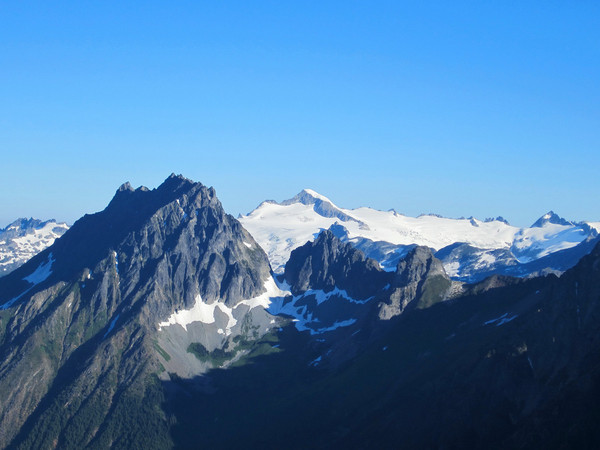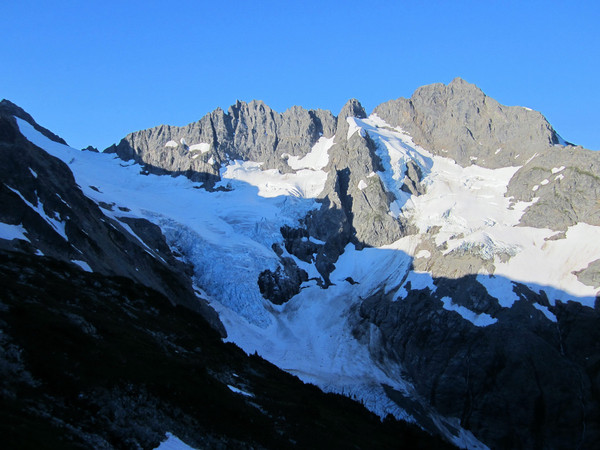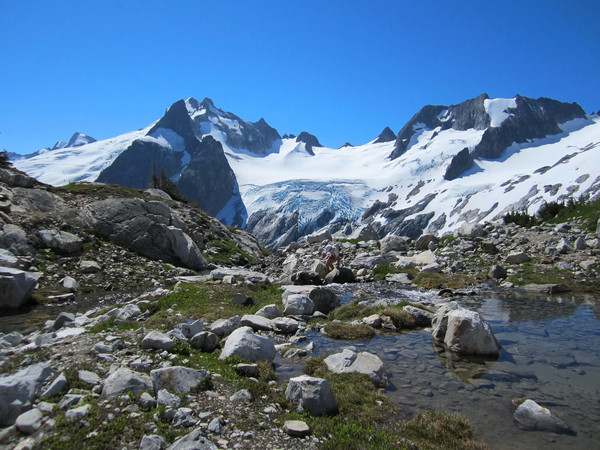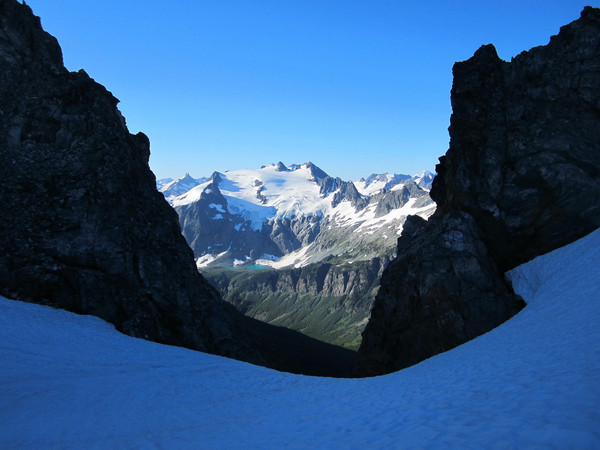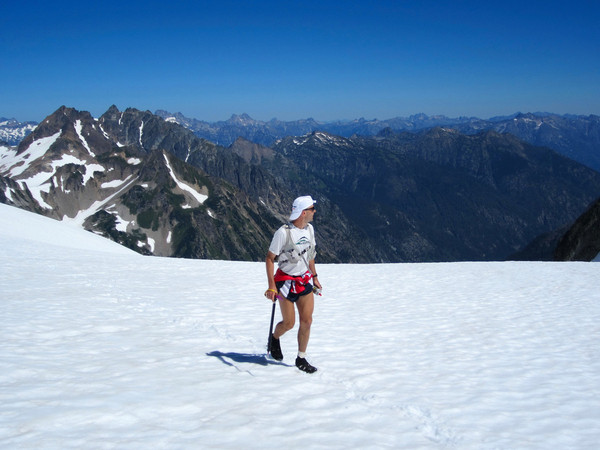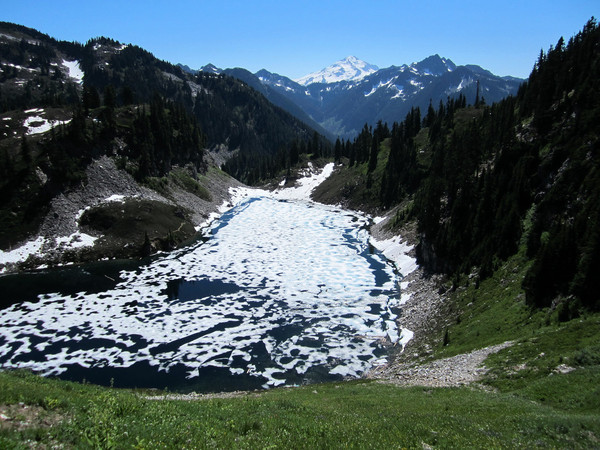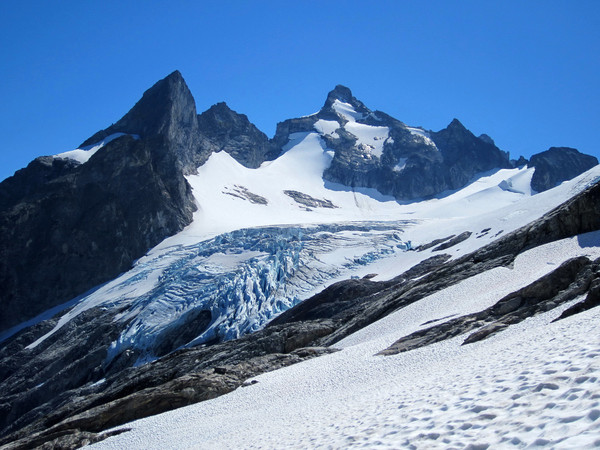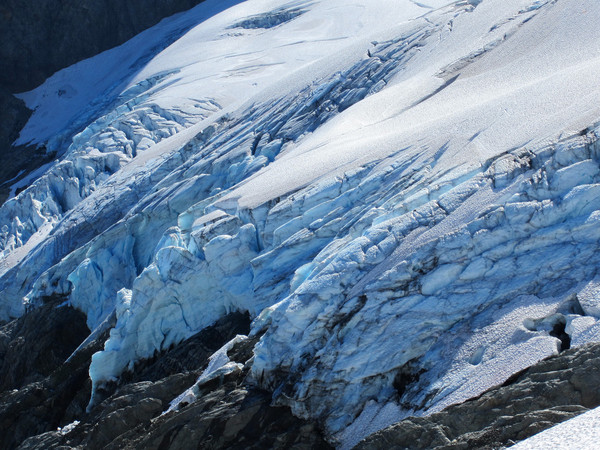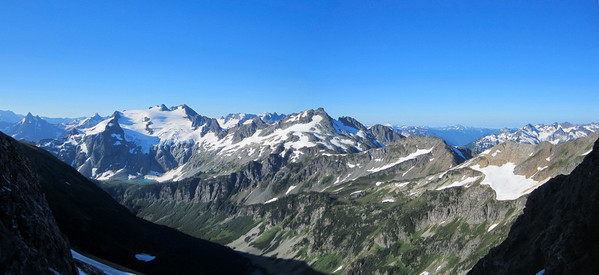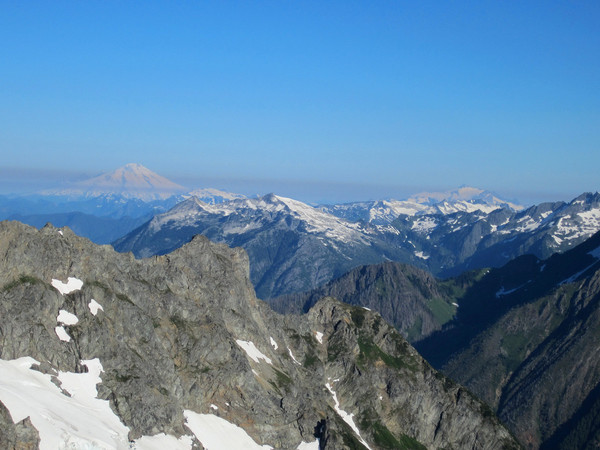 Gear Notes:
Axe and crampons
Footwear: La Sportiva
Nutrition: First Endurance EFS and Ultragen, energy bars
Approach Notes:
Typical Bachelor Creek brush