Trip:
Mystery Ridge to Northern Pickets - Enchainment
Date:
8/15/2012
Trip Report:
I have no words to describe this once-in-a-lifetime journey into some of the most rugged, scenic, and remote territory in the lower 48 states, so I'm going to leave that to Steph Abegg. This will undoubtedly go down as my single proudest and most memorable mountaineering voyage to date. From valley bottom to high glaciers to alpine meadows and jagged summits, this traverse offers a little bit of everything.
To summarize: Steph Abegg and I spent 7 days in the heart of the N Cascades, approaching from Porkbelly Ridge - a name the legendary John Roper coined that describes the steep, brushy ridge separating Bacon and E Fork Bacon Creeks. From there, we traversed Mystery Ridge, Pioneer Ridge, the Northern Picket Range, Easy Ridge, and finished via Mineral Mtn to Hannegan Pass. Over the entire 7 days, we encountered only 4 miles of trail... the rest was entirely cross-country.
Along the way, I climbed 8 peaks, and Steph climbed 11! (3 of which I had already climbed [thank goodness]). Peaks climbed were Berdeen, Hagan, Mystery, N Despair, Pioneer Ridge, Crowder, Swiss, Middle Challenger, Whatcom, Easy, and Mineral Mtn.
First, a special thanks goes out to my Dad (undoubtedly the world's #1 best) for picking Steph and I up at the Hannegan Pass TH at the culmination of our trip - with a 6-pack of beer. Also, thanks to reknowned aerial photographer and all-around great guy
John Scurlock
for picking my car up from Bacon Creek and depositing it at Steph's house in Bellingham. Without those two, this trip wouldn't have been able to happen as it did. And finally, thanks to Steph Abegg - one of the strongest people I've ever climbed with, if not THE strongest. And I'm not just saying that. I was continually amazed at how tough she is. I'm not used to being the slowest of the group, but I found myself struggling to keep up on this trip. Carrying heavy packs through this type of terrain takes a special type of person, and she definitely has what it takes.
Steph will undoubtedly be along soon with prose, photos, graphs, and flowcharts, but I just cannot put this trip into words. Hopefully my photos will tide you over until she can offer hers.
And now, my photos.
Steph threatening to pour out my bourbon.
Berdeen Peak.
Hagan, Berdeen Lake, Shuksan, and Blum.
Steph doing what she did a LOT on this trip.. eating.
Berdeen Lake at dusk.
Clouds whisping over Berdeen Peak.
Intricate whisps of clouds dance over us.
Morning above Berdeen Lake. I would get to sleep in and enjoy this view while Steph went over and climbed Hagan.
A look ahead to the N Pickets. We would be there in three days.
Views from Mystery Ridge.
Steph enjoying the route on Mystery Ridge.
Lonesome Creek Valley.
Looking back to Berdeen Peak from Mystery Ridge.
Blum and Lonesome Creek.
A similar view to the last photo.
Looking back towards Berdeen and Bacon Peaks.
Scrambling on Mystery Peak.
The Picket Range and Mt. Despair from somewhere on Mystery Ridge.
Steph on the morning of day 3.
Climbing steep snow to escape Camp Misery.
Scrambling to get off of Mystery Ridge.
Traversing the basin below N Despair at the head of E Fork Bacon Creek.
Looking back in that basin.
Snow tunnel in that basin.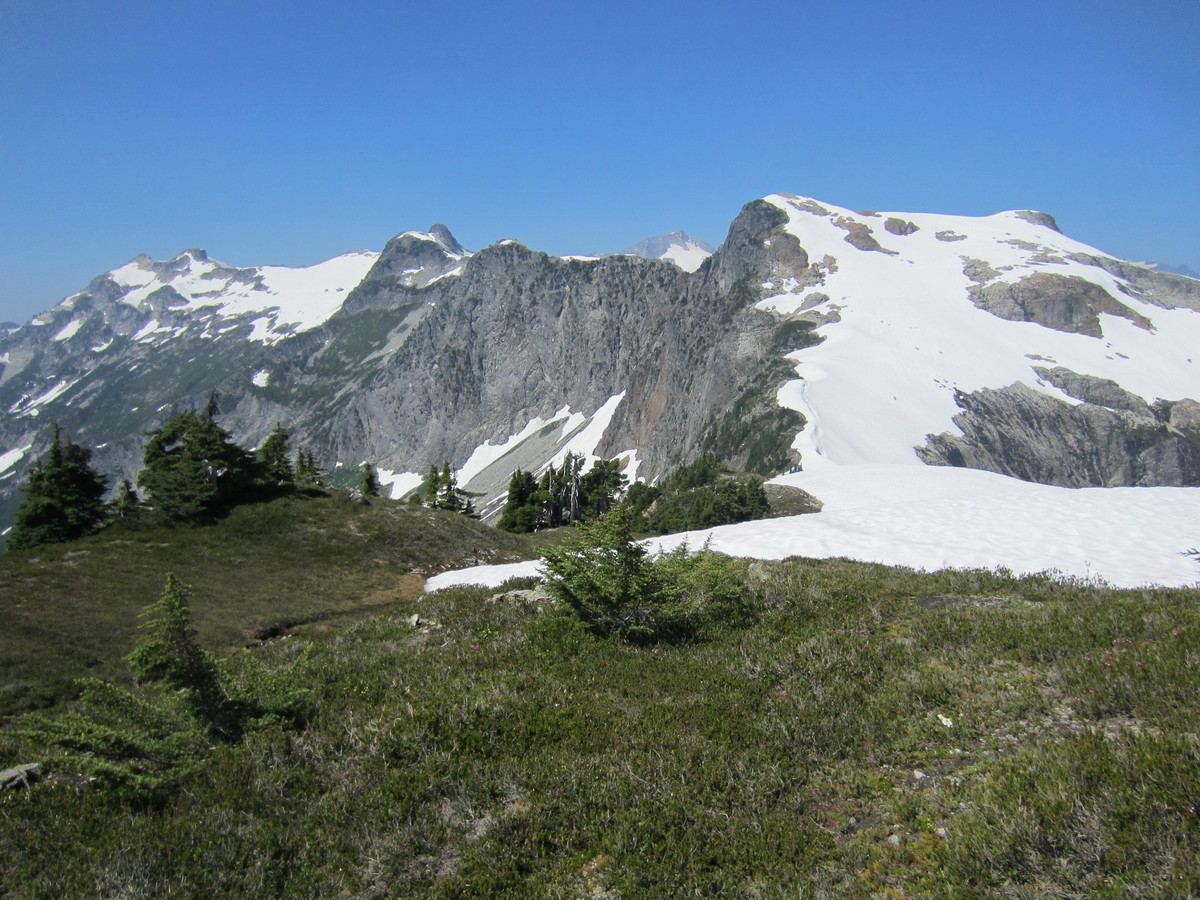 Nearing Mystery Tarn.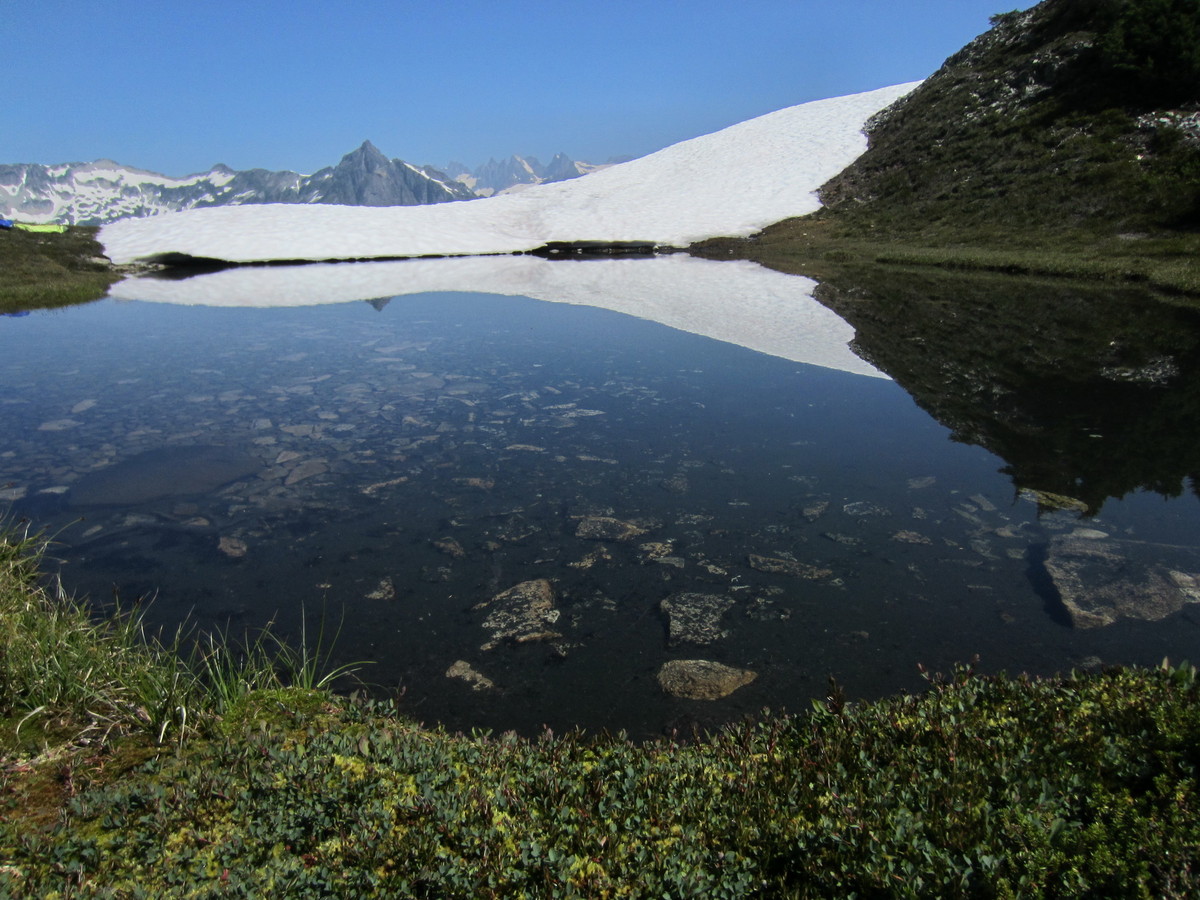 Mystery Tarn.
Mystery Tarn.
Playing nature photographer around Mystery Tarn.
Steph and Mystery Tarn.
Upper Goodell Creek and the heart of the Picket Range.
Steph descending heather meadows above Jasper Pass.
The view of the Pickets just above Jasper Pass.
Descending into Jasper Pass.
...
Views from Pioneer Ridge.
Mt. Despair from Pioneer Ridge.
My shadow and Crescent Creek Wall.
Another tarn.. they were everywhere!
Gorgeous Mt. Despair.
Closer.
"Balcony Camp" on Pioneer Ridge.
Mt. Despair again.
Self-shot. The big smile says it all.
From Pioneer Ridge at dusk.
Sun sets on Mt. Shuksan.
Another shot from Pioneer Ridge at dusk.
Mt. Shuksan from Pioneer Ridge.
Fields of Lupine greeted us as we ascended Pioneer Ridge.
Cliff Lawson Memorial Summit Register placed by my Dad, Mike Swayne, and Jim Nelson in 2003. R.I.P.
Cliff, you are missed!
Dad's summit entry. Nobody has been here in 9 years? Pioneer vies for the most remote spot in the lower 48 states.
Steph dwarfed by Pickets.
Gorgeous Wild Lake.
Steph descending to Wild Pass.
Ascending Mt. Crowder.
A maple leaf (Acer Macrophyllum) on Mt. Crowder. Not the strangest sighting we would encounter on this trip (see Christmas wreath).
Triumph, Despair, and the wild Goodell Creek Valley.
The Pickets from the summit of Mt. Crowder.
Steph on the summit of Crowder.
Steph beginning the epic descent of Crowder's NE Ridge.
Amid an epic descent of the NE Ridge of Mt. Crowder. DO NOT go this way.
"Class 3-4" on Mt. Crowder (sorry Steph, couldn't resist).
Spectre from Pickell Pass.
A smoky haze fills Picket Creek as the sun sets. Photo taken from Pickell Pass.
Another shot of the same from Pickell Pass.
...
Boot shot from Pickell Pass.
Sunset from Pickell Pass.
...
Lupine.
Lupine and Spectre Peak.
Looking up to Phantom Peak.
Again.
Steph scrambling in the basin below Phantom Peak.
Steph traversing the Northern Pickets.
Mt. Challenger from the West.
Steph in the slot we used to access the Challenger Glacier.
W Challenger.. an objective of ours that failed to materialize due to a combination of our meager
rack (6 stoppers and 2 slings), poor conditions (rotten snow gully), and Fay's doomful recent TR. Next time I will be better prepared.
Looking down at Steph climbing the class 3-4 section.
Steph standing atop Middle Challenger.
Crags around W Challenger.
Steph downclimbing to Perfect Pass.
Our first Christmas wreath sighting in the N Cascades. A rarity.
Whatcom Peak. We scrambled up and down this in 45 minutes from Perfect Pass.
Camp at Perfect Pass.
Mt Challenger as seen from Perfect Pass.
A hot air balloon?
Sunset at Perfect Pass.
...
Steph enjoying the color show from Perfect Pass at dusk.
Steph taking another photo.
Views from Perfect Pass.
Looking back up to Perfect Pass on the descent to Easy Ridge.
Imperfect Impasse.
Pioneer Ridge and Mt. Crowder in the distance.
An unbelievable flower show on Easy Ridge.
Wow!
Whatcom and Challenger from Easy Ridge.
Again.
Aaaand again.
Fields of Lupine on Easy Ridge. I can't get enough.
Gorgeous Easy Ridge.
Descending to the lake below Easy Ridge on the way to Mineral Mountain.
Said lake below Easy Ridge/
...
Gorgeous!
Ascending Mineral Mountain from the East.
The view North from the summit of Mineral Mountain.
Mineral Mountain summit ridge. Much of our traverse can be seen here.
Steph reflecting with a logic puzzle on the summit of Mineral Mountain.
More flowers.
Our final camp on the summit of Mineral Mountain.
Trip Stats:
-11 peaks (Steph), 8 peaks (Tom)
-38,930' gain, 36,720' loss
-55.2 miles (all cross-country except for 4 miles)
-6 passes (Jasper, Wild, Pickell, Perfect, Chilliwack, Hannegan)
-4 ridges (Porkbelly, Mystery, Pioneer, Easy)
-6 goats
-3 bears
-~2200 calories/day (for me - oops!)
-~5600' average elevation gain per day (cross-country, most of it with a full pack)
-1 magical tarn
-1 Christmas wreath
-1 trip of a lifetime
-7 days
Route map:
Original route itinerary.