Pickets Traverse – July 3-12, 2008
Due to the length of this TR, Firefox will not load it all. Internet Explorer recommended for your full viewing pleasure.
10 days and 8 summits from Thornton Creek to Big Beaver
From July 3-12, Sean Martin and I did an alpine traverse beginning at Thornton Creek, and ending at the Ross Lake TH via Big Beaver Creek. Along the way, we climbed Mt. Despair, North Despair, Pioneer Ridge, Mt. Crowder, Swiss Peak, Phantom Peak, Crooked Thumb Peak, and Mt. Challenger. This is the story..
Day 1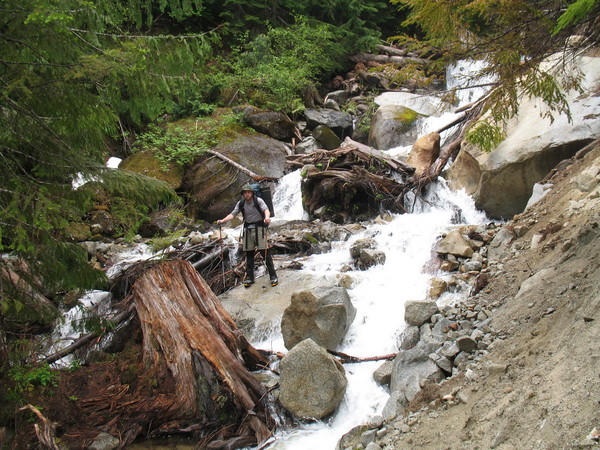 Sean amidst one of the creek crossings on the approach.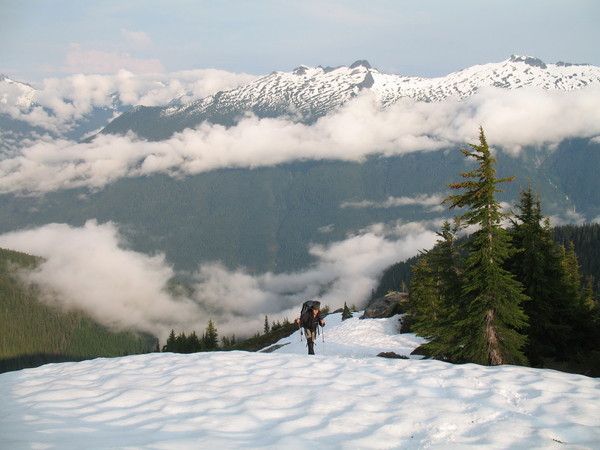 Sean ascending to the ridge.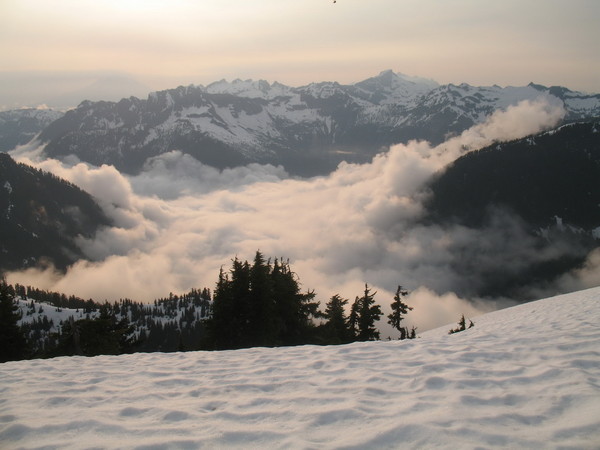 Views from the ridge.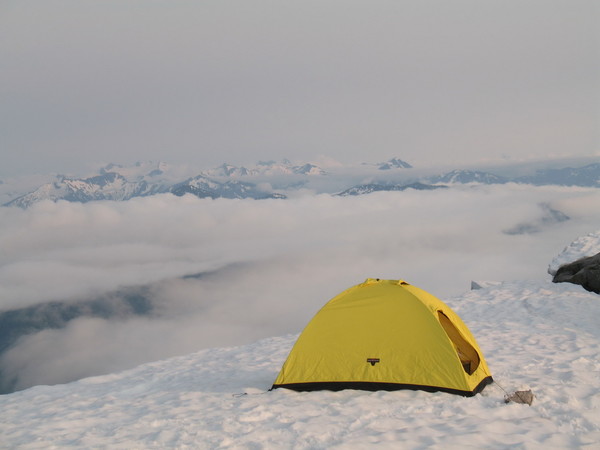 Camp 1.
Initially the plan was to take the Thornton Creek Trail to Thornton Lakes for a leisurely first day. After trying to cross Thornton Creek, however, we spontaneously changed plans and headed directly up to the ridge dividing Damnation and Thornton Creeks. I had been this way twice previously, once to climb Triumph, and once on an attempt of Despair. I had never camped at Thornton Lakes, and that appealed to me, but the creek was running WILD that day, and we had no other choice but to cut uphill.
The going is easy up to the ridge – mainly steep, open forest with occasional rock steps. Upon arrival in camp, we were greeted to some pretty sweet views.
Day 2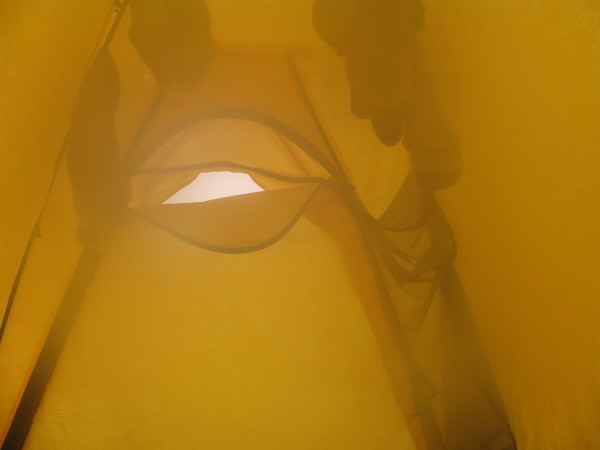 Camp 2.
On day 2, we awoke to a whiteout. We could not see the stove and cookpot ten feet away from our tent. Although it did not rain on our approach day, it rained the night before, and so all the brush on the approach was wet. We were soaked upon arrival in camp and had hoped that day 2 would provide us with an opportunity to dry things out. This was not to be. We decided to make day 2 our one weather day for the trip. This would mean no rest days would be feasible considering the magnitude of our schedule.
Day 3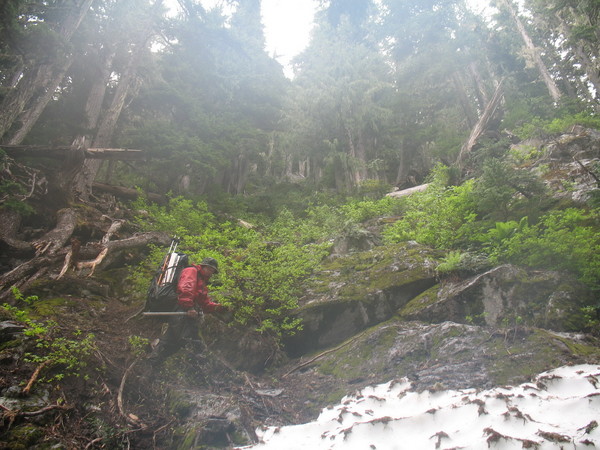 Sean amidst wet brush on the way to Triumph Pass.
We awoke on day 3 to another whiteout and steady rain. Since I had to be back on the 12th, we had two choices given our busy itinerary: bag the trip, or press on in crappy weather. We chose option B. Fortunately, at this point our gear had dried out enough to be functional. We both had down bags which were able to be dried from body heat throughout the past 36 hours spent in the tent. We packed our packs with our remaining 8 days worth of food and fuel and climbing gear and headed down into Triumph Creek towards Triumph Pass. The steep forest traverse was wet, which made it pretty tricky. The forest here is coated with moss and heather and pine needles over mossy cliffy steps. In steady rain and whiteout, we made it through unscathed, and continued on fairly easily to a very windy Triumph Pass. From Triumph Pass we couldn't see much, but through whisping clouds we were able to locate the lake in the lower basin, on the shoulder of Triumph. We made camp here since we were drenched. We hoped Day 4 would clear, but we weren't convinced.
Day 4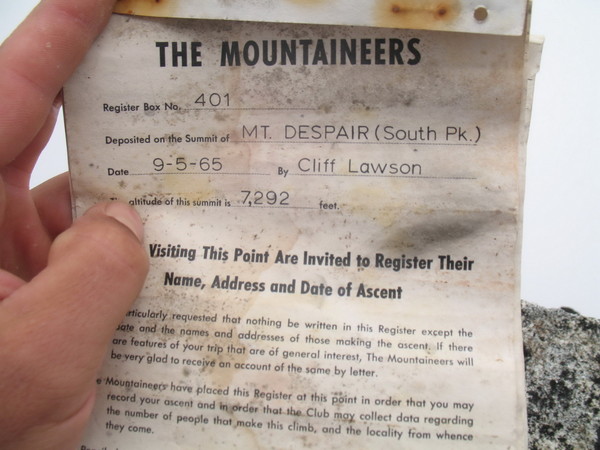 The best picture of Despair we got.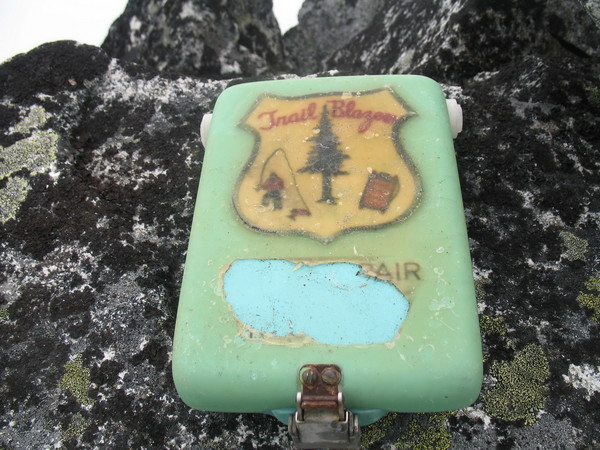 Long live the Trail Blazers!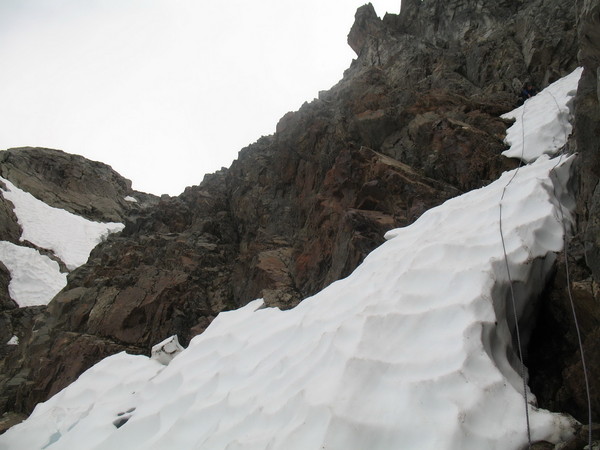 Bollard rap #1.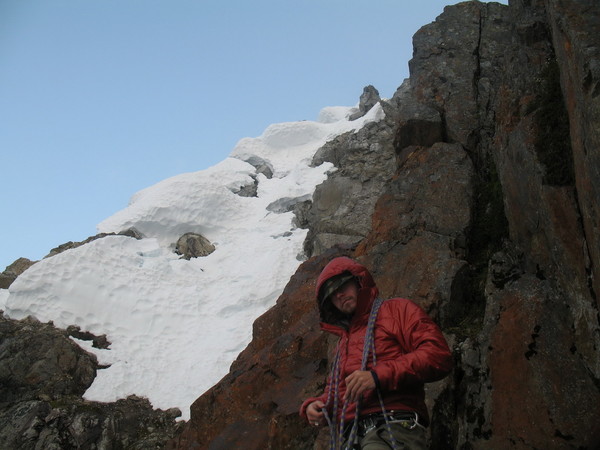 Sean in our rap gulley.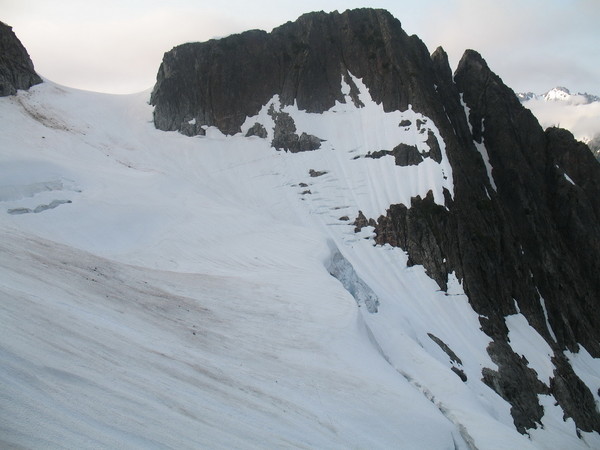 Traversing to the col.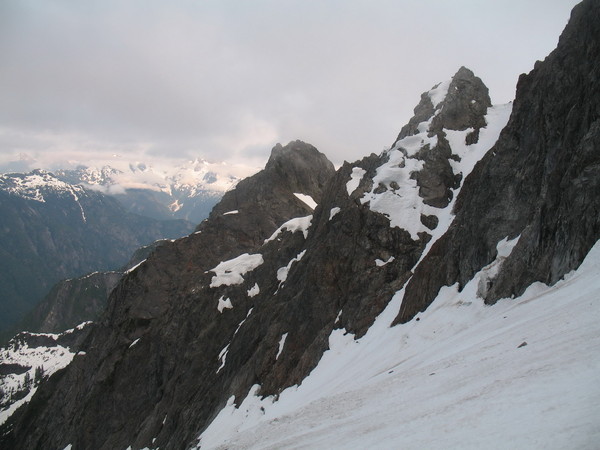 Our descent from the notch on Despair.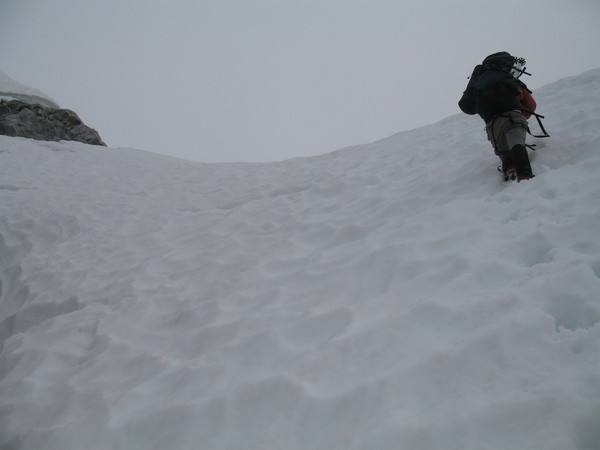 Descending steep snow on the N side of the Col.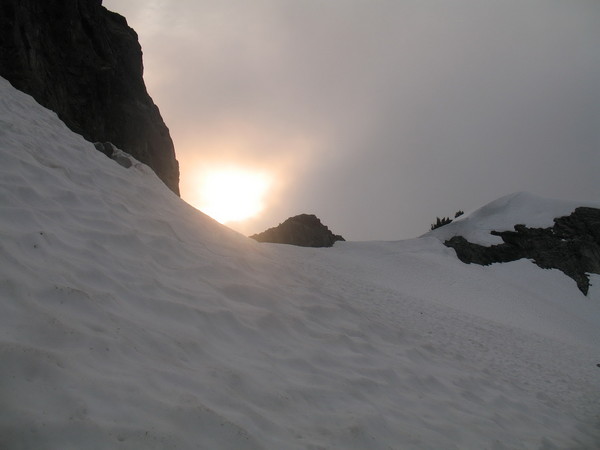 The sun over Despair arm.
On day 4, we awoke – to another whiteout. We were beginning to wonder if we should continue on or head back out. The last forecast I caught before we left indicated sunny weather was in store, so we crossed our fingers and hoped for the best. And so we embarked once again, packs fully loaded, up to the summit of Despair. It was a little tough finding the summit in swirling clouds, but we were able to feel our way up through the breaks and soon we stood on the summit. The summit register was placed by a good friend of my Father's, the late Cliff Lawson., in 1968. The original Trailblazer summit register is still in place as it should be. This one doesn't get climbed much. Last to sign in were Mike Collins and Dave Creeden in 2007. From the summit of Despair, we could see patches of blue through the cloud deck.
From the summit, we dropped down about 400' to a N-Facing gully (steep snow). This would be our gate to the next leg of the journey. We made one rap off a rock horn to the moat, where we looked for reliable rock anchors. We had three pickets which we could have used, but we wanted to save them for later in the trip. After not finding any reliable rock anchors, we made a bollard from the moat. Rapping off this down to another moat, we did the same again to a rock ledge. The rock ledge offered no reliable rap anchors either, but I did have one piton which we placed in a shallow crack. From here we made one 30m rap onto the glacier N of Despair.
We traversed the glacier North up and over a col, then down the other side on steep snow (corniced). From here, we couldn't see much except for a possible camp on the arm leading North from North Despair, our next objective. We found a nice camp on snow here and called it a day.
Day 5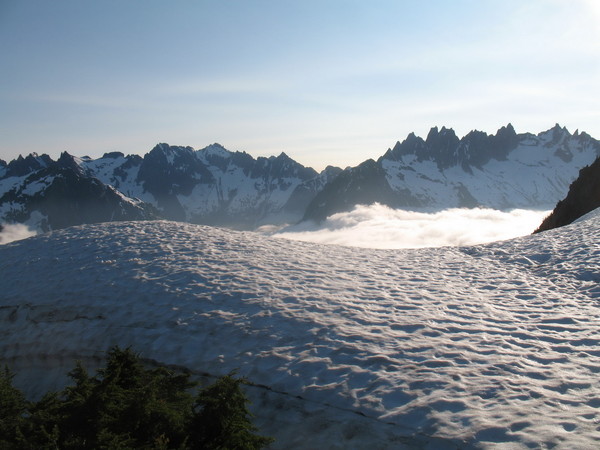 Sunshine – finally!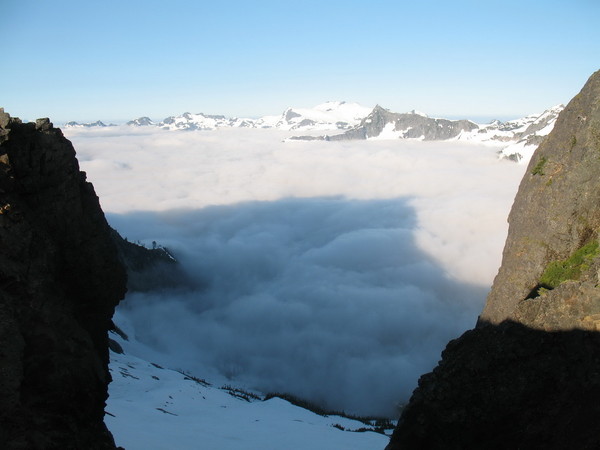 Clouds hanging around the valley.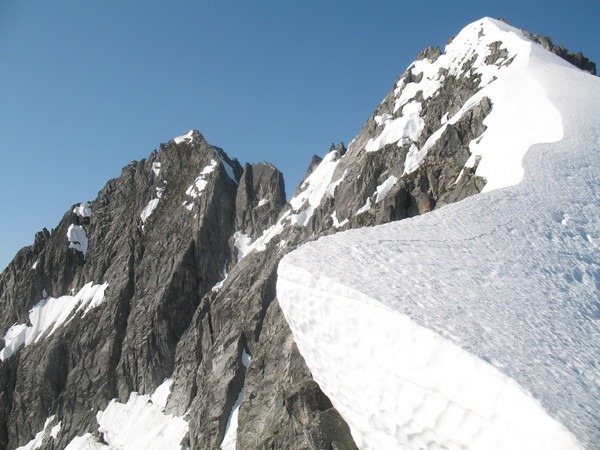 N Despair.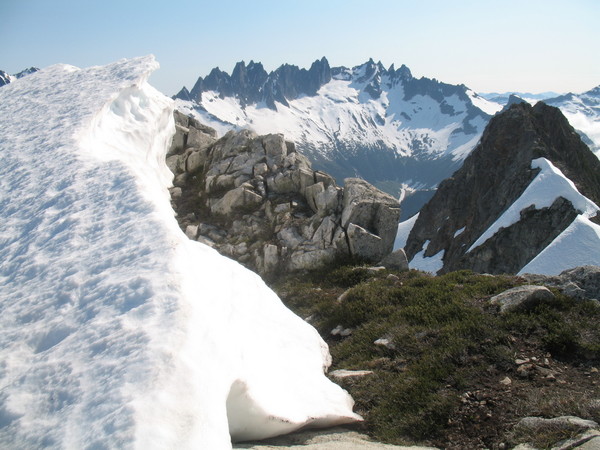 Views from camp.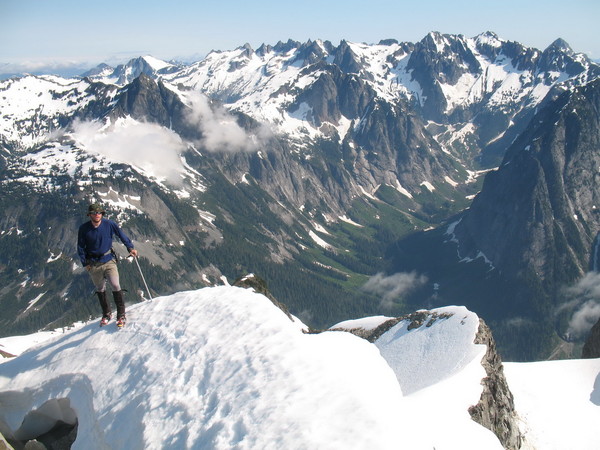 Sean on N Despair.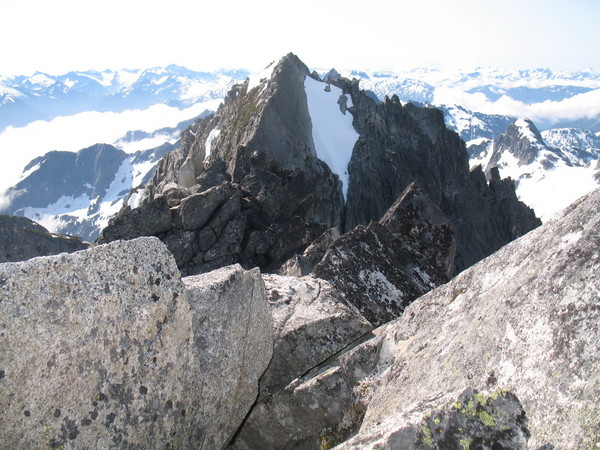 Despair from N. Despair.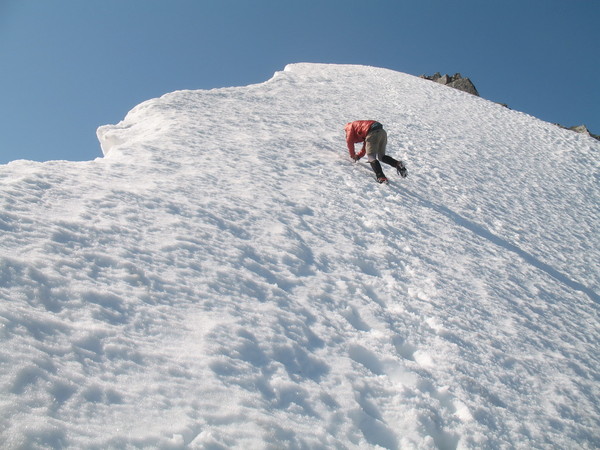 Sean descending N Despair.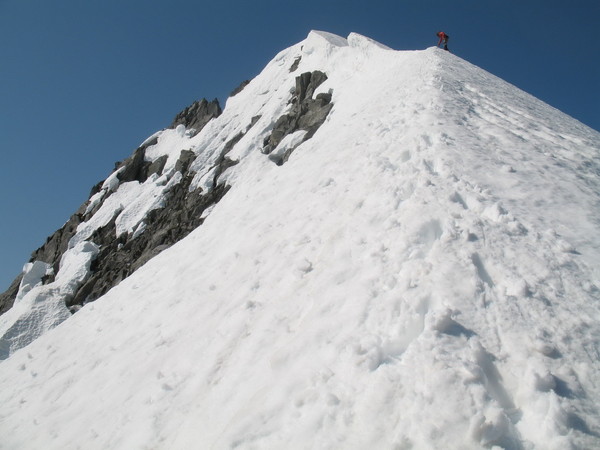 A perfect aręte.
One of the many traverses.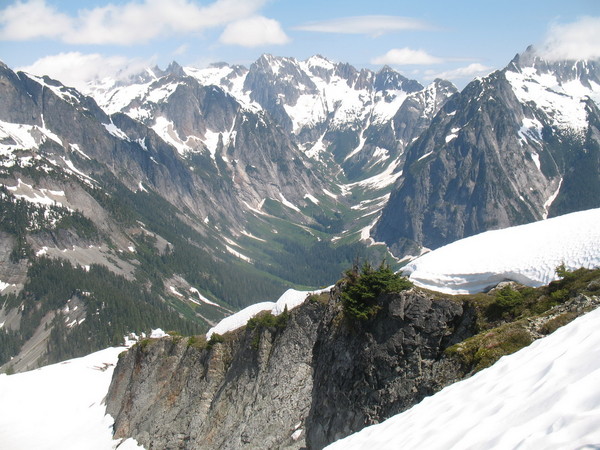 Views deep into the heart of the Pickets.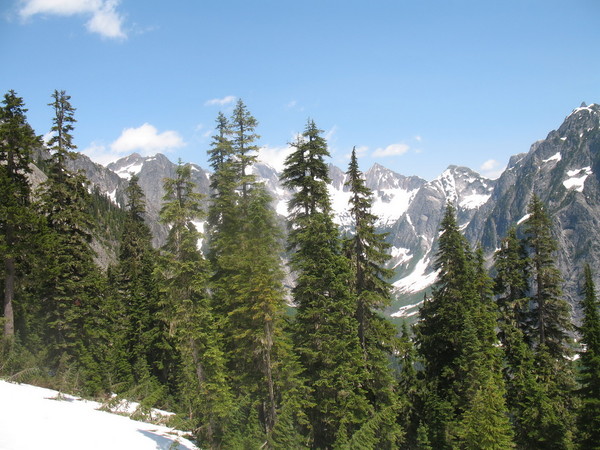 Views from Jasper Pass.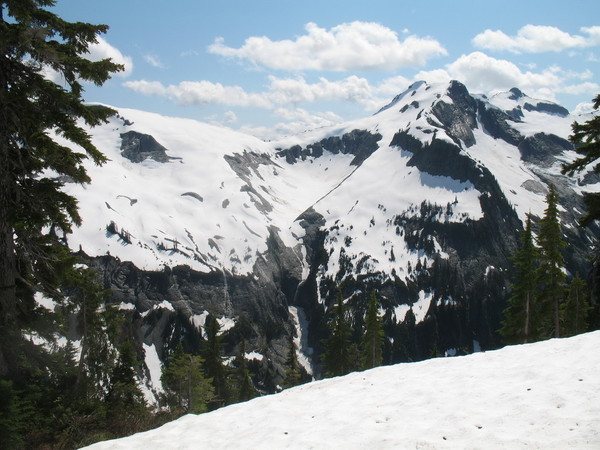 More views.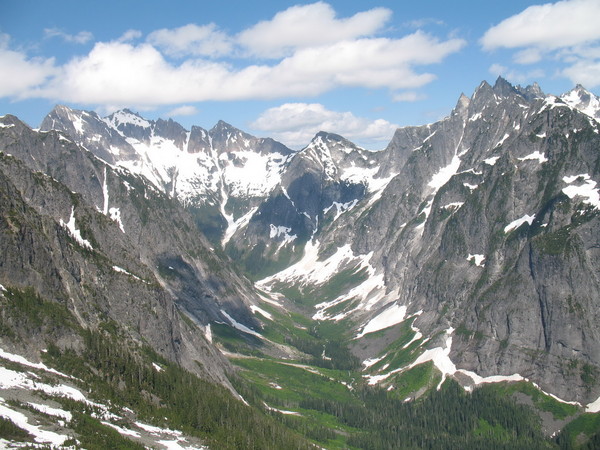 And more.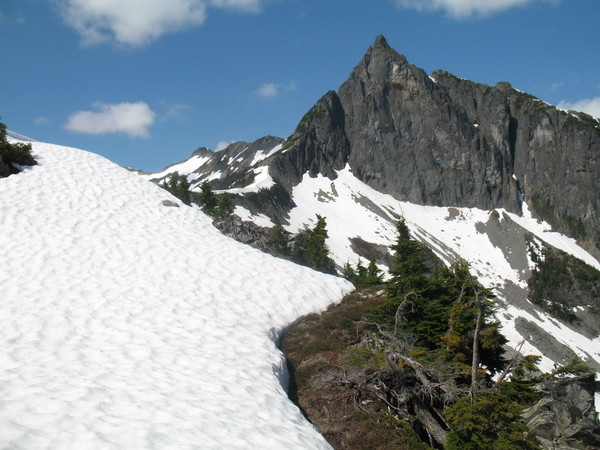 Pioneer Ridge.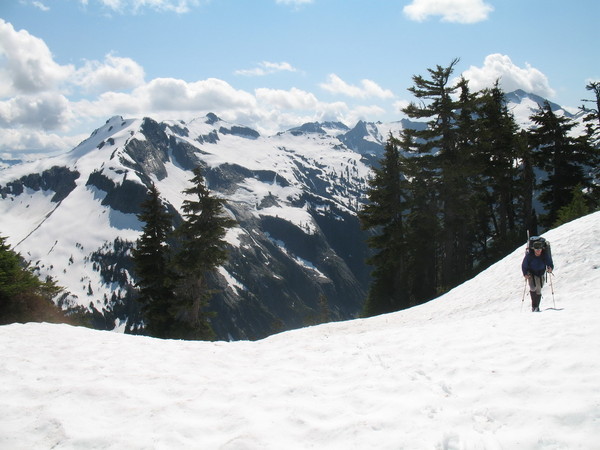 Sean ascending to Pioneer Ridge.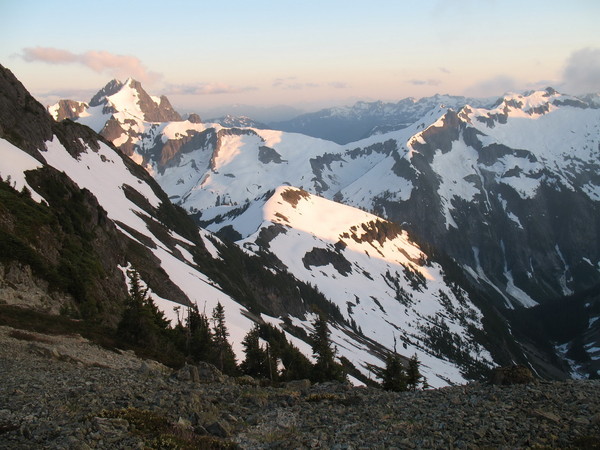 Alpenglow from camp.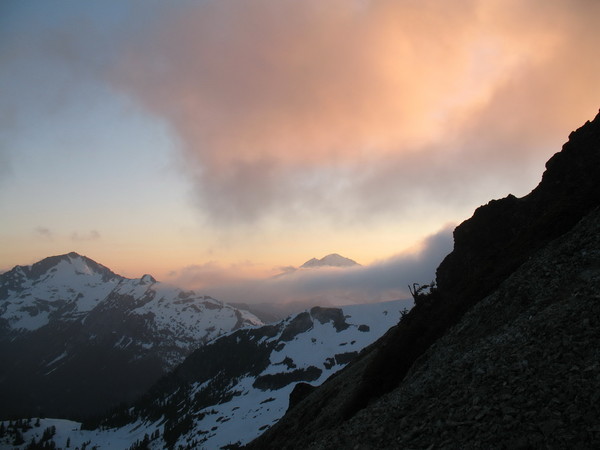 Baker at sunset.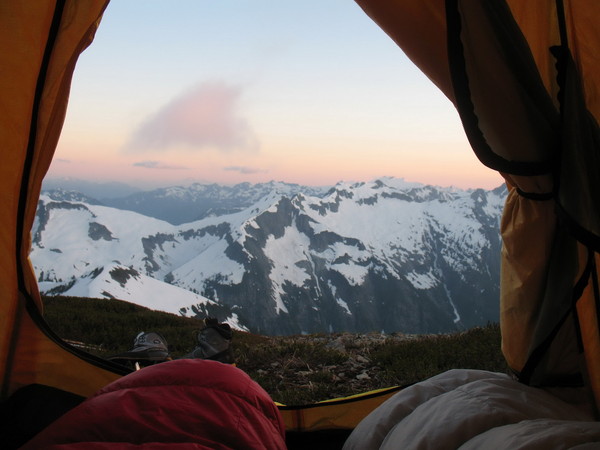 The view from the tent.
On day 5, we awoke – to SUNSHINE! Not a cloud in the sky. We were amazed at the turn of events, and were eager to get up North Despair, which looked phenomenal. N Despair has one of the most impressive arętes of any I've seen. Eldorado's aręte looks a bit meek in comparison.
The climb of N Despair is straightforward, and we didn't take a rope. Firm snow made for easy cramponing up the fairly steep slope (40 degrees steepening to 55 degrees at the summit). The summit register is a small rusty container with a few scraps of paper dating back to Mike Swayne and Gordon Thompson's first ascent in July, 1963. There have been about 8 parties who have signed in since.
From here, we dropped back down to our lovely camp and packed up for a traverse down to Jasper Pass, and up to Pioneer Ridge. The traverse was made on steep snow over cliffs – all a bit tiring (physically and mentally) considering we had heavy packs.
Jasper Pass is nothing to write home about. Thankfully it was 75% snow-covered because it looks like it's got some nasty brush. We didn't stop for long on the way through, instead setting our sights on the beautiful Pioneer Ridge which Beckey calls one of the most rugged spots in the range.
We arrived on Pioneer Ridge with enough time to head to the summit. The tough part was, we had no map for this zone (USGS Blum) since I failed to get one in time before the trip, so we didn't know which was the true summit. We camped less than 200 vertical feet below what was later determined to be the true summit, but instead took it upon ourselves to travel an hour out of our way to get to the point which we thought was highest. Upon arrival, we did not see a register (which didn't jive with reports from recent summit parties), but we just thought it got taken by one of those register Nazis. We should have taken the 15 minute stroll up from camp to the other knoll which looked similar in height. Oh well.
The views from Pioneer Ridge to Mystery Ridge, Blum/Bacon/Hagan, and the entire Pickets range North to South is stunning. We were now able to see nearly our entire journey from start to finish. It looked huge.
We settled into camp that night with our sights set on Wild Pass and Mt Crowder to Pickell Pass the following day.
Day 6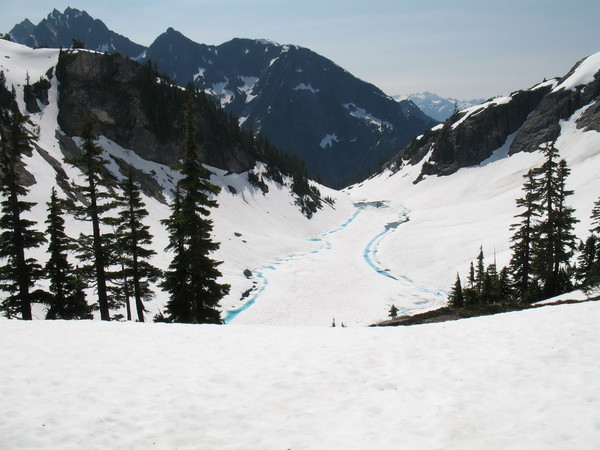 A frozen Wild Lake.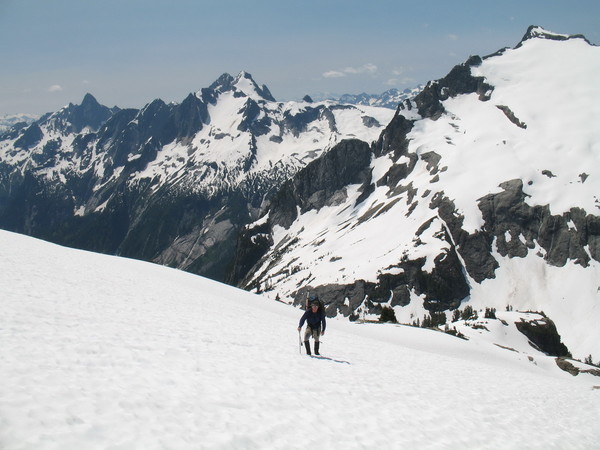 Sean ascending slopes below Crowder.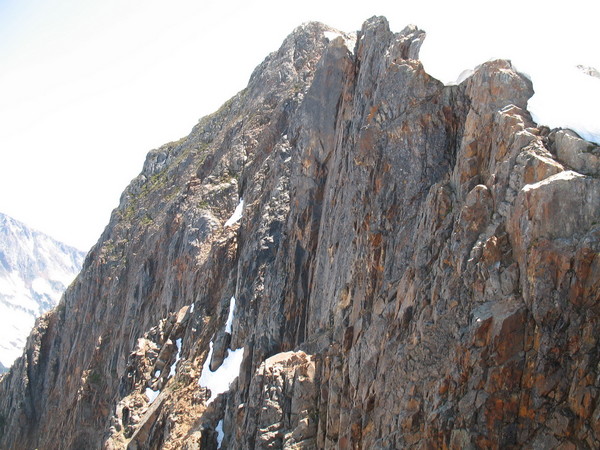 Crowder's dramatic N Face.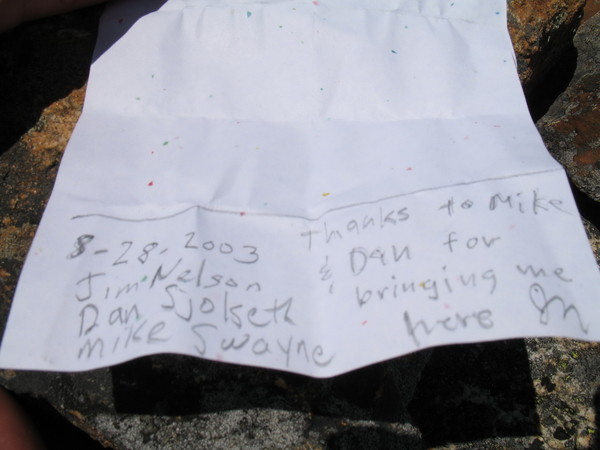 Just some yahoos.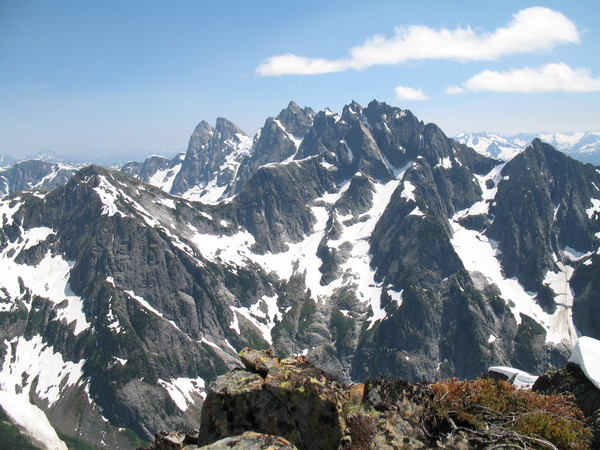 Views from Crowder.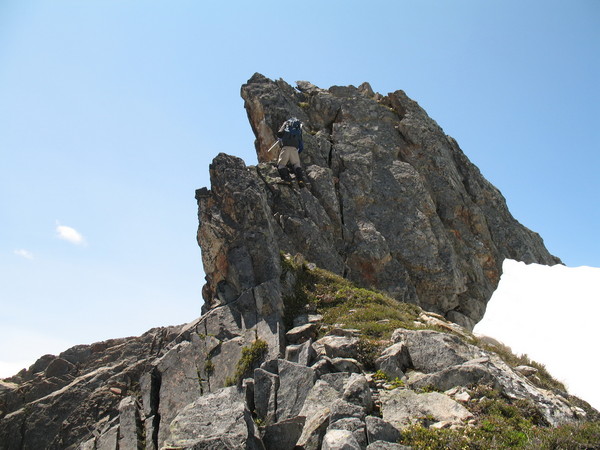 Sean downclimbing on Crowder.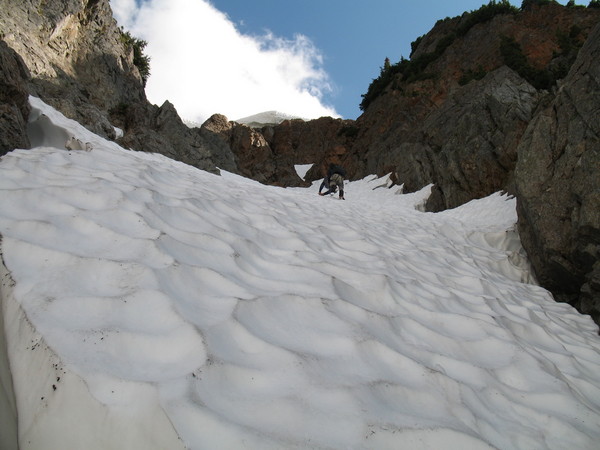 Sean descending steep snow in the gulley.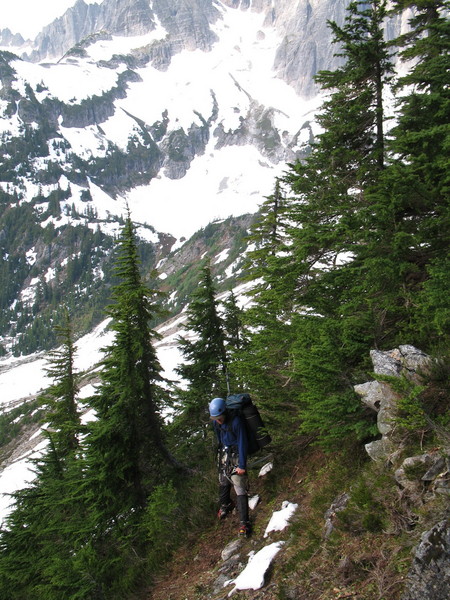 Dirt-ponning on Crowder.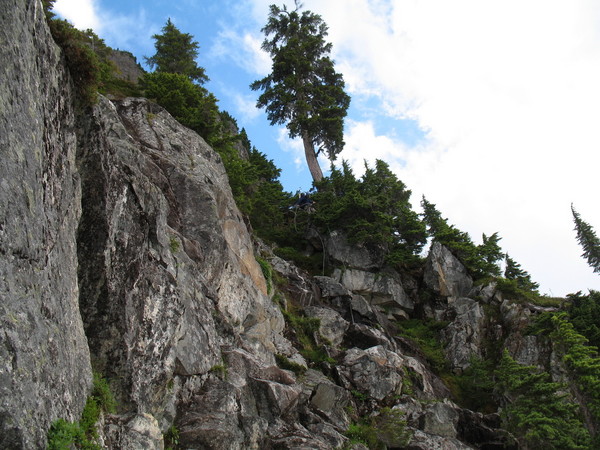 Vegetable raps.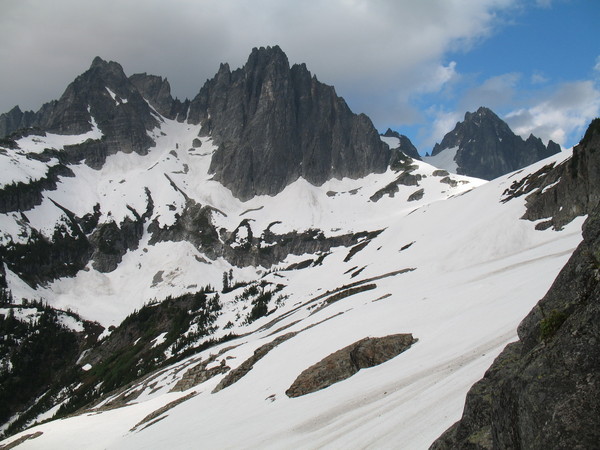 Ascending to Pickell Pass.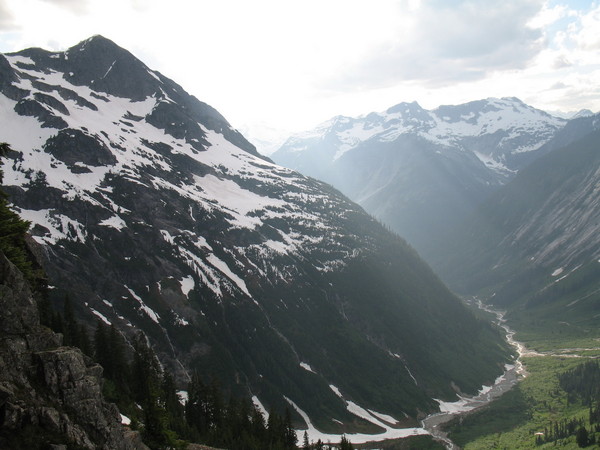 Picket Creek.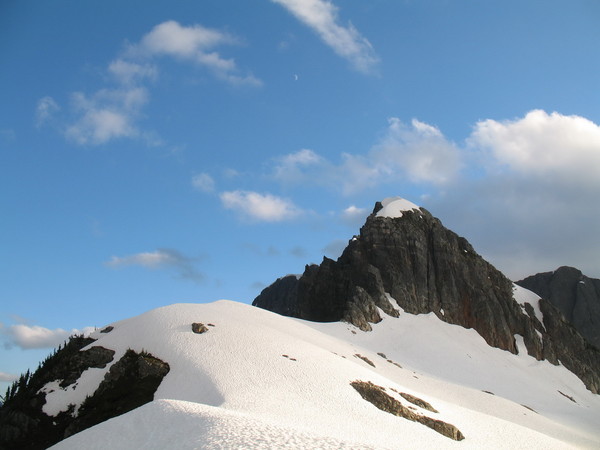 The moon over Crowder.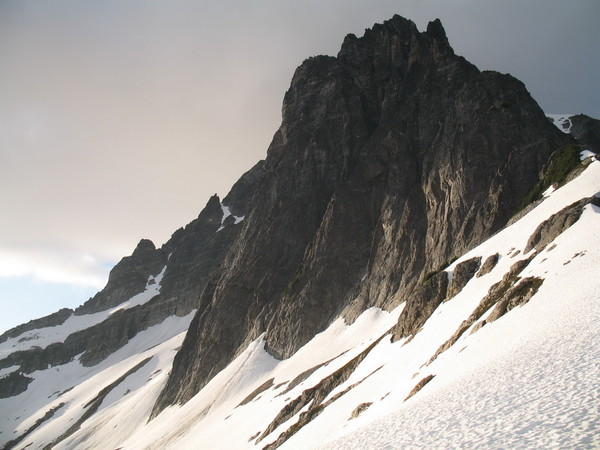 Spectre Peak.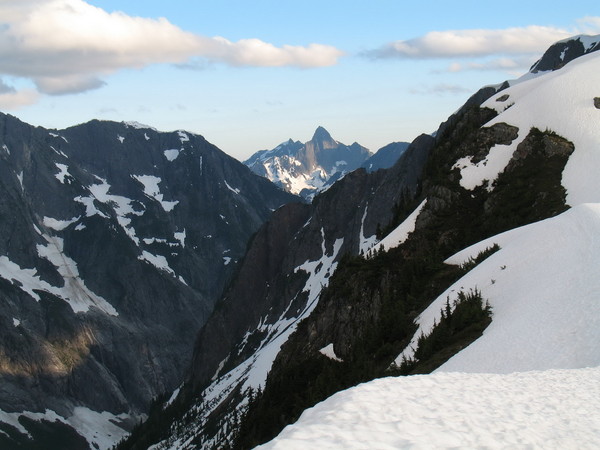 Triumph through the gap.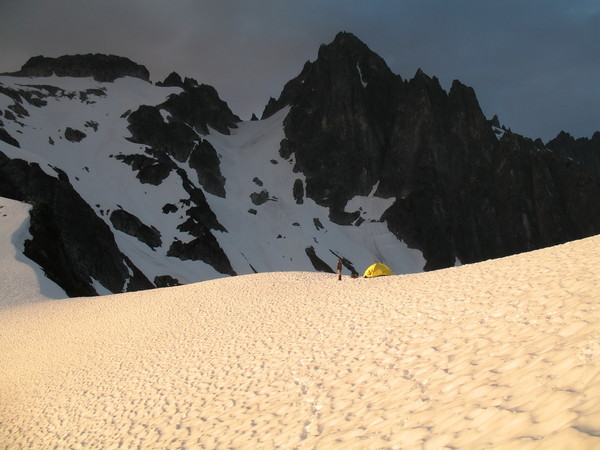 A magnificent camp.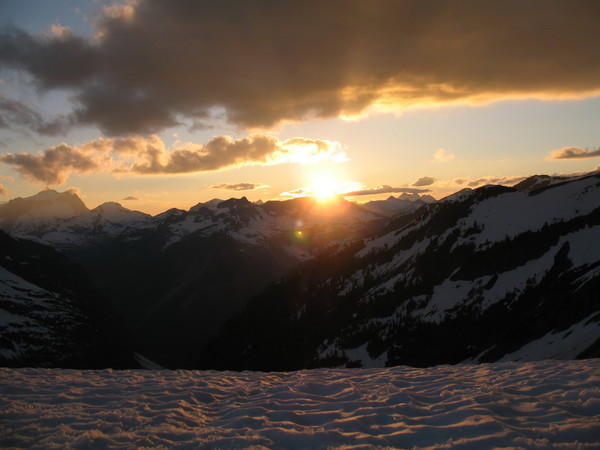 Sunset.
On Day 6, our plan was to drop to Wild Pass from Pioneer Ridge and ascend Crowder. Then we were to drop to Pickell Pass where we would set up camp.
Dropping off Pioneer Ridge entailed more steep snow traversing over cliffs with heavy packs. The descent to Wild Pass took no time at all due to the fact that we glissaded a great portion of it. Wild Lake was 95% frozen still, but we could see the turquoise blue water starting to appear on its shores. This is a magnificent lake, and I can't wait to come back and see it when it's melted out.
From Wild Pass, we made the 2000' ascent to the summit of Mt. Crowder. Again, not too many people climb this one. The last party to sign in was none other than Dan Sjolseth (my father), Jim Nelson, and Mike Swayne – in 2003! I can't believe it hasn't been climbed in that time, but then again there's no pencil in the register and the peak is REMOTE.
From Crowder, there really is no information out there on how to get to Pickell Pass (that I was able to obtain). I knew it had been done, since Roger Jung had signed in the N Despair summit register that he made it from Pickell Pass to N Triumph via Crowder. We decided to descend straight off the summit, directly towards Pickell Pass. This went great for about 300 vertical feet, but then we encountered lack of rap anchors again. 70 degree heather (and crappy rock) made us reconsider our options. We climbed back up to the summit and descended back down towards Wild Pass, eventually finding a weakness in Crowder's N flank. We rapped off a tree into a steep (60 degrees) snow-filled gully. From here, we rapped off one picket down to the moat where we found OK rock to sling for one more rap. From here, we downclimbed 50 degree snow, gradually lessening in angle to the glacier below. At this point, the traverse around Crowder was still not trivial. We encountered very steep heather again, and it was wet. We donned crampons and traversed a quarter-mile around Crowder's N Buttress on steep, wet dirt and heather, eventually finding a goat trail at the base of cliffs which brought us to the basin in upper Picket Creek. From here, it was a 1200' gain to Pickell Pass on low-angle snow. We placed camp here with the Northern Pickets towering high above us.
Day 7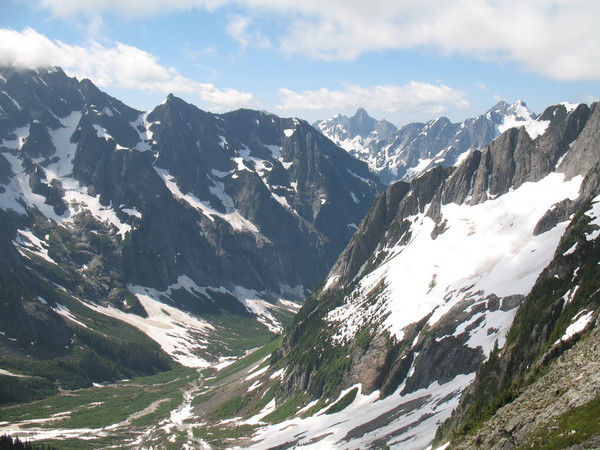 More views.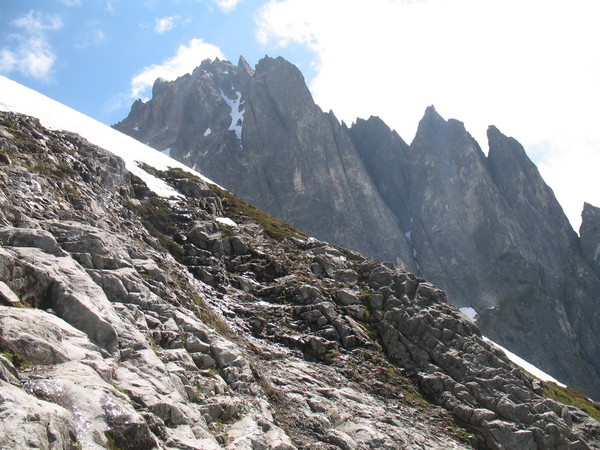 W Fury from the slopes below swiss.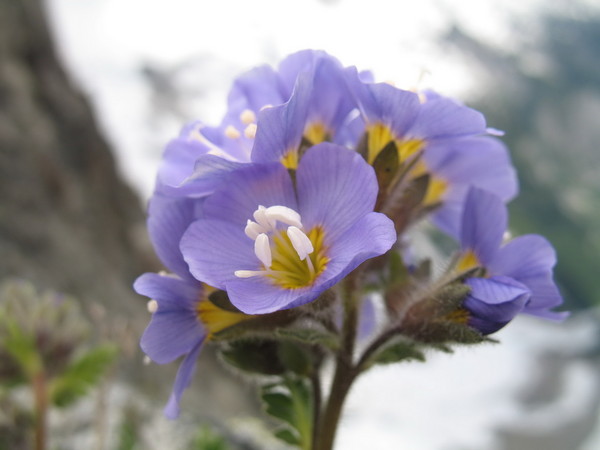 Some flower on the summit of Swiss.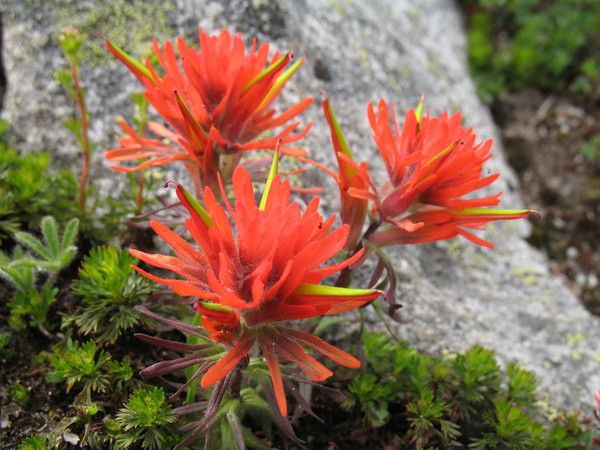 Indian Paintbrush on Swiss.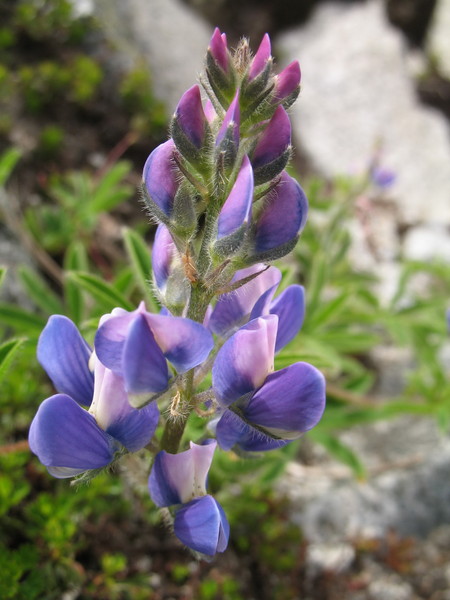 Lupine on Swiss.
On Day 7, we went up to explore Swiss Peak and possibly attempt W Fury. Upon summitting Swiss, we couldn't spot an easy way up W Fury. It was tough to convince Sean that we should drop down on the E side of the Fury-Swiss Col and find easier terrain there, and we didn't want an epic this far away from home, with other summits still on our plate. Plus I reasoned that I could always get W Fury a lot easier from Picket Pass, or possibly even on a traverse from E Fury from Access Creek. So we goofed around up around Spectre Peak and took lots of photos, generally turning this into a "rest" day. We returned to camp hopeful that the good weather would continue.
Day 8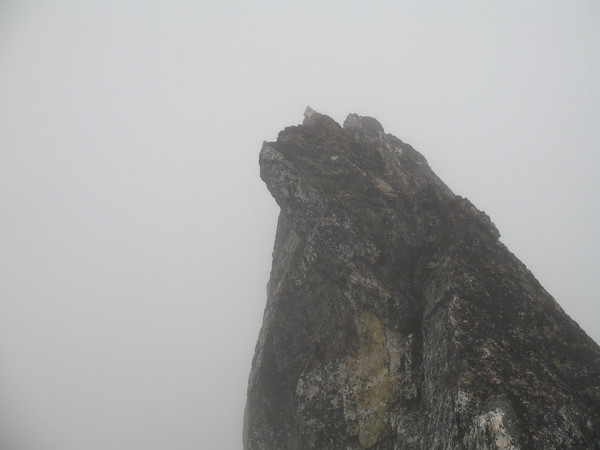 Phantom Peak's true summit.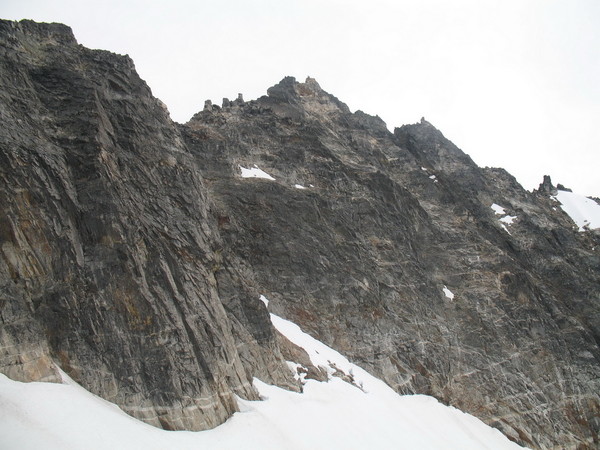 Crooked Thumb and its ascent gulley.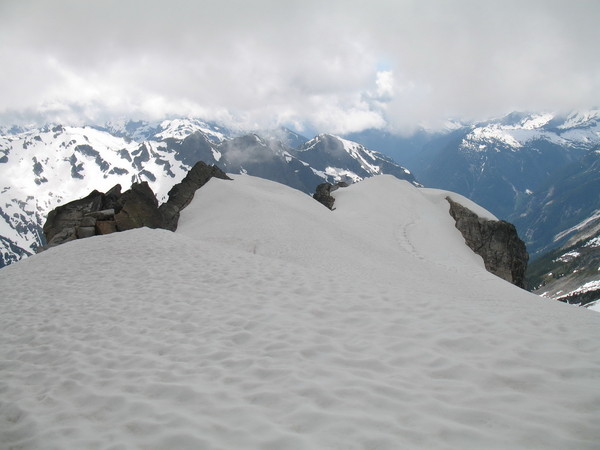 Challenger/Crooked Thumb Col.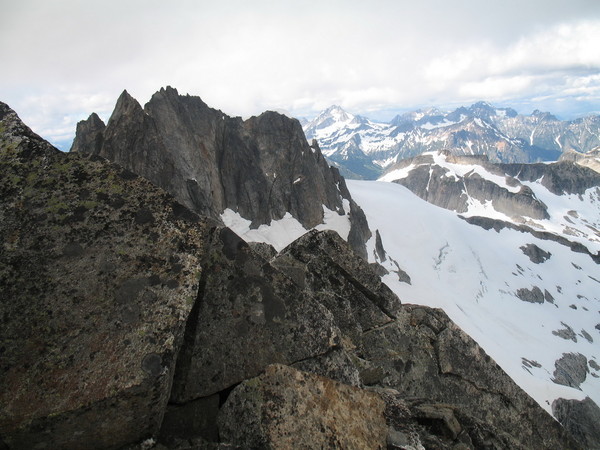 Views from Crooked Thumb to Challenger.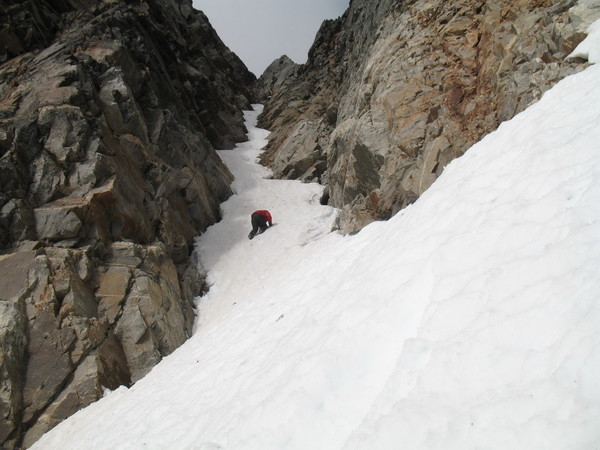 Descending Crooked Thumb's gulley.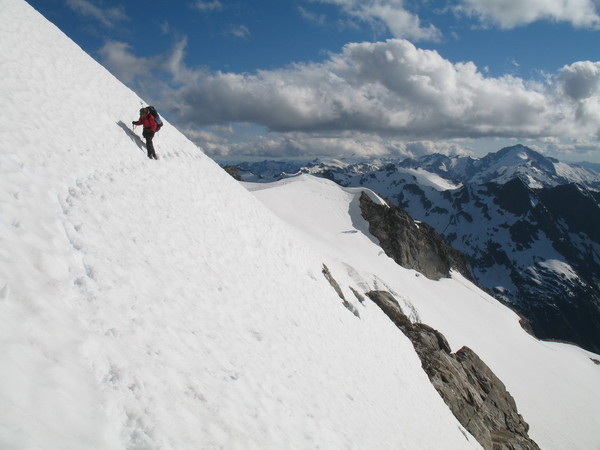 Sean traversing to Challenger.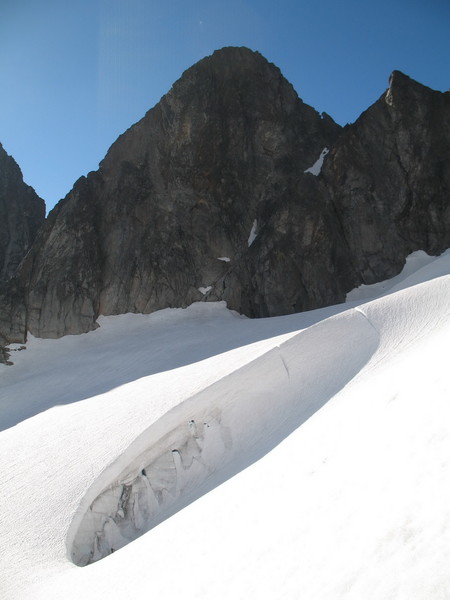 Unique swale on the way to Challenger.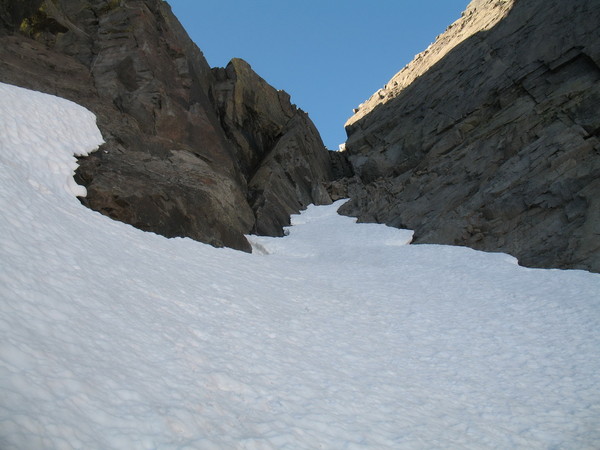 The gulley we used to gain Challenger Arm.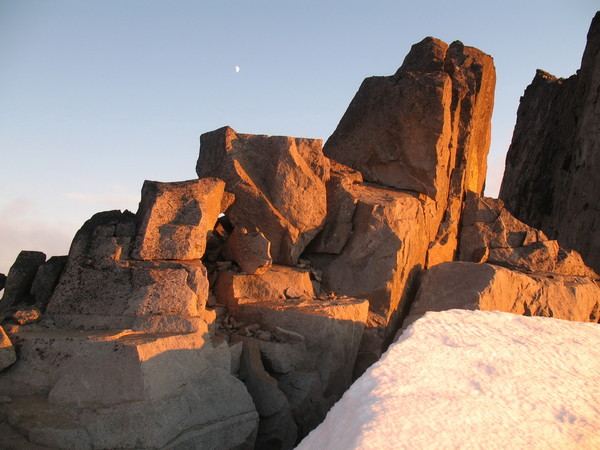 The moon over our camp.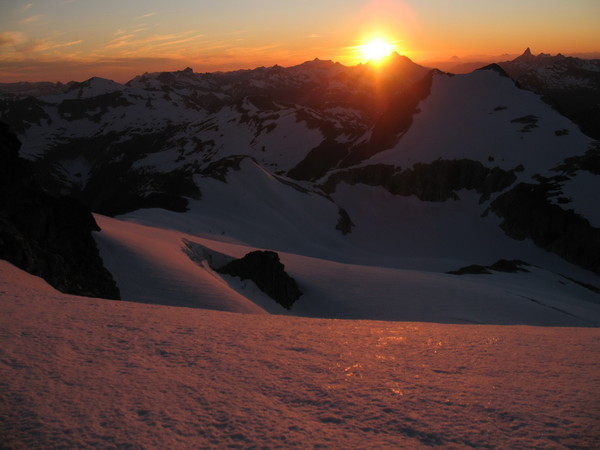 Sunset from camp.
On day 8, we awoke – to a whiteout – again! This was a little disconcerting, since we only had 3 days left until we needed to be back to Ross Lake TH, and we still had 3 peaks to climb (Phantom, Crooked Thumb, and Challenger).
We packed up camp quickly and made a traverse towards Challenger. At this point, I had trashed the idea of summitting Phantom or Crooked Thumb in lieu of getting out out in time. I knew negotiating our route up through Challenger Arm and down Eiley Wiley to Big Beaver would be tough in whiteout conditions, so I wanted to give ourselves as much time as possible to get it done. But while on our way out of camp, the clouds started to whisp away into sucker holes. Brief sucker holes, but sucker holes nonetheless. While passing Phantom, I noticed a clearing in the clouds, and thought we should go for it. Sean disagreed. Plus he was beginning to get blisters from all the traversing with heavy packs and no rest. Sean agreed to wait in the swirling mist and clouds while I soloed Phantom. While on the summit, I encountered some very strong winds (gusting to 50) – and mist, which made the lichen-slick rock a little tricky. It took me a little less than 2 hours round trip to climb the 2000' to the summit and back (snow to 50 degrees, class 3-4 rock). I signed the summit register and got down as fast as I could. When I got back, Sean was patiently waiting for me on a subsidiary ridge on the way to Challenger. We got rolling again, and the weather (thankfully) began to improve.
The weather improved so much that I was able to convince Sean in accompanying me on climb of Crooked Thumb. We started up a steep snow gully at the Challenger/Crooked Thumb Col. From here, we got onto the SW Face and followed a series of ledges and class 3-4 gullies (and enormous blocks) to just below the summit on the N Side. From here, we traversed onto the E Side, then worked our way S of the summit block. From here, a meandering 5.4 pitch got us on the summit.
We descended off Crooked Thumb (which took about as long as it did to climb), and headed back to our packs at the col. From the col, we spotted a steep gully (snow, then rock) leading to the Challenger Glacier, 300' or so feet below the summit. We headed up it without much difficulty and were treated to some of the most amazing sunset views I've seen. Awesome!!
Day 9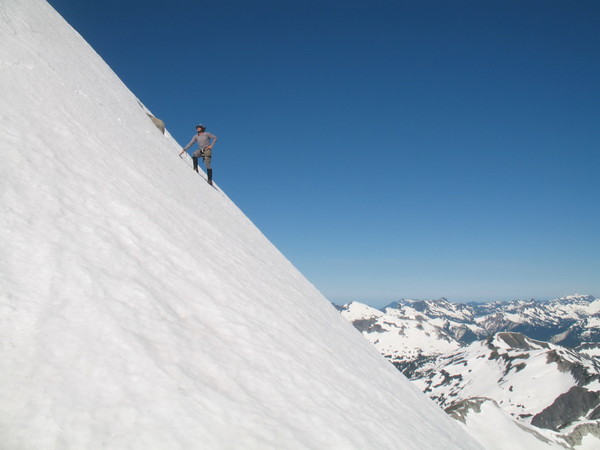 Sean ascending to the summit of Challenger.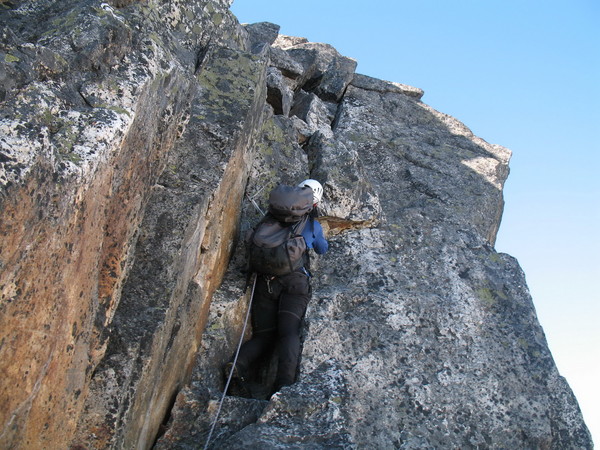 Challenger's summit block.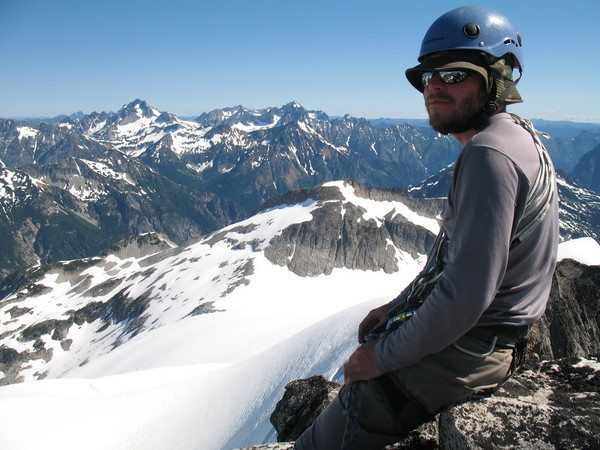 Sean on the summit of Challenger.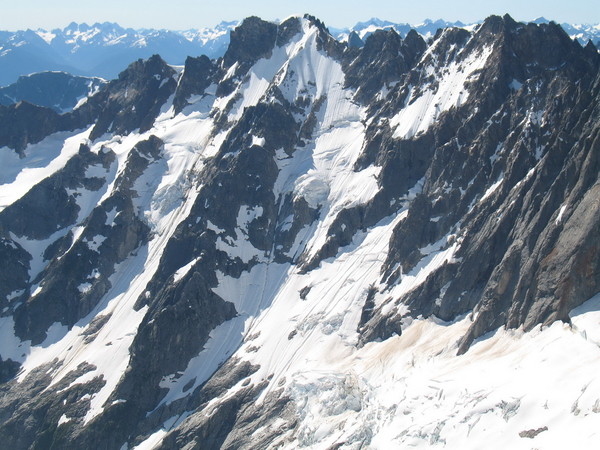 NE Face of Fury from Challenger.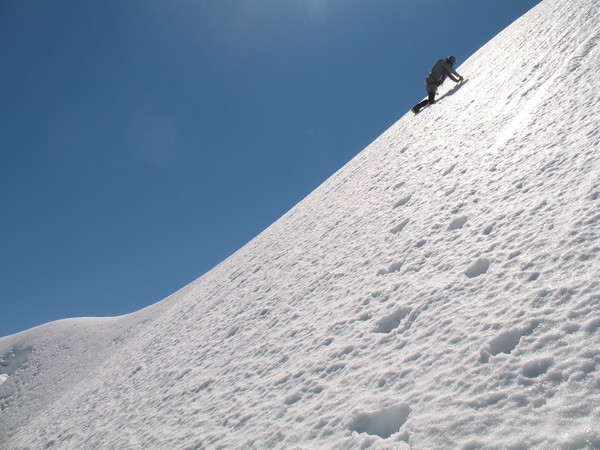 Descending to camp.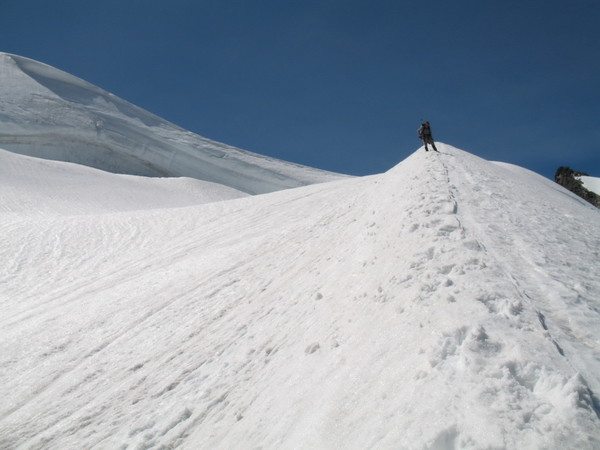 Going home.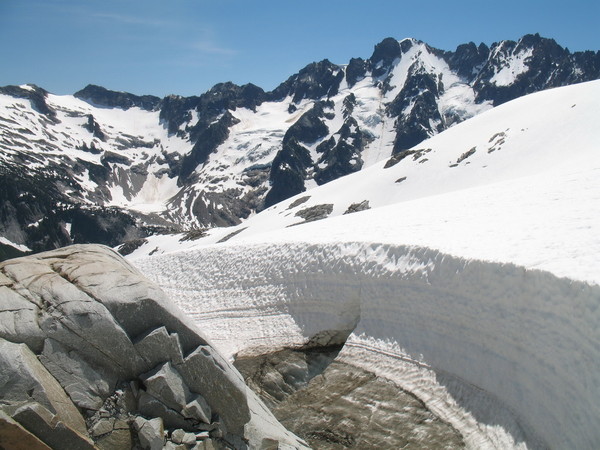 We're going to miss this place.
On day 9, we awoke to bluebird skies. Phew! We quickly climbed the 300' up to the base of the summit pitch and cruised up to the summit thanks to 3 fixed pitons. The views from Challenger are great. We could see Slesse peeking to the North, and the entire Chilliwack group. Baker and Shuksan were slapping us in the face, and so were the N Pickets and our entire traverse. Luna looked stunning and Luna Creek looked like a maze of brush. From the summit, we made one rap and descended the short distance back to camp.
We decided that we wanted to try and make it all the way out to the TH on this day because we were hankering for a beer and Good Food. So we packed camp and were rolling by noon. We made quick work of the descent to Eiley Wiley courtesy of easy glacier walking. Eiley Wiley seemed to drag on forever though, and at 6PM we finally touched down at Beaver Pass. Instead of stopping to rest, we kept going down the trail, finally being stopped by blisters at 39 mile camp, ~11 miles from the TH. So much for getting out today.
Day 10
The last 11 miles dragged on due to our blisters, but we eventually made it out to the TH at 11AM. We hitchhiked into Marblemount and got a 6-pack at the Shell station. I made a call to the best Dad in the world who then came out from Tacoma (thanks Dad) and dropped us off back at Thornton Creek.
This was an amazing trip spanning a vast array of terrain, and posing a wide assortment of challenges. A true Cascade traverse of epic proportions.
Trip stats:

-53 miles
-30,000' gain

10 days

Route topos: