Trip:
Colchuck Peak - Northeast Buttress FWA
Date:
3/8/2013
Trip Report:
We never get to relive these moments in life. Even Though you may be scared or anxious from thoughts that bubble out from your own mind, the focus should be centered on enjoying the climb and to remind ourselves that that is why we are here and this is what it takes to accomplish these goals we have. Sometimes its not the most enjoyable times but the ending result can be life changing.
I have been fortunate enough to partner up with Jens on a few demanding climbs. His ethic and focus are inspirational to say the least. The seriousness that overtakes Jens as he hammers incredible and often quite hard on-sights in the mountains is unreal. He becomes a warrior and fights for what he believes in, and that is ground up alpine ascents.
I heard somewhere that "It's not what you do, but how you do it."
Jens, just keep doing your thing man.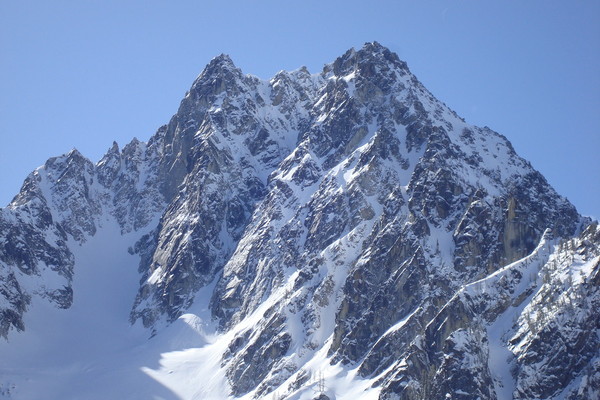 We took off from Icicle canyon at daybreak on Friday. The sky was clear and the sun was shining on the snow-covered Stuart Range; who could ask for more than that? We took our first real break In the middle of Colchuck Lake, and from there we could for the most part see our line up the NEB of Colchuck Peak.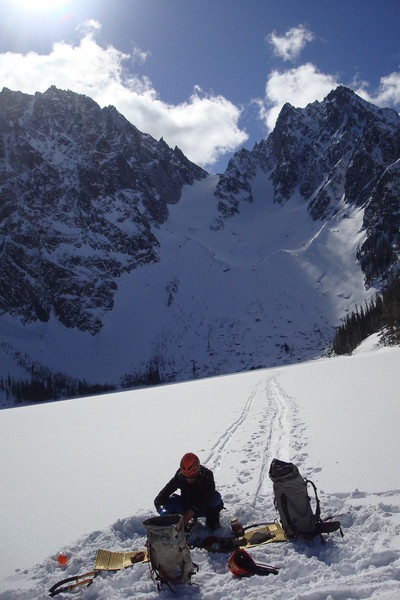 After Lunch we began the approach to the buttress. The snow was soft and slowed down our pass a bit, but we were hyped to see a group of skiers that were tearing the place up. At least someone enjoyed the snow conditions that day.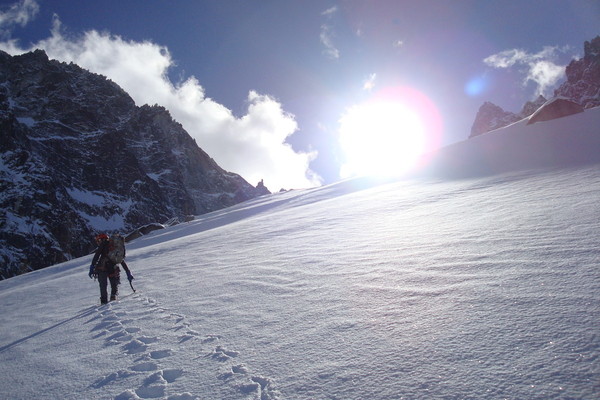 We got to the moraine and looked at the time. It was a little before 2:00 and Jens felt we could make it to the intended bivy spot: one that he had used on a previous attempt with Dan Hilden.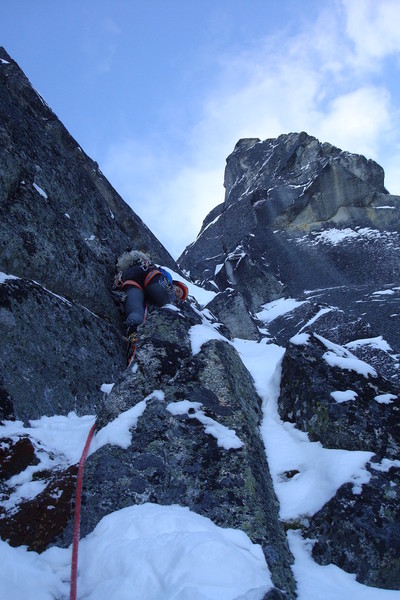 We climbed two difficult mixed pitched to get to the bivy as the sun was setting. We brought out the headlamps and got to kickin'. Unfortunately we encountered rocks that hindered us from making an adequately sized platform to fit the Firstlight tent. We ended up tying the guy lines on one side of the tent to make it narrower, "We can for sure fit our feet over there"
A picture of me standing where our tent was "just fitting"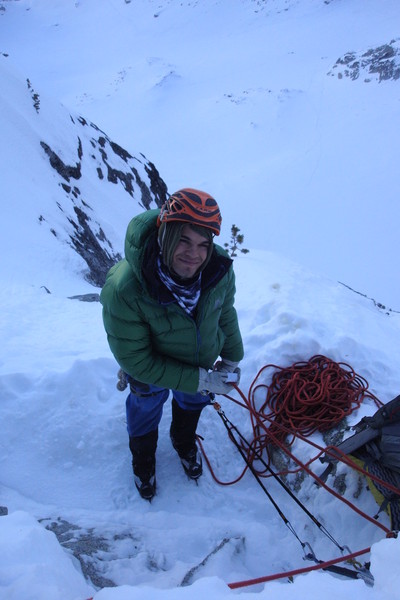 That morning Jens proceeded to throw down on 4 pitches of traversing "The snow ramps" We encountered soft snow, which was not ideal but it worked out.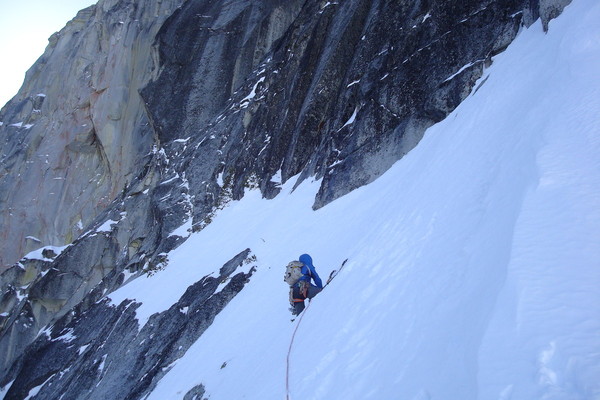 Next came the two slab pitches. The sun was shining on us as we wandered up the snow-covered slab into the beautiful left facing corner.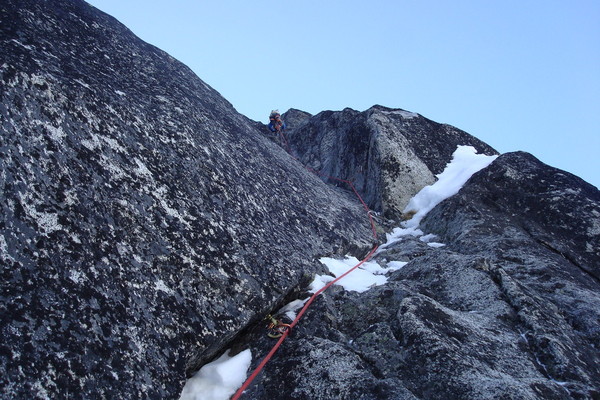 One of the most breath taking features on the route was the next pitch; this for us was pitch 9. A beautifully stacked narrow snow fin with mass exposure on either side. We simul-climbed this pitch into what would have been at least one more pitch with a large chimney.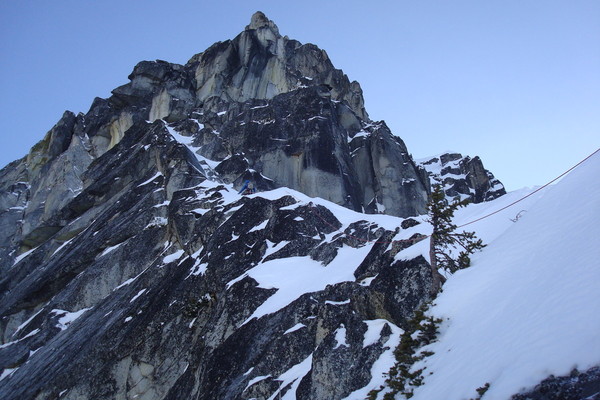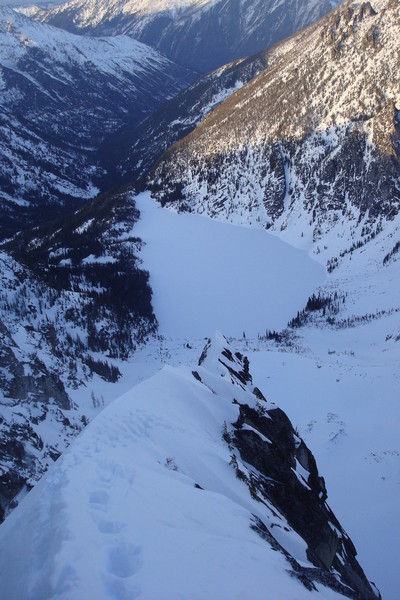 At this point Jens looks at me and says "Lets get the headlamps out. We are going to summit this thing." There was nothing in the world I wanted to hear more than that. We figured we had 2 or 3 pitches to go, and at this point calmness came over me and I really enjoyed the last pitches spent on the buttress.
We finished in 2 pitches making a total of 12 (I think). After reaching the false summit we decided to spend the night a few hundred feet from where we topped out. After dropping the bags we walked over to the true summit turned the headlamps off and soaked in this moment that we will only live once.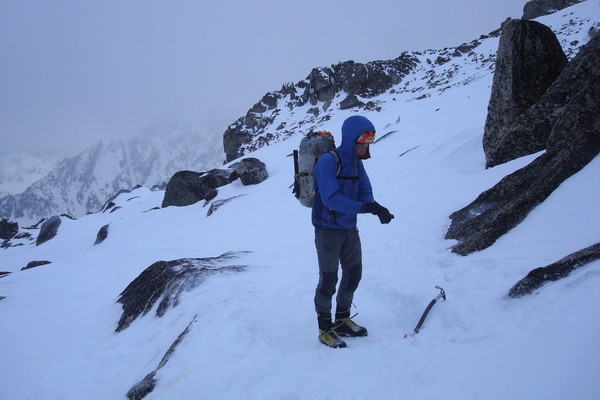 Gear Notes:
We brought a double rack of C3s to #2 plus one #3 and #4 Camalots, and some pins.
Approach Notes:
Gate is closed. Nice packed in trail to the Colchuck Lake.