Climb:
Bear-DNB
Date of Climb:
8/22/2005
Trip Report:
Climbed the Direct North Buttress on Bear Mountain with Sky. We decided on doing a two day trip. Leaving Seattle early in the morning and doing the approach the first day, then doing the climb and hike out on the second. Sounded like a great plan to the both of us.
So...we leave Seattle around 4am on Sunday and headed for the border with our friends to the north. We were slightly apprehensive, and Sky had a few butterflies as we neared Sumas, due apparently to some run-ins with the RCMP and Whatcom Co. Sheriffs Office from a few years prior. However we were greeted by a very friendly Canadian beauty who's only question was what took so long coming back up to visit...
Once through the crux of the route everything else seemed like a breeze...we were home free now.
Except...true to form we lost the trail as soon as we were on it and found ourselves in a marshy wasteland cursing as we sunk ankle deep into the murk. This was followed by some nice hiking in old growth cedar forest, and then by some seriously heinous bushwhacking through more murky swampy vinemaple and devilsclub thickets.
After a few miles we located the trail again shortly before Bear Creek. Up the ridge and into amazing blueberry grazing grounds where we, and especially Sky, indulged in natures bounty.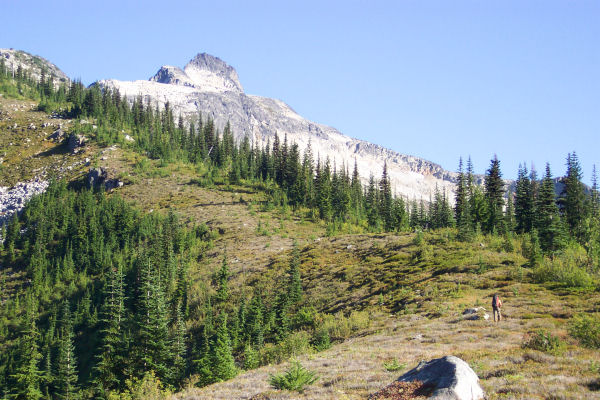 We weren't sure if there was going to be water up at camp, but Ruta Lake seemed out of the way, so we decided to chance it and head straight to camp. At the saddle we could hear a water trickle coming off a buttress a little higher and went to water up.
The next morning we awoke at 4:45 to clouds and fog, and slowly ate and got shit ready. Decending the scree/talus slope down and around the NW Buttress was easy but tedious, and as we rounded the buttress the immense N side of Bear became visible.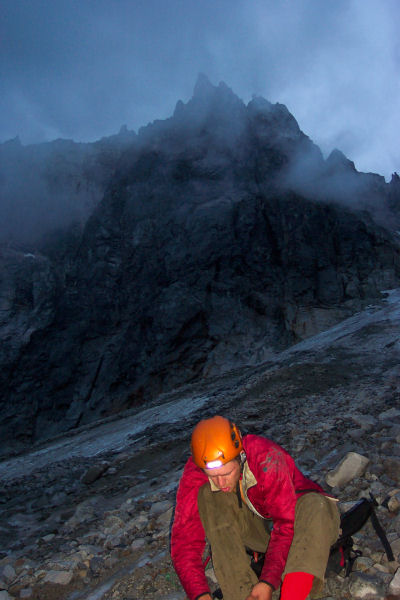 Shrouded in swirling fog and cloud it looked ominous, feeling super tiny with this enourmous wall with huge buttresses dropping down around us I felt truely in the hall of the mountain king.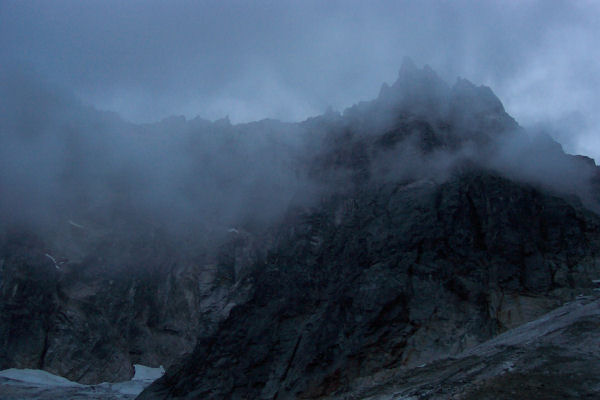 We put on crampons to cross and ascend the glacier to the toe of the buttress, up a little farther we found a nice place to access the slabs. We didn't waste much time getting off the glacier with all the ice popping and creaking and Sky and I both standing on a precarious looking/feeling block of ice.
I started up the slabs while Sky made himself a bit lighter. I tried to kill him with a 30lb trundle but failed because Sky even while squatting has the reflexes of a cat and quickly jumped out of the way to safety. With that excitement over we made our way up the slabs and did a bit of spicy moves in the tennis shoes before stopping to belay.
Sky led a pitch up to the top of a pedestal and then up to the base of the prominent dihedral. I got the dihedral pitches which went as one long rope stretcher. Super fun climbing with a little bulge to pass. We did one pitch for every two on the Kearney topo and quickly found ourselves on the big snow patch ledge.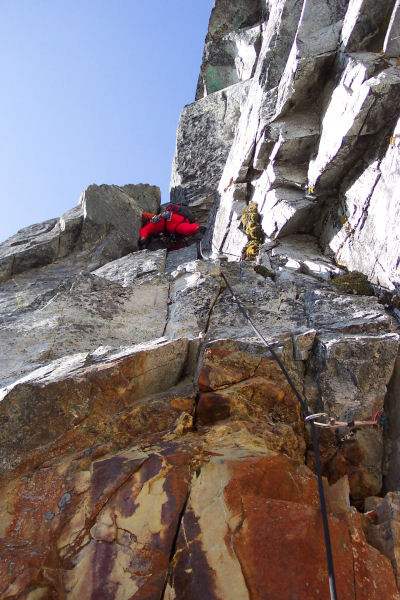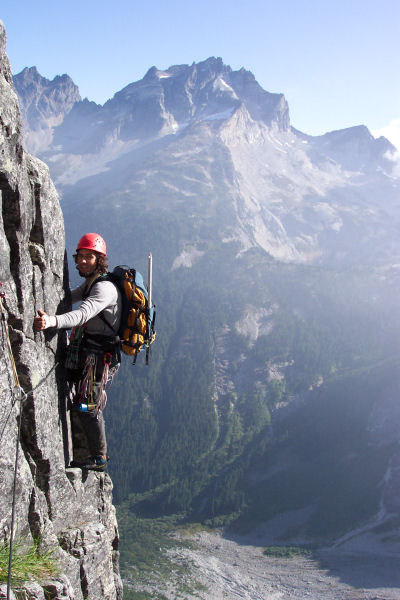 We continued linking pitches up improving rock and climbing. Sky got the great corner fist crack pitch which we both thought was the best of the route...not technically difficult but nice and sustained on probably the best rock of the route. Up up up, and soon enough we were on top after 8.5 hours on the rock.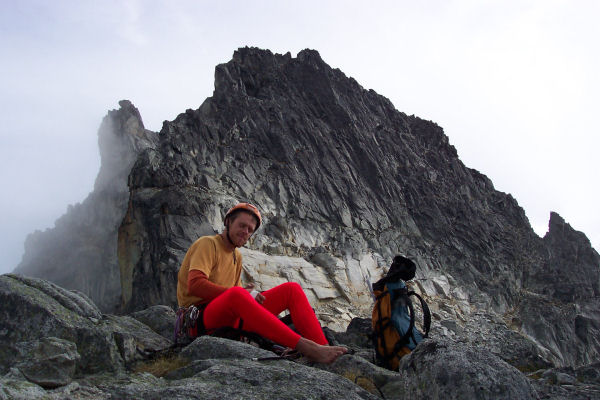 My first thought after topping out was "That's it?" WTF?...I had come expecting sustained hardish climbing and instead found mostly moderate climbing with a couple little cruxy spots. The only thing I could think of was the great line from Chuck D. and Flava: "Don't Believe the Hype!"
Quickly back to camp for a feast of smoked sardines, trout and crackers and we were ready for the long haul out.
This time we were able to actually follow the trail most of the way which makes life way better....then it got dark.
We took turns intermittently following and then losing the trail,backtracking,bushwhacking and generally wandering in circles until we stumbled out and onto the end of the abandoned road...phew!
What a relief.
Back in Chilliwak we hit the pub for beers and Miccydees for burgers and fries and headed for home.
Gear Notes:
60m 9mm
Largish rack including some tiny stoppers
shoulda had: more tequila
Approach Notes:
Trail was hard for us to follow cause we're retards and bushwhacking is way more fun.