Trip:
Mount Colfax - Cosley-Houston Route
Date:
11/16/2014
Trip Report:
This weeks high pressure weather system was simply to good to pass up, coupled with the current minimal amounts of snow cover meant for quick access to higher elevations. The Cosley-Houston route on Colfax has been on my radar for a year or so. I had two previous failed attempts, one where I got completely stormed off the Heliotrope and another where my partner and I inadvertently sun burnt our faces in a snow squall on the approach... it turned out to be the worst sunburn of my life. Lessons learned I opted to simply day-trip this time around since the walk up seemed straight forward with the minimal snow base...and I also remembered to not neglect the sun screen this time either...
Hunter, Marcel and I slept at the trailhead and woke up early the following morning on Sun, Nov 16. We left the truck at 4:00am and got to the alpine shortly after crossing several frozen streams. There was a dusting of snow at the starting alpine meadows which increased slightly in depth as we made our way up. Once we got to the glacier we roped together. Overall the approach was reasonable however around the black buttes the snowpack became a foot thick layer of sugar snow that wouldn't compact when you stepped onto it, a sign of what we were to expect later that day. This slowed our progress some but nevertheless we got to the base of the route after around 5hrs, a little slower then we were hoping but not too big of a deal. It also appeared another party climbed this route a day or so prior since there were tracks leading up and off the route.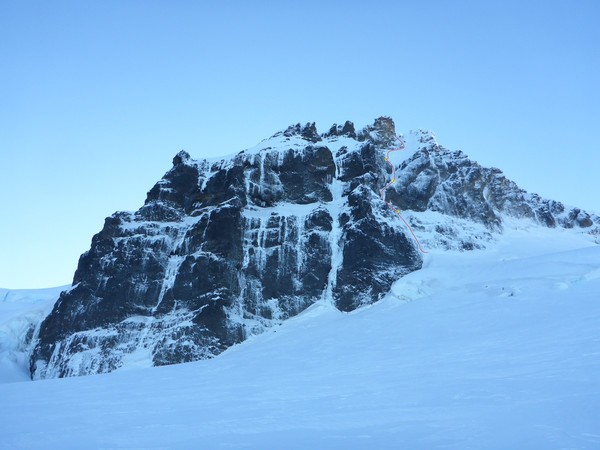 Photo of the route in red, belays in yellow circles.
At 9:30am Hunter led the first pitch which took nothing but our shortest screws. Hunter built a belay just under 60m and to the right of the first main curtain. His belay consisted of a cam placed in crummy rock, pounded in picket, 13cm screw and I believe also his ice tools. This was going to be a no falling day for sure, not much different from other days in the alpine but certainly more emphasis on this day.
After the 1st pitch I went around the corner to investigate the first ice curtain which started with two steep columns, one being much more solid then the other.
Me heading out on the 2nd pitch
I gingerly climbed from behind the columns, through the opening between them and out onto the steep ice, I found a few spots to stem across the columns which was nice. Climbing this pitch was a blast but unfortunately the ice curtain ended into a snow gully which did not provide any decent protection. With the remaining rope beginning to dwindle I progressed up the gully which consisted of a 1 inch icy crust with sugary/unconsolidated snow beneath. I wasn't able to find any cracks in the rock either. I had some choice words that I vocalized for not carrying a picket with me on that pitch. In the end Marcel and Hunter had to break down the belay and simul-climb for a few meters so that I could find a patch of snow that felt a bit firmer where I then dug a foot ledge, buried my tools (t-slot and vertical), belayed off my harness and hoped like heck nobody took a fall.
Hunter and Marcel quickly came up and when Hunter reached my stance he pounded in a picket which provided a more security. In my opinion I felt that in order to be able to actually hold a fall the snow anchors probably required 1 or 2 pickets, plus your buried tools. Nevertheless we continued upward and Marcel made short work of the 2nd steep curtain and ran it out to around 70m.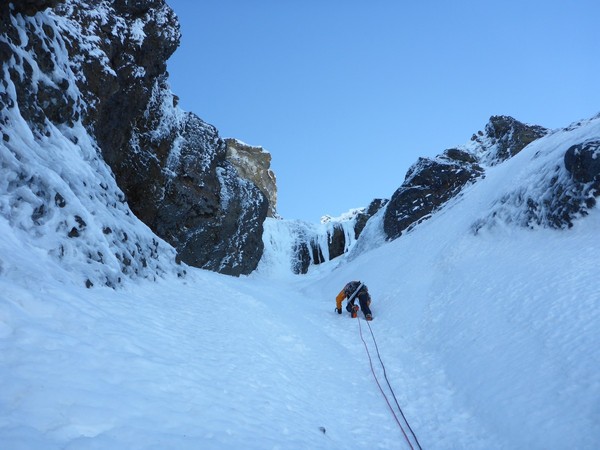 Marcel going toward the 2nd curtain
Hunter and I were getting royally bombarded by icy/crusty pieces raining down so we broke the anchor and simul-climbed to the side of the gully. This provided us with much needed reprieve while Marcel was excavating the next anchor platform which included buried tools and a single picket.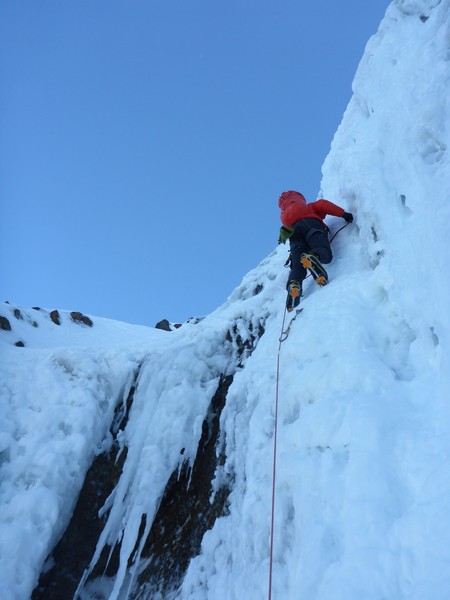 Hunter on the 2nd curtain
Afterwards we came up to Marcel's belay and Hunter took both pickets, the rest of the gear and started up the final snowfield/gully.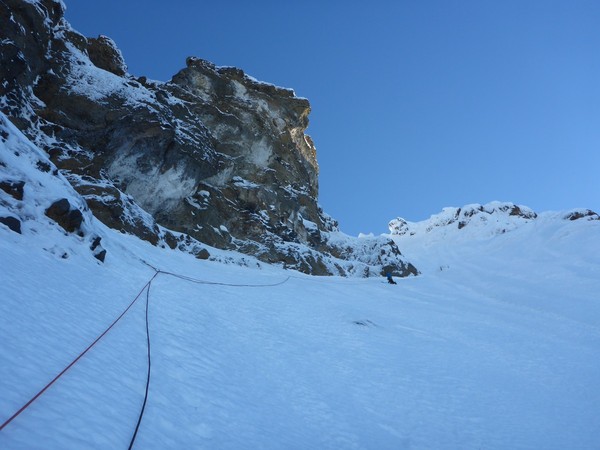 Hunter on the upper snowfield before the final snow gully to the top
Hunter made the best of what he found for gear and we all ended up simul-climbing just over x2 rope lengths to the summit finishing at 2:30pm. Topping out was simply fantastic, we came out from the shade of the North side straight into the hot sun and the views of Baker and the surrounding peaks could not have been any better.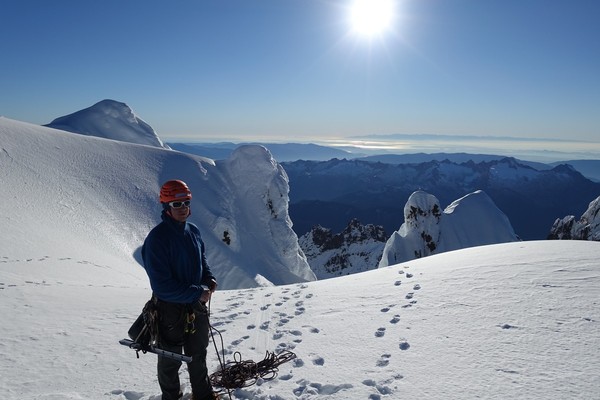 Happy to be on the top
We took some photos and ate some food before descending, which was made easier by the tracks left from the previous party. The descent to our stashed poles/pack was mainly uneventful except for the massive whoomp we heard while walking over a large but fully covered snow bridge that scared the heck out of us. My guess was that a large piece of snow/ice fell off the underside of that snow bridge since we didn't feel or see any settlement. After our stash we strolled back down the glacier in fading light and got back to our vehicle at 7pm.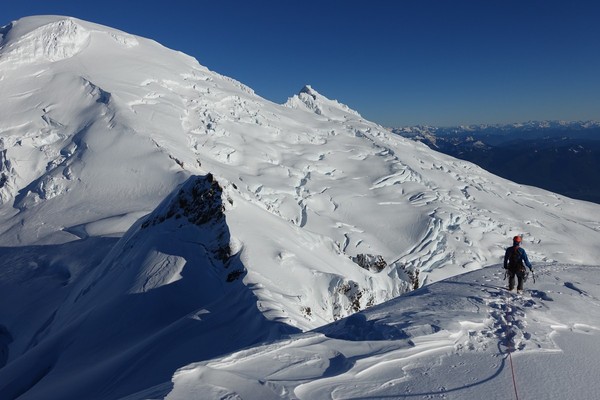 Heading down from Colfax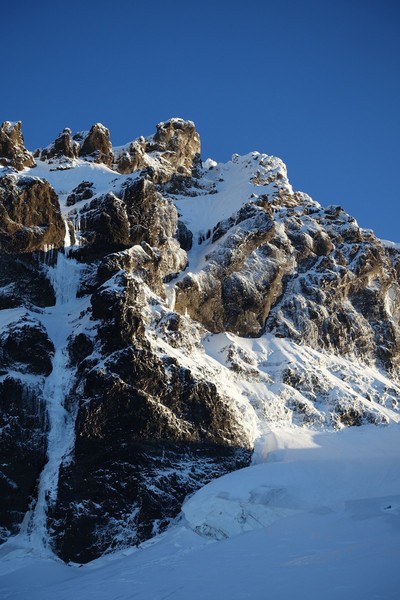 Evening sun on the Polish Route and the Cosley-Houston
I had read previous trip reports of the trip being done 12hrs car to car so our 15hrs seemed a little slower then the norm. We definitely burned significant time trying to find and build belay anchors, we also lost a bit of time (maybe an hr?) with a team of three but we mostly were able to climb in sync.
For this route I would recommended bringing 3 maybe even 4 pickets, we only brought 2 and for me (perhaps others might disagree) but it didn't quite seem enough to be able to build a snow anchor that would have held a fall. We also brought a mix of 10 screws (mostly short) but only needed 7-8, a few cams, 6 nuts and 3 pitons. We ended up only using x2 cams and one angle for the rock pro, but the rock on the route is more like frozen mud so I can't say was really worth bringing at all. I have also read of other parties on this route experiencing similar crust with sugary snow, but I suspect that with some freeze thaws cycles these sections may improve. Overall the route was enjoyable and it is a great way to get up Colfax.
Cheers,
Henrik