Trip:
Jubilee/Waddington Knight Inlet - Various
Date:
7/18/2008
Trip Report:
Finally, the long "awaited" promised TR to Jubilee/Waddington. Sorry for delay, been sick. It is also a bit long.
To all mountaineering aficionados:
Perusing the book shelves is a very dangerous proposition. For lo and behold I spied a glossy book with this breathtaking picture on the front. Not only on the front but throughout the book. Guide to the Waddington Range by Don Serl. Very dangerous stuff books.
Instead of lining some helicopter pilots pocketbook we figured we could build our kayaks and get an enjoyable slightly extended trip out of it. 2 years of saving vacation and a couple grand to build our kayaks later and we were ready. Dreams of perfect weather and solid snow bridges girded our enthusiasm.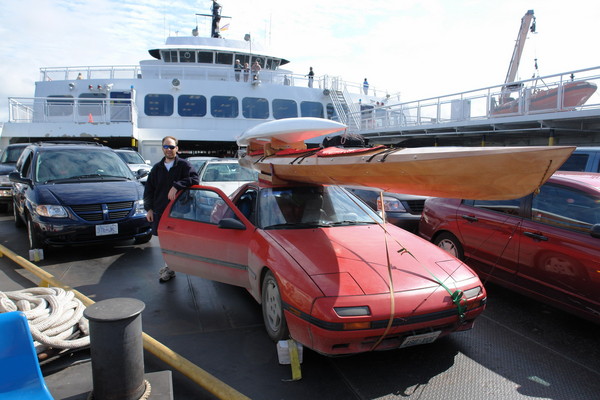 Food, um yummm:
Basically it came down to SUGAR/NUTS/BEEF JERKY/SALT. For sugar we got 10lbs of chocolate from Boehms Candy only took 7lbs though. Tons of Candy bars and Pecan Rolls with extra pecans and butter. Salted Almonds 4lbs, toasted pecans 1.5lbs. 10lbs of beef jerky we made ourselves from meat we got on sale for $2lb. We also took 3 loaves of banana bread since it keeps for 3 weeks.
For salt we took fritos and corn nuts. Did you guys know that fritos have 3100 cal/lb??? Corn nuts are 2600cal/lb. Dang they tasted good. Expensive though. Only thing higher per lb is butter and pecans/almonds. Took several forms/flavors of crackers. Took spaghetti noodles with beef bullion and cup-o-soups for flavor since they pack very nicely. Why would anyone buy "dried noodle anything" at REI is beyond me. Buy the noodles for a fraction of the price and add your own spices. Noodles by definition are "dried" food. Not to mention the packaging those foods come in are VERY heavy!!!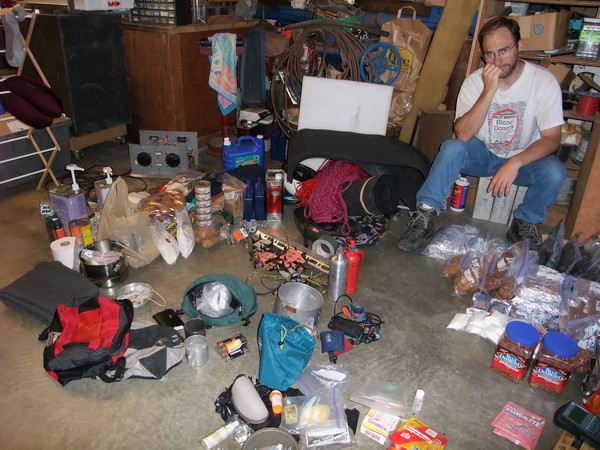 Well….. I was sick for several months leading up to the trip, the story of my life, making me rather out of shape for hauling 90+lb packs around. Left 2 days late on our 4 week trip. Not an auspicious start, but it was a start!
We drove North from Issaquah in my Brothers Mazda RX-7 with both kayaks on the roof, 4hp engine in back with enough gas for 200 miles worth(20+gallons)cruising with all of our food and gear for 4 weeks. Took the ferry to Nanaimo on Vancouver island and drove north to Kelsey bay. There we met a local who showed us a map allowing us to take logging roads 20 miles north saving us several hours in the kayaks.
Packed the kayaks and took off in the morning with the tide. At noon we stopped on a rock outcropping for lunch as we headed out up the fabulous Knight Inlet. Now our cruising speed is around 7 knots and Knight inlet is not a kind place for those who are having engine trouble. There is no place to "beach" we found a rock shelf and wiggled around on it to get the engine off and cleaned. The engine would not restart without being very rich. We thought the choke lever had popped off leaving it running rich. Nope. After several hours of fiddling around we finally pulled the entire carb off and tore it down finding tons of black crud in the carb from when we had burned some old gas in a previous trip trying to get rid of it. DOH!!! <<Idiots!!!>> Oh well. Lesson learned.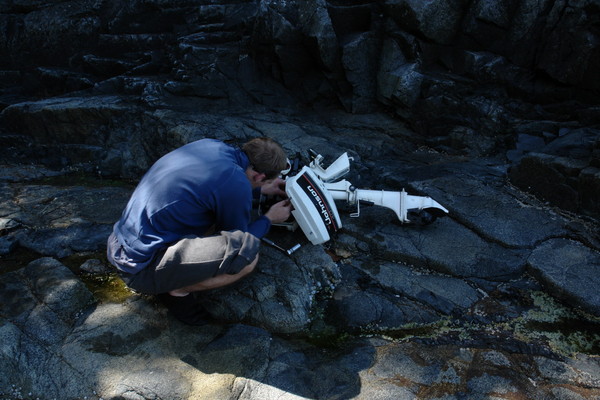 The wind had kicked up and was whipping along at 20+ knots creating 3 to 4 foot waves. When you are sitting in a kayak with your butt 4 inches below the water surface a 2 foot wave means that your eyes are basically level with the top of it. Now 3 and 4 waves swallowed and wallowed our kayak as we chugged along. You would get on top of a wave and would "surf" down at 15 knots speed and then come to an abrupt halt as you climbed up the other side of water. In the meantime the next 4 foot wave decides to crest over the rear of the kayak and sending foaming water up to my brothers chin. I so wished I had a waterproof camera!!!
We were desperately trying to find a beach as we had our outrigger kayak loaded too front heavy and was being buried completely under water and we were getting worried. The only thing we saw were cliffs. I saw a small speck of island on the map and hoped it had at least a nook to hide in. Instead it had a shingle of rock that was accessible at high tide. Lucky us, it was high tide. We hauled the kayak and outrigger out of the water onto the barnacled rock shelf.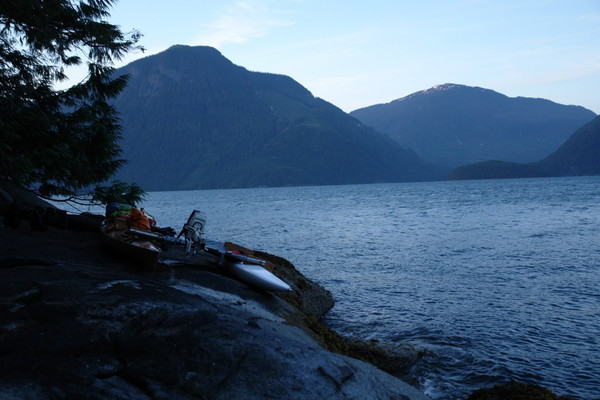 Now we are sitting perched on a rock shingle/shelf watching the water receed from high tide and found ourselves perched on top of a cliff. OOPS! Looking at the tide charts we see that the next high tide at 5:30 in the morning is 30inches lower than high tide today!!! Oh crap. Oh well, time to eat and sleep! We found the best sleeping spots imaginable, 4" thick moss. SWEET. At high tide the next morning we pushed the kayak and outrigger kayak over the cliff and finally got it into the water at high tide without falling over the cliff edge ourselves and going for a swim.
In an hour of cruising we found the only beach in the entire 75 mile trip going up Knight inlet. An absolutely stunning spot.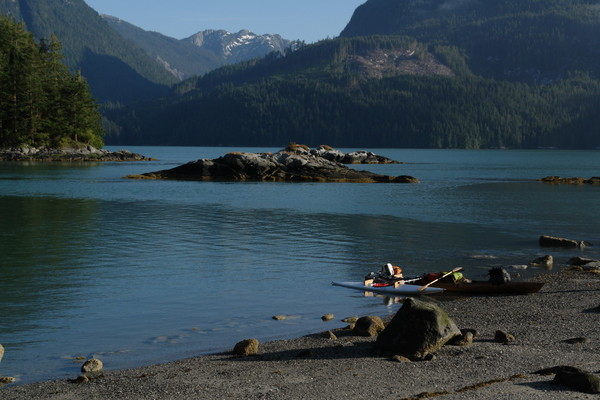 Ate Breakfast and kept cruising. We thought we would get some water from a stream entering Knight Inlet… oops a 200 foot waterfall greeted us instead.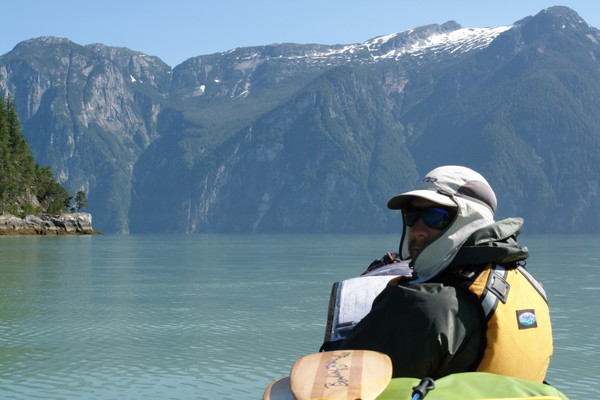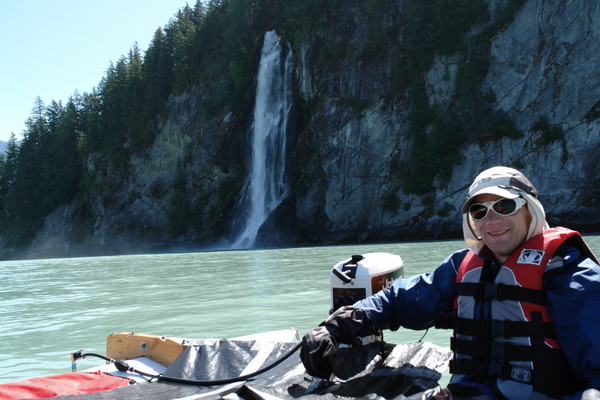 Knight inlet is an amazing spot. Ringed in cliffs on all sides. Here is one mountain rising 7500 feet straight out of the water. Several thousand foot granite cliffs are common and unclimbed. If they were in Yosemite they would be exceptional.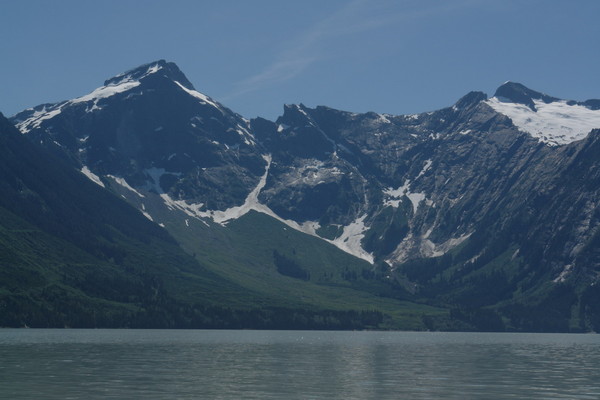 We finally hit the end of Knight inlet and ditched our kayaks on the loggers platform at the Dutchmans Head where their fuel tanks were. We got permission from loggers who were there. HOLY COW THE HORSE FLIES!!! The only good thing was that as soon as the sun goes down they all dissapear. Killed 10 in one swat! It wasn't the only high count swat either. I am not pulling your leg either! Lets just say we didn't stick around to take pictures! Thankfully the loggers gave us a ride to their loggers camp saving us 3 miles of walking through bear country.
Did I mention Bears? Yea, bear poop everywhere on the road. The loggers joked that the bears never crap in the woods, but only on their logging roads! Think cow patties littering the road like goose poop. We only saw 1 bear on the trip to camp though.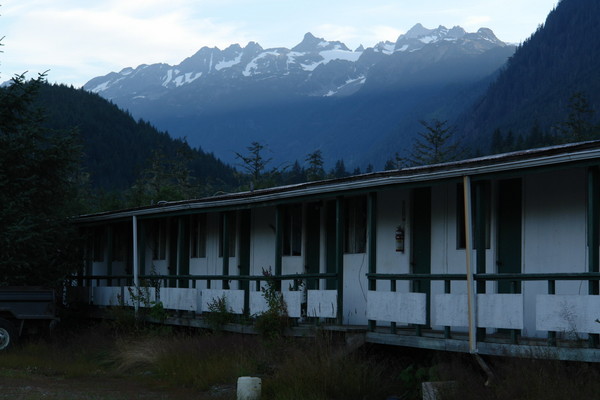 Loggers Camp
With some judicious begging the loggers took us up the road as far as they could towards Mt. Jubilee saving us an added 10 miles of walking in bear country with nothing more than "pepper spray". Lets just say that after being dropped off and looking at the littering of bear poo everywhere, we uh, made some "noise" as we walked and hoped that mama grizzly bear wasn't too hungry. The easy walking didn't last as we got off the main logging road and onto an old "logging road" We camped on the only flat spot we could find, an old log bridge. Oh did I mention that my brothers toe was over twice its normal size. He limped to this spot and we did not move for 5 days.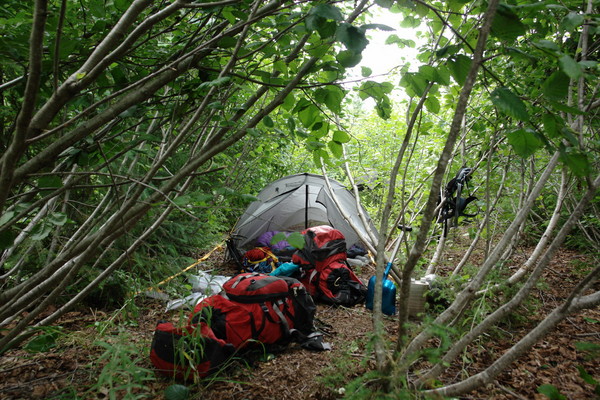 It seems he had picked up the kayak trying to move it off the rock shelf 2 days previous and dropped it on his toes. The next day Nate tried walking on it and in less than a half mile was huge and very painful. Then the weather moved in. Our spirits were bleek to say the least. A clearing in the clouds for a couple hours and we packed quickly and sprinted up a couple thousand feet through logging slash and cliff bands as we dodged into heavy timber wherever we could find it. It turned to rain again and we found the last bit of old logging road and stayed there for 2 days collecting drinking water off the tent. Weather cleared again and we lugged our +90lb packs up into the alpine terrain. Couldn't see a thing as it was nothing but clouds but we got to dry out and sleep on heather!!! 3 more days of rain, sleet, snow and it cleared finally!!! Nate's toe never really healed but was ok to at least walk on slowly.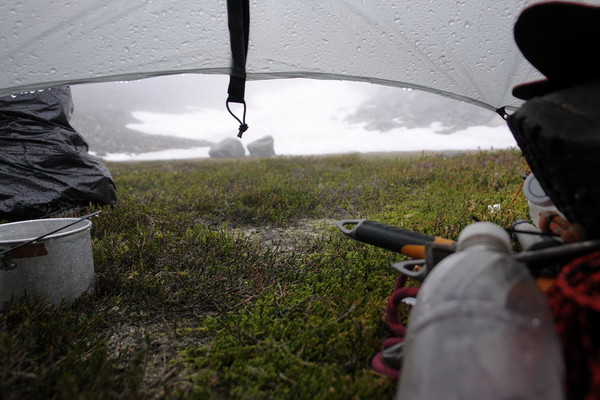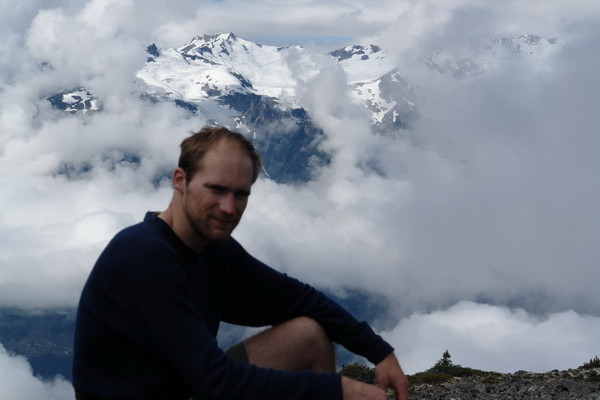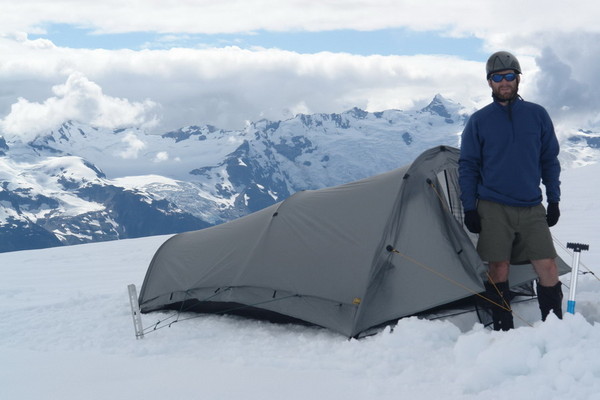 TONS of FRESH SNOW up higher and very warm temperatures made very slow going with fresh snow on top of slush. We decided to go on the south side of Jubilee on the Chaos glacier since the views were so much better! We spent several hours trying to get down onto the glacier itself in order to gain access to Mt. Jubilee's East Ridge our desired route.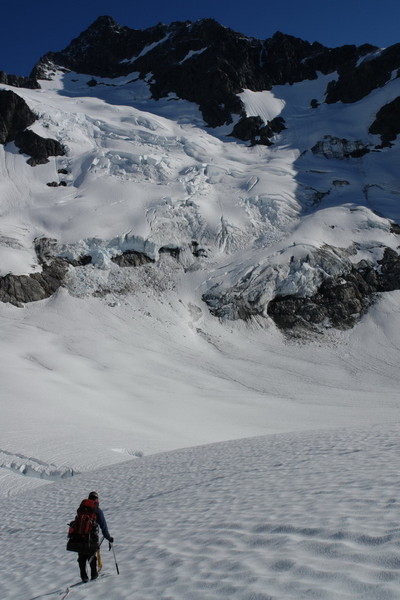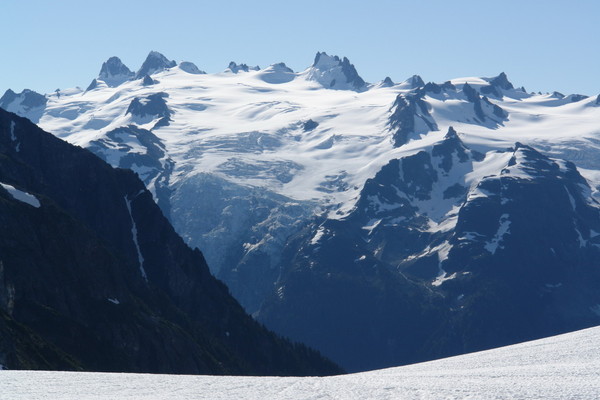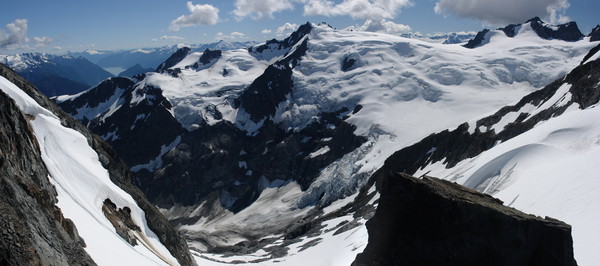 Anyone up for some icefalls? With the warm temps there were huge blocks ripping off of them. The Whitemantle range is spectacular from the Chaos Glacier. Climbing on 45 degree slush deeper than the knees with cliffs below is draining to say the least and threw down our tent on the first flat spot we found that wasn't a crevasse.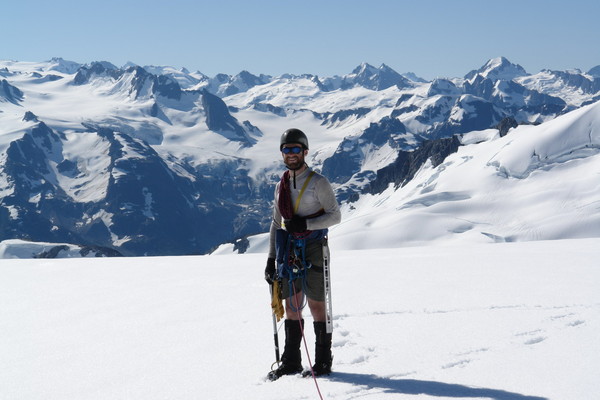 Our hopes buoyed by some of the best scenery in the world we set off for the summit of Jubilee and the east ridge. It was not to be, Giant crevasses littered our path. Tried left, center, and right. 20 foot, 40 foot gaps rent the east ridge route with ice cliff steps above the rents. The route had obviously changed than what was published as a gentle walk in the guide book. These crevasses wouldn't even have had snow bridges in mid season let alone on August 1st. Looked at the SE ridge route and it was cut several spots by more giant crevasses and nasty loose red crumbling rock to bypass around them on its ridge which we had scrambled over the day before to gain access to the Jubilee Glacier.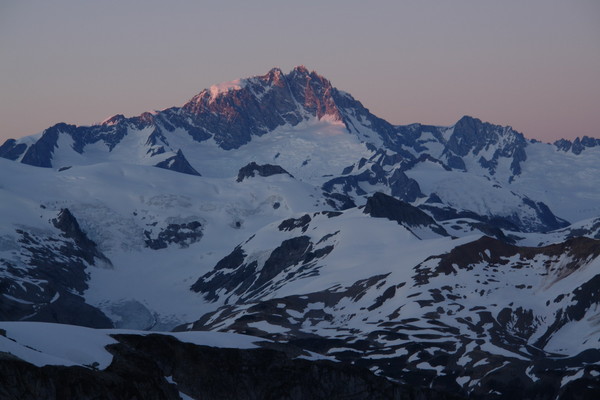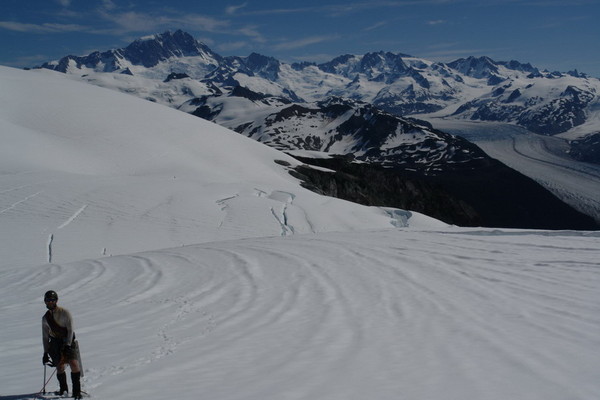 Moved Camp to a more scenic spot on the East ridge of Jubilee with monster crevasses around us and hoped for some colder temperatures as we were wallowing in slush. Since the night before we had been aruging about the fact that we were sleeping with our heads in a downward position we decided to do some snow engineering creating a "bubble-level".
The guide book said the North ridge was a spring only option, but we had already decided that the SE ridge was a loose rock death ride, and the east "gentle" ridge was impassable. So, off we set. The weather changed and was nice and cold. We got to the schrund right beneath the summit and were turned back by yet another gaping crevasse. To the true north face were more gaping monster crevasses and the summit schrund joined the east ridge impassable crevasses.

Skunked on a mere 9000 foot summit!!! You have got to be kidding me right? Guess not. To see how Gigantic these crevasses are. Look at this picture. Follow our tracks over the snow bridge down to the black spot which is our tent. These babies were easily 200 feet across and who knows how deep, I didn't go checking out the edge all that closely!!!

It was now 2 weeks into our trip, and 0 summits, 1 broken toe, and horrible snow conditions. We looked at eachother took in the sights, sighed and said, "I think we have pushed our luck far enough. There is no way we will be able to get up Waddington in conditions like this, not to mention to it and back before our vacation runs out even in perfect weather conditions." We packed, dumping extra food into a crevasse and watched the cirrus clouds as they told us what waited for us if we stayed, more crummy weather. Now that we knew the crevasse maze, we practically sprinted off the shoulder of Jubilee, broken toe and all.
Walked out with the advantage of gravity back to our Kayaks and took off before we were eaten by a grizzly bear, cougar, or horseflies. On a humorous note, we walked back through where we camped and noted that there is no need to bury your poop. Every spot we had "done our thing," it was completely cleaned out paper and all!!! Nice!!! An all new meaning to bear breath!
Fired up the engine and made a most memorable trip out knight inlet to the one beach in the entirety of knight inlet. Next day made it back to the car 3 weeks after we had left it. Put the spark plugs back in since the engine floods when it sits, hooked up the battery and headed for home. After taking the ferry back to Vancouver side our battery died. So we bumbled into a gas station and begged charge time off of people all night long. The battery was old and needed replaced. After the charge time from good Samaritans we made it back across the border and coasted into a Wal-Mart parking lot where we bough a new battery and made it home.
Will I go back??? OH yea! Saving vacation time as we speak and thinking of going up Bute inlet and taking bikes for the 20+ miles of main logging roads to the Waddington glacier. Will just pay the helicopter guys the money to drop food in for us. 95lb packs are NOT enjoyable at all. When on snow, they aren't bad, but going through logging slash? Someone shoot me please. Actually, it wasn't that bad. Entire time in the brush was probably less than a day of cursing, but we spread it out over a week due to a broken toe and RAIN. What was bad was the soaking wet brush above your heads. Most importantly will also pay attention to snow conditions better the year before and the weather.com reports for the area. If we had paid better attention we would have known that the weather had been very good in the spring and early summer and the crevasses wide open and left sooner.