Trip:
Lemah Mountain -
Date:
8/24/2007
Trip Report:
I climbed Lemah Mountain in 11 hours, 26 minutes roundtrip (5:52 up, 29 minute rest on summit, 5:05 down. I made a few routefinding errors that cost me a little bit of time, but regardless, this mountain is long and physically taxing. The trip was about 32 miles roundtrip, 22 miles on trail and 10 miles of rugged cross country travel.
Location (Elevation): Time Elapsed / Split / Real Time
Pete Lake TH (2,800 ft) :
0
/
0
/ 07:16
Pete Lake (2,980 ft) :
38.31.11
/
38.31.11
/ 07:55
PCT Junction [Lemah Mdws Trail] (3,200 ft) :
1:00.05
/
21.34.52
/ 08:17
Spectacle Lake (4,239 ft) :
2:00.46
/
1:00.40
/ 09:17
Arrive Lemah Summit (7,540 ft) :
5:52.27
/
3:51.41
/ 13:09
Depart Lemah Summit (7,540 ft) :
6:21.31
/
29.04.78
/ 13:48
[Spectacle Lake (4,239 ft) : 9:28 elapsed / 3:07 split from summit / 16:55 real time]
Pete Lake (2,980 ft) :
10:37.40
/
4:16.08
/ 17:54
Pete Lake TH (2,800 ft) :
11:26.29
/
48.48.34
/ 18:42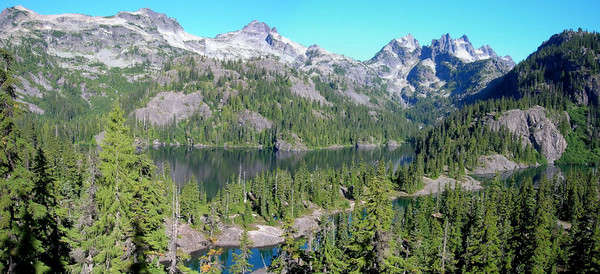 Lemah Mountain, together with Chimney Rock and Summit Chief Mountain, comprise the "Snoqualmie Pickets." While these mountains are located relatively close to the metropolis and a popular section of the PCT, they are rugged and provide a real wilderness feeling. The climb of Lemah Mountain is even true to Picket fashion with routefinding issues, brush, and slow boulder fields. Aside from a cairn on the summit and a couple along the approach, I saw no evidence of human travel - no paths, camp spots, bootprints, or snow tracks. Itís becoming tough to find such solitude and untrampled terrain in the Cascades, even in the real Pickets...
The 22 miles of trail to get to and from Spectacle Lake from the Pete Lake Trailhead are the easy part. I made a minor mistake and took the Lemah Meadows Trail to the PCT which added about 1 mile of running and also took the longer (standard) route to Spectacle Lake. By the time I made it to the lake I had covered 11+ miles.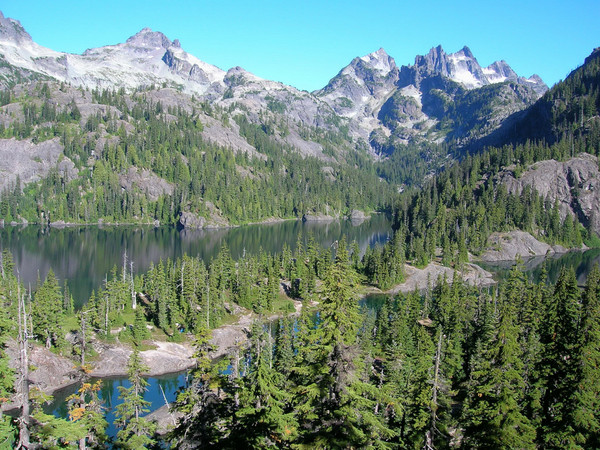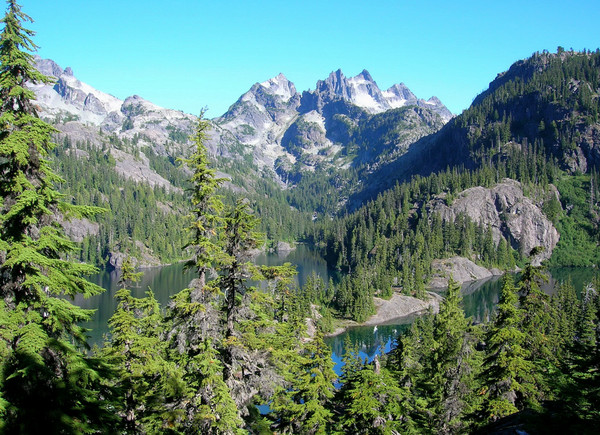 You can see the five fingers of Lemah Mountain in this photo (just right of center). The middle finger is the main summit.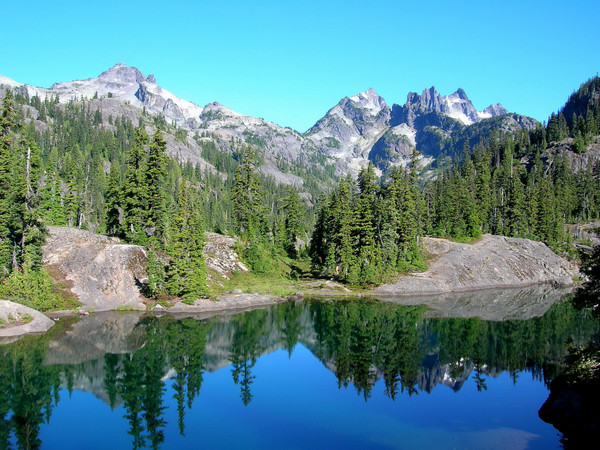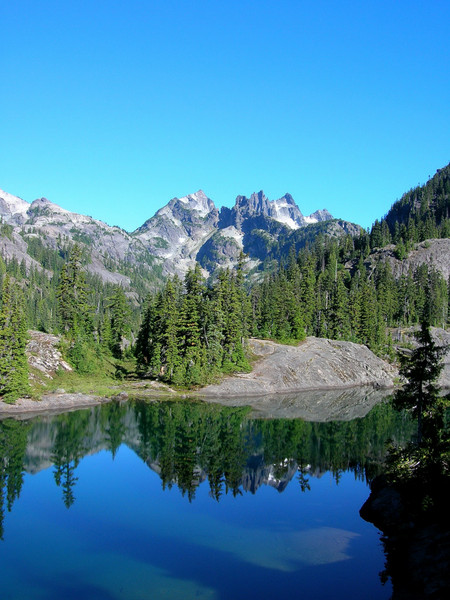 The shores of Spectacle Lake are rugged and rocky and one must first ascend to a shoulder in order get around the north side of the lake. From here, I traversed through talus and brush below cliff bands.
It is difficult to see where to ascend to the ridge to cross over to the Lemah Creek drainage and I spent some time here as well figuring it out. Finally atop the ridge, the hard part is over, but Lemah Mountain still seems far away and there is much walking through heather meadows, talus fields, an old moraine, and granite slabs.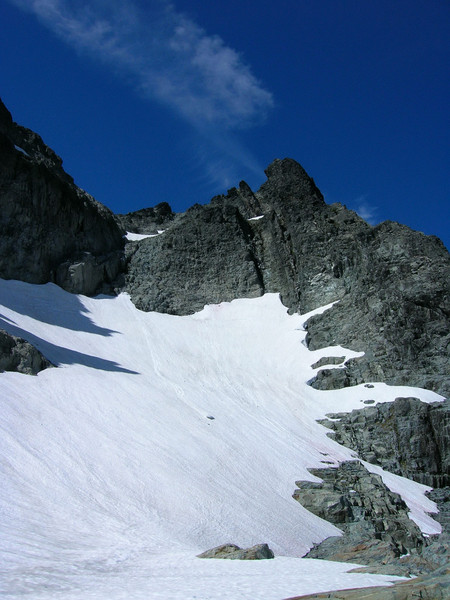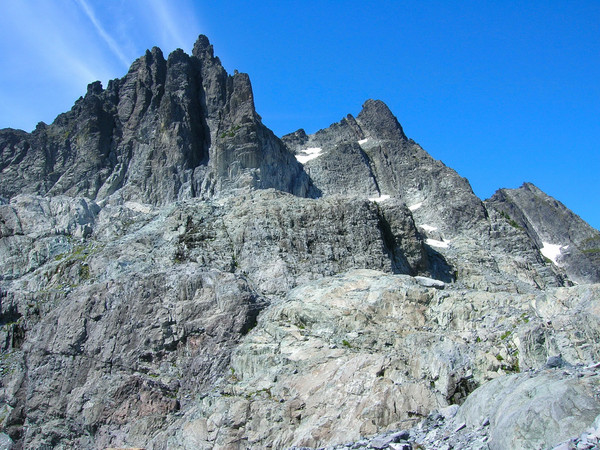 Finally below the mountain!
At the glacial remnant, I put on crampons, which were helpful on the snow slopes which became steeper near the top. A class 3 scramble and then another snow field brought me to the ridge leading to Lemah's main summit. A short scramble later and I was on the summit. I spent nearly 30 minutes resting and enjoying the great views, especially to Chimney Rock and Overcoat Peak.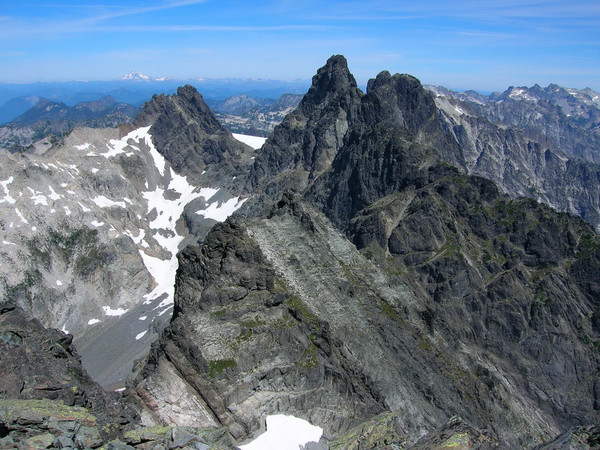 Chimney Rock, Overcoat Peak, and Glacier Peak in the distance.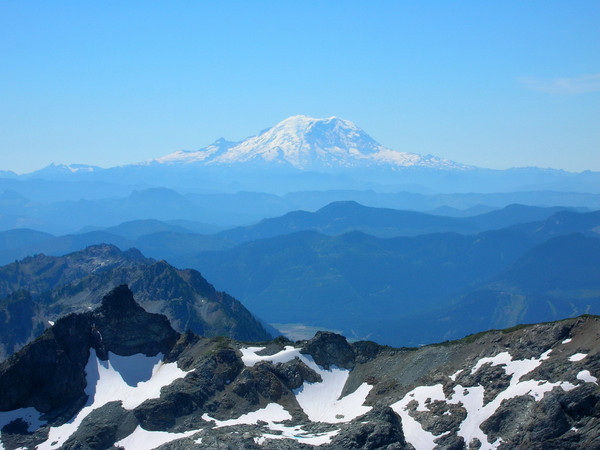 Nothing in between Lemah and Rainier.
Middle Fork Snoqualmie, Mount Thompson, and peaks near Snoqualmie Pass.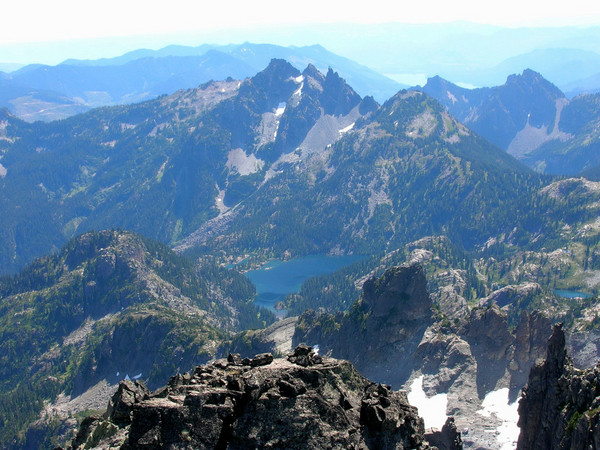 Spectacle Lake, a LONG ways away!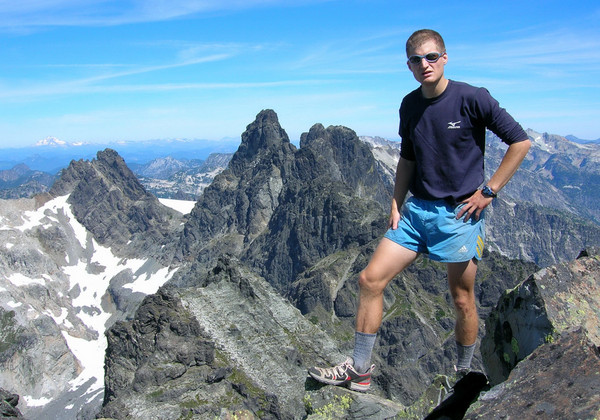 Summit shot.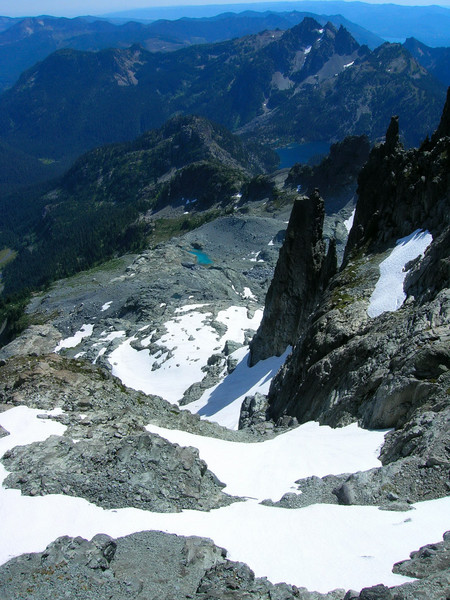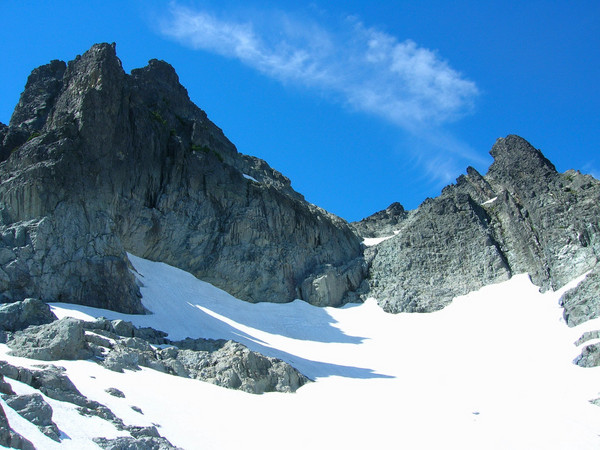 Lemah #2 (left) and the Main Summit (right)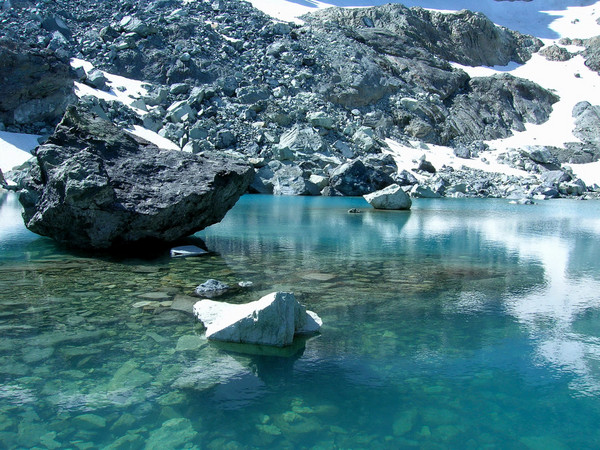 Glacial tarn.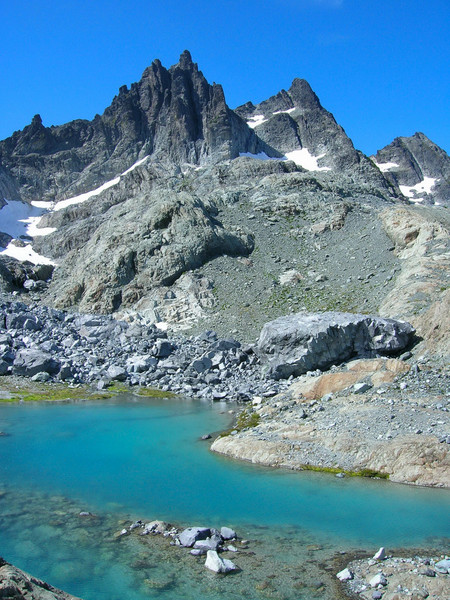 Chimney Rock massif.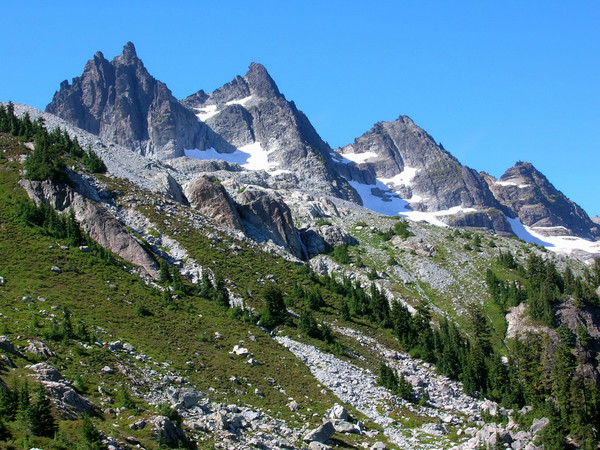 Four of the Lemah Fingers.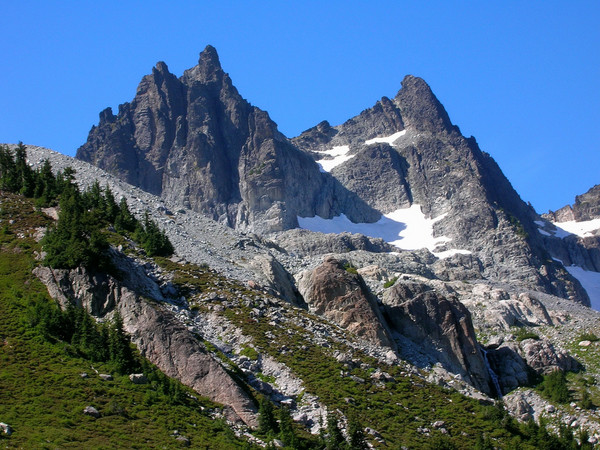 Close-up of Lemah #2 and the Main Summit.
While I didn't make any errors on the return trip, it still took 5:05 hours from the summit to the car!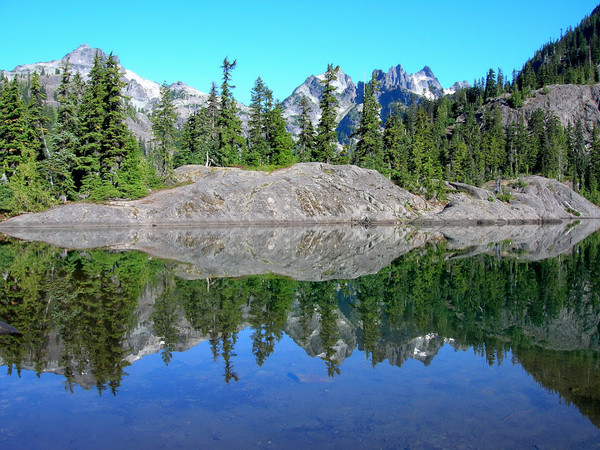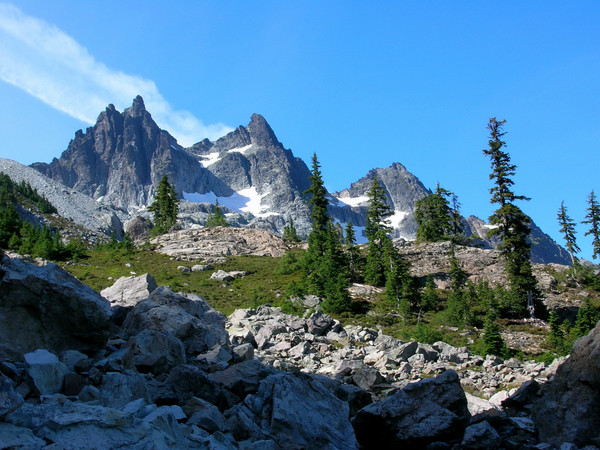 Gear Notes:
Axe, crampons. The La Sportiva Exum Ridge trail shoes handled the terrain great!
Approach Notes:
Around 32 miles roundtrip - 22 miles of trail and ~10 miles of rugged cross country travel. Trails are in good shape, no path after Spectacle Lake.