Trip:
Mt Rexford - FA - North Couloir
Date:
5/27/2012
Trip Report:
Shaun Neufeld, Maxim de Jong, and I climbed this route on Sunday. We crossed Centre Creek below the route at 7 AM, summitted at 2 PM and were back at Shaun's truck in Centre Creek by 5:45 PM.
Conditions were great except for some icefall due to the warm day and occasional small wet slush avalanches off the sunny aspects of Nesakwatch Spire.
The route forks left about 100m up the Priest-Coupe Couloir leading to the Rex-S Nesak col and climbs to high on the NE Ridge of Rexford, topping out about 50m from the summit. Climbing consisted of snow to 65 degrees. We used a small rock rack to protect the roped pitches, mostly due to sporadic icefall.
This was my 4th? and Shaun's second try attempt on the route, and Maxim's first. He was our good luck charm, I guess.
We descended the normal west ridge route, making two rappels: one 15m one off the summit to the first notch and one 60m one off the false summit to the west side ledges.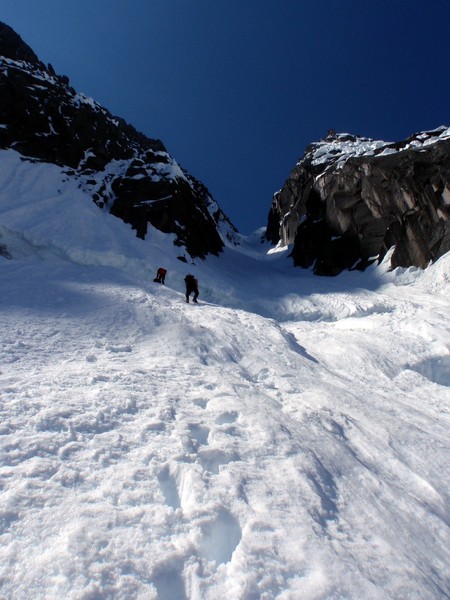 Nearing the schrund at the bottom of the Priest-Coupe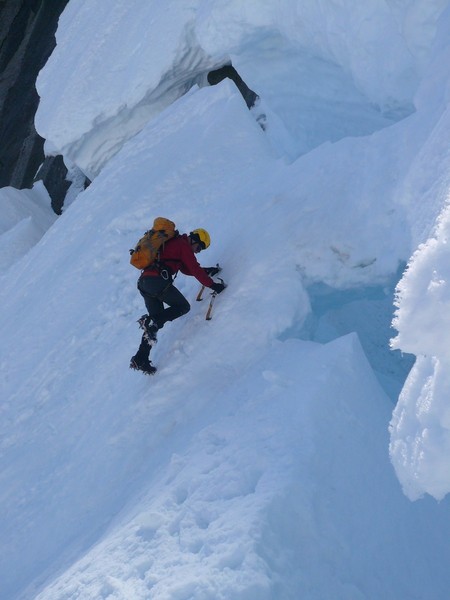 Crossing the schrund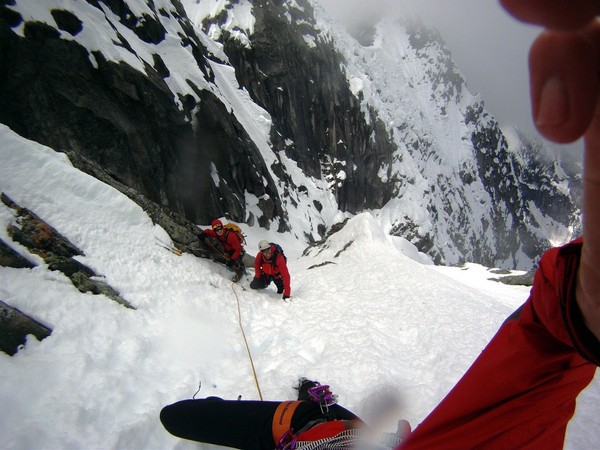 The 3rd belay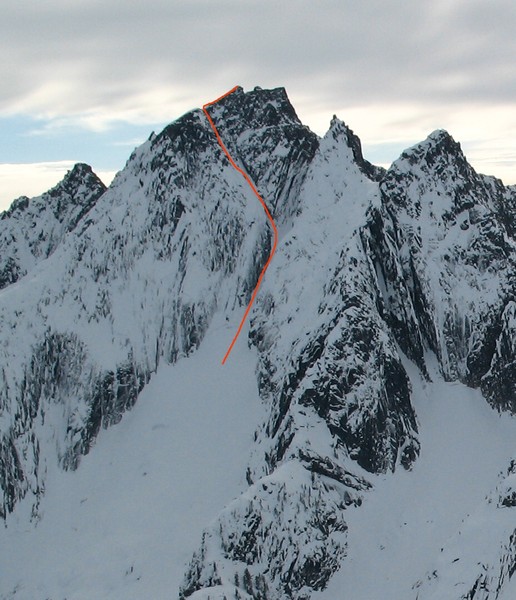 The line as seen from John Scurlock's plane in Jan 2008.
Gear Notes:
Few nuts, four cams 0.5 Friend to 2 Camalot sized, couple slings, a couple Tricams. Picket and a few screws taken but not used.
Approach Notes:
Two cars or long logging road walk. Even with a quad we had to hike the last 4km of the Centre Creek road due to snow-broken alders. Centre Creek gate is locked as of May 24 but you can get the key from the hatchery as per usual.