Trip:
S. Pickets - West Mac y Inspiracion all alone
Date:
8/11/2015
Trip Report:
Last week I drove up North by myself, unable to wrangle a partner for the whole week. I had a range of possible objectives, but after a day scrambling up Liberty Bell and SEWS (someone recently said its not climbing if you wear approach shoes), I realized that the forest fire situation demanded something further west to be enjoyable. So I headed to the Pickets for the first time.
I slept at Goodell Creek TH that night and started hiking at the bright and early... sometime around 10am
The approach was actually not as bad as I had imagined. The trail is fairly well established and not too bad, at least compared to what I had read. There were a ton of invisible spider webs across the trail that kept getting in my mouth and eyes, so I quickly adopted the use of a thick 14" long stick I christened "The Dong" and started waving it in front of my face as I walked, chanting horrible off key versions of various songs from the Lion King.
I must say that I felt an amazing amount of gratitude and respect following that trail for the climbers who went before me. I can only imagine what it must have been like before the trail was established as well as it is now. Even in the relatively well traveled state it is in now it felt very remote and adventure-y. The approach reminded me of stories my dad used to read me from National Geographic, especially the one about Hiram Bingham finding Machu Pichu. I almost expected to stumble upon lost ruins or be waylaid by an undiscovered tribe, but in reality what I found was even cooler... The Pickets.
When the climbers trail turns off the Goodell Creek Trail it begins to ascend quite steeply for about 3600'. If you have ever hiked the steepest trails in the Chuckanuts, this is steeper and more overgrown for triple the elevation gain. Another comparison people on here might be more familiar with is if you were to hike from The Country to the Upper Town Wall at Index, imagine doing that ten times without stopping but a bit more overgrown... so not that bad
Anyway, I finally popped out on the "heather benches" and found it to be full-on Huckleberry season. This was quite nice as I was almost out of water at this point (I hadn't started with much, the less weight the better). I gorged myself resulting in a minor stomach ache and continued at a slower pace towards Terror Basin.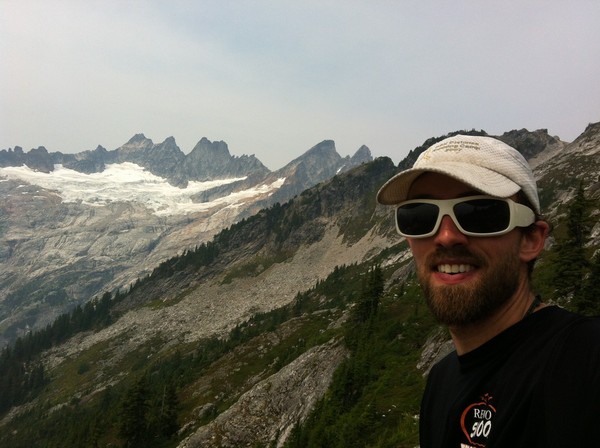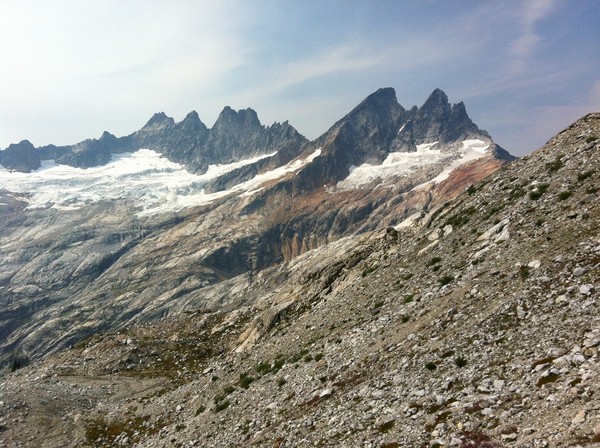 The whole approach was definitely longer than anticipated, by a little bit. It just keeps coming but around 4o'clock I had a camp setup on a rocky bench near the outflow from the glacial lake. I then decided that I could just scramble up West MacMillan Spire via it's easy 3rd class W Ridge before it got dark. This was pretty straight forward.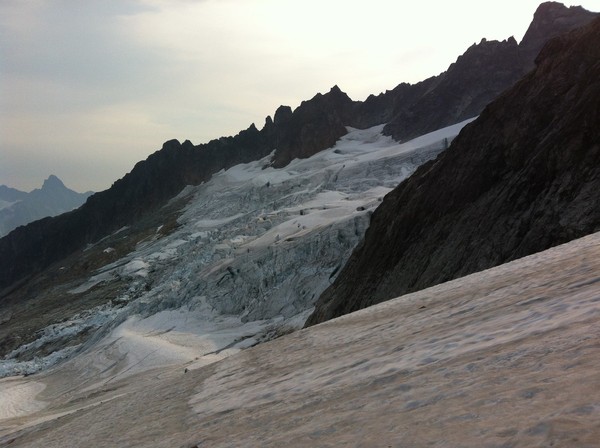 looking up the glacier
At this point there is nothing more than a minor snow field leading to the climb and the approach gully is dry. However, this means that there is quite a bit of loose rock left exposed and made for an "interesting" 30m segment of 3rd classing.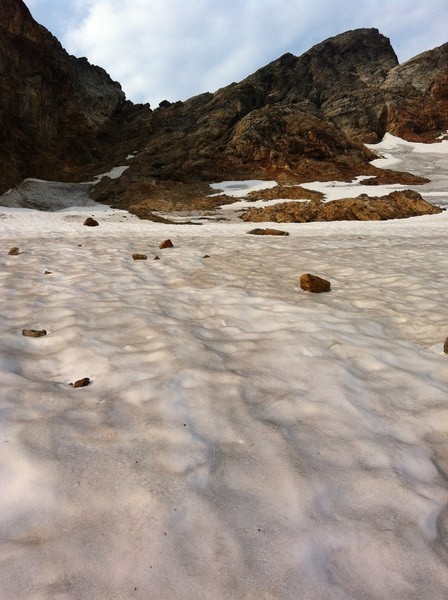 snowless approach gully
The view from the top was awesome. My first view of the Northern Pickets, so remote. And then I noticed the Mongo Ridge and shat my pants... not literally but almost. I AM NOT WORTHY!!! But one day maybe I shall be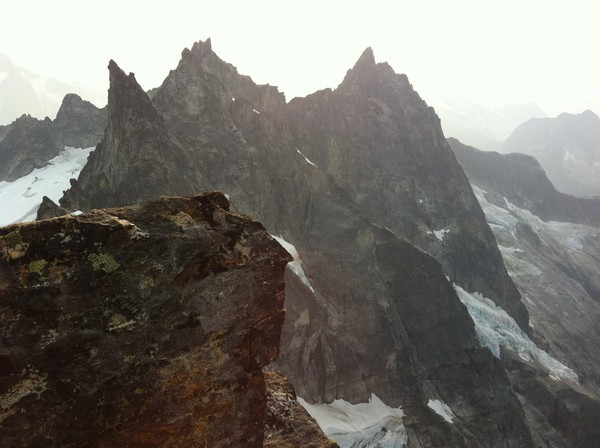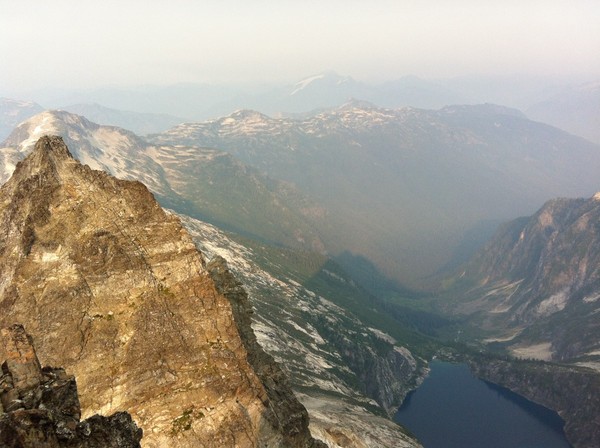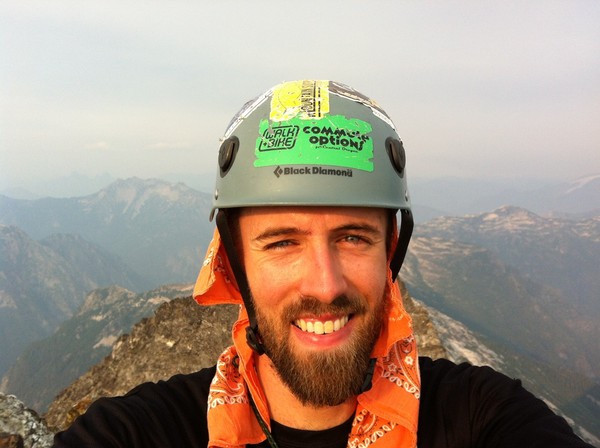 From the summit I looked out at the glacier in Terror Basin and was disturbed, but not surprised (thanks to Nastia's recent TR), about the condition of things. I had thought a solo of Inspiration's W Ridge might be attainable but it sure did not look accessible given my personal gear/partner situation and the crevasse maze laid out below me. I descended to camp and ate peanut butter and honey sandwiches while wondering whether or not there were any other humans out here.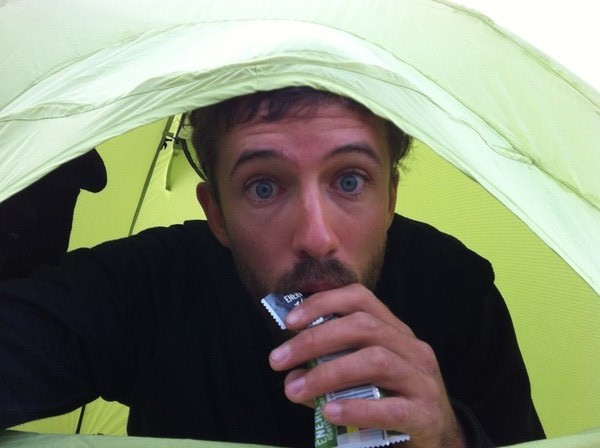 alone in the tent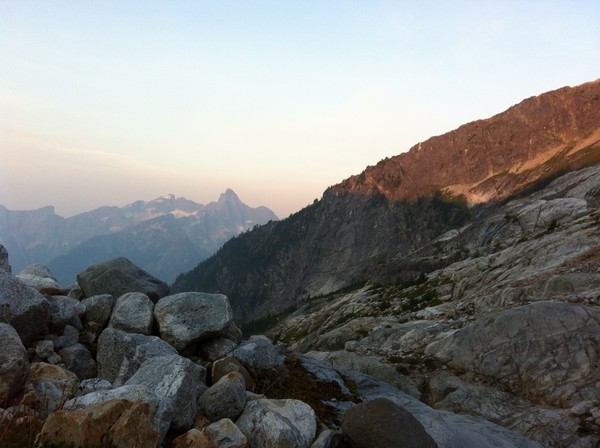 mt. triumph
In the morning I decided to head for the Barrier instead of Inspiration. The glacier was too fawk'd and I thought that maybe I could find an easier way over the barrier than through the heavily crevassed upper cirque. Then I could just summit Terror via its' W Ridge (also just 3rd class) and call it a trip. Also, there were dark storm clouds obviously raining to the south and I did not want to be caught in a storm on technical rock.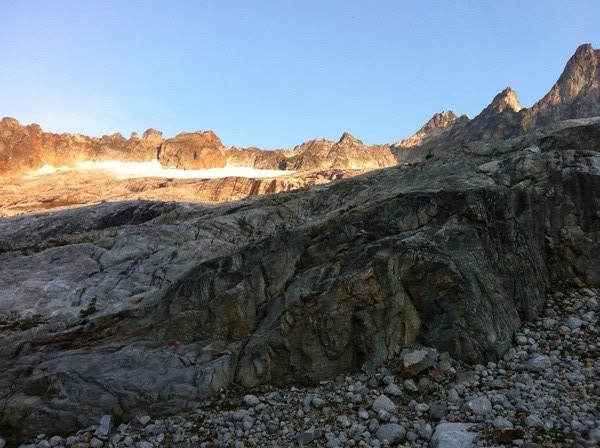 clear skies on the Pickets approaching the Barrier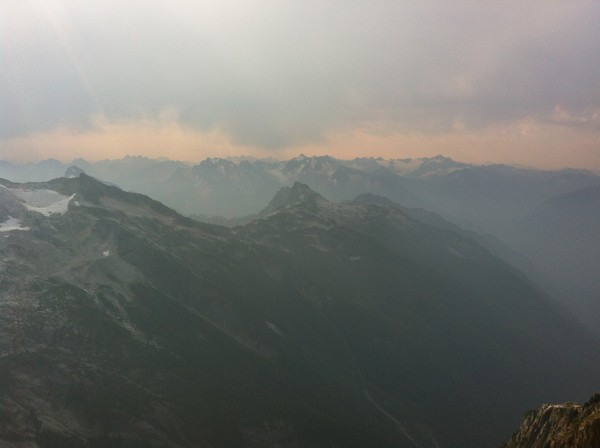 rain to the south
I found an easy way onto the barrier quite low on the left side of the glacier and climbed an arete between two gullys, roughly 4th class, but what I would term X-RATED DEATH CHOSS
. How is 4th class x-rated you ask? Well, kind of like how when you can't trust any gear rock climbing its x-rated, when you can't trust any holds on 4th class its kinda the same schtick. I reached the top of the barrier and looked down into the next basin. Two things were quickly apparent, travel over there would be on an unpleasant amount of scree, and getting there would involve multiple rappels on fairly suspect rock.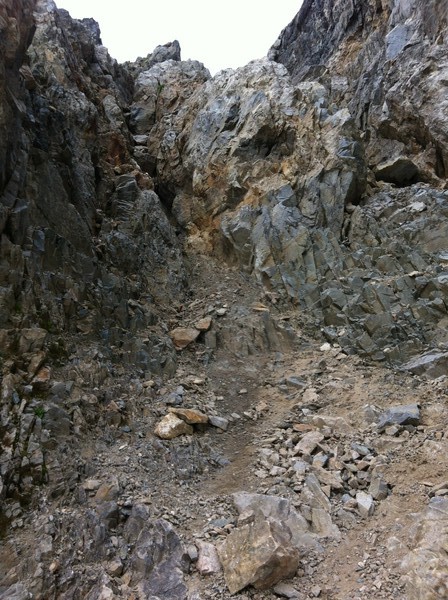 looking up the death choss from the glacier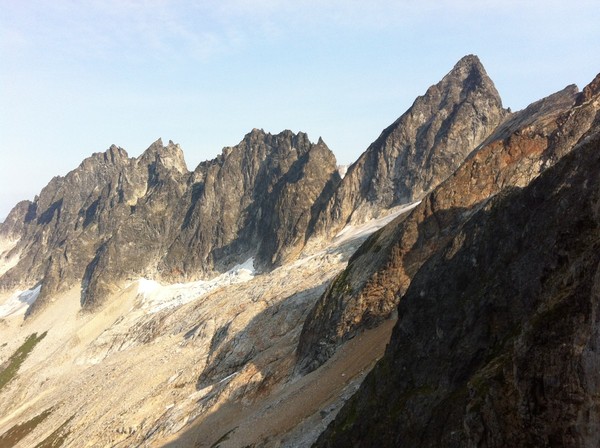 looking over at mt. terror
So as a consolation I decided climb to the top of a short spire next to me on the barrier via what looked like a mid 5th corner. The corner wasn't hard but getting out of the corner involved more X-RATED DEATH CHOSS
this time in the 5th class category. I got to the top of my little Aiguille and realized that the entire upper ten feet were composed of detached blocks. I took several minutes to gingerly locate a position from which I could remove my pack and shoot some pictures before reversing my moves to the notch and back to the glacier... a tad terrifying, which is only fitting for Terror Basin. At this point it was only 10am and the clouds were still all to the south while the Pickets stood in a little circle of blue-sky and sunshine. So I decided that I could at least wander up glacier and scope the crevasse situation. From this far side (climber's left) of the glacier things didn't look too bad.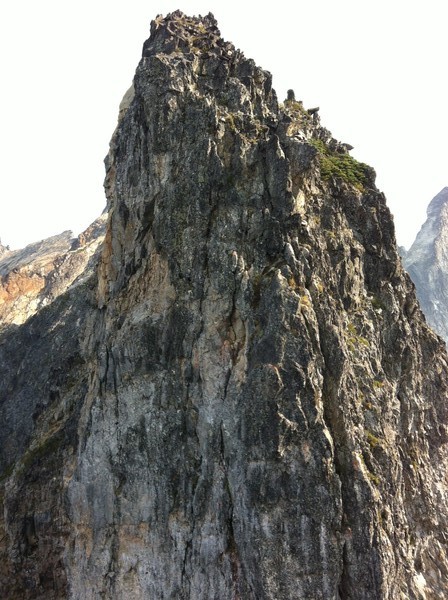 adjascent choss pinacle from my mini summit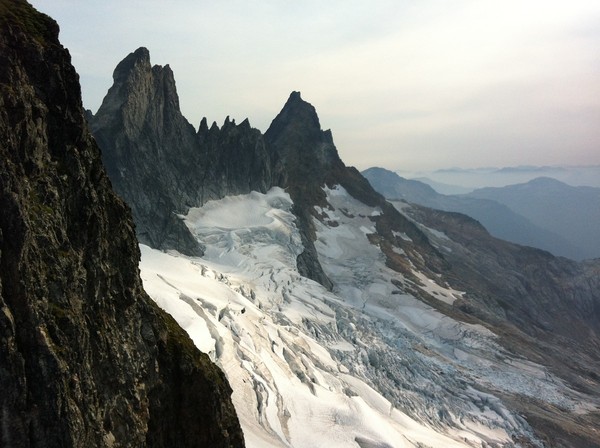 looking up the glacier, Inspiration at left and West Mac on the right
After crossing some hidden crevasses, which once passed I realized were thinly covered and large enough to swallow a sizable truck, I was close enough to Inspiration to see a way I might be able to approach it. The standard gully to the notch was blocked by crevasse and moat, but a collapsed section of the moat gave me access to what looked like a 4th class slab and gully system next to it. I figured I would give it a go and see where I got.
the access tbuttress to Inspriation and the glacier approaching it: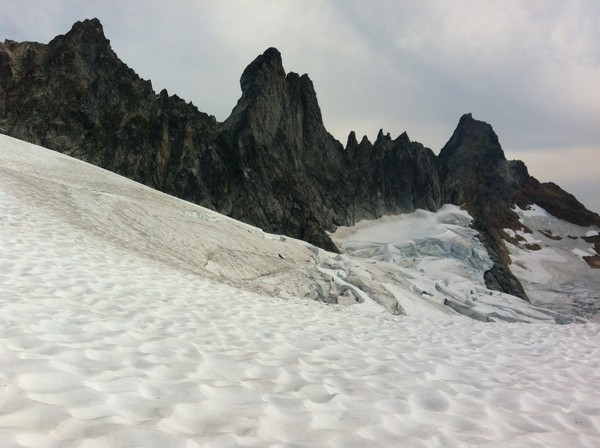 4th class X-RATED DEATH CHOSS
quickly escalated to low 5th. After some shenanigans I found myself in a chimney that seemed to be composed more of sand than rock. I climbed past several loose blocks, careful not to weight any. Once past a very dirty chockstone I gingerly touched it with my foot and watched the whole microwave-sized chunk drop away into space before the ensuing cacophony as it scoured the face below. After more shenanigans I reached the ridge and downclimbed some thin face features and improbable little turrets (improbable because apparently the only thing supporting them were the fingers of the Angel Iseult, guardian of North Cascades imbeciles such as myself) to reach the notch below the West Ridge of Inspiration. Looking up I realized that the rest of this would be a breeze, relatively speaking. In fact the "3.5 ropelengths of 5.7" to the summit went in under 20 minutes and never felt harder than 5.5 (quite disappointing for a Beckey route really). I reversed without rappelling and then began the careful process of downclimbing the X-RATED DEATH CHOSS
to the glacier.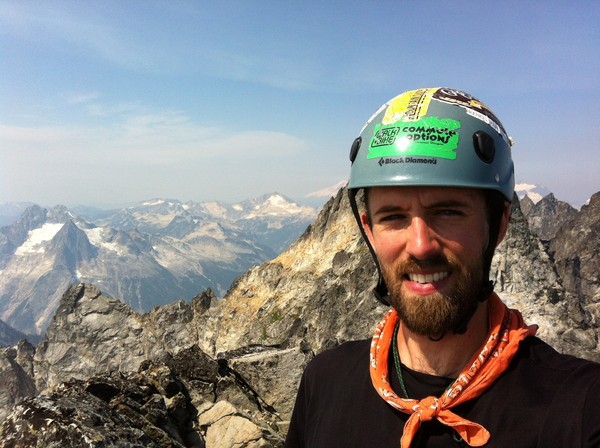 summit selfie, not stoked for the descent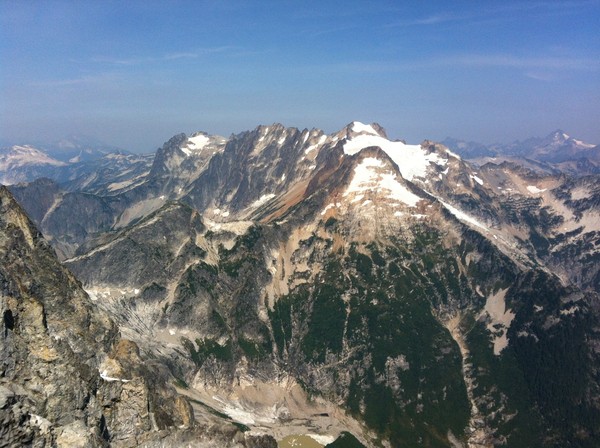 Northern Pickets from the summit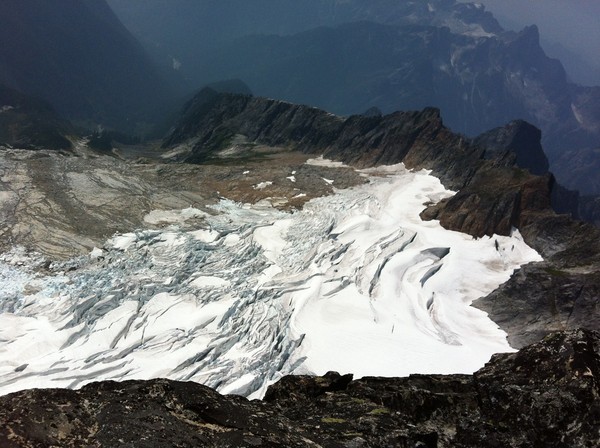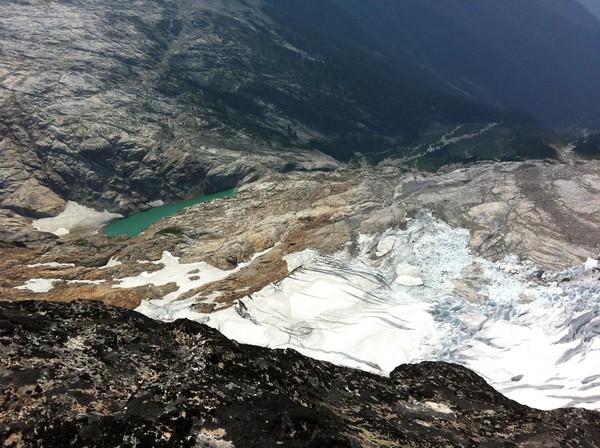 looking down at Terror Basin and the lake where I was camped
I quickly realized that due to the steepness of the buttress I was unable to identify my path of ascent from above... stupid is as stupid does, that was one of many new lessons for the day. I quickly ended up off-route on a parallel buttress. After downclimbing and reclimbing several times I ended up on the right arete but the easy climbing I had taken was on slabs down and around the other side. Instead of reverse again I committed to downclimbing overhanging loose flakes on the arete itself with full exposure. I carefully weighted each flake, only four out of ten foot holds stayed in place, the rest plummeted away disturbing some birds nesting below me. Thanks to the juggy nature of the flakes that was all I needed to lower myself to the ramp below and continue my descent (felt like 5.7/8ish).
A few hundred feet lower I was finally near the end of the climbing. The collapsed moat section that I could use to access the glacier was ten feet down and right. I was climbing past a v-groove stacked with loose blocks the approximate dimensions of truck tires and I let out a sigh of relief. I was basically done. As I moved over the blocks they rotated in complete silence. I faced away finding sloping handholds when I felt a sharp pain in my left heel and heard the crunch of rock. I looked over my shoulder and saw that the blocks had shifted and the bottom one had com down and pinned my left foot against the rock. A quick glance told me that if all moved at once they would take me with them down into the black, bottomless moat beneath me. If I let go with both hands I would be unsupported in my half-turned position and would pivot around my foot, probably smacking my dumb head before pulling the assemblage down on to me. I thought maybe I could pull my leg out from under the block so I set my free right foot and pulled as hard as I could. There was no movement, not even a little shift. That was when I started to get a little concerned. I was still in my mental soloing bubble so my emotions weren't manifesting physically but I did think that I might actually be at the end of the line for a second. I took a few deep breaths to calm myself and summoned my logical fix-it mind, determined to try every possibility. I let go with one hand so that I could look over my shoulder properly and saw that the block pinning my foot had another block atop it that was acting like a cam and forcing the other block down. That explained the lack of movement. I realized that I could probably roll this block off without taking other stuff down with it. However, to do so would bring it dangerously close to my foot. If I crushed a foot bones out here I'd still be in a bad boat. With my left hand I carefully applied pressure to the camming block to see which way it could roll. Satisfied that there was a 90% chance of not screwing myself I gave it a big heave and watched it miss my toes by 2" as it rumbled down into the black moat. Now the block pinning my foot was a little looser. I gave it prod and realized that luckily it had just gotten the rubber heel rand of my shoes pinned. It had smacked my heel but was not bearing weight on my actual body. I gave the block a shove and then quickly spun in place and stepped up and out of the way in case the whole assemblage now went down into the black chasm of doom. It shifted a few inches and then settled with several blocks rocking back and forth in precarious positions. After observing that all movement had stopped I carefully avoided the blocks and climbed those last ten feet down and over to the snow. This whole process probably took less than two minutes. I took some deep breaths as the adrenaline pumped its way out of my system.
This was definitely the closest call I've had in the mountains and obviously I am not proud of it. Writing about it here feels like it offers some catharsis but no doubt several of you will want to take me down a peg or three for poor judgement. Do as you will. I can't recommend my path of ascent to the notch, even to competent roped parties, and will probably be avoiding such features in the future, as well as bringing partners to the Pickets for future excursions.
Lessons learned include:
-be more observant about your path of ascent to better facilitate down climbing/rappelling
-be 100% focused 100% of the time when in these situations, even once the exposure has lessened
-rappelling though dangerous may be safer for getting off of choss piles
-random shit happens, control what you can but know that you also can't, and accept that in full knowledge when going alone, including the ultimate consequences
After getting out on the glacier I noticed dark clouds finally coming over the ridge. I got back to my tent around 2pm and waited to see what the weather would do. After a snack I took down the tent, which of course precipitated immediate rain fall. Luckily it did not last long and I was soon back in huckleberry shangri-la. Crossing a rocky gully I recognized the place where I had left my trusty spider stick (aka The Dong) I began calling out "la sticka!?! donde esta la sticka?! como esta la sticka? todo bien?"... yes I know la sticka is not spanish for "the stick" okay? I had a castaway moment so leave me be. The rest of descent went quickly once I had my trusty Dong in hand and I was back at the car by 7:30. I took a "shower" under the spicket in the National Park campground and fell asleep. The next day I iced my stiff legs in Diablo Lake and drove to Winthrop for a proper shower and bed at the North Cascades Mountain Hostel (holler at my brother Paul who is da man and runs a sweet place, I highly recommend!). On Friday my buddy Nick drove up from Bend and we went climbing at WA Pass (solid rock thank god!!!), but that needs another TR.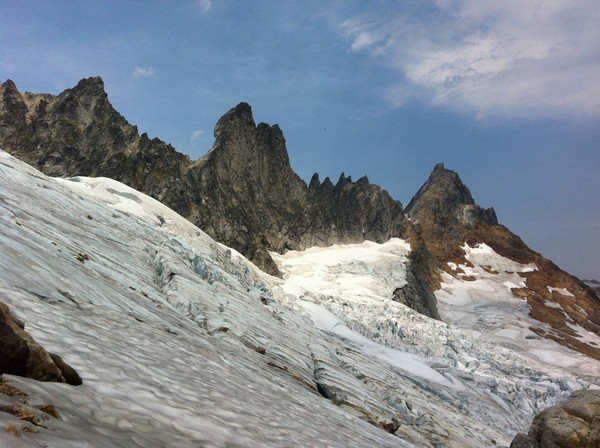 looking back up glacier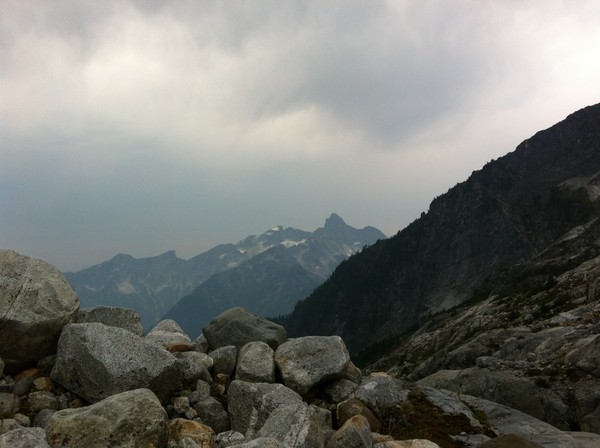 dark storm clouds a coming, taken from the campsite
Overall, I would encourage people to get into the Southern Pickets. The access is better than the horror stories led me to believe and it is truly a beautiful and inspiring place. In under 35hrs I had a full-on adventure and really enjoyed myself for the most part (minus the X-RATED DEATH CHOSS
). Just remember that there are some sections of quite terrible rock and the glacier is fairly broken up right now. Bring a partner and a range of gear. Expect some shenanigans but also expect to learn something.
Be safe and have fun.
-Sam Bedell
Gear Notes:
-HELMET!
-I used guide tennies w/ strap-on pons which worked fine for what I did but may make crossing moats more difficult, I also only had one axe which again was fine for what I did but may limit you on other routes
-I brought a BD Couloir Harness, w/ 100'x7mm rap line and a selection of old nuts/slings/cord in case of rappels (used none)
Approach Notes:
Goodell Creek TH, climbers trail to Terror Basin is very obvious right now. Minimal bushwhacking and easy route finding. No water on the heather benches until you drop down towards Terror Basin. Glacier is a shit show.