Trip:
Bonanza Peak, Washington - FA: The Oregonian Route
Date:
9/4/2013
Trip Report:
First Ascent Trip Report
The Oregonian Route a.k.a NW Buttress of SW Bonanza Peak
(Slightly closer than the Soviet Route but also not really the "North Face")
5.9+, 2200' (1600' new) Grade V
A few other Statistics:
Six days, 36 miles of hiking, 43 hours on route, 2 bivies
We also wish to express our gratitude to Steph Abegg for her vision and research digging up the Soviet Route and documenting it.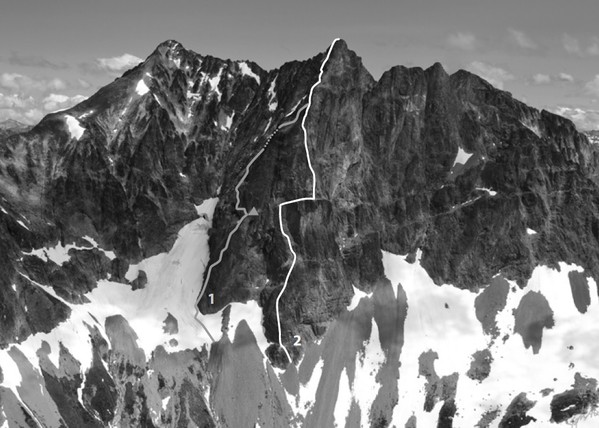 SW Bonanza Peak (right) and West Bonanza Peak (left) seen from the west. (Photo: Steph Abegg)
1. NW Buttress, "The Oregonian Route." 5.9+ V. Keena and Bonnett 2013.
2. W Buttress, "The Soviet Route." 5.9+/5.10 V. Bershov et. al. 1975. (Overlay as documented by 3rd ascent party)
When looking for some alpine mischief to get into this summer we stumbled across Steph Abegg's excellent trip report from her third ascent of the Soviet Route. To our delight, we noticed a parallel buttress starting slightly uphill to the northeast. A bit shorter, probably a bit steeper, just as remote. Within moments we were smitten, ready for adventure, ready to go climb and explore the vertical world, ready to overcome obstacles… and of course there were many more than we had anticipated.
Approaching Bonanza Peak has become increasingly complicated as of late due to the Holden Mine remediation to the east (the quickest approach). Since we were constrained by work schedules, we opted for a combination of mountain biking and hiking over about 30 miles from the west up the Suiattle River to Suiattle Pass. This approach offered shorter driving time, low cost, and schedule self-determination, but unfortunately no quality bushwhacking.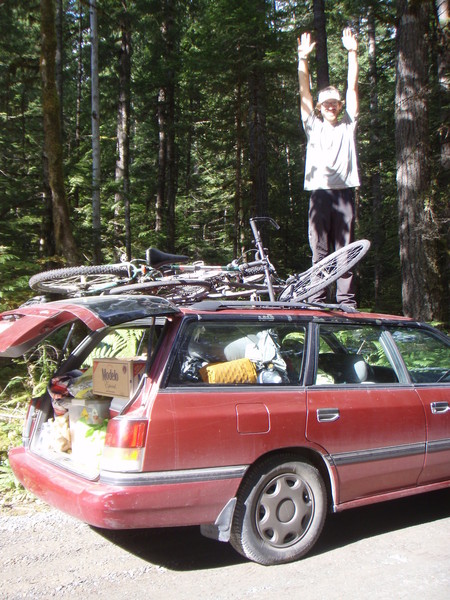 The loaded rig.
The west side approach also possessed the customary WA mountain road condition; limited use during construction. Riding past the work and gradually ascending the narrowing gravel road for 10 miles led to the FS-26 – Glacier Peak Wilderness boundary. We then hiked the following, respectively: Suattle River trail, PCT to Suiattle Pass, hiker trail to Cloudy Pass, finally cross country to Bonanza Col (South of Grant Glacier).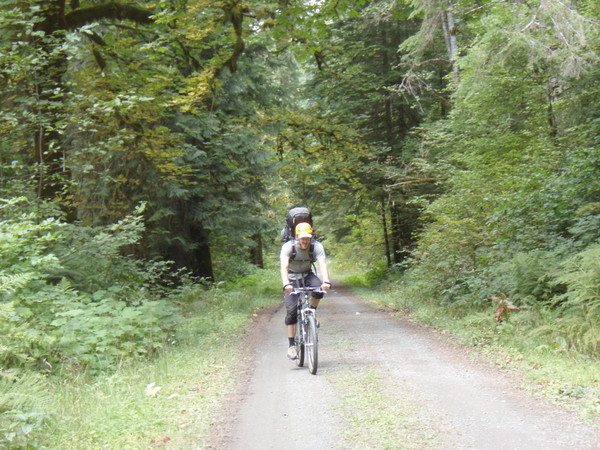 MTB approach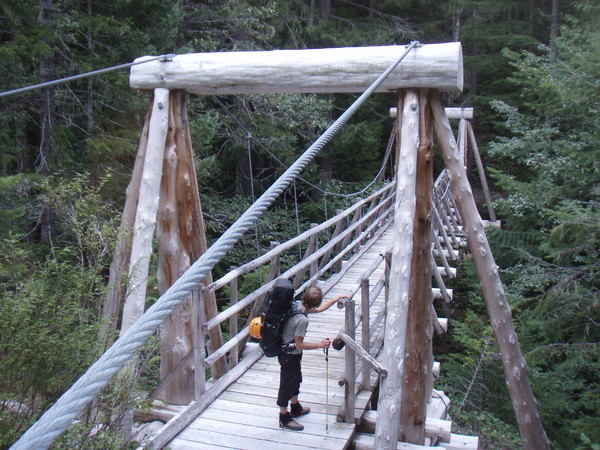 Great bridge near Suiattle River- PCT trail junction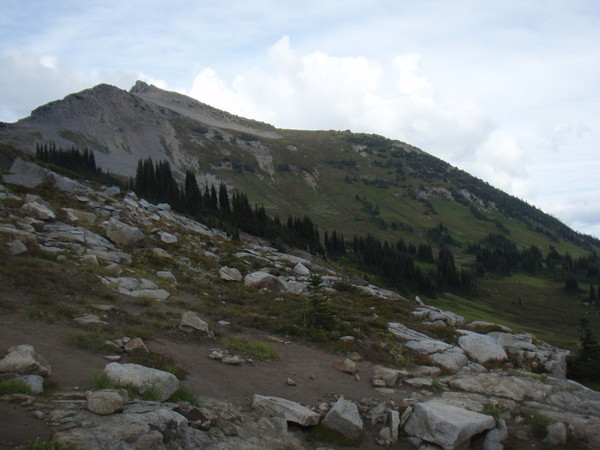 North Star Mtn and the cross country route taken to the Col (far right bench).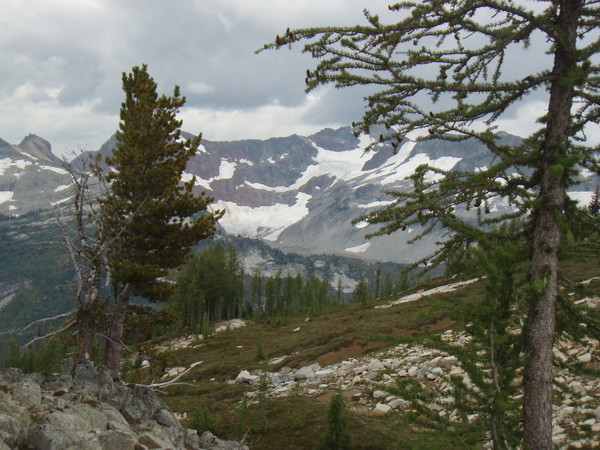 High camp
Finding ourselves still in dense fog and rain on a drab fourth dawn we were becoming worried about getting climbing weather before we'd have to pack up and leave. Just as the meteogram had predicted, however, the weather began to lift, just slightly, around midday (visit pataclimb.com for a great description on how to generate meteograms for climbing). With intermittent fog and less-frequent drizzle, we decided to pull the trigger.
The approach and first afternoon of climbing was made continually challenging by the banks of fog and drizzle that continued to lethargically glide by. However we were grateful to have a "window" and excited to be climbing! We made the traverse from the top of the col, past the Soviet Route buttress, to the first climbing technicalities in an hour and a half (enough time to surf some stellar scree).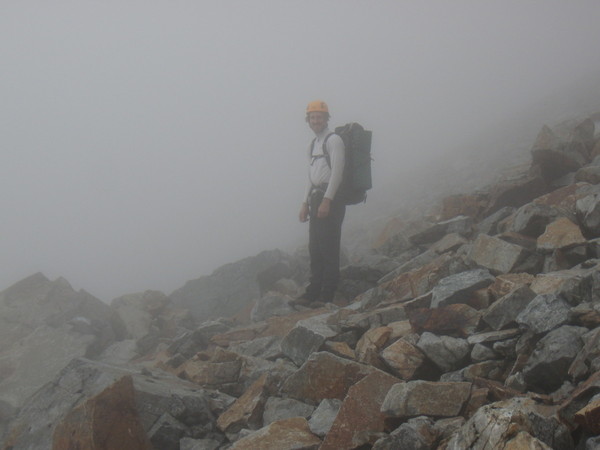 Erik on the talus approach.
At 3pm we began by making a somewhat sketchy approach-shoe traverse up the toe of the pocket glacier to the north. Gaining rock a few dozen yards uphill and left of the lowest point of the buttress, we were immediately making near-vertical 5.8-5.9 moves.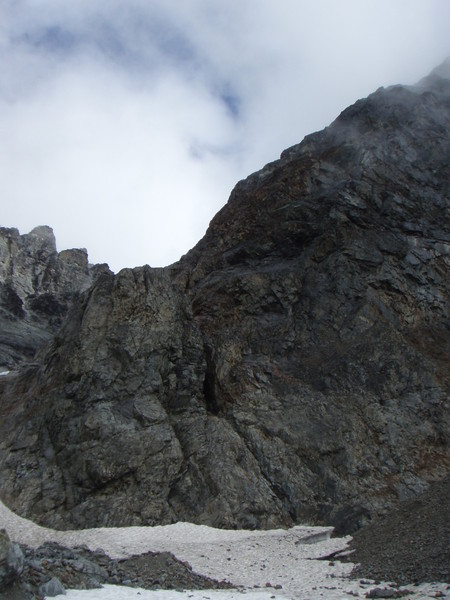 The toe of the NW buttress. Climbing began on the upper left side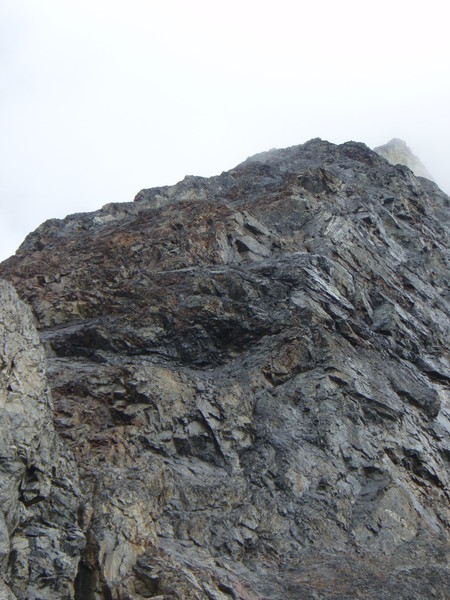 Looking up from pitch one
We continued ascending moderate terrain with more challenging moves for seven pitches to the lower ledge. The climbing was often loose, sparsely protected, somewhat lichen-covered, and wet, but with excellent position on the crest of the buttress. We only wish we could have seen the view!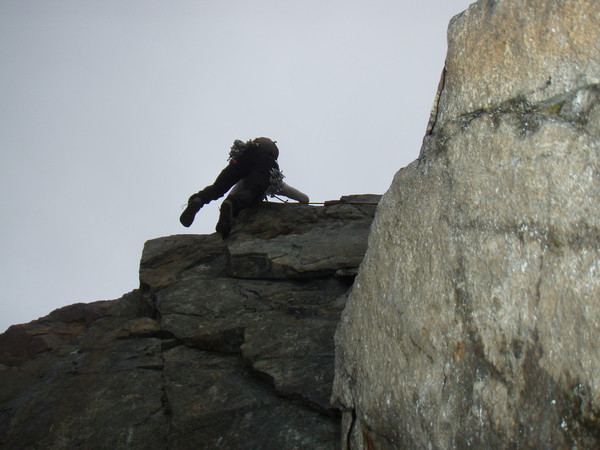 Erik making moves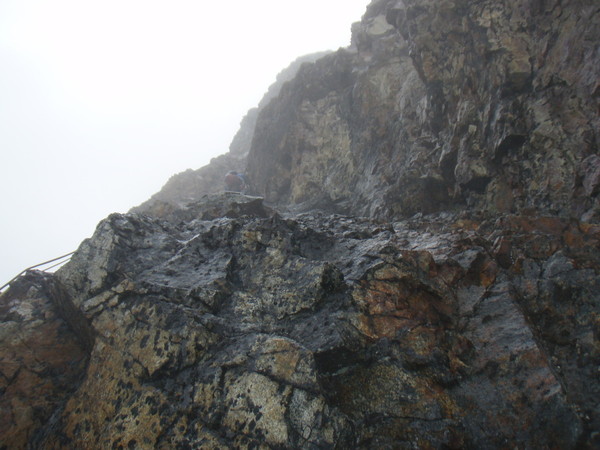 Banks of drizzle moving by added special "zest" to the evening.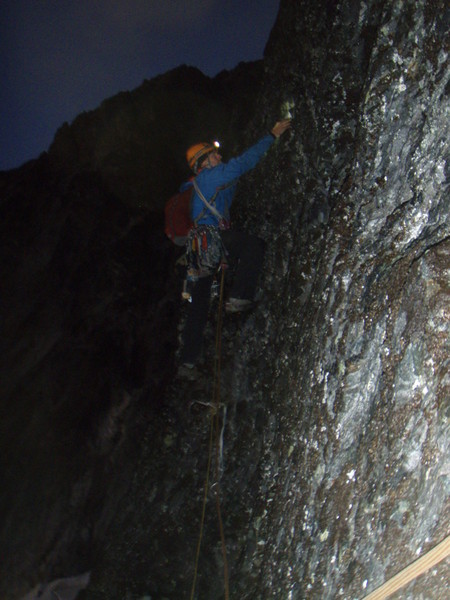 Seth
Arriving at the lower ledge at about 10pm, we quickly prepped a flat talus surface and snuggled into our lightweight bivy system (1 bag + 1 foam + homemade nylon wedge + 1 small siltarp). We were excited to notice stars that night, and generally slept surprisingly well. We awoke at daybreak to clear skies(!)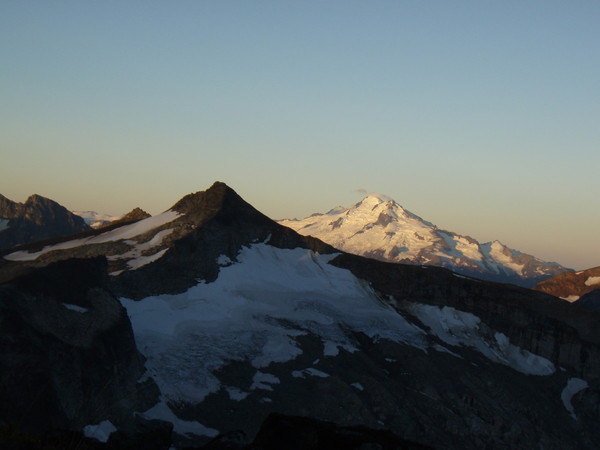 Morning light on N. Star Mtn and Glacier Peak from bivy 1 ledge.
And…
A near-vertical wall punctuated by several significant overhangs rose for over 600' above our bivy ledge. Given the quality of the rock and length of the route, we considered beginning to rappel. As the light slowly increased, we were able to make out a small ledge system, traversing left to regain the buttress crest. This pitch ended up having the highest quality rock of the route and gave us the emotional pump we needed to keep going. It was 6:30am with the makings of good weather.
First pitch of the day on great rock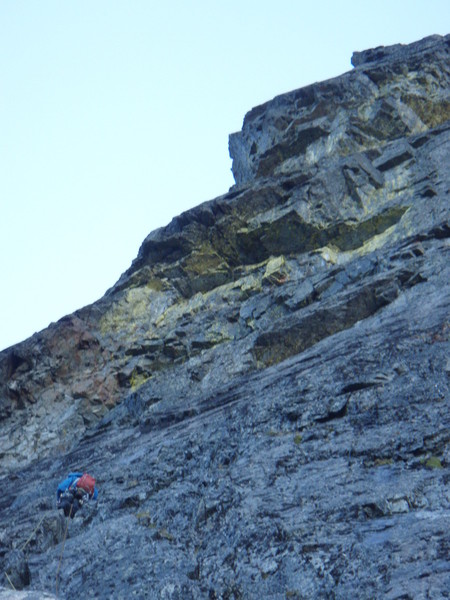 Working up and left around loose overhangs
We continued for 8 pitches up arêtes and troughs, generally staying just left of the buttress crest, eventually reaching the talus field below the summit block. We climbed in micro-blocks of two pitches because we found leading over the loose and/or steep terrain mentally and emotionally taxing. We were surprised to notice that the rock was often better in the troughs and on vertical terrain, while the lower-angled arêtes tended to be looser. With a report of a party's Soviet Route attempt ending in rockfall injury earlier this summer, we were very careful to position belays out of the line of fire.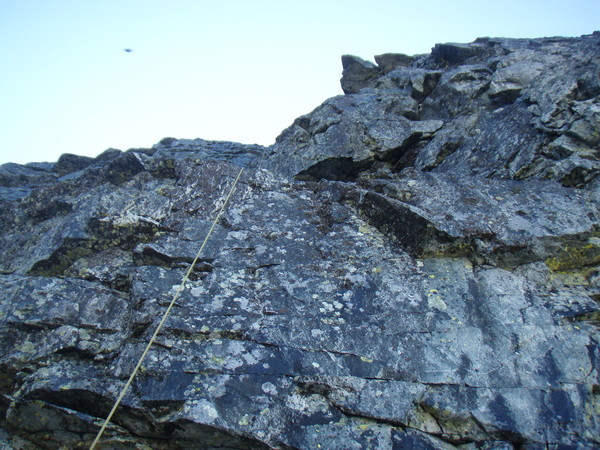 Up and slightly left (north) of the arete proper. Note the airborne rock- a constant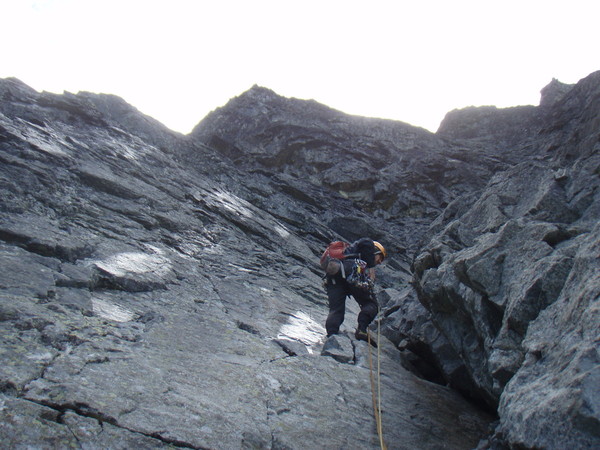 working up the lesser vegetated troughs
At the talus field, we considered bivying again since it was already 4pm, but decided to continue, breaking the remainder into two blocks: ascending the upper Soviet Route (Seth), and the descent (Erik).
Some simul-climbing led us past the upper ledge (used to bivouac presumably by the Soviets) and on to the summit block. Three more pitches gained the summit in waning daylight.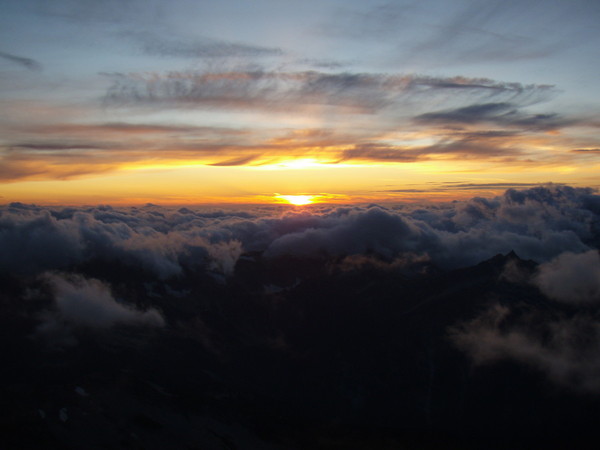 Summit of Bonanza SW looking west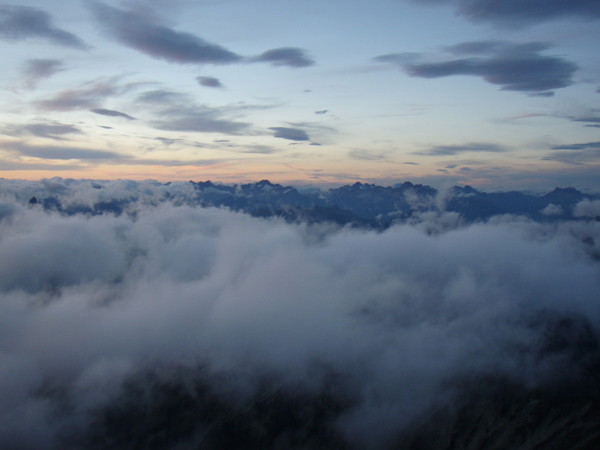 Summit of Bonanza SW looking north. Can you name any peaks?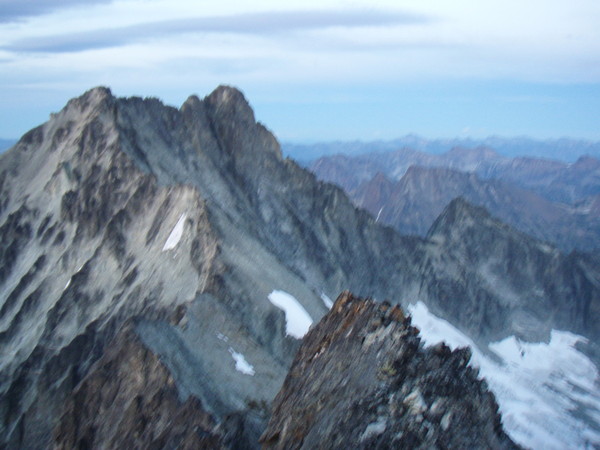 Looking east form the summit at the two higher sub peaks and Isella Glacier (right)
THE DESCENT
We had planned to descend the south ridge using rappels and down climbing. We had scoped the bottom portion of the ridge from camp, but standing on the summit saw a long section of sharp ridgeline leading down to what we had seen below. It looked like the descent would require several rappels down a loose knife-edge arête just to reach the ridgeline. That descent seemed like a bad idea even in the daylight, as did trying to bivy on the summit. Following previous party's routes along the ridge to the northeast would also require extensive 4th/5th class climbing in the dark. As light faded, Erik spotted a talus bench between the upper and lower Isella Glacier, exposed by glacial recession. We quickly slung a boulder and started to descend as the ledge disappeared into darkness below us.
A rope caught on the second rappel and was bravely fetched on lead by Seth. After three rappels we made our home again amongst talus, a few feet from the cliff edge. Though our thirteen hours of movement did evoked sound sleep, smashed up cheese wraps and celestial beauty were not missed.
As the sun rose and we were pleased finally to be in position to benefit from its warming rays. As Erik brilliantly led the downward charge, we moved quickly in and out of technical terrain toward the toe of the main Isella Glacier far below.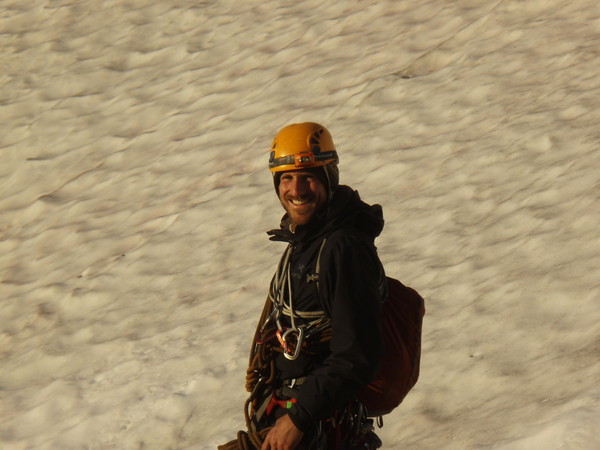 Erik and..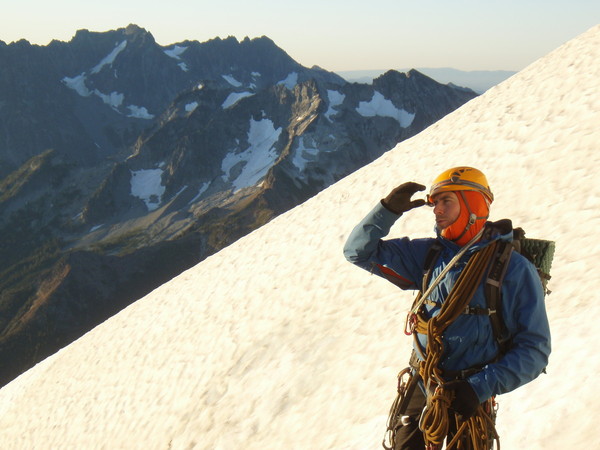 Seth, feeling fine in the shine (finally)
Due to an excellent choice of rappel anchors we got to shower off in waterfalls during two rappels down to the sculpted bedrock below the glacial toe. We quickly coiled the ropes and walked out of the serac-fall zone, grateful to be back on terra firma!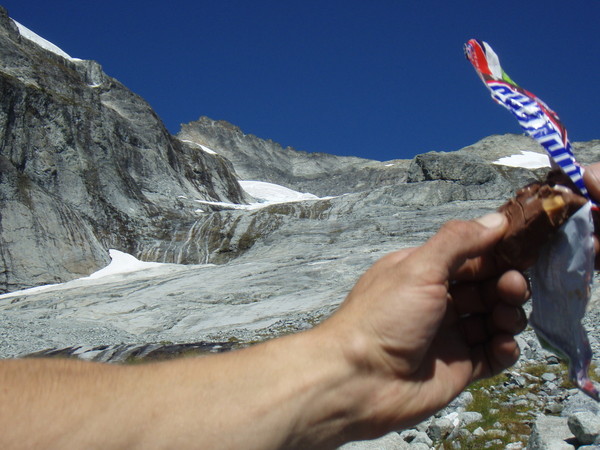 (belated) Summit Snickers. Background: Isella Glacier basin, the descent ledges, and the SW summit. The 2nd bivy was at the last snow patch before the summit
Seth had to be back at work the following morning so we kept moving through camp and down the trail. Unbenounced to us, our last challenge still lay ahead. Six miles from the trailhead, tendinitis in Erik's knees began limiting his ability to walk. Quickly Seth took all the weight while Erik staggered down the trail leaning on two trekking poles. Fortunately we were able to continue slowly to our bikes and arrived at the car just after 2 AM, twenty two hours after leaving our second bivy.
A caffeinated drive, a divine shower at NOLS PNW, a quick goodbye, and Seth caught the 9:40am Edmonds/Kingston ferry with 12 minutes to spare!
Gear Notes:
Cams: triples in fingers, double to 2.5",single 3", and a tiny fella.
Stoppers: rack of nuts and RPs.
Two 60m ropes (we used an 8mm and a 9.6mm)and lots of single slings with a few doubles.
Approach Notes:
Park at mile post 11, FS-26 and give workers excess tomatoes to let you ride bikes past. Ride 10 miles to Glacier Peak Wilderness boundary. Hike Suiattle River trail taking PCT North at their junction. At Suiattle Pass take trail to Cloudy Pass. Navigate to Bonanza/North Star Col. 36+ miles total.. Or take the ferry/bus from Chelan.