Trip:
Mt. Rainier - Cadaver Gap-Ingraham Direct
Date:
1/20/2009
Trip Report:
Jon and I went up Rainier Sat-Sun. It was a beautiful trip with perfect conditions.
After forgetting the way to Paradise, stopping to buy a Jetboil at Fred Meyer, and picking up that randonee rope I'd always wanted, we finally arrived at the parking lot around 1 PM. 53 degree temperatures and beautiful clear skies greeted us. Sunscreen in January: yes!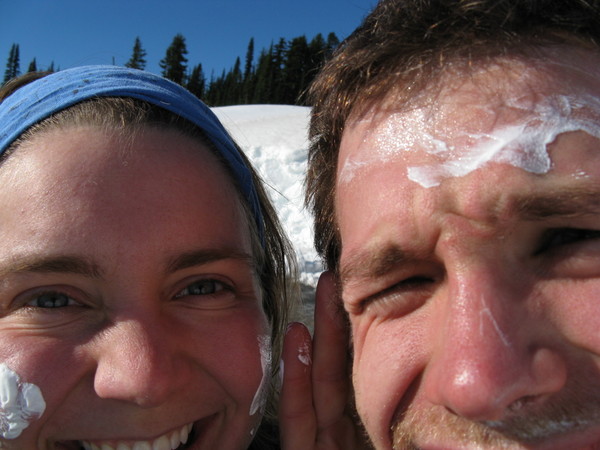 Leaving the parking lot at 2:15 PM, we skinned up to Muir, walking in a few of the steeper parts. Neither of us has done much backcountry skiing, but this was a good experience for us. We quickly figured out how to skin efficiently, and found it much more fun than hiking. I had a little dynafit frustration and got nervous when my skis started to slip on steeper/icy snow, but worked through it!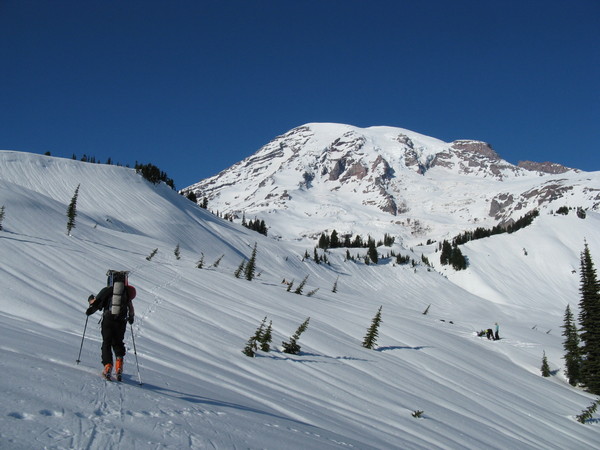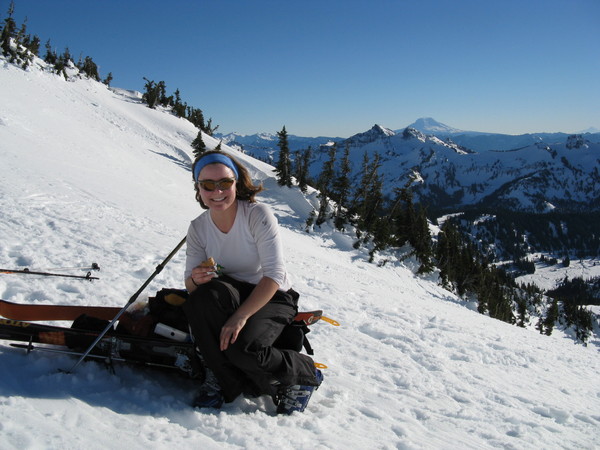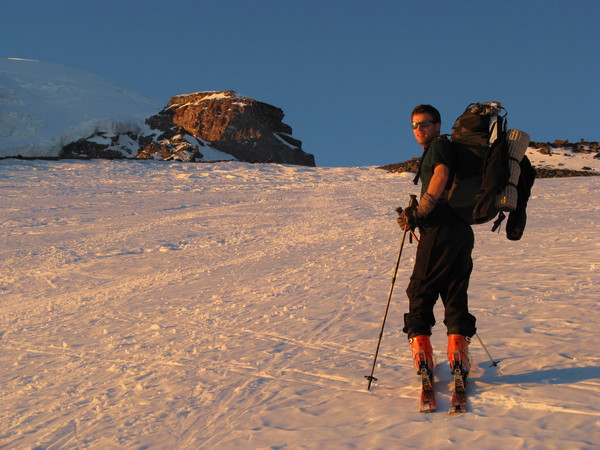 Arriving at Muir around 6:15, we quickly set up the tent. We spent several hours melting snow. Both of us did a good job of staying hydrated on this trip. (Drinking enough water is Jon's New Year's Resolution. Mine is to do more pull-ups. Let's just say he's doing a much better job on his resolution than I am!) Sunset on the mountain: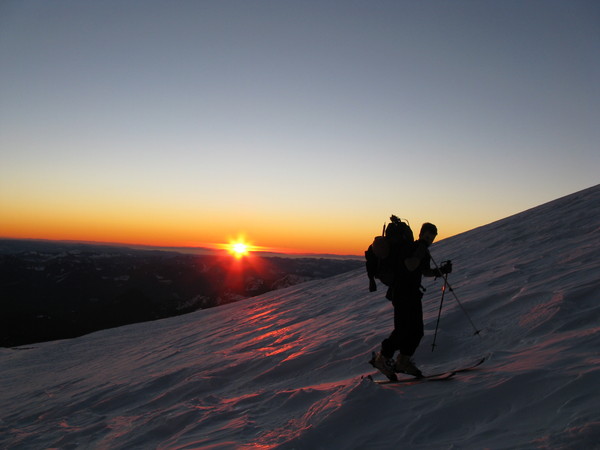 We departed from Muir around 3:45 AM. The snow was perfect styrofoam and our ski boots took crampons well and were comfortable for hiking. We went up through Cadaver Gap and got onto the Ingraham Glacier. The glacier is in great shape - a few crevasses to hop over and some good snow bridges. Sunrise: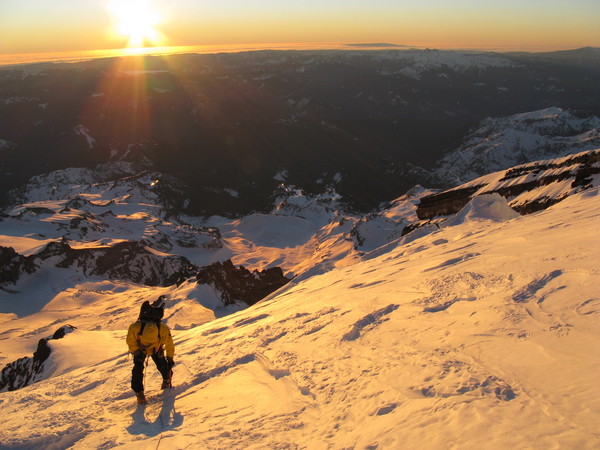 This was only the second 14er I'd done, but the altitude wasn't too bad. I had some anti-nausea pills left over from my wisdom teeth extraction, which I used throughout the trip. They must have helped.
I began to find a strange zen in the rest step. It took discipline to put one foot in front of the other. Over and over and over.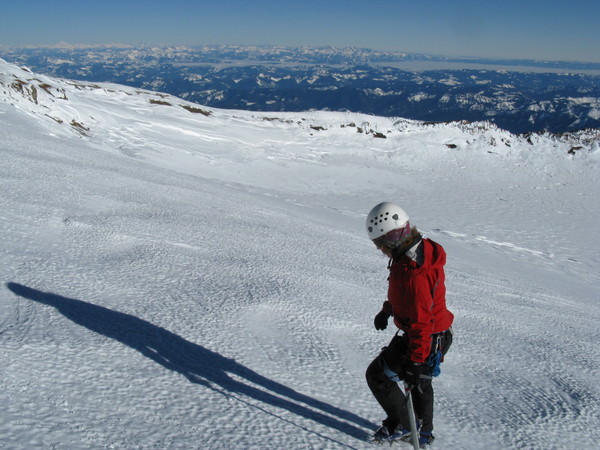 We got to the crater around 11 and found the steam vent caves. I was grumpy at Jon for making me crawl around in steamy, sulphury caves, but now I'm glad. There was evidence of past epics/survivals. Then we made our way to the summit and arrived about noon.
We tried to fake happiness: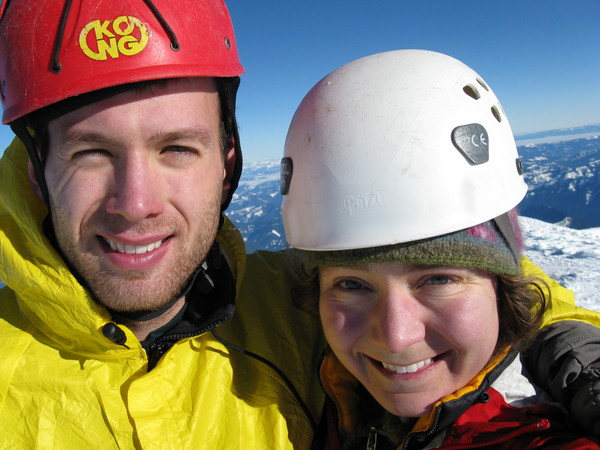 But really just wanted a nap after hours of slogging at altitude!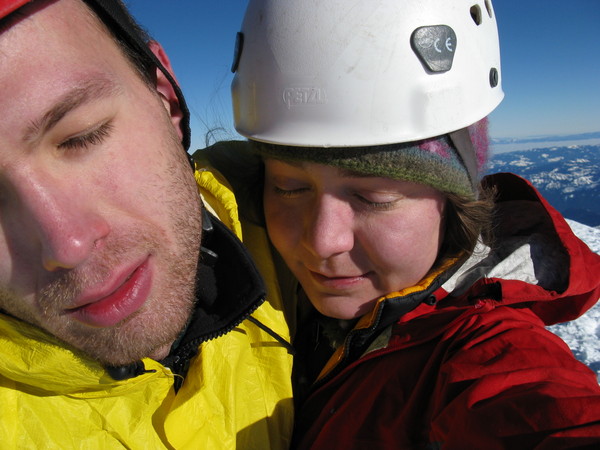 Quintessential/cheesy summit poses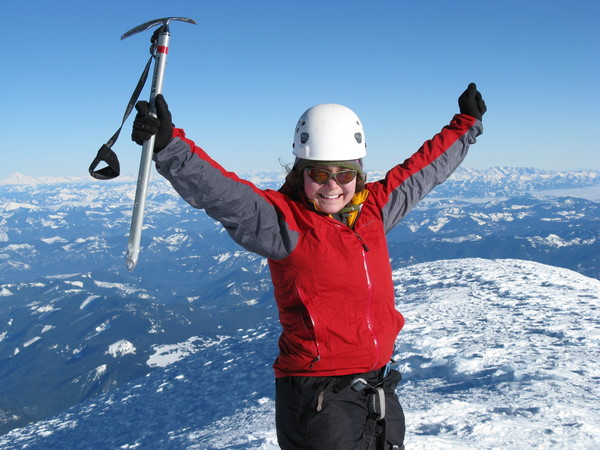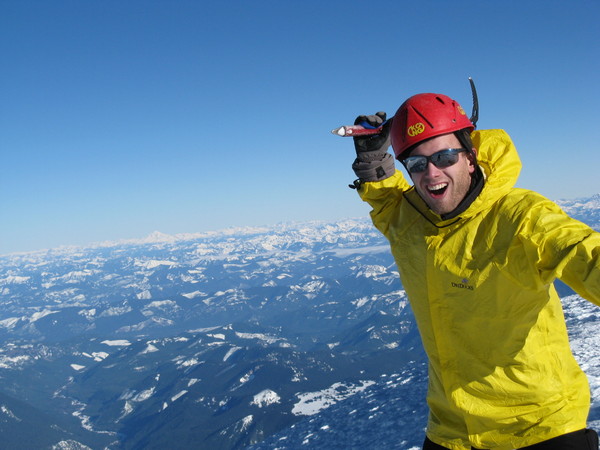 We descended back to Muir in 2 hours, napped for a bit, and then skied all the way to the car. This was Jon's 4th time EVER on skis, and he did an awesome job skiing through variable snow with a full pack on. Most of the snow was crusty, but there was some great corn a bit above Paradise. We arrived at the car by 5:15, making it out before the road closure. Perfect!
I had been meaning to try Rainier for some time now, and this was a fun first time up the mountain. It's the biggest slog ever, but I'm already forgetting the monotony.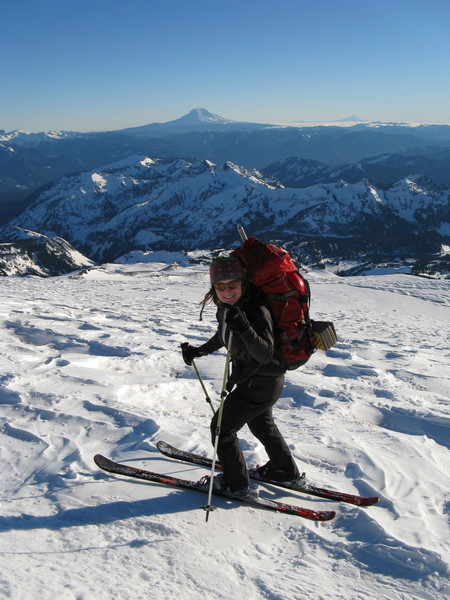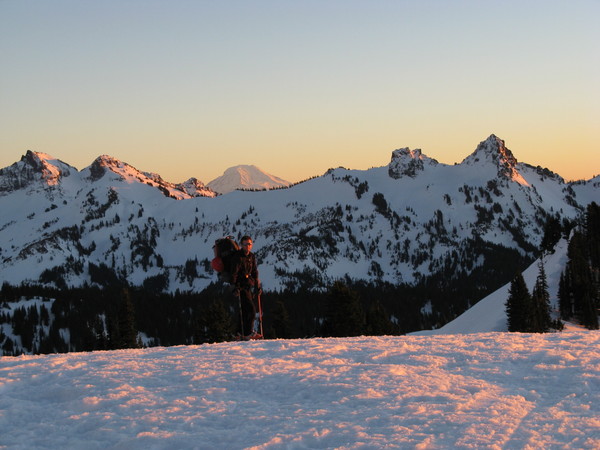 Approach Notes:
Fred Meyer in Olypmia sells Jetboils, in case you fill your whisperlite fuel canister and then leave it on the porch.
Road closes at Longmire at 6 PM - plan ahead for your descent.