Trip:
Dragontail - Chasin Tail FA
Date:
7/24/2011
Trip Report:
Jens and I were all set to go climb the girth pillar, something ive been looking at for a few years now, and had been talking to Jens about for a few weeks. I was super stoked to finally go get on this beautiful line, especially with a ropegun like Jens. However, when Jens called me up and asked if I'd like to try a first ascent on dtail instead, of course the answer was an emphatic "fuck yeah"!
We met up in Ltown sat night after i got off work and hit up the new ducks and drakes to plan an attack. I have to say i much prefered the old venue, they had a way better view there. Originally we were going to climb with our buddy Sol as well, but he had car trouble and had to bail out. We decided to get up at 3 am and head out the next morning just the two of us.
3 am came way too fast after a few beers and staying up all night filled with excitement.
We hit the trailhead at around 430 and were climbing by about 7:30 or 8. The route is located between DOE and Dragontail Madness, starting below and left of the massive white rock scar. The first part Jens lead in two blocks, through some super sketchy loose blocks and sandy gullies. We headed right toward the scar and two roofs located on its upper left corner. From these roofs the rock quality greatly increased and the climbing became a lot more fun! There was a nice splitter leading around the roof, which revealed more quality rock heading up to the headwall where we would try to gain the NE ridge.
We ended up taking the easiest way to the top that we could find, in light of a building cloud layer and dirty cracks. I love me some dirty cracks, but usually back down in town at reggae night. We finally topped out on the ridge at about 4pm, then summited around 630.
A few short raps later, we were down to the snow and running down aasgard pass. We took a nice break at the bottom of aasgard and thought someone had stolen our cached gear, however we eventually found it after much looking. After realizing neither of us had any food for dinner, and that everything in Lworth shuts down at 11pm, we ran back to the car, arriving at 10 and hauling ass back to mcdonalds and safeway for some hot burgers and cold beer.
Overall the route was a shitload of fun, and Jens is a great partner! I cant thank him enough for leading the horrorshow chossy bits. With all the sweet potential I saw up there, Im sure I'll be back soon, and hopefully with Jens. We're calling it a 5.10 A1, as we pulled on gear through a few roofs.
It'll go free for sure, go get it!
heres a few pictures, sorry we both forgot our cameras and all i had was my shitty cell phone camera!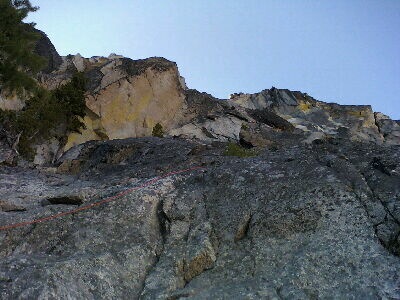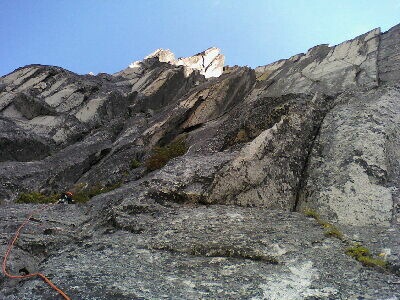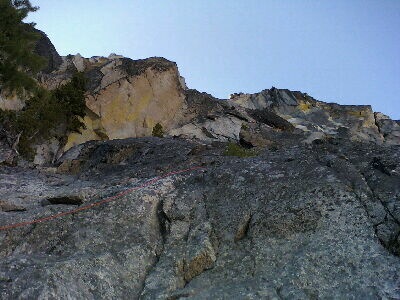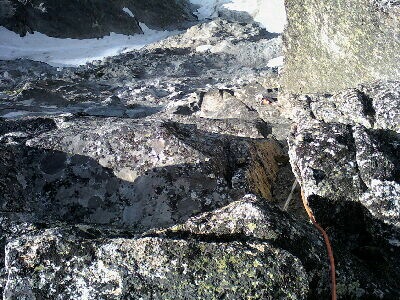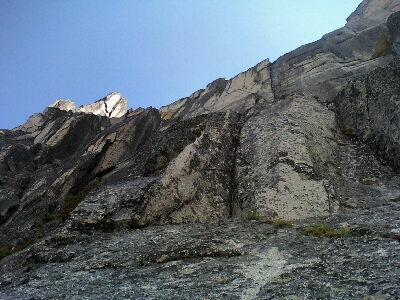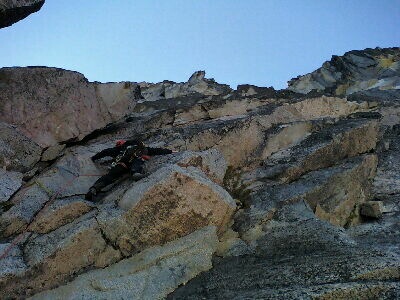 not sure whats going on with the pictures, ill try to figure that out soon
Gear Notes:
two ropes just in case we needed to bail. a double set .4-3 c4s and one number 4, which was useful. a set of nuts. 12 single slings, 2 doubles
Approach Notes:
stuart lake trailhead