Trip:
Dome Peak - Dome Glacier
Date:
6/13/2015
Trip Report:
Juan and I climbed the regular route on Dome Peak over two 12-hour days. Kind of strenuous for two middle-aged desk jockeys but beautiful scenery and pretty good weather. Totally worth it and we hope to be back soon for other peaks. Some noteworthy points:
• The Starbucks in the Arlington Safeway doesn't open until 6:00 am;
• The coffee at the Darrington Shell station is drinkable, barely;
• WTA has cleared the Downey Creek Trail all the way to Bachelor Creek and some of the way up the Bachelor Creek drainage;
• The Bachelor Creek crossing is closer to 4,100' than 4,000';
• If you lose the "trail" through here, the Potterfield/Nelson advice is good: stop and retrace your steps until you find it. (we don't recommend dropping your pack, however, because you may never find it again);
• Stay to the right of the avalanche debris until it gets steep, then make a rising traverse leftward on a decent trail (this will save a lot of time and effort);
• Trails all the way up to Itswoot Ridge are snow free and both lakes are long melted out;
• Running water at Itswoot Ridge allowed us to load up and arrive at the Dome/Chickamin Col (elev. roughly 8,560) with plenty for the night;
• Dome Glacier had some very small cracks but blue ice showing down low. You'd have to try very hard to fall into a crack at this point;
• With the great forecast, we each packed pretty light bivy sacks that we somewhat regretted as we ate dinner in a graupel and snow flurry. It was a rather chilly night for both of us;
• Frozen boots in the morning suck but helped to mitigate foot inflammation;
• The snaffle hound at the Col bivy preferred Juan's Lowe Alpine pack as mine was untouched. His pack was chewed up and he (the attorney/abogado) will discuss his extended warranty rights with Big Jim Nelson;
• The "climb" to the summit was anticlimactic but views were fantastic;
• The 'schrund crossing to access the Chickamin Glacier looks manageable right now but the glacier itself is getting pretty broken up. If you're planning a climb of Sinister or Gunsight, this summer, you'd better get on it;
• The hike out was going well until we became complacent at about 4,100' and overshot the creek crossing. The grade quickly goes from BW III+ to full on BW V if you lose the trail here. This cost us some time and blood but at least we found several bear beds (complete with fresh bear scat) deep in the head-high brush;
• The Downey Creek trail is long but not as soul-crushing as the hike out from Goode via Bridge Creek/PCT;
• In summary, this is a nice but strenuous outing that should become more enjoyable as people take advantage of the newly repaired road and resulting improved access.
Photo Onslaught:
John enjoying the brush in Bachelor Creek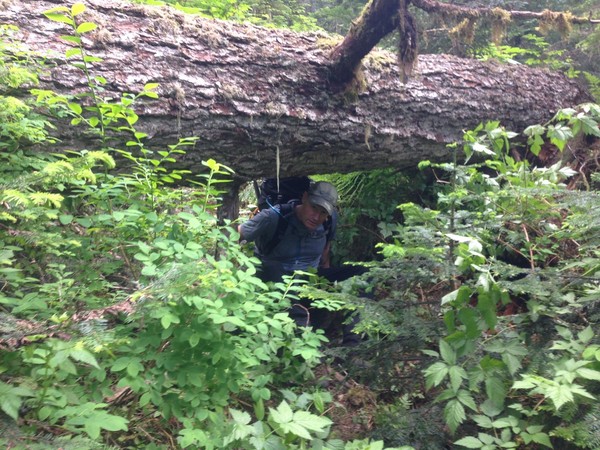 Cub Lake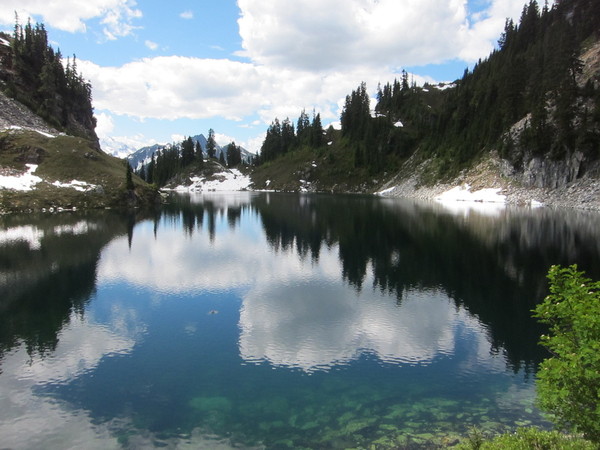 Dome from somewhere around Itswoot Ridge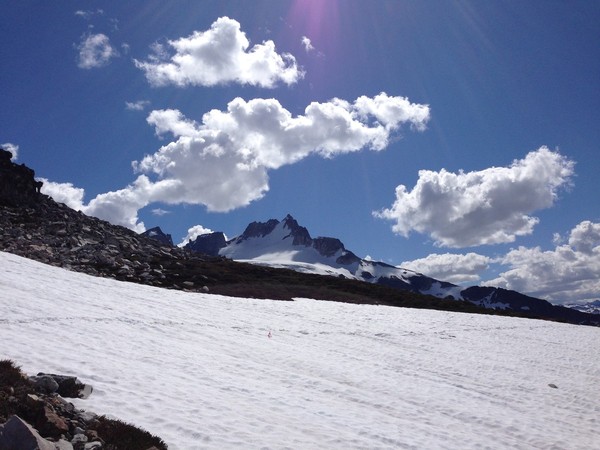 Enjoying some hot food and working on my modeling career for Mountain House (can I get a sponsor now?)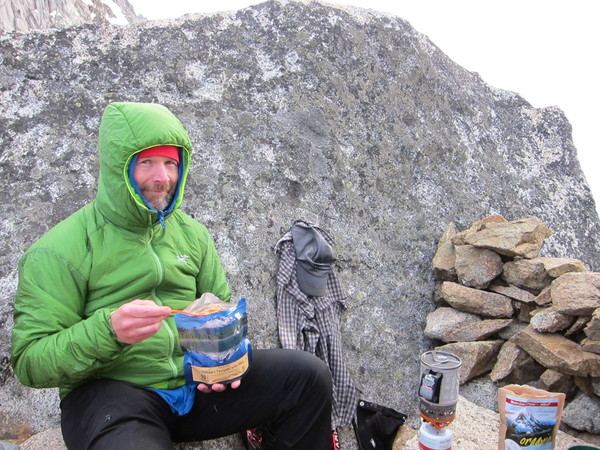 Me really wishing we'd brought a tent instead. Note the snow accumulating on the bags.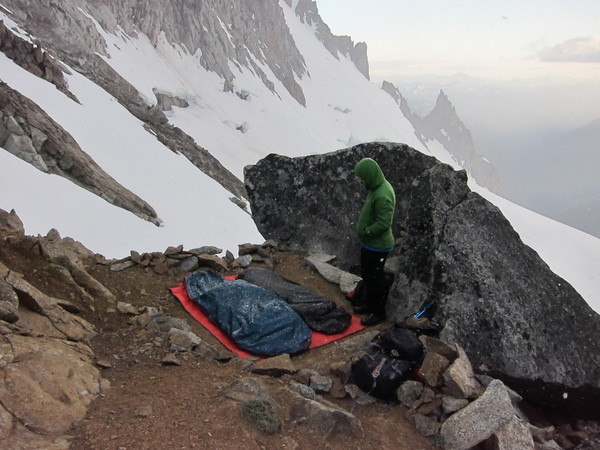 Sunset from the Bivy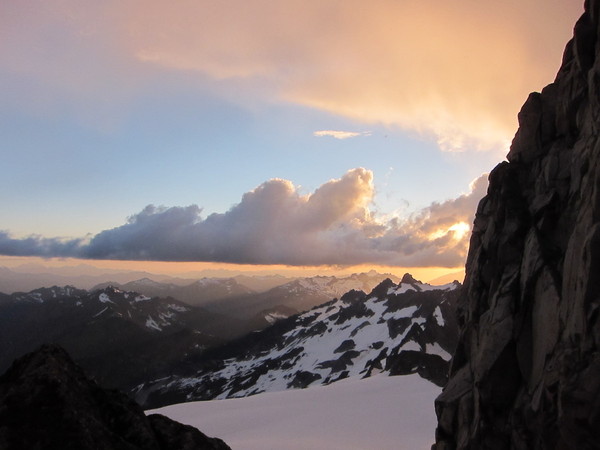 Juan approaching the summit arete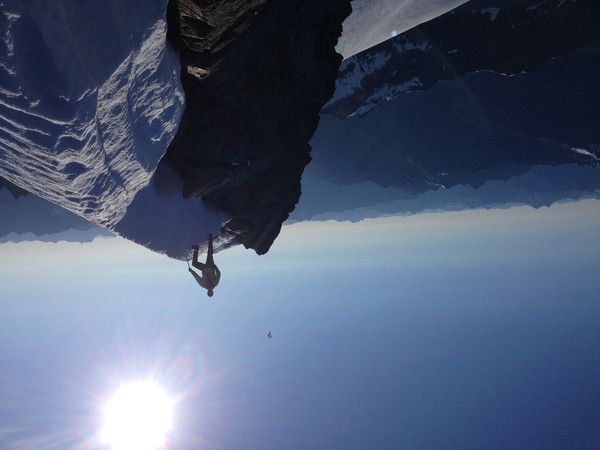 North Face of Glacier also looking good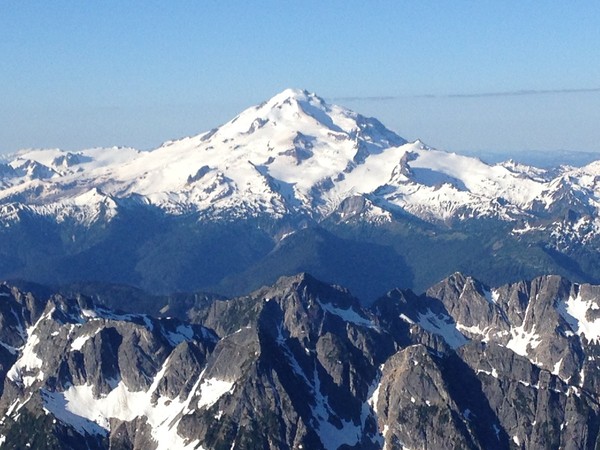 Glad to be on the Summit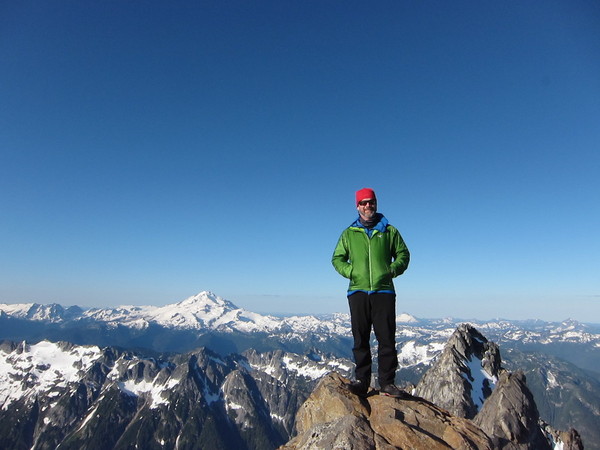 North Face of Sinister looking to be in prime condition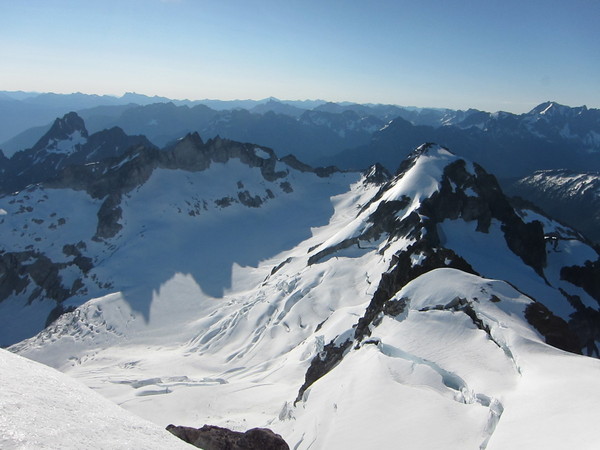 Friends in the register who came through here a few years ago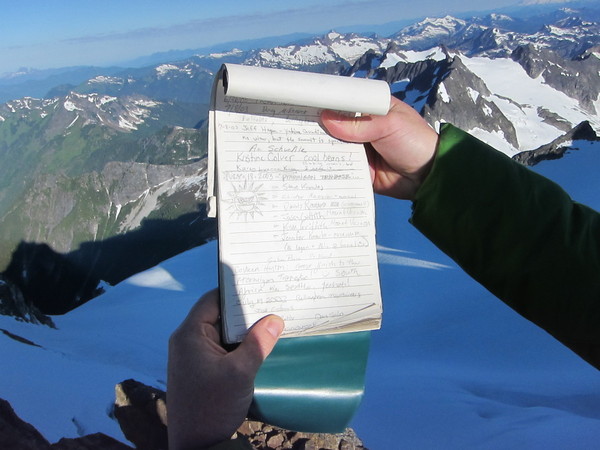 Juan taking a last look at Dome and looking forward to the hike out.