Trip:
Icicle Creek - The Trudge Wall - New Routes - Red Mamba - Afro Blue
Date:
5/26/2013
Trip Report:
It all started as a weekend trip up to Value Village. We hiked in Saturday and climbed as many routes as we could manage, the place is splitter central. Full Boar alone is well worth the hike!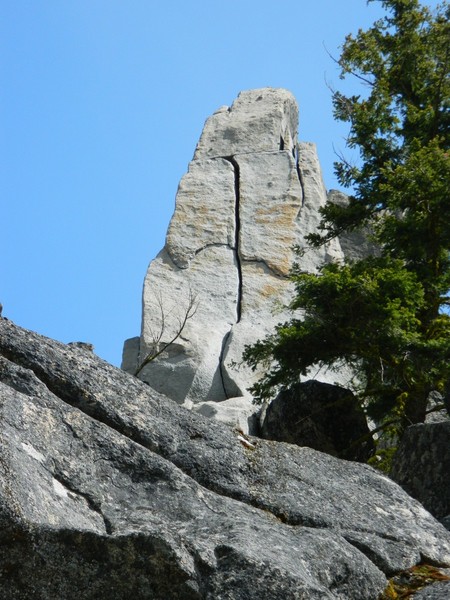 Full Boar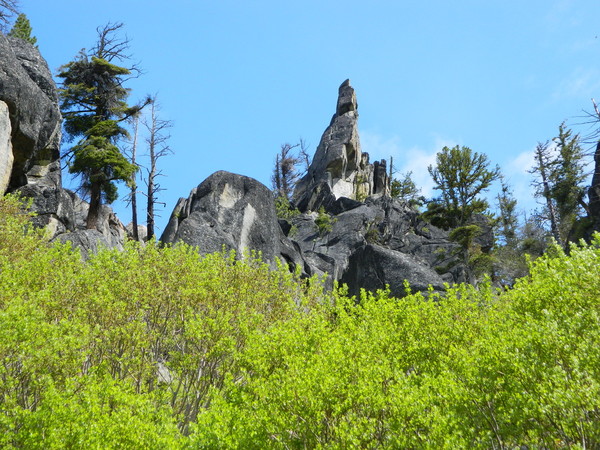 The Indicator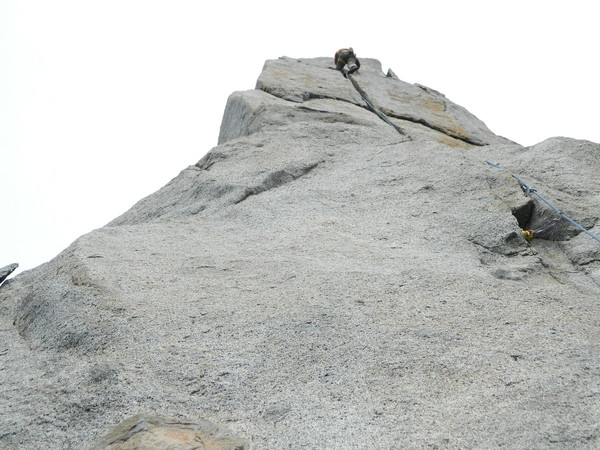 Mike on his Full Boar Onsight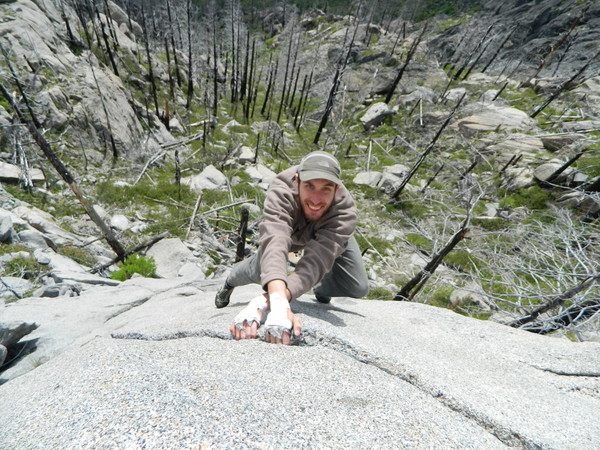 Cruiser Cracks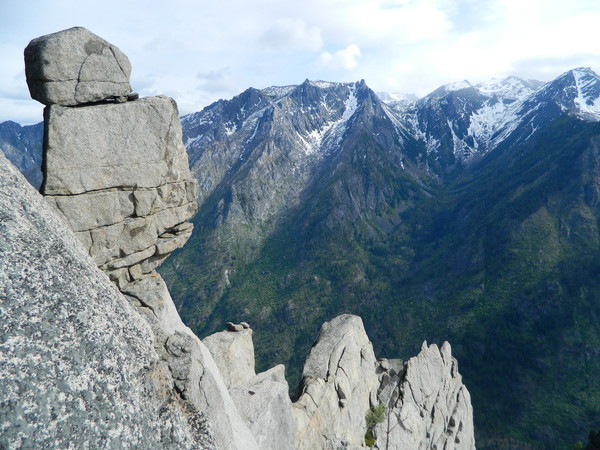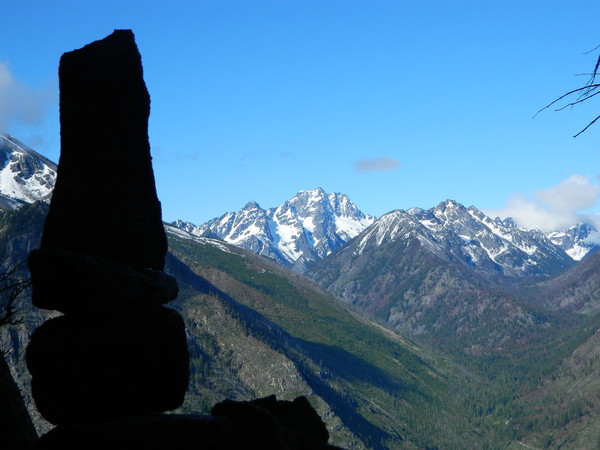 During this time, we both noticed a steep crack on a reddish wall NW of us, so on Sunday, we decided to take a look.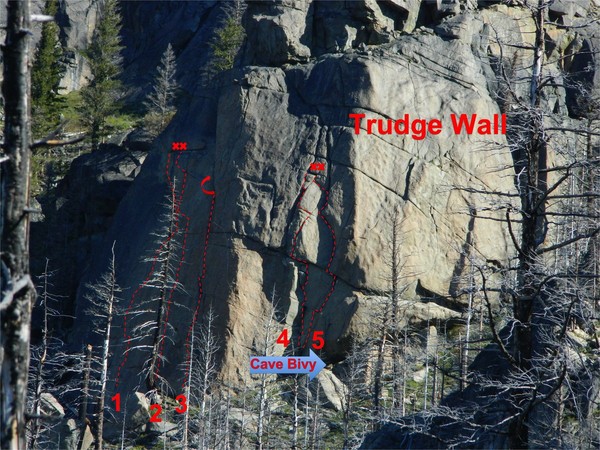 What we found, was endless potential. The wall alone will host as many routes as you can squeeze out of it, not to mention everything bigger and better around it. Everything from thin broken cracks, to overhanging off width, the wall has a bit of everything.
The first route we tackled was The Great Divide (#3). We went ground up on the obvious weakness, only to find we were not the first. There was a mangy old bolt that was oddly placed about three quarters the way up. Oh well. The route went at .10-, and was dirty, but still a lot of fun!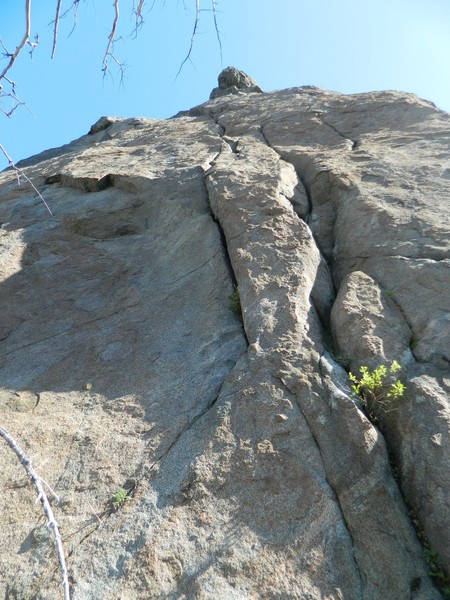 The Great Divide
We set some fixed lines over the steeper side of the crag and started cleaning, top roped some variations, and the routes were stellar! They needed some work, so we decided to head back up for the long weekend.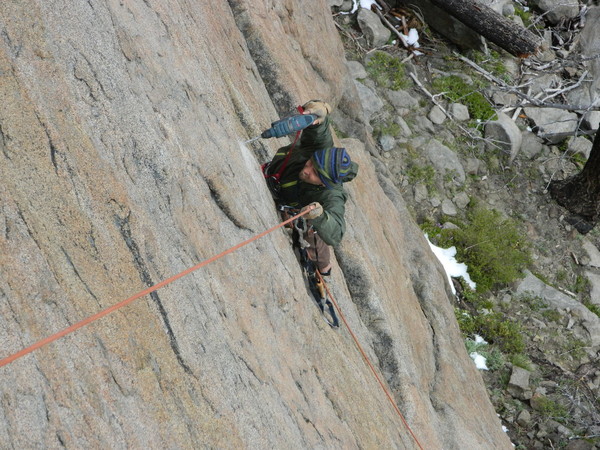 Mike Working on Afro Blue
Unfortunately, the weather was lousy, leading to us get less work done then we had hoped. But we came out with a couple of gems.
I don't expect these routes to ever get any traffic, but Red Mamba (#1) and Afro Blue (#2) are hands down 5 star .11+ climbs, and were likely the only routes we did that have not been previously climbed.
I am not sure who worked here in the past, but given the lack of any development and the approach, we figured we would name the wall and routes. If someone has any other info, let me know.
So, I pulled all the moves, but have yet to snag a clean lead on either Red Mamba or Afro Blue. Mike made easy work of both routes.
As a heads up, you can expect short but safe run outs and burly moves with gear below your feet. These are definite classics, but you will have to work for em! A mix between tips-thin crack and excellent slab and face climbing.
Guillotine L and R are also great solid .10 climbing.
Not many lead pics, but hey, we were climbing in between rain the whole weekend.
Oh, and Rafael, thanks for the guest appearance!
The Trudge Wall
(1) Red Mamba 5.11+ PG ***** - FA Michal Rynkiewicz, Ryan Hoover
(2) Afro Blue 5.11+ PG FA ***** - FA Michal Rynkiewicz, Ryan Hoover
(3) The Great Divide 5.10- *** - FA Unknown
(4/5) The Guillotine L/R 5.10 **** - FA Unknown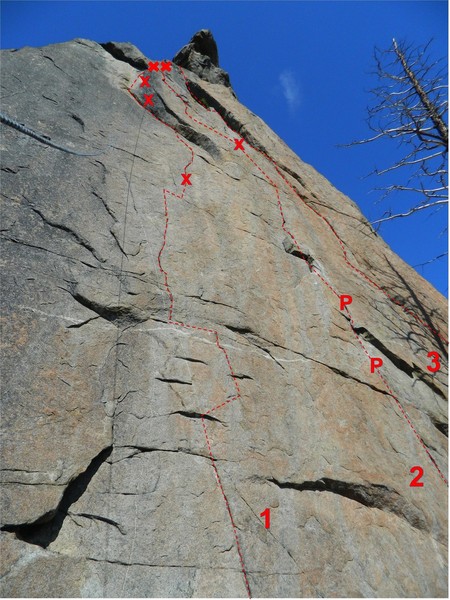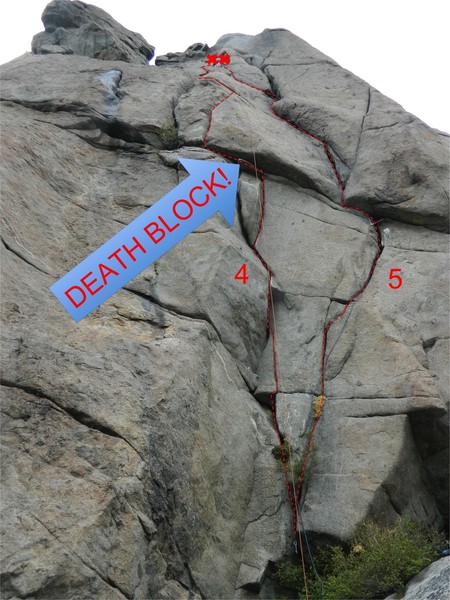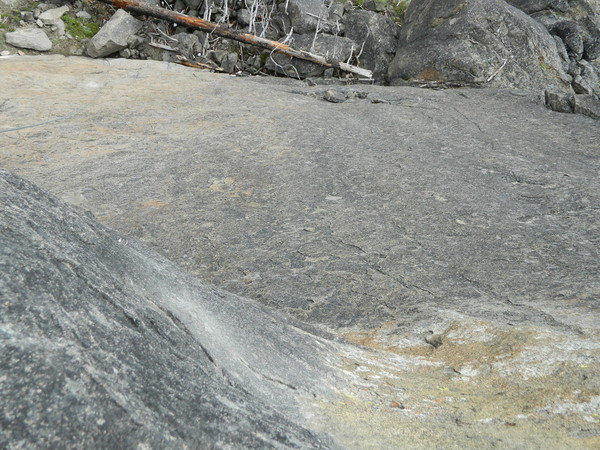 Looking down Red Mamba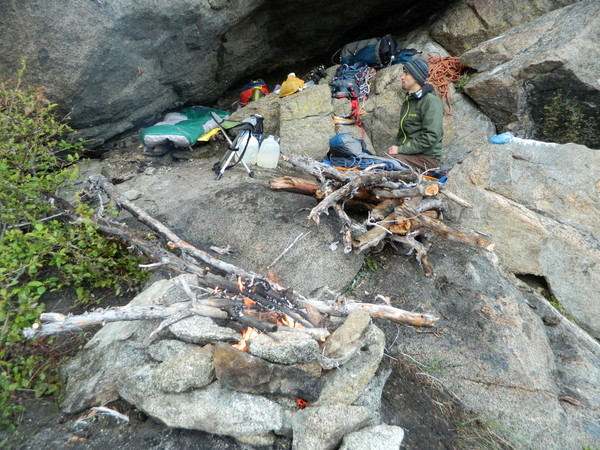 The Cave Bivy/Belay
Gear Notes:
There is a water source, and the cave will keep 2 dry.
Red Mamba and Afro Blue are 35 Meter Pitches, be EXTRA careful while lowering, The Guillotine routes are not far off. All routes can be topped out with easier climbing. Either rap the tree to Red Mamba's anchors, or walk off.
70 Meter Rope
(1) Red Mamba 5.11+ PG *****
Gear: (2 Each) 00 TCU -.75 C4, Full set of Nuts and Micros. 3 Bolts
At the undercling, you may feel there is no hope for gear, reach out right and place a perfect #7 BD Nut.
(2) Afro Blue 5.11+ PG *****
Gear: (2 Each) 00 TCU -.75 C4 (1 Each) #1 and 3 C4, full set of stoppers and micros. 1 bolt, 4 KB's. Save 2 of your smallest cams for the top!
(3) The Great Divide 5.10- ***
Gear: Doubles to 3 inch's, 1 #4 and 5, full set of stoppers.
(4/5) The Guillotine L/R 5.10 ****
Gear: Doubles to 3 inch's, 1 #4 and 5, full set of stoppers.
*Tread lightly around the Death Block, I tried to set it free with no luck, there fore the left line was only TR'd. We will take care of it the next time we are up there.
Approach Notes:
We took a "new approach" following the creek more or less straight up from the wash out just past 8 mile campground. This was hell,I ended up with bruised ribs.
The correct approach (which we descended) is to park at 8 Mile Rock, head up past Secret Dome, follow cairns staying on the shoulder left of the creek until you hit a overhanging slabby crag. Cross the stream when it seems appropriate and follow to "The Trudge Wall". 3 hours if you are motivated.
The other option, which is likely the best, is to spend one day shredding at Value Village, and take a day trip over to this lovely new crag the next day. 1 hour from Value Village.