Trip:
Wolf Rock - Barad Dur
Date:
9/25/2016
Trip Report:
Partner and I left Portland nice and early Saturday wondering if the heavy rains would foul up our weekend or if we would get lucky. We knew the route got hammered with weather and to buy some drying time we decided to throw the mountain bikes in the truck last minute and climb Sunday morning instead of Saturday. We drove to Oakridge and rode the complete Alpine Trail thinking a shuttle would give us a fun day with little energy expenditure. We were wrong. You shuttle to the bottom of the other side and climb the damn mountain before bombing down. Amazing ride with lots of climbing. We ate some pizza then 2 hours drive to WOLF.
The drive in was dark and the roads were slick and muddy. The air was heavy with humidity. We went to sleep thinking the route would be wet and might not happen.
From the short little pull out camping area off the road we walked up hill a short ways to find the approach trail. A few minutes later we arrived at what looked like the start. The rain had washed the rock nicely, no chalk or any indication on where the route went other then bolts.
P1 and P2. No 2 bolts at start as described in other posts. We found they have been chopped and holes filled with epoxy. We tied P1 and P2 together in one nice pitch. Lichen covered rock but mostly solid and fun climbing.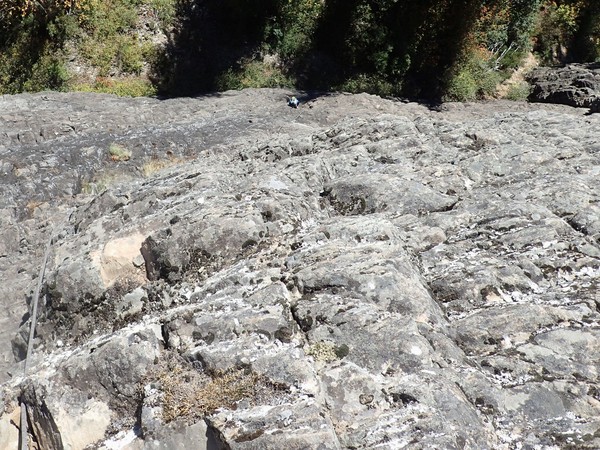 P3. fun easy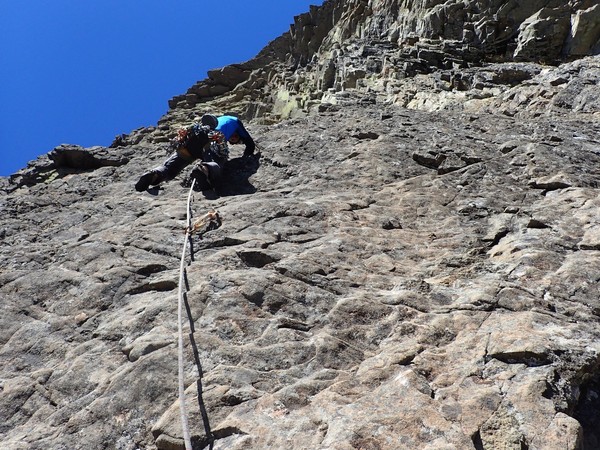 P4. Fun and we did find good gear just under the roof before traversing, I think I got a bomber #2 or #3 BD. You can see my partners helmet down below if you look for it...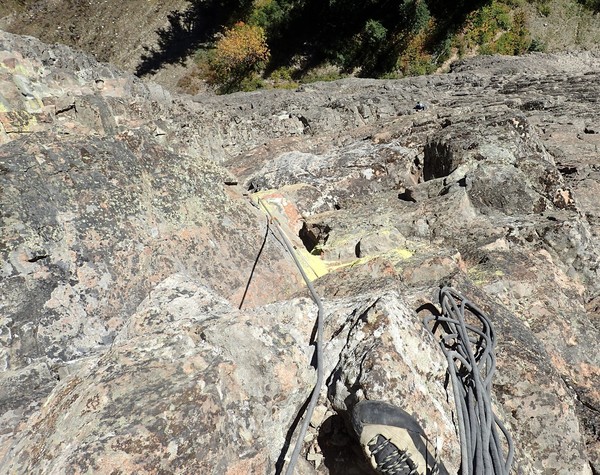 me on top of P4.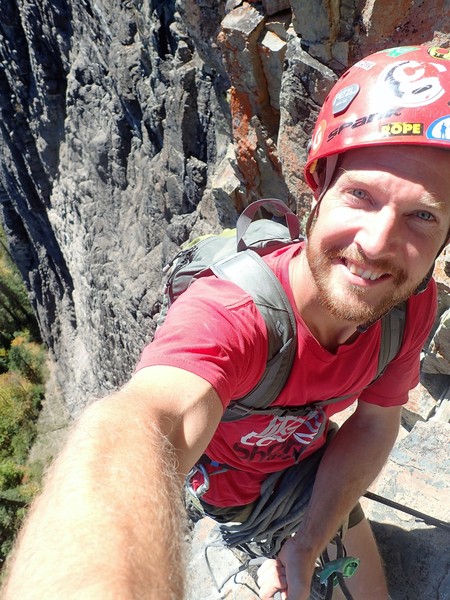 P5. The jugs around the corner of the crux are not what I would call jugs or they broke off...still 5.10 you just have to stay in the zone and keep moving.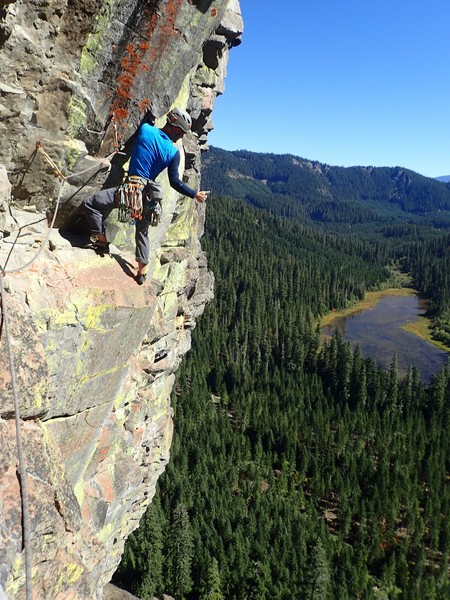 P6. was stellar and protected well.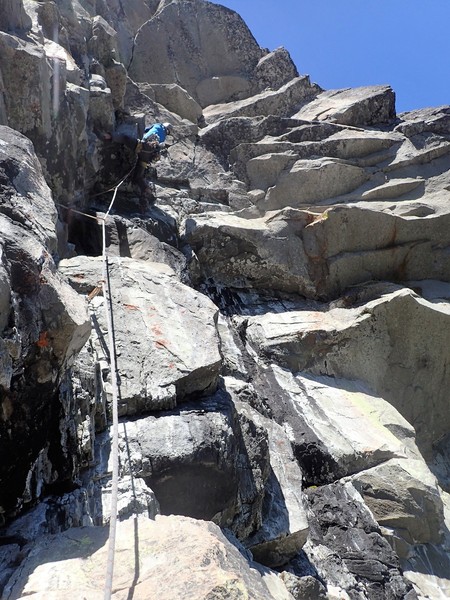 P7. We headed up trending left but mostly straight up and never found an anchor or pro that would have held. The rock is covered in moss and scary. Around 200 feet up I gained the ridge to find a new SS bolt that I belayed from. WORST ROCK ON THE ROUTE.
P8. We followed the easy bolt line along the ridge up towards the towers staying on the ridge.
Once at the new bolt line the climbing was supper cruiser and the rope was finally put away. Not sure what route this was.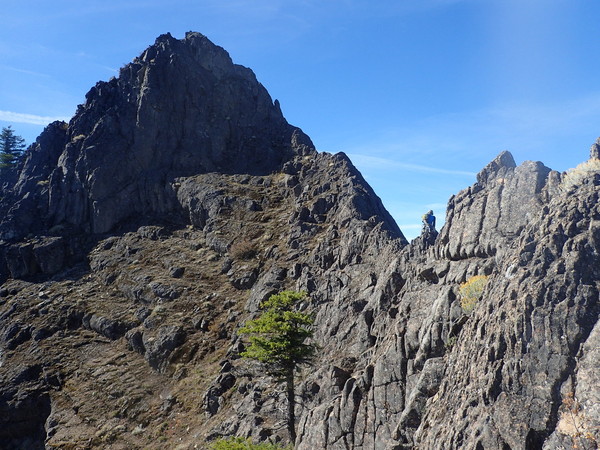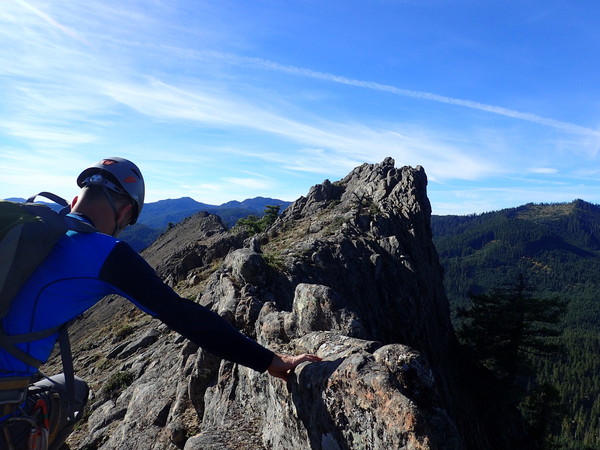 Signing the register. Last party to climb was a week prior.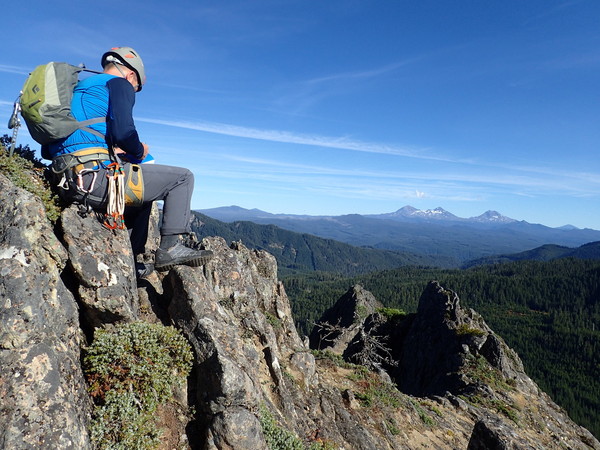 After passing the summit we continued along the ridge for a while. Once you pass some old bivy platforms you might see a small rock cairn. Pass this descending to the right of it....Follow the water groove.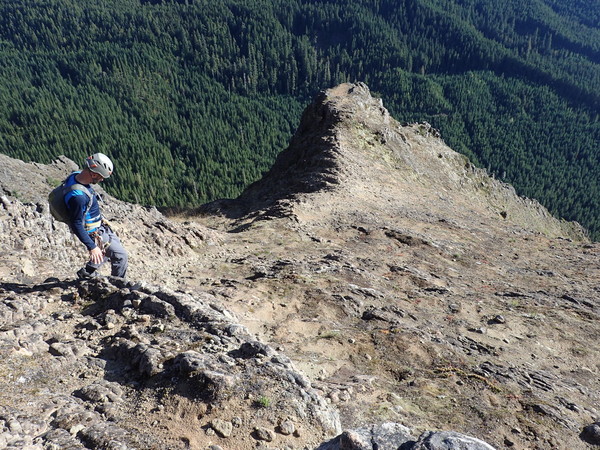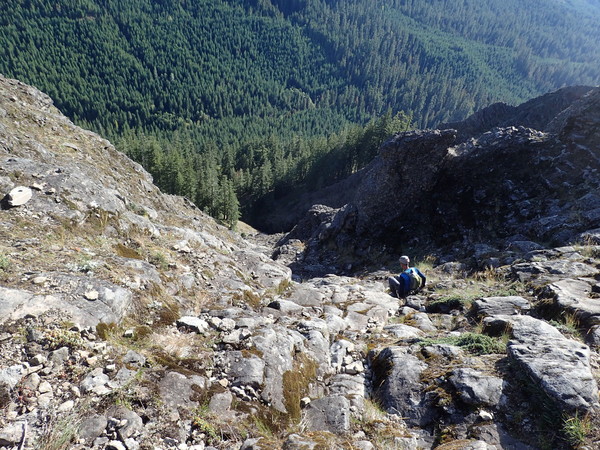 Props to the guys that put that beast up!!! Thanks for replacing some of the old bolts also, they did not inspire confidence, especially the old aluminum hangers!!
Car to summit was about 6 hours for us...
Gear Notes:
13 single length slings 2 doubles and a few revolver biners...No issues with rope drag....We carried way more cams then needed and placed a couple nuts. Carried 2 liters of water on a hot day and ran out at P7.
Approach Notes:
Easy