Report for 12/14
Plenty of ice today, Over easy, Curtains, and the last pitch of Land of the lost all looked good to go.
Over in the Dribbles area (the only place I seem to go these days) Dribbles itself is in absolutely fantastic shape.
Here's a shot of yours truly below the headwall pitch, with an 80 meter rope (get one, they rock) you can make it to the trees at the top.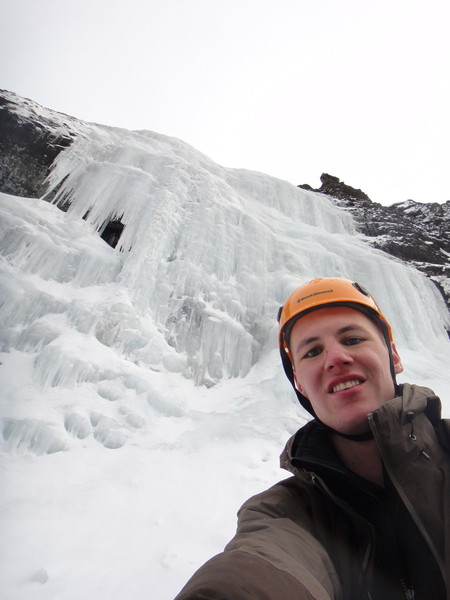 I went over to Silken Slot and Silken Falls after rapping down avalanche gulch and the ice conditions looked good on the upper pitches. The first pitch of Silken Falls has a 5 inch thick breakable ice sheet over snow which is all over the good ice. I knocked off a ton of the shit before deciding to rap off because if one of the sheets hit my feet I could easily envision getting knocked off the flow. With a rope and a partner both climbs would be good to go.
I ran into Adam Knoff and friends who just bolted a mixed line in the amphitheater in between fat and thin chance. I think he said 3 bolts (M4) to a flow of ice that is probably in the WI4 range. Sounds like a fun one, get on it!
He also said that Good looking one is in, but more difficult than it was last year. I'm planning on taking a look on Monday. More conditions on the Unnamed Wall. These are all from my observations from afar today:
Fat One is looking not super fat, but definitely fun. As the season progresses the initial steep part gets shorter and shorter as the ice builds.
Thrill is Gone is in good shape.
I assume Elevator Shaft is good to go, ask laurel, he climbed it last weekend.
The curtain on bingo world isn't super wide, so bulldog world is on the more difficult side right now. I'll try not to impale myself on my crampons if I jump on (fall off?) it on Monday. Needless to say, Bingo world is not touching down right now.
Someone was pulling hard on Roman Candle today, we were cheering him on from the parking lot.
Upper Mummy and Zach Attack: Both were looking promising before the warm spell, unfortunately they're not looking to good. Mummy 4 is a tiny hanger that needs a lot more ice to even come close to touching down. Zack Attack is looking better, but still far from in.
Craig Pope climbed Rocket Boy yesterday. Said it was a 40 foot M7 runout above the last bolt to the first screw. Use this information how you will.
One last thing to add, avalanche conditions:
Pretty stable where I was. There's a 4 inch windslab that I could get to slid only after several firm whacks with my whole arm. It's snowing again right now so it's changing.
The guys on here know what they're talking about.
http://www.mtavalanche.com/current/