Trip:
Mt Baker--North Ridge--June 14-15 - North Ridge
Date:
6/19/2010
Trip Report:
Having to scrap our original weekend to climb the North Ridge, my brother and I pushed our climb back a few days after the avalanche danger subsidised. However, this meant we would be running into weather issues. But I would rather be kicked off a mountain by weather than buried by snow.
A quick hike in on Tuesday and we were at a melted out ridge at about the 6300 foot level.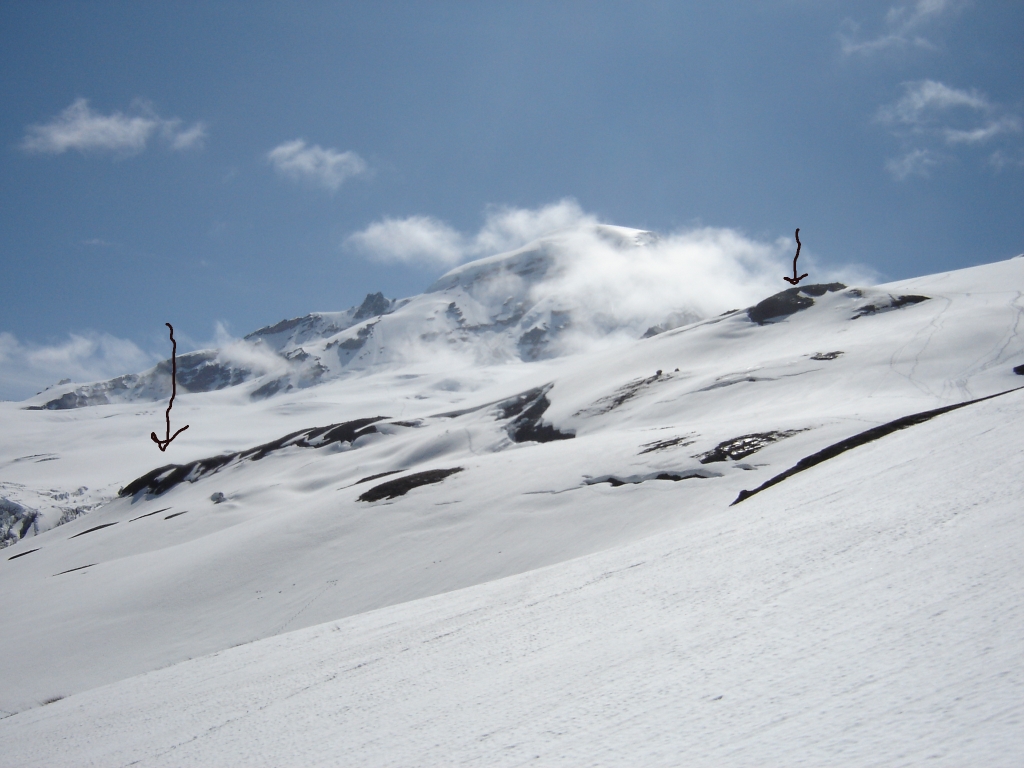 Our camp is the right arrow. A better camp is the left arrow on the ridge, about 6000 feet.
Not sure exactly how to cross the Coleman, we roped-up and walked uphill to the flats around 6500 then headed towards the Coleman to attempt to scope a route through. We could see a bootpath crossing the Coleman and heading to the North Ridge, but we didn't know where it started. The coleman at 6500 became too crevassed with soft snow bridges, and we headed back to camp.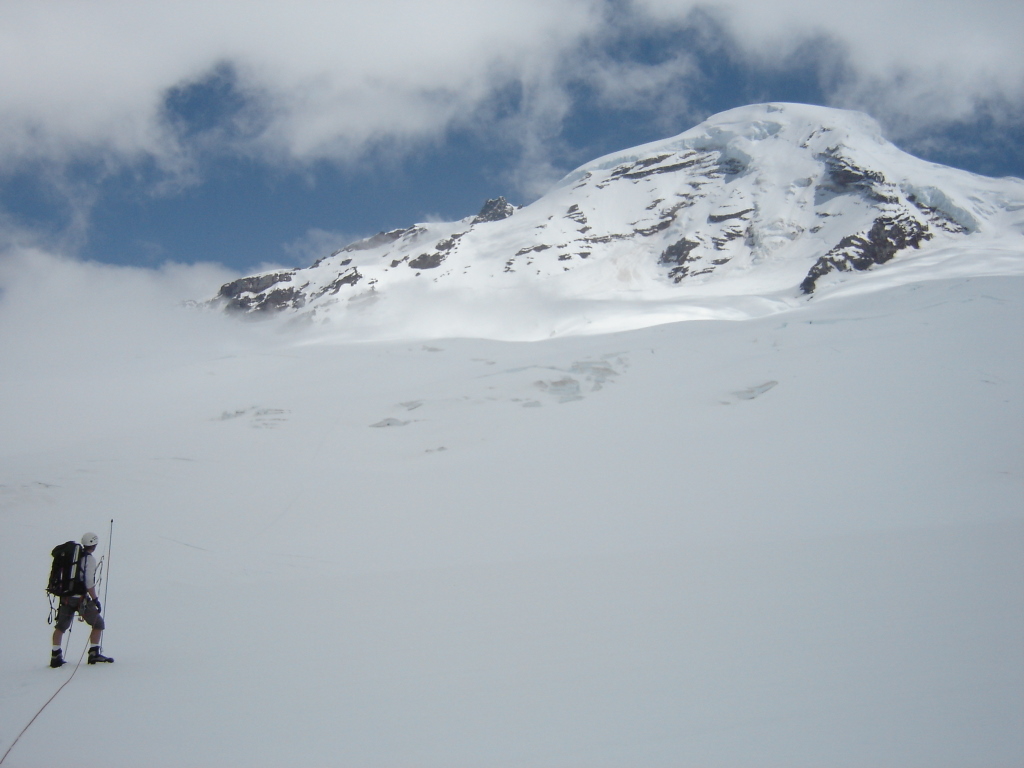 We went down to camp and saw a tent below us at the 6000 foot camp. We went down and talked to the pair, who were also doing the North Ridge. They stated it looked like a path started right from their camp, and it did. From the 6000 foot ridge, head out towards the coleman to pick the best path through.
Looking down at the lower camp.
Kirt and I crashed for a few hours with a some clouds moving in, but woke around 8:00pm to clear skies and beautiful alpine glow. A large group had moved down below us, and the weather looked like it would hold for our climb.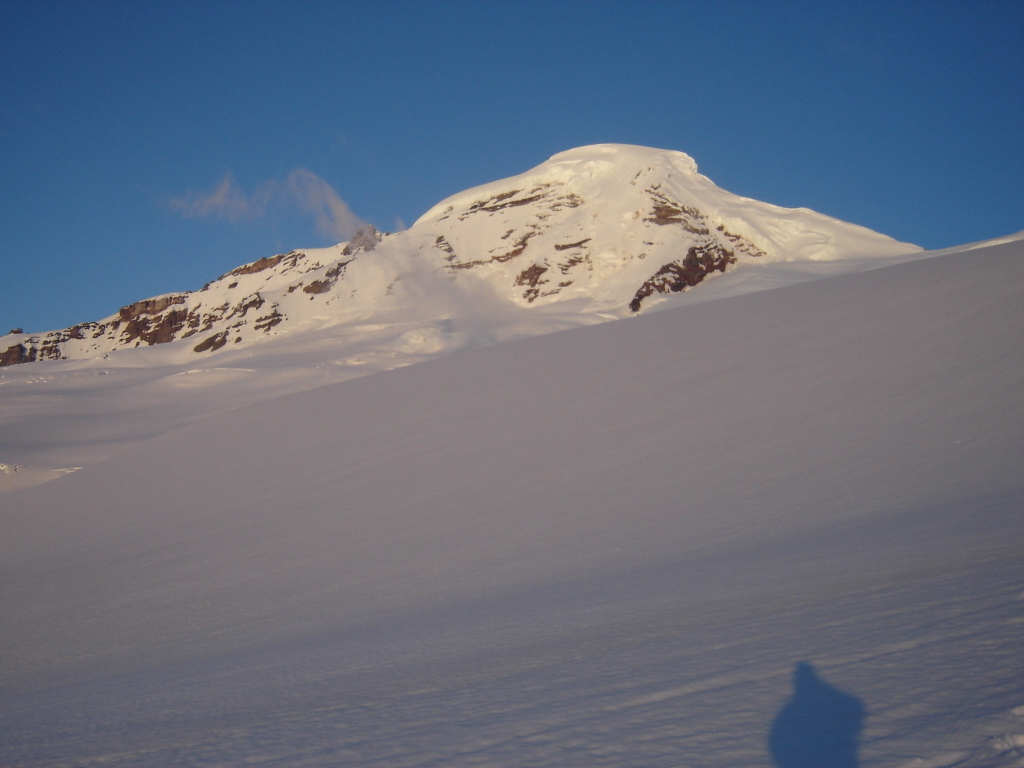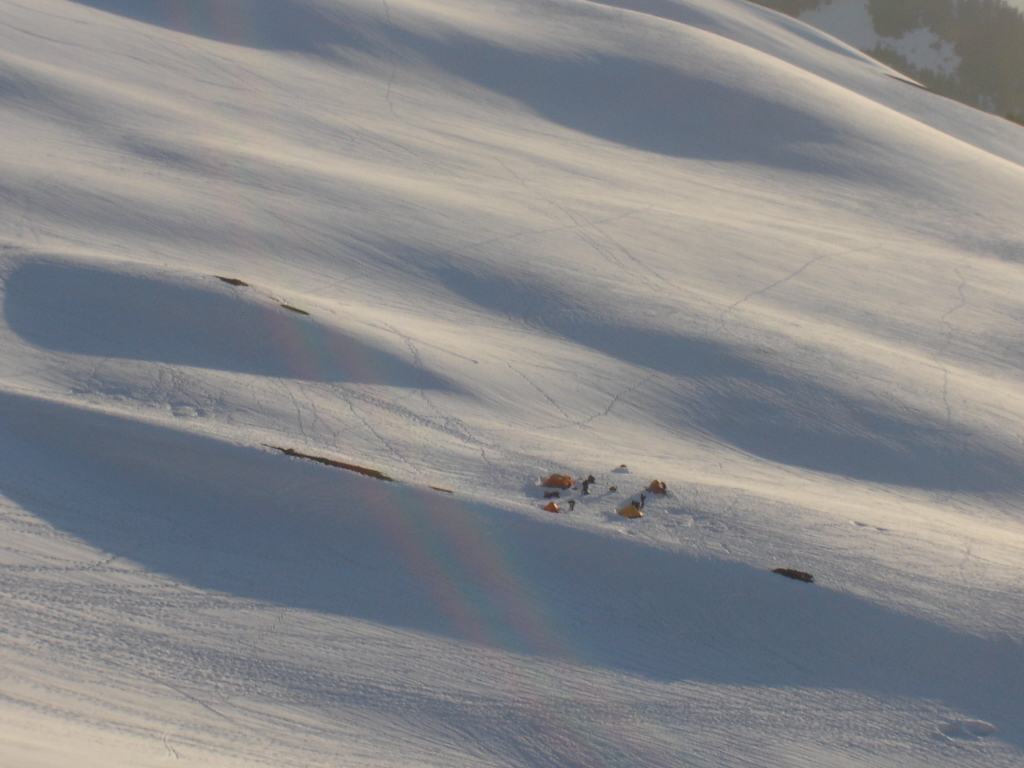 Kirt and I woke at 0130, and were hiking by 0230, which included losing 300 feet of elevation to the Coleman. We crossed the glacier easily, with many small crevasses that could be stepped across and a couple of large ones with snow bridges. We took a steep gully up to the ridge and were soon on it. This gully is not the steep, long one shown in most guides, but is left of it and appears to melt out by mid summer. Right now it is in and easy to ascend. No pics of it.
Kirt and I started up the ice step with lots of time and high hopes. The clouds would move in and out, giving good visibility, but also showing that a storm was moving in far off to the west.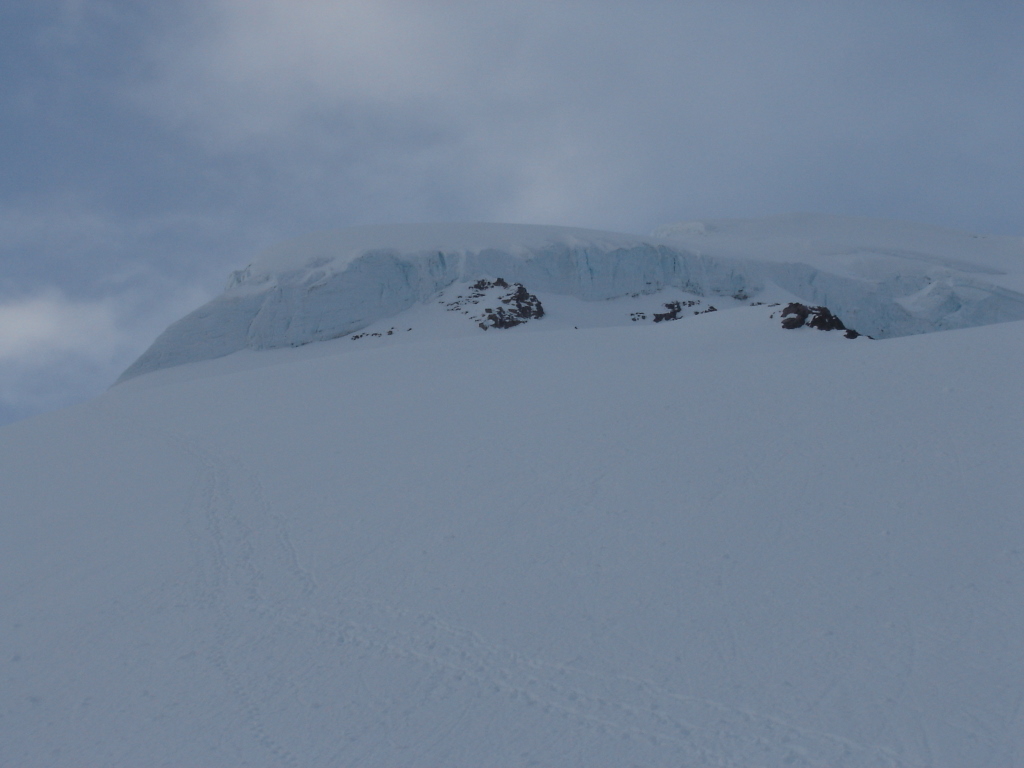 Ice shelf above us.
Unfortunately, here is where we let emotions control better judgement. All the beta said go left at the shelf. However, we wanted to check out another option; what looked like a snow ramp with an easy walk to it. Stealing a picture from Mitochondria, here is what we saw: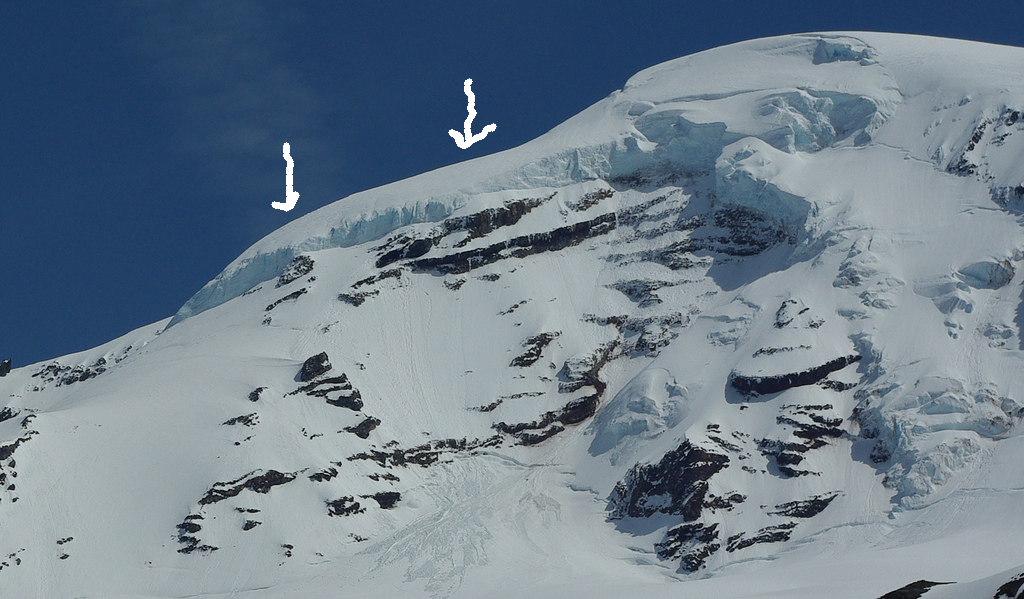 the right arrow appeared to be an low-angle snow ramp over the ice lip. From lower down, it looked like an easy traverse from the left arrow rocks to the ramp.
Boy, were we mistaken. We hiked up the steep snow to the rocks shown by the left arrow and took a break.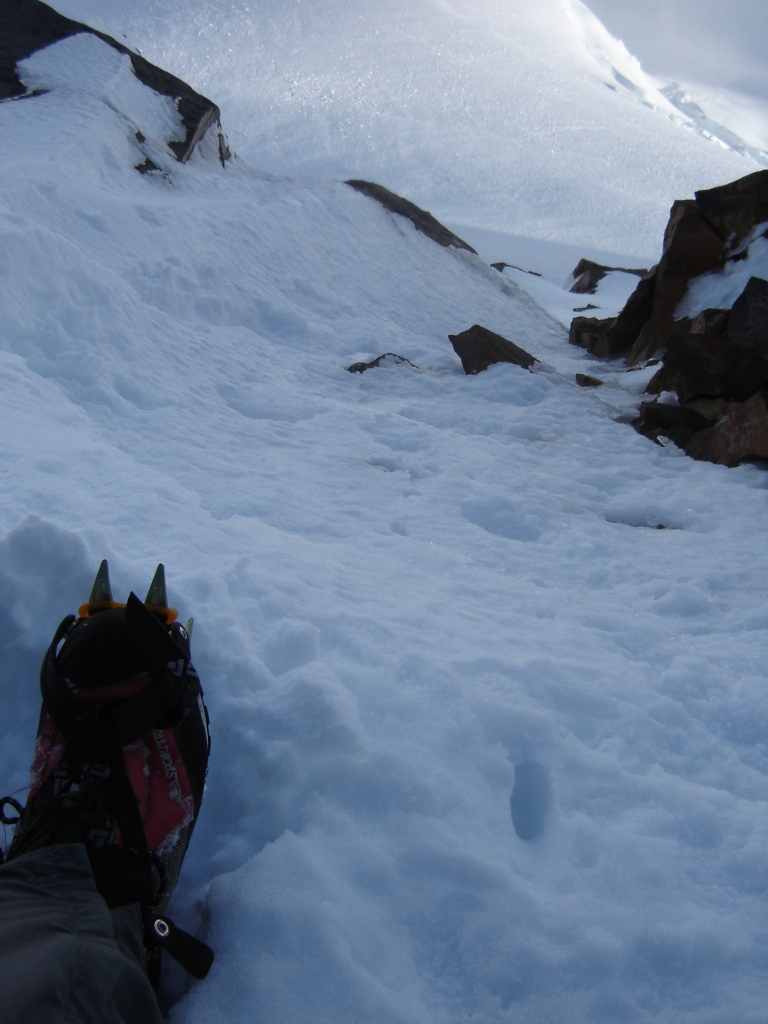 Looking down from our break spot. The traverse was steeper than this.
The traverse was very steep, requiring two tools and front pointing. The snow was styrofoam, but it was a long traverse, and about three-quarters over the snow turned from solid to snow cone ice. At one point I felt some small crystals hitting me from above, and hung tight as I was quickly barraged with ice marbles. I got within sight of this "snow ramp" and realized it was a couple inches of dinner plate ice covered by loose snow. Now I know why no one has gone this way. I went from First Ascentionist to moron in a heartbeat.
I told Kirt this was unattainable, and the long traverse back to the rocks seemed..well..long. We instead tooled and frontpointed down about 400 feet until the slope levelled off and we could walk again. This little detour ate up over an hour, and the clouds were moving in.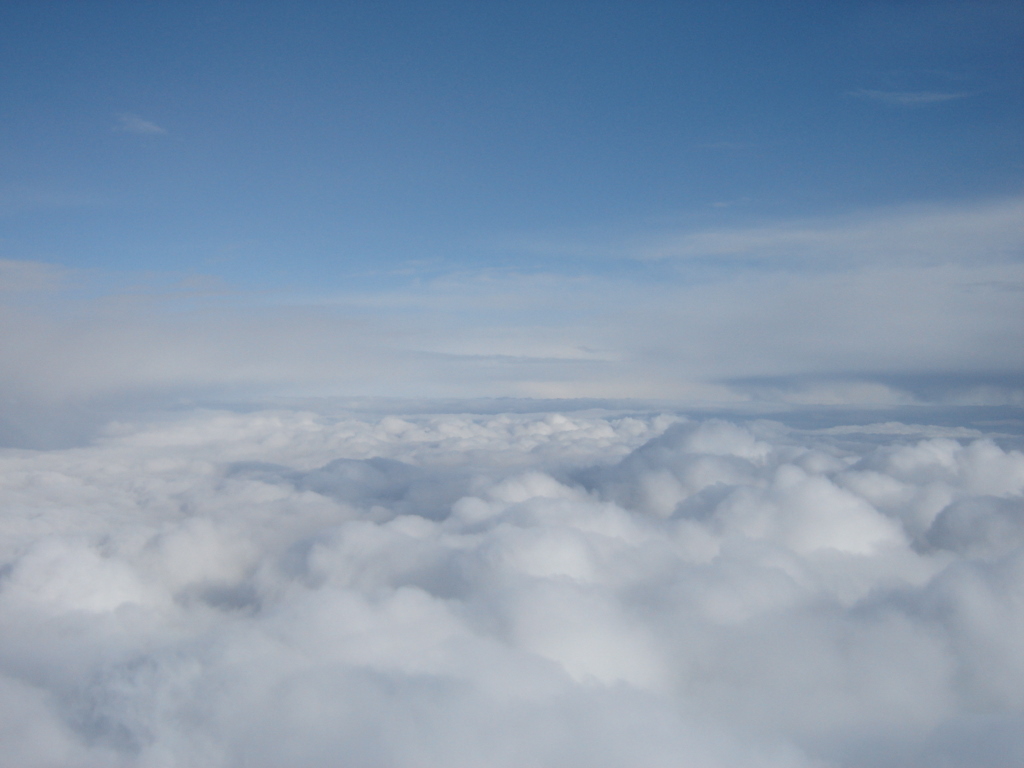 The clouds were rising quickly, and we made the decision to bale. We knew the route down, while up was an unknown in the approaching storm. A little after 0900, we were hiking down, and the storm caught up to us, dropping visibility to a few hundred feet.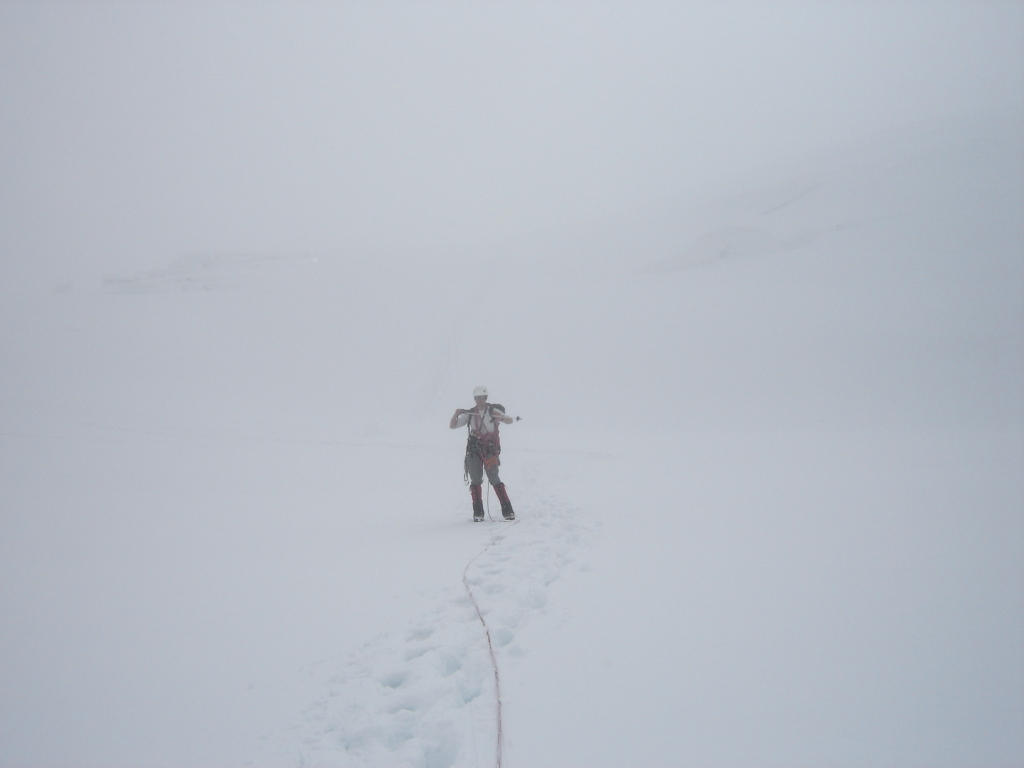 We crossed the glacier easily, and could now look down into the crevasses while it started snowing.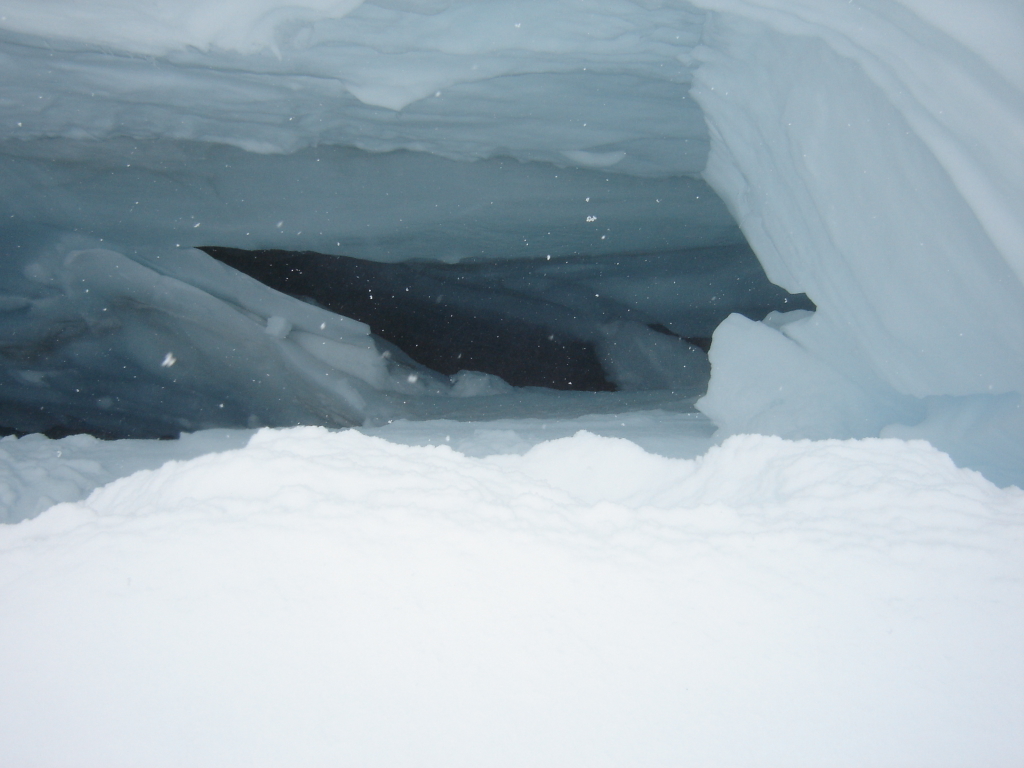 We hit camp to find about an inch of new snow on the tent. We quickly packed, left camp at noon and reached the car at 1:20pm. We had the weather window to make the climb, but tried an unknown "easier" way than the right way.
Moral of the story?
at the ice step, go LEFT LEFT LEFT LEFT LEFT!!!!!
p.s. The north ridge is in excellent condition right now. good bridges, kicked steps, good ice and snow. Other commitments keep me from trying until next year. Go get on it now!!!