Trip:
Mount Jefferson - Jefferson Park Glacier
Date:
7/4/2016
Trip Report:
I suppose Steve and I shouldn't have been surprised. By now we've both climbed enough routes out of Alan Kearney's "Classic Climbs of the Northwest" to know that the man knows what he is talking about. Still, after topping out on the Jefferson Park Glacier route on the 4th, we were impressed. A pleasant approach, comfortable camp (~6800' below the glacier- no water except snow), interesting glacier travel (including a deceptive 'schrund crossing), a spectacular knife edge, and excellent steep snow and rime on the summit tower made for a memorable ascent. Even more so since we had the entire route and mountain to ourselves on a holiday weekend! Initially we were a little disappointed that our first choice in the North Cascades was weathered out, but we shouldn't have been. Besides a long drive, there weren't really any drawbacks to the trip. I especially like the wilderness nature of Jefferson, more akin to Glacier Peak than many of the Cascade volcanoes that have roads high on their flanks.
However, I can see how this mountain has a relatively narrow window for when it is in the best condition. I think we managed to hit it perfectly- snow-free hike to camp, the 'schrund was passable, the knife edge ridge mostly snow-free, summit pyramid mostly snow and ice (until the last bit on the east side of the north ridge), and descent down the Whitewater straightforward. A few weeks earlier or later and it likely isn't nearly as pleasant as we found it. Mount Jefferson is amazingly steep for how impressively chossy it is, and I have no doubt it could be terrible when it is in poor condition. We dubbed it "Chosso Torre".
The only slight SNAFU was on the descent off the summit. We rapped blindly off the established station right on the summit and couldn't find the second one we had heard was there (likely covered in rime). We made a new station with a nut and tri-cam and did another short rappel to reach easy snow. Steep now traversing to Red Col led to easy slopes and the Whitewater. For being the easiest route on the mountain I was a bit surprised. It certainly gets your attention. I can see why some say it is the hardest of the major Oregon summits to climb. From the register it looks like 15-30 parties sign in each year, much fewer than I expected.
As an aside.......We had planned ahead and left beer in the truck, but a kind, older gentleman at the TH walked over in his camo pants with two ice cold Coors in his hands (it was 10am).
"I was wondering if you boys could use an ice cold beer?"
pointing at the Stone IPAs in our hands, he continued "My Daughter says I need to drink real beer, but these are real enough for me!"
We thanked him for the Coors and he happily sauntered off on his hike, after finishing his beer.
It was the highlight of our final day in Oregon.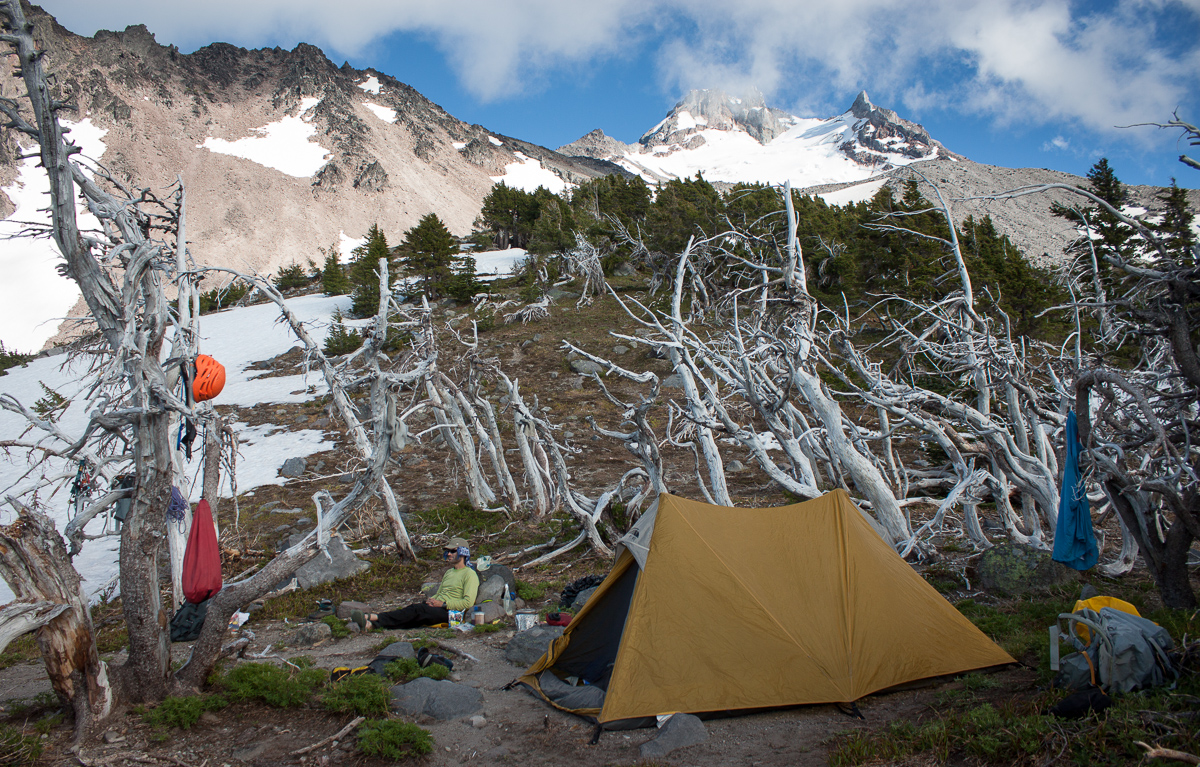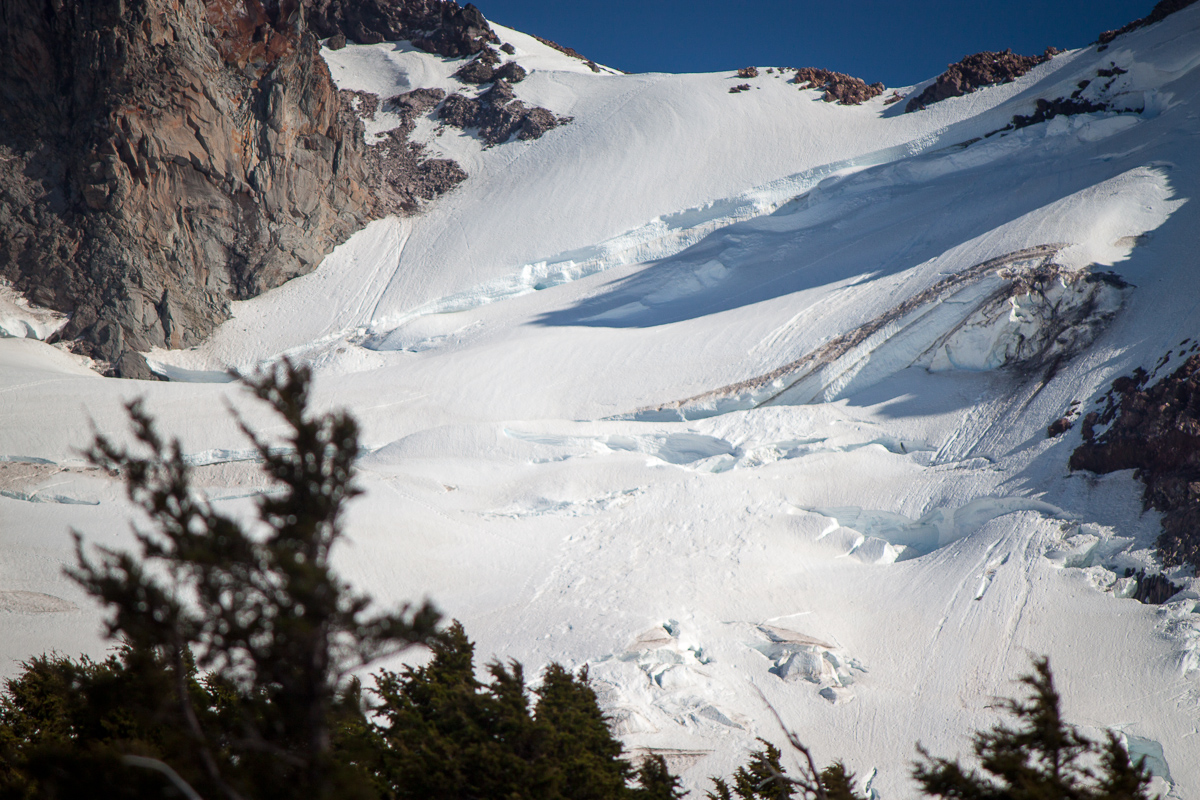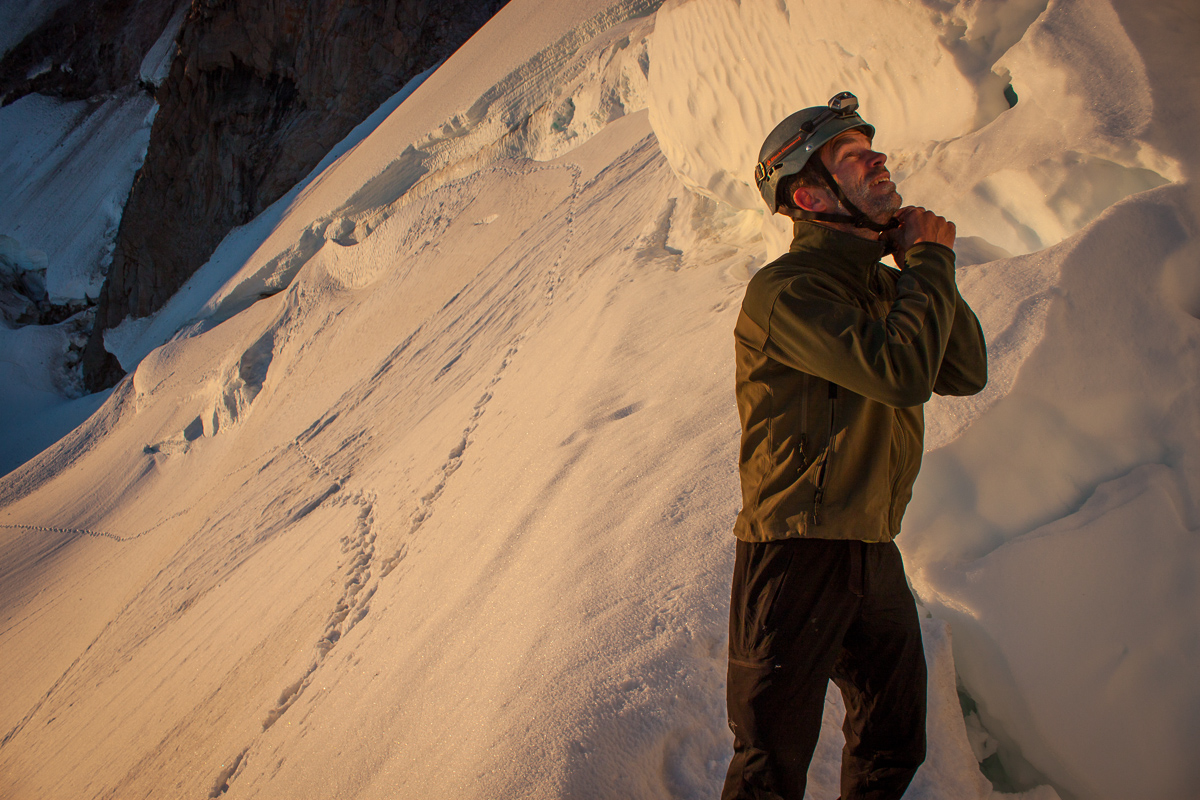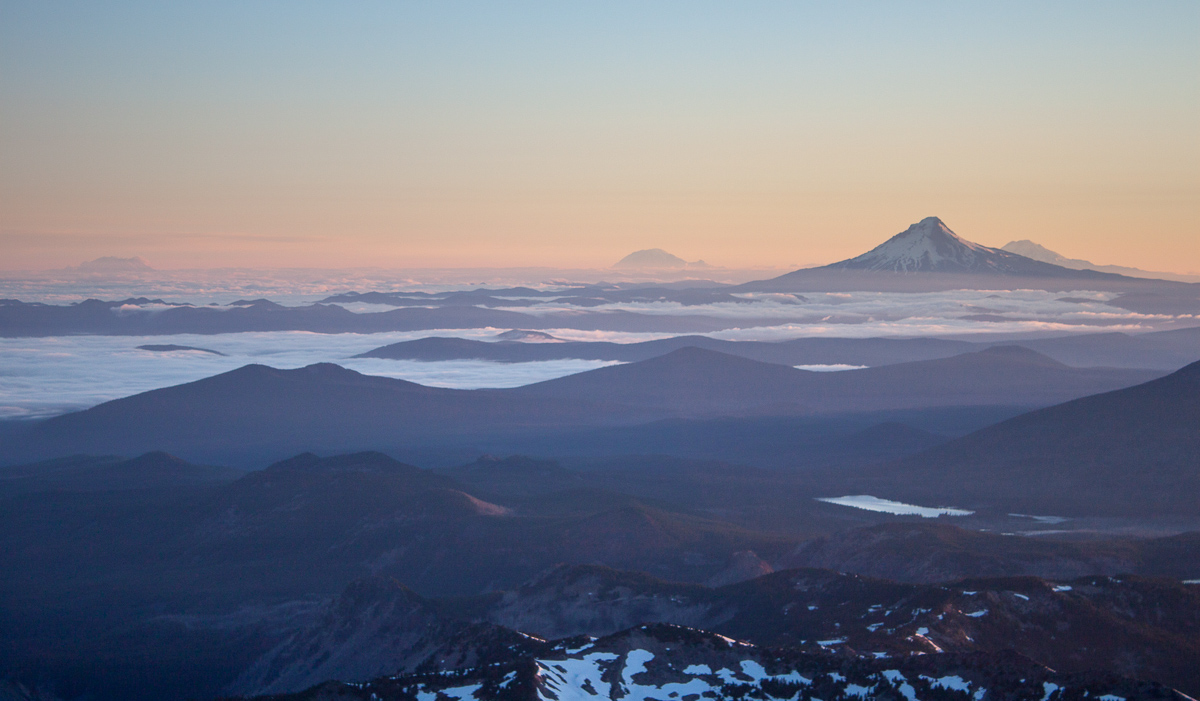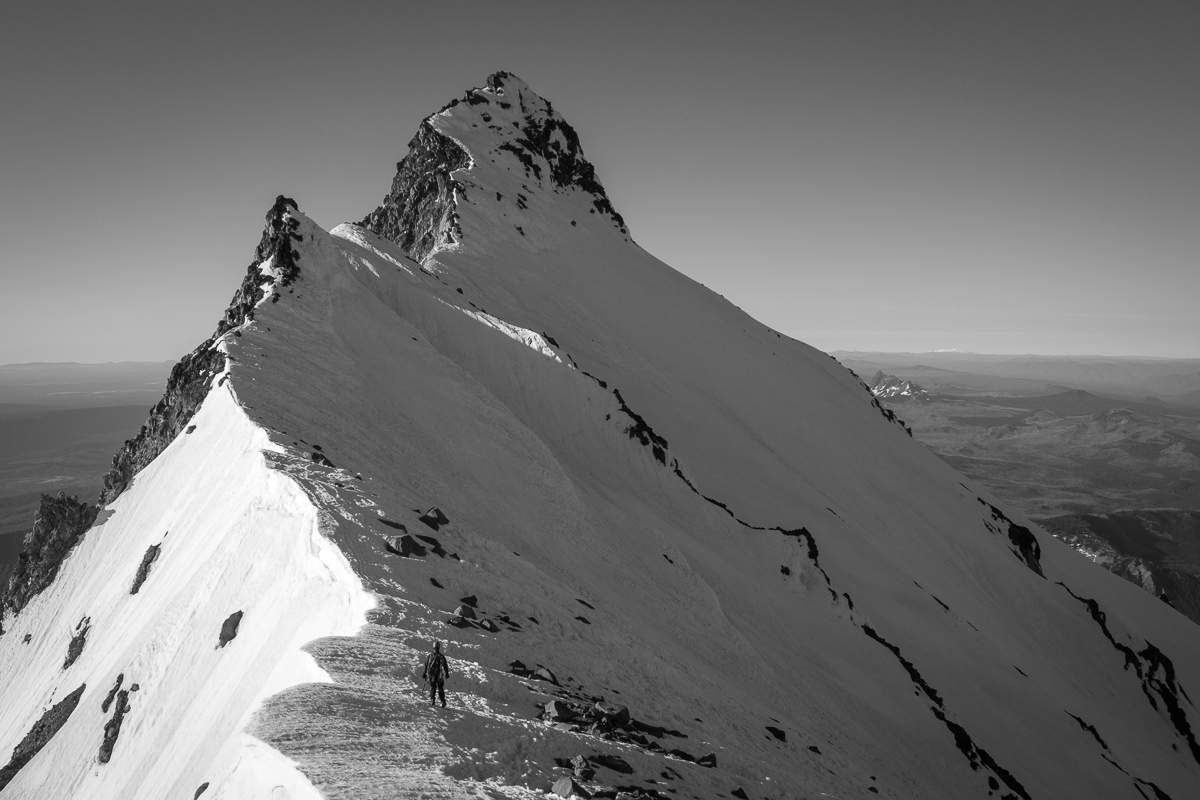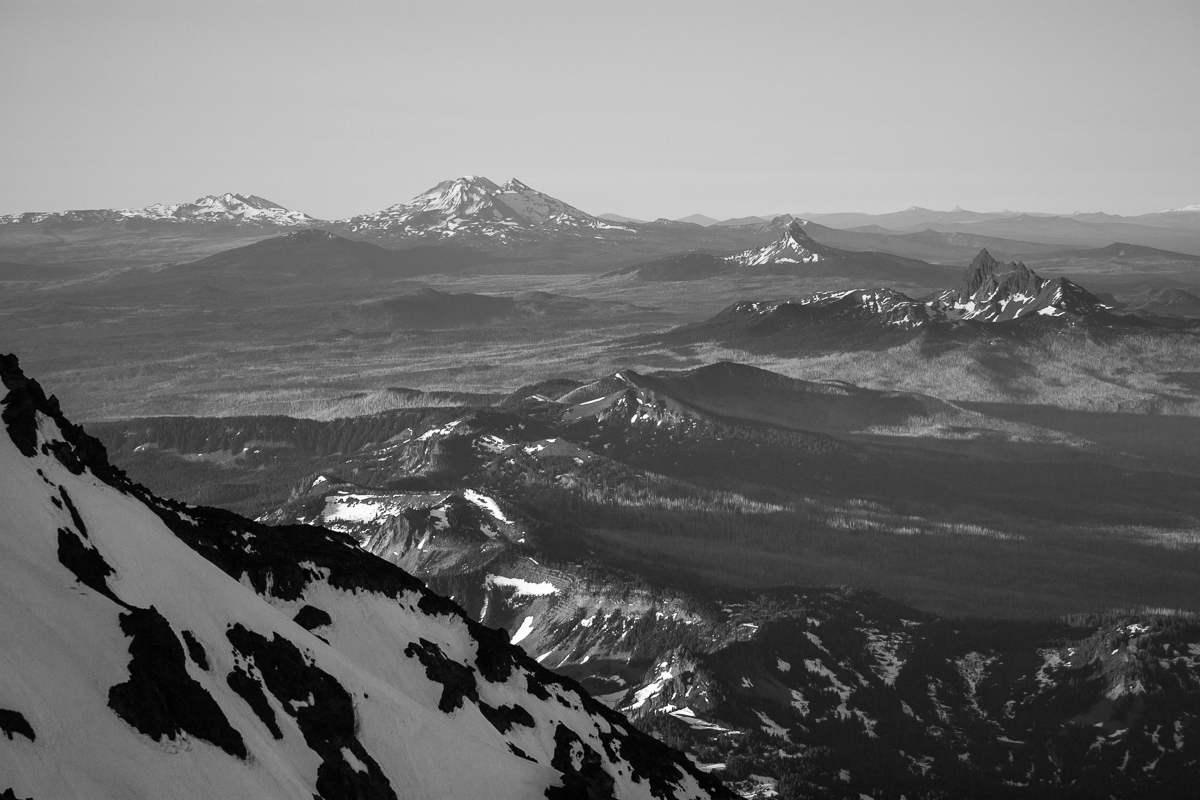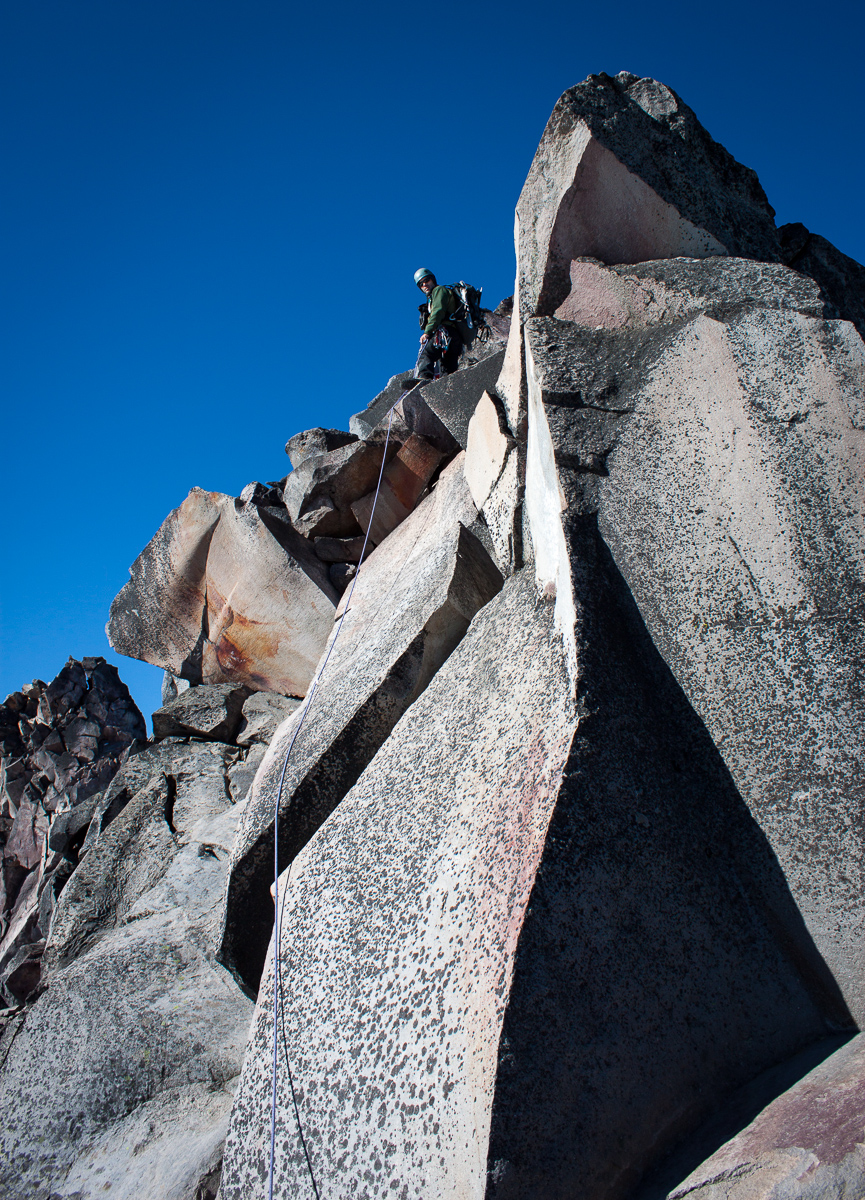 Looking down from the summit on the upper part of the route, you basically run the ridge: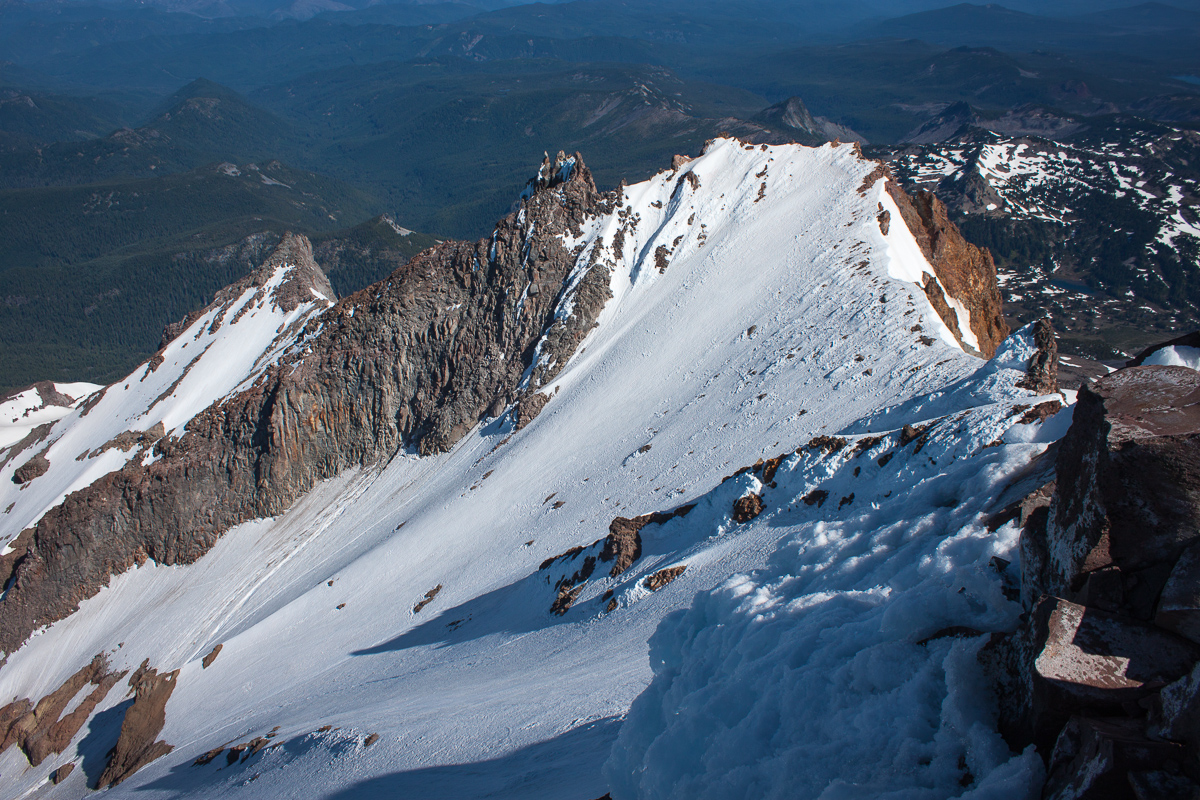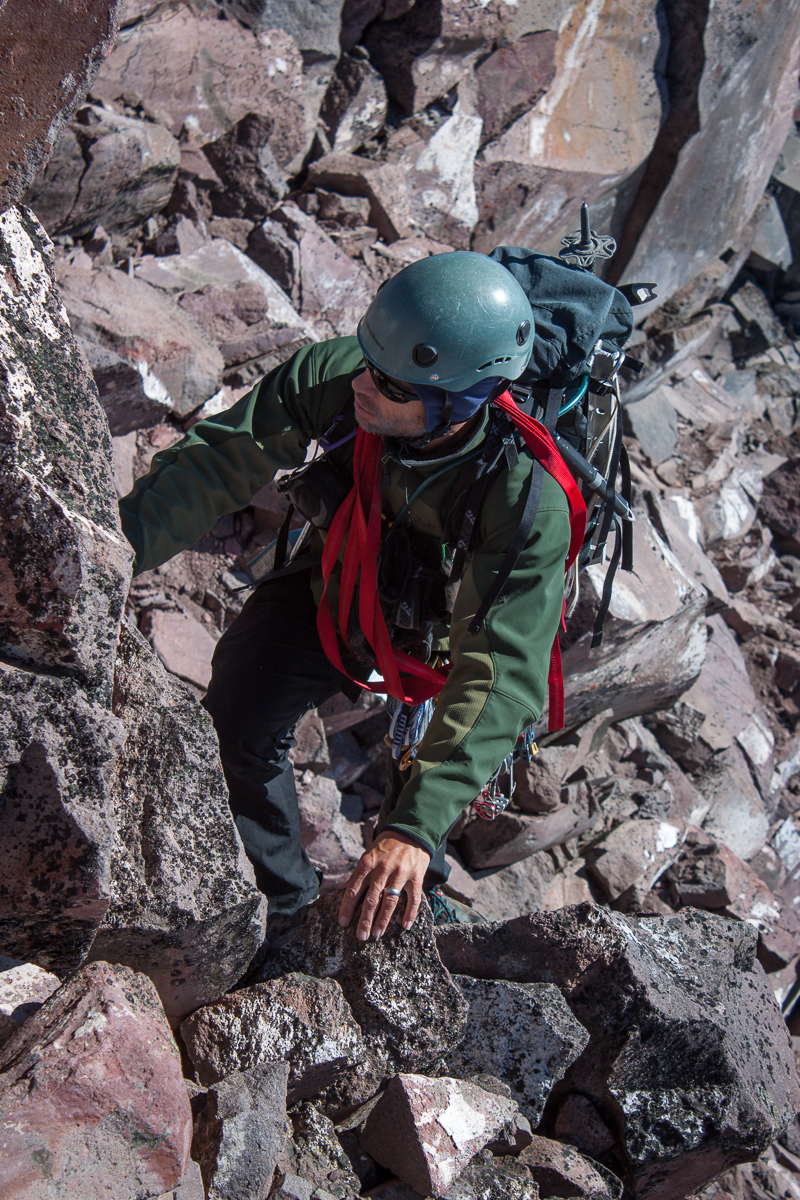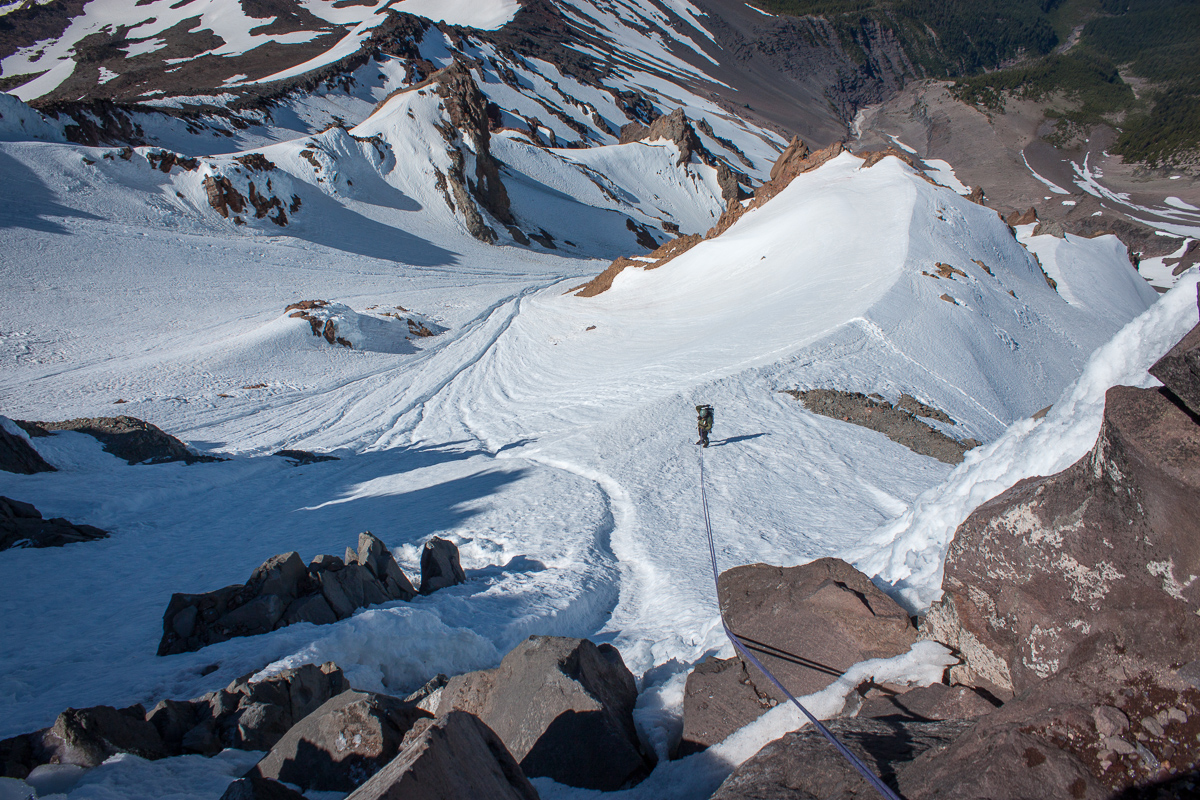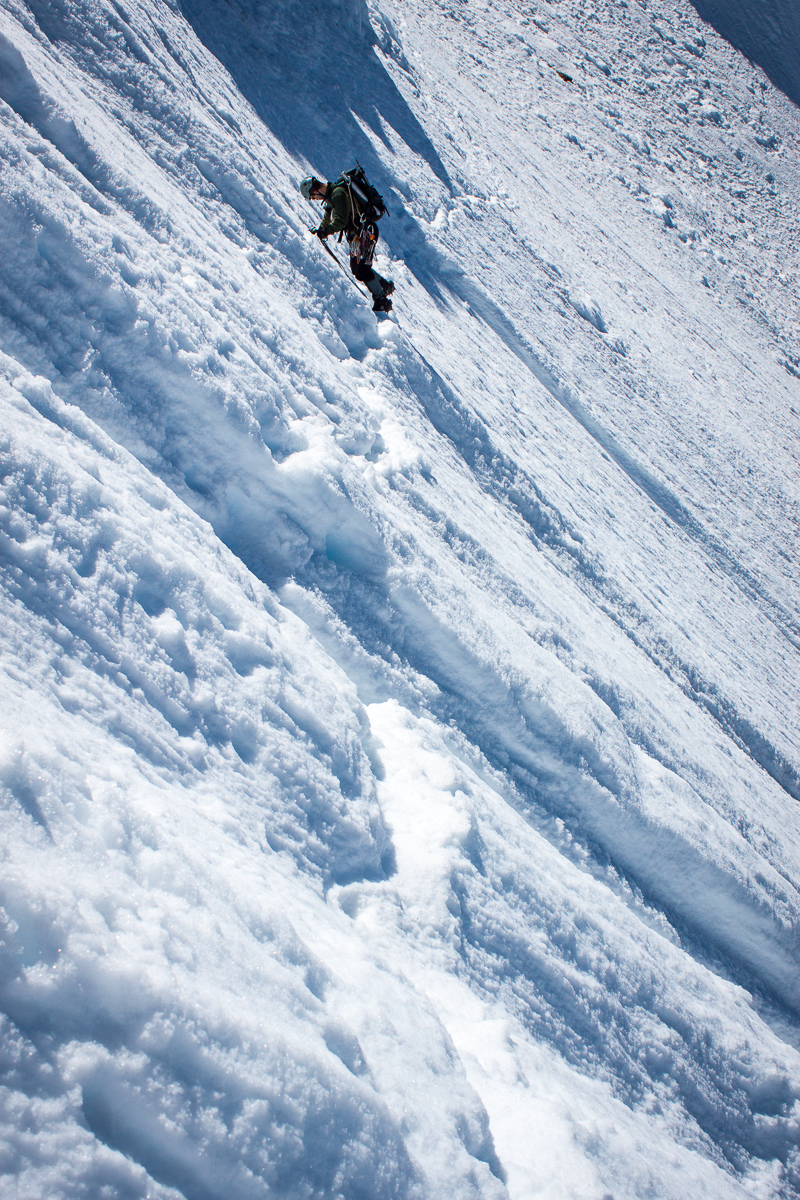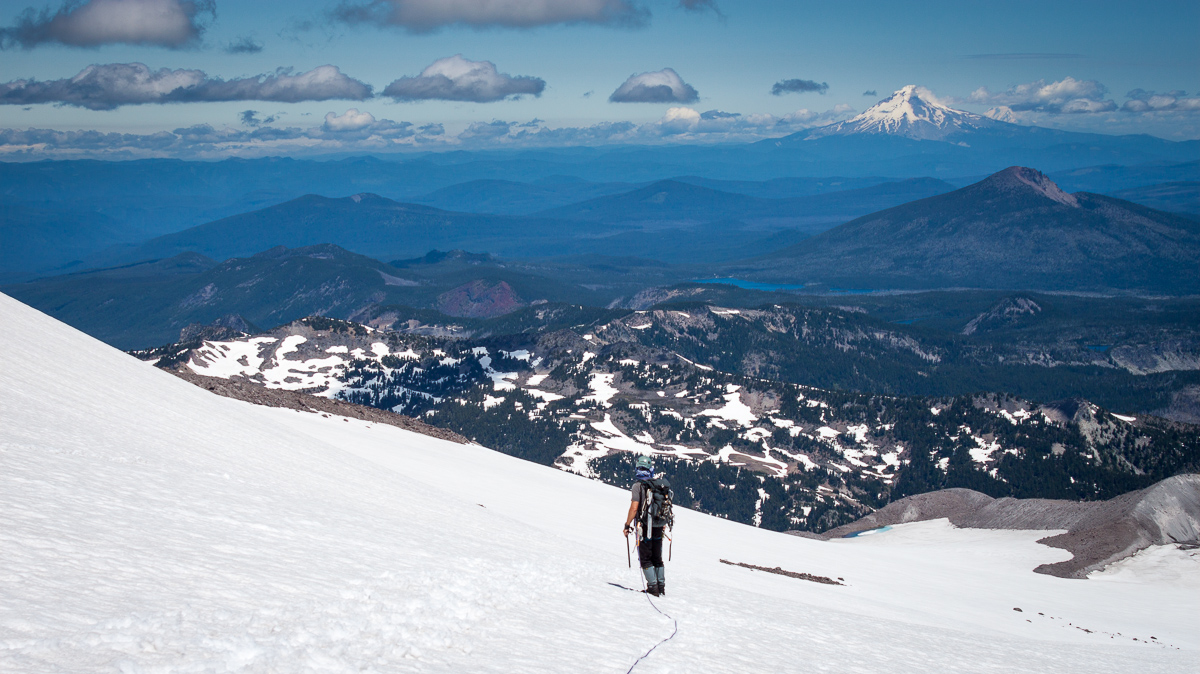 Chosso Torre: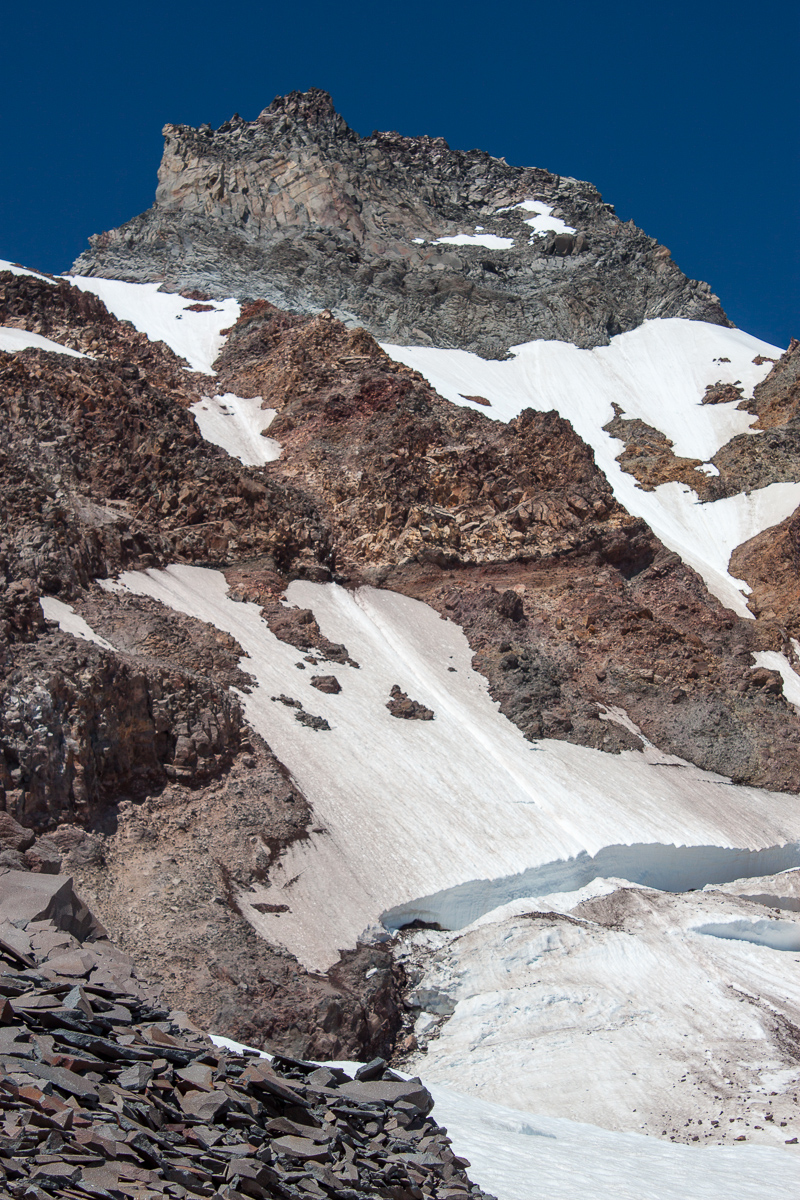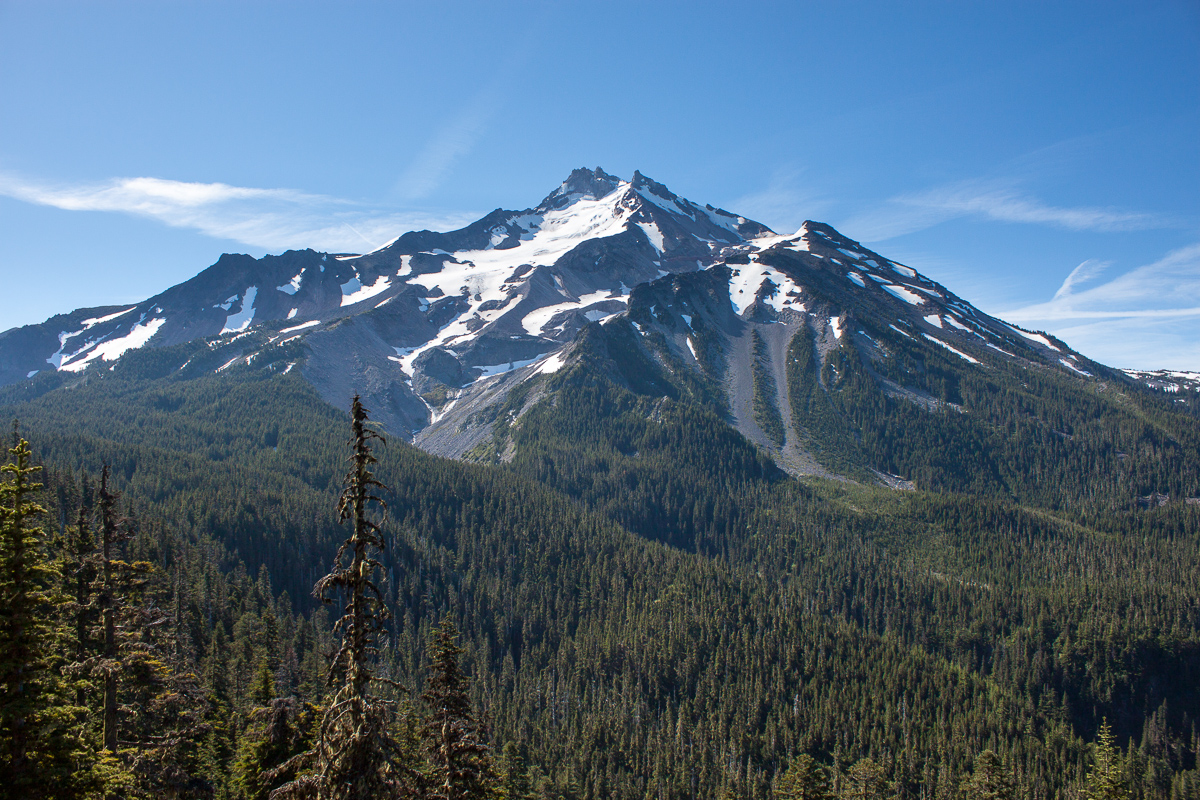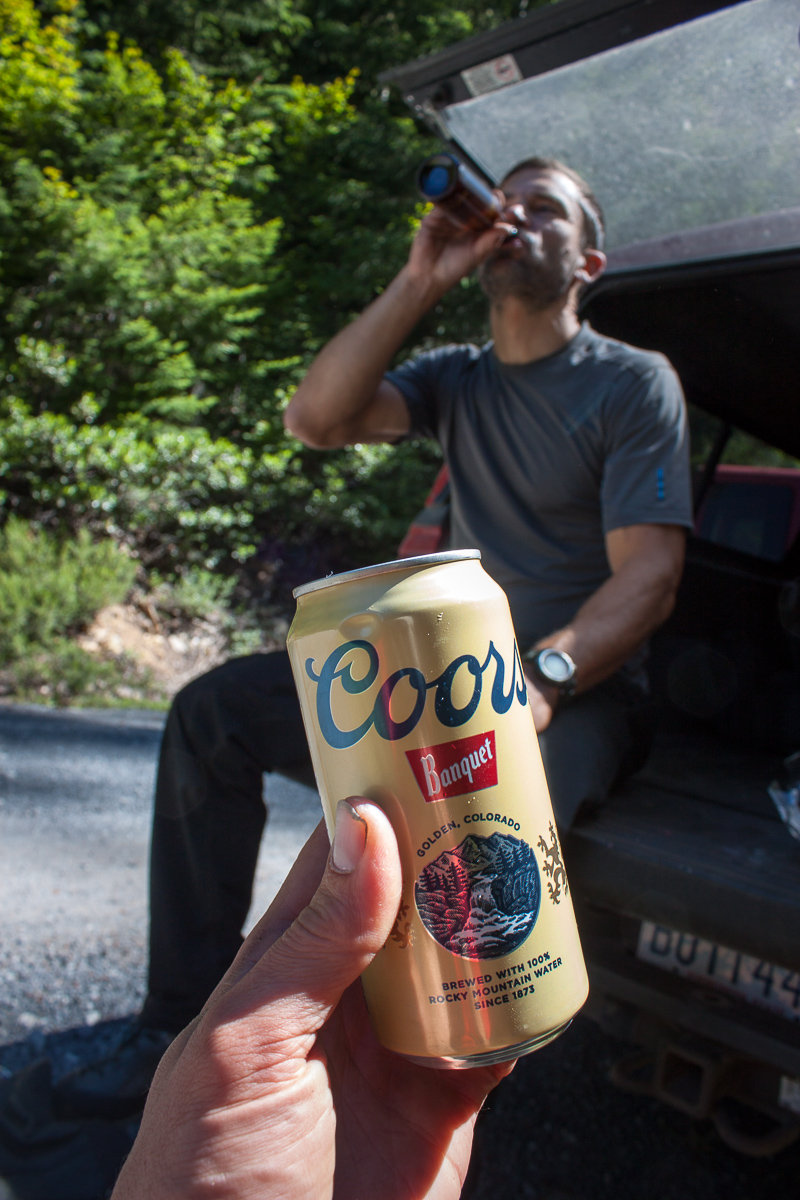 Gear Notes:
Helmet, second tool, steel crampons, half rope, light rack to 2", long runners.
Approach Notes:
Whitewater TH to Jefferson Park. We left the trail just before the major stream crossing on the west side of Jeff Park and headed up to the glacier