Trip:
Suiattle Crest 50 Mile Adventure Run
Date:
8/4/2009
Trip Report:
Colin Abercrombie and I completed a 50 mile adventure run loop in the Glacier Peak Wilderness that includes 12,500+ ft of elevation gain and passes through six passes (Little Giant Pass, High Pass, Buck Creek Pass, Suiattle Pass, Cloudy Pass, Spider Gap). We did the loop in 13:37, but our progress was often slowed by stops to photograph the amazing scenery. A large portion of this extremely aesthetic loop follows near the Cascade crest along the Suiattle River drainage, hence the name "Suiattle Crest 50 mile." While we climbed no summits, the alpine flavor and grand vistas along the way make this a classic outing.
Alternatively, the movie can watched on Vimeo.
Colin designed this giant loop which is remarkably close to 50 miles in distance and covers virtually all the highlights in the region. There are essentially two scenic areas of the loop – the Napeequa Valley/High Pass region and the Lyman Lakes area – separated by 10+ miles of relatively uninteresting trail in the woods between Buck Creek Pass and Suiattle Pass, with a significant extra hill climb over Middle Ridge. We started at Little Giant TH and I recommend doing the route clockwise beginning with the climb up to Little Giant Pass. The first 16 miles from Little Giant TH to High Pass are the most arduous with the steepest climbs, brush (very wet and very cold from dew in the morning), some off-trail travel, and routefinding issues. After High Pass, the complexities are mainly over as the trails improve allowing for more running. Doing the loop clockwise provides for a relatively easy 13-mile finish along the Phelps Creek Trail and dirt road from Phelps Creek TH back to Little Giant TH. A shorter option that is very popular with backpackers is the ~37 mile Spider Gap/Buck Creek Pass Loop. This option avoids the complexities of Napeequa Valley and the ascent to High Pass, but the beautiful scenery in the Napeequa Valley and around High Pass is well worth the extra effort and mileage.
Location (Elevation):

Time Elapsed

/

Split

/ Real Time
Little Giant TH (2,600 ft) :
0
/
0
/ 04:55
Little Giant Pass (6,409 ft) :
1:35:24
/
1:35:24
/ 06:30
High Pass (6,876 ft) :
5:35:31
/
4:00:06
/ 10:31
Buck Creek Pass (5,796 ft) :
6:43:15
/
1:07:43
/ 11:38
Cloudy Pass (6,420 ft) :
9:18:52
/
2:35:37
/ 14:14
Spider Gap (7,040 ft) :
11:00:02
/
1:41:09
/ 15:55
Phelps Creek TH (3,500 ft) :
12:42:38
/
1:42:36
/ 17:38
Little Giant TH (2,600 ft) :
13:37:23
/
54:45
/ 18:42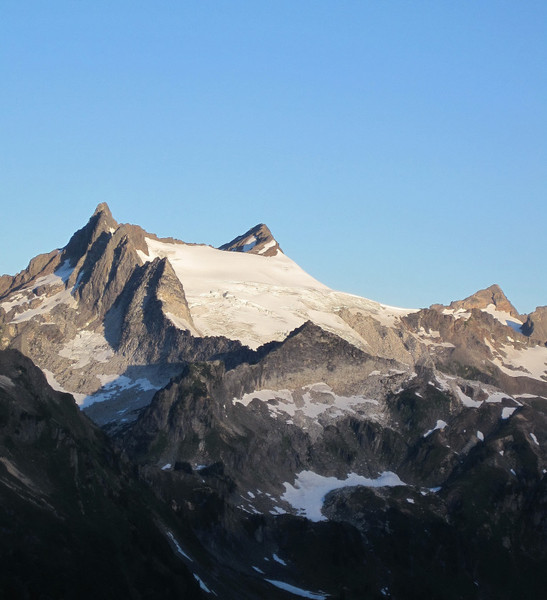 Clark Mountain from Little Giant Pass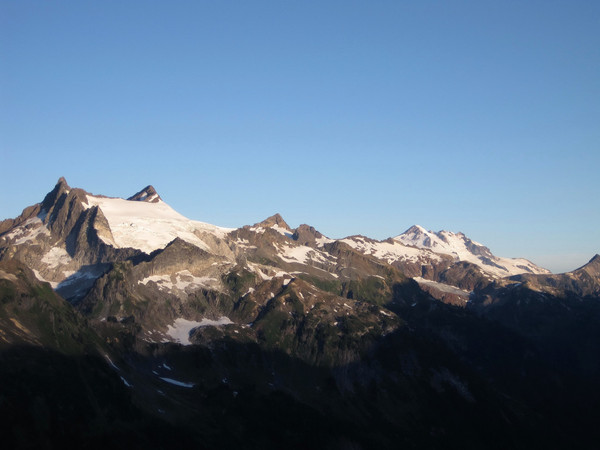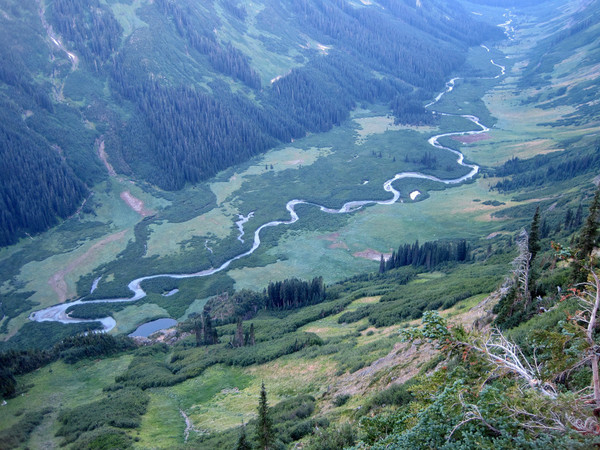 Napeequa Valley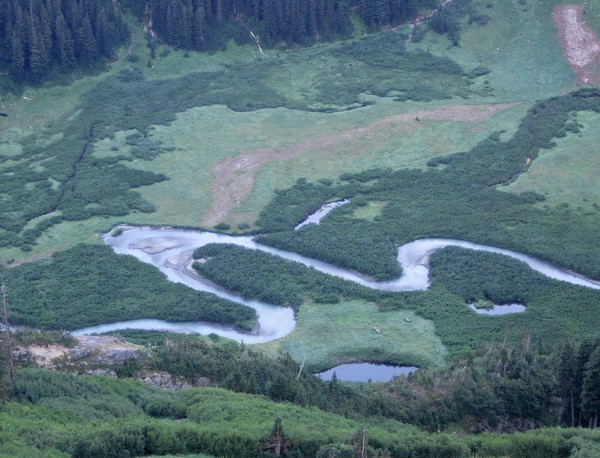 River Bends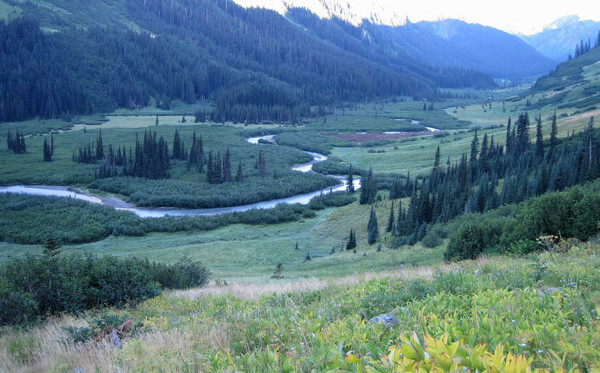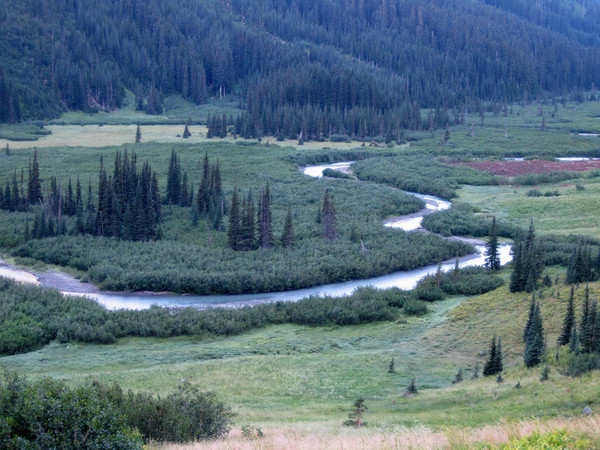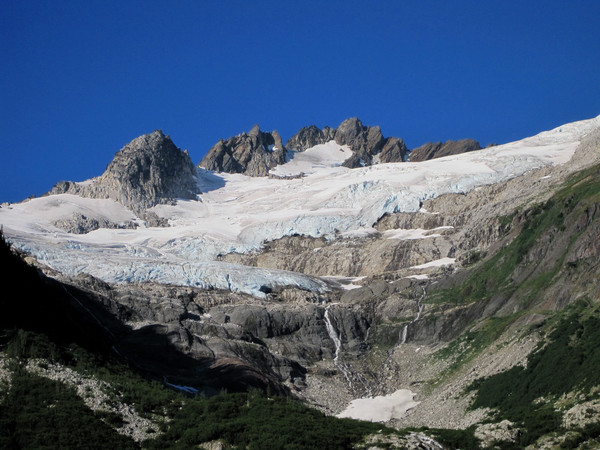 Walrus Glacier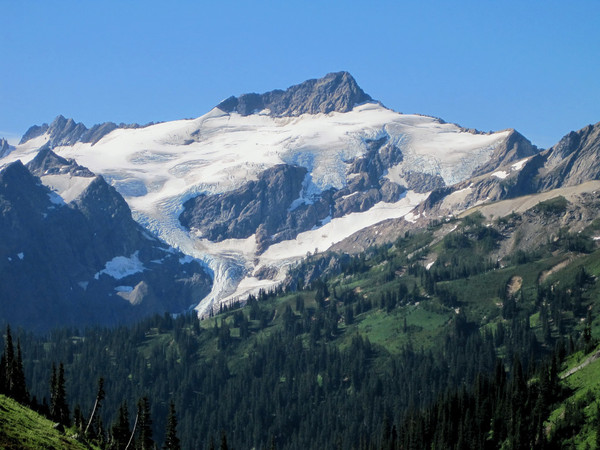 Clark Mountain and Richardson Glacier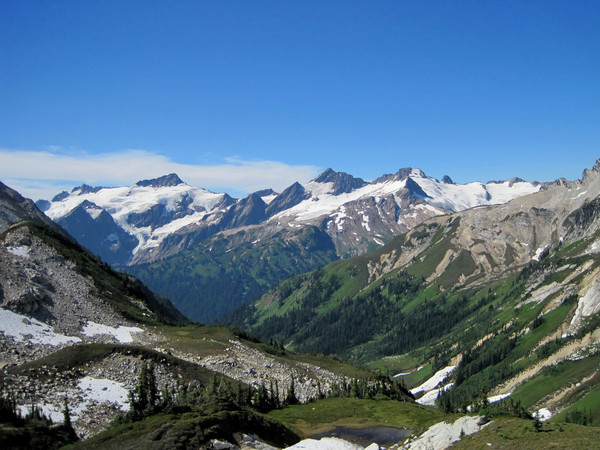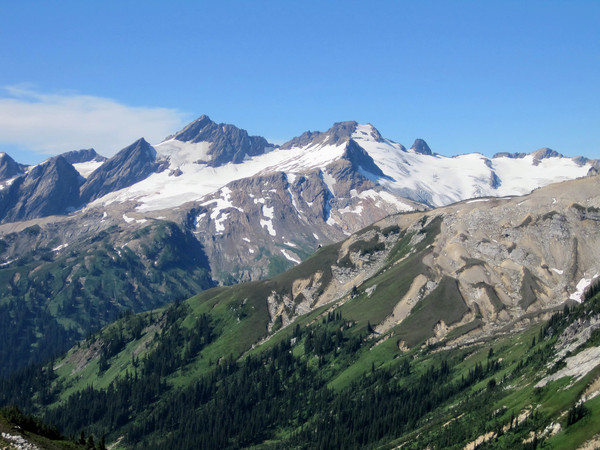 Luahna and Pilz Glacier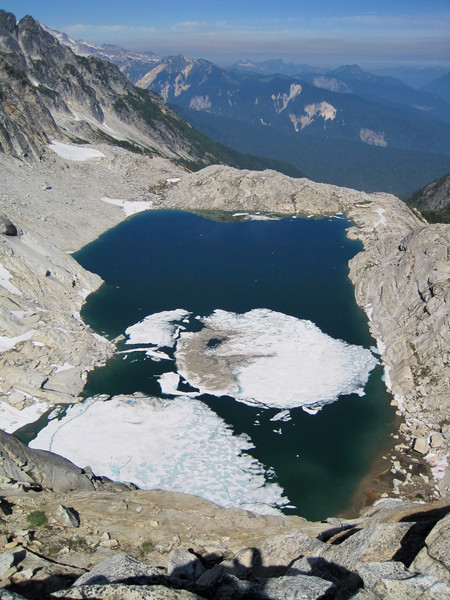 Triad Lake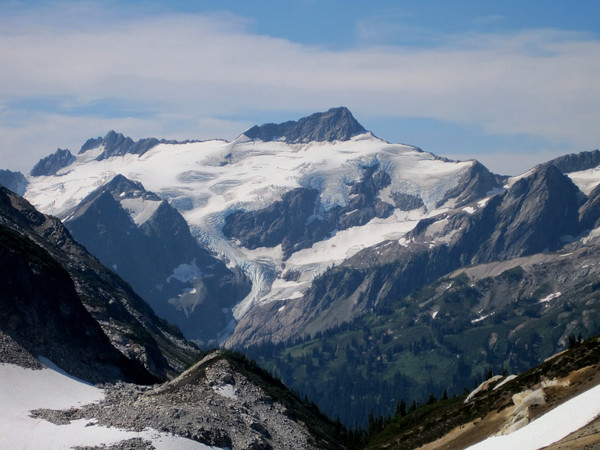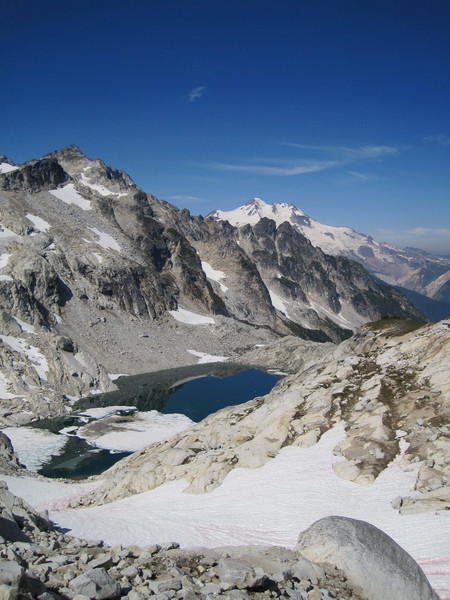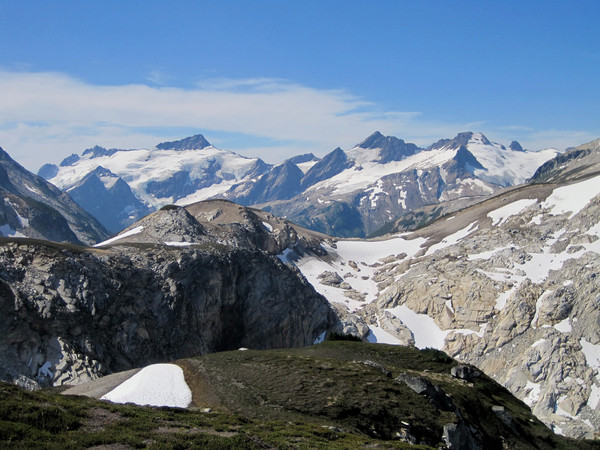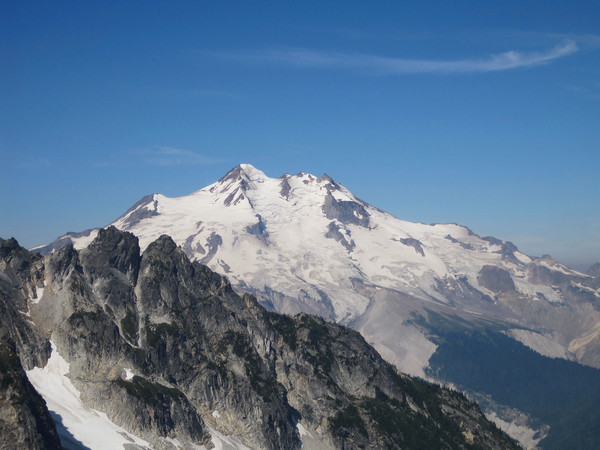 Glacier Peak from High Pass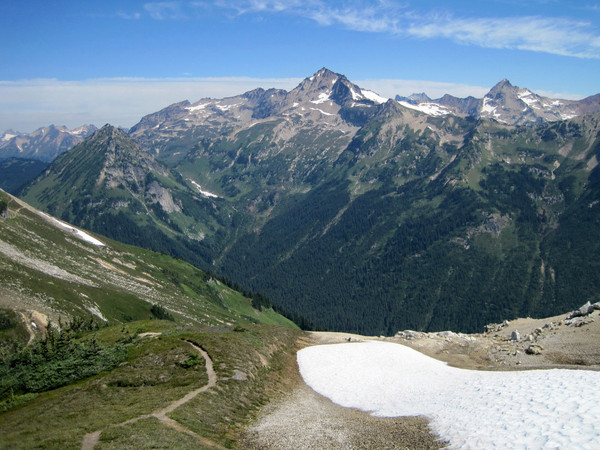 View across Buck Creek Valley to Fortress and Chiwawa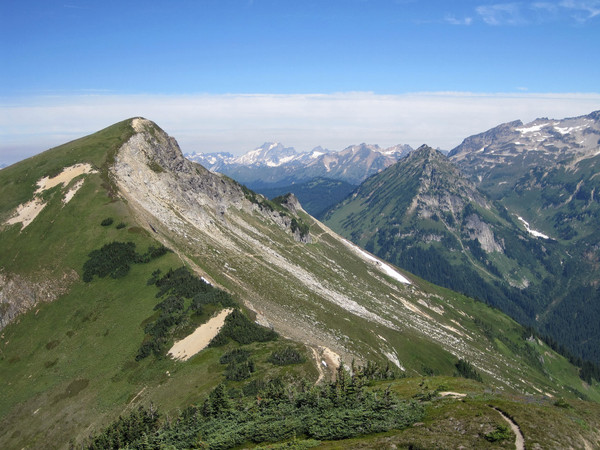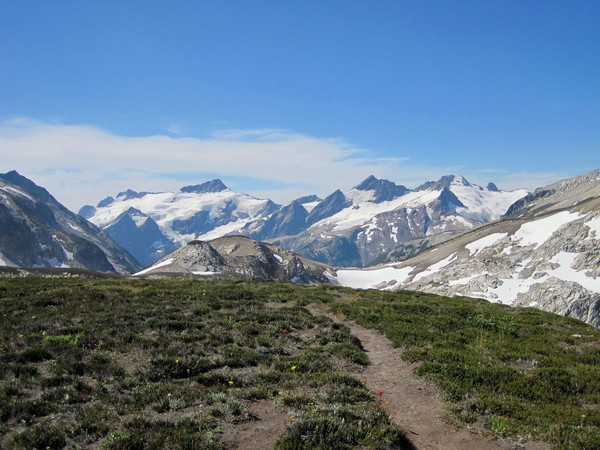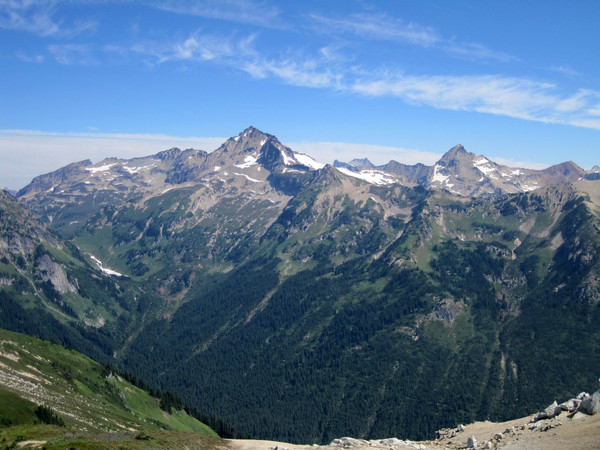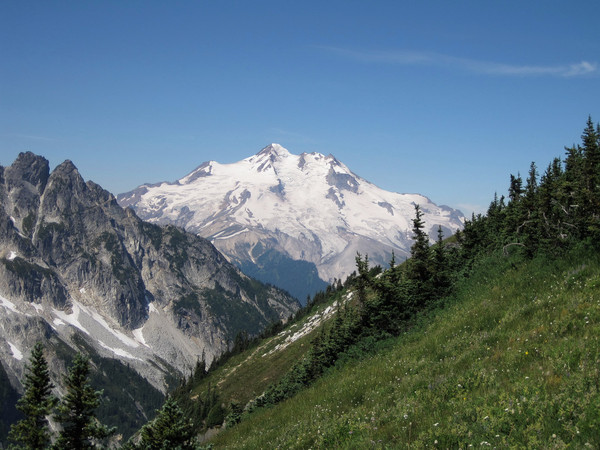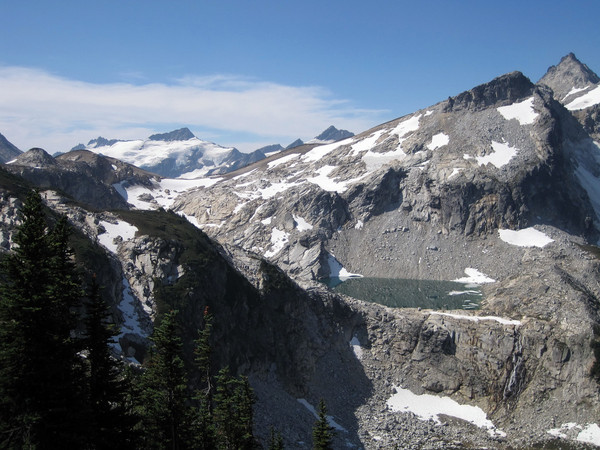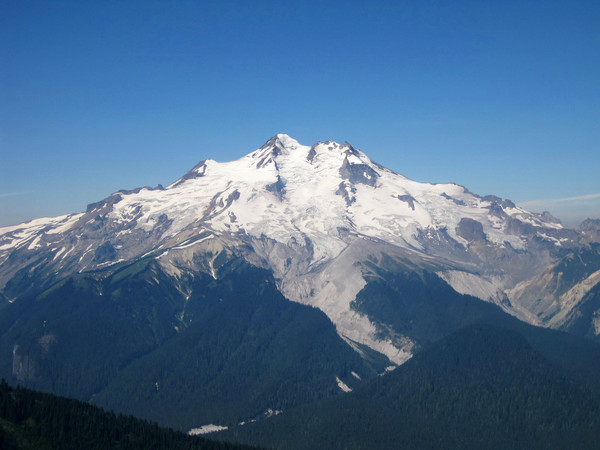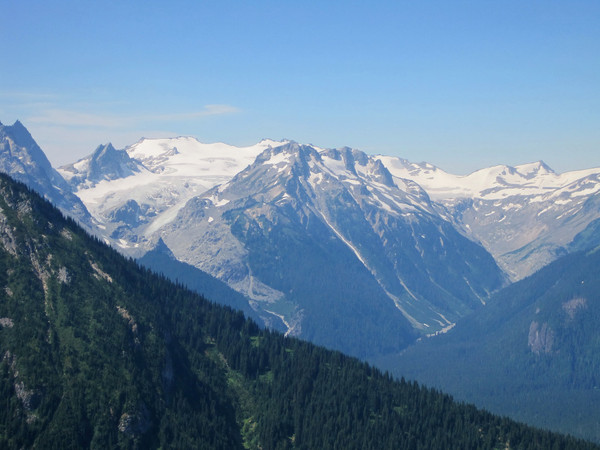 Upper Suiattle River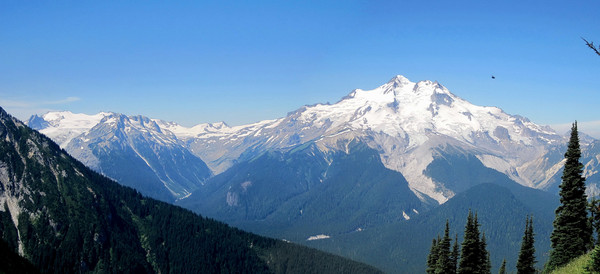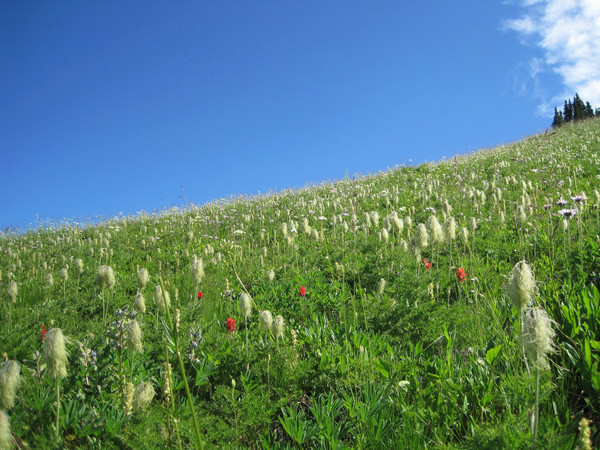 Meadows!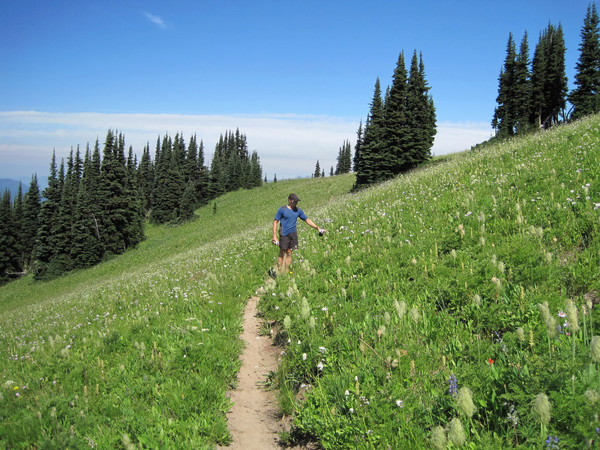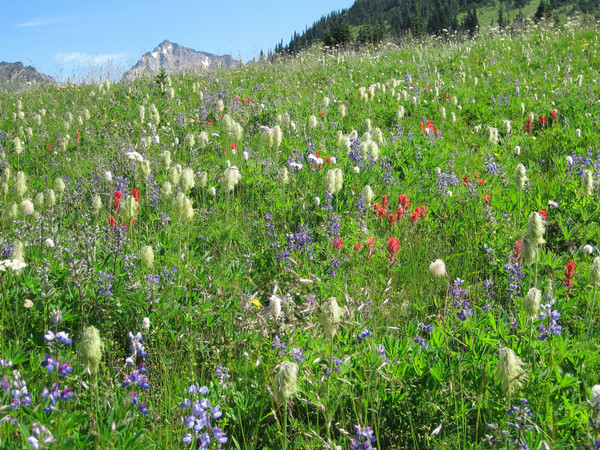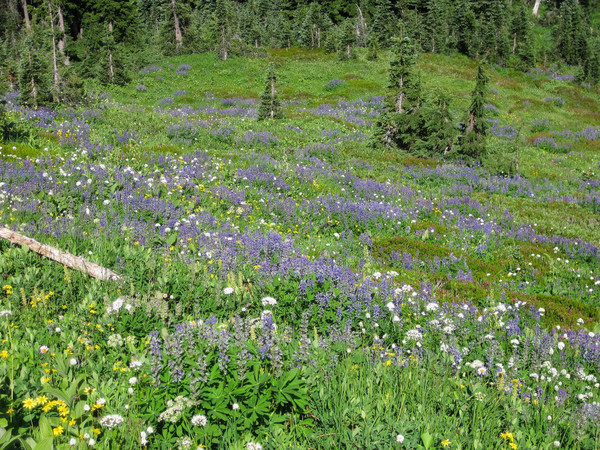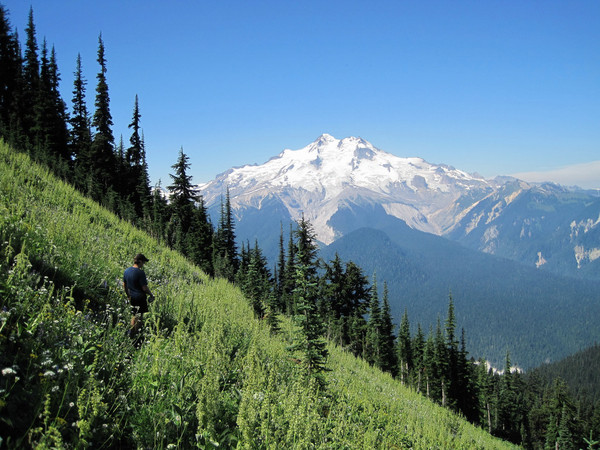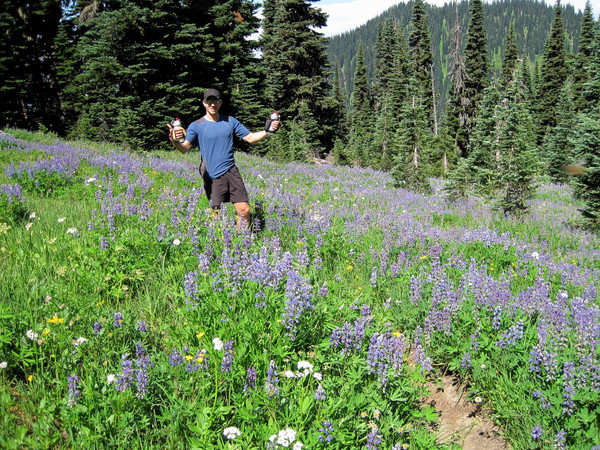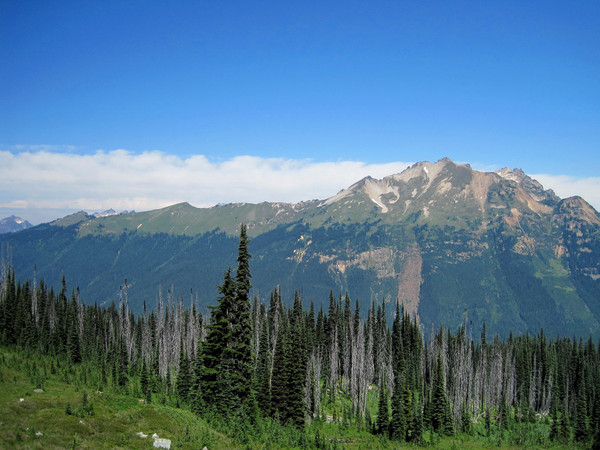 Miners Ridge and Plummer Mountain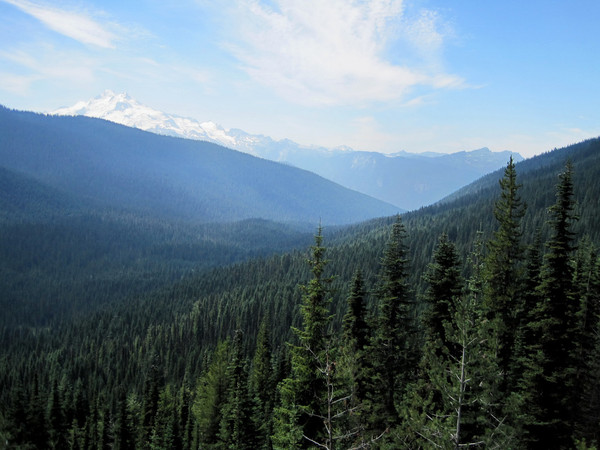 Carpet of trees below Suiattle Pass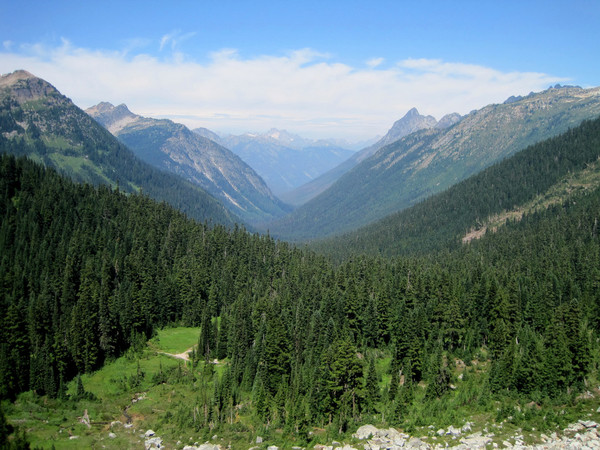 Agnes Creek Valley from near Suiattle Pass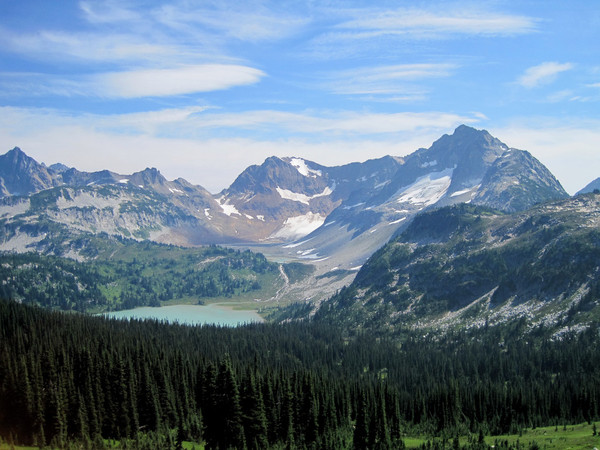 View of Lyman Lakes Basin and Chiwawa Mountain from Cloudy Pass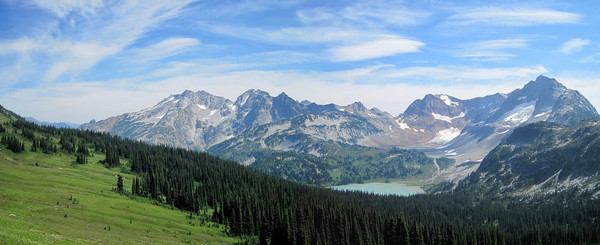 Panorama from Cloudy Pass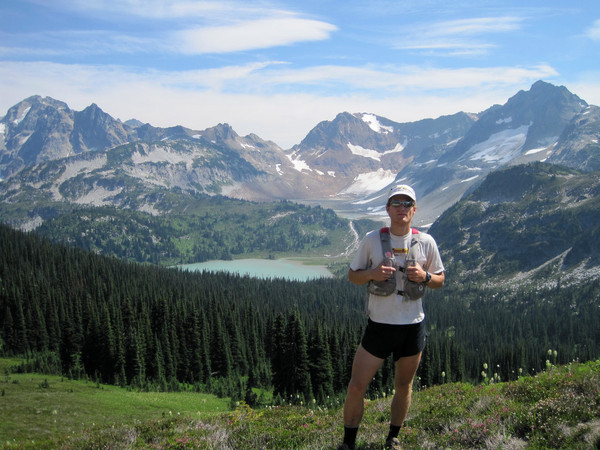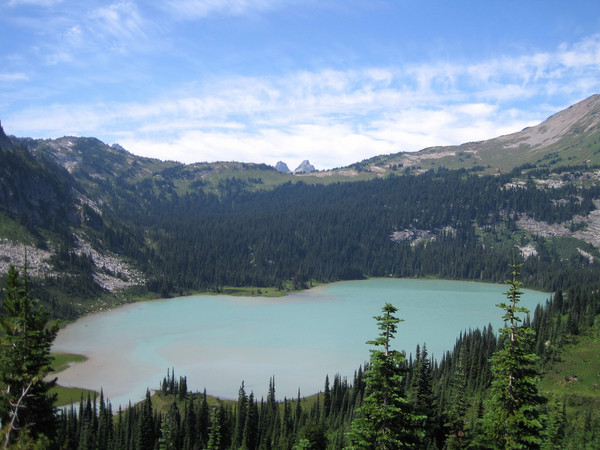 Lower Lyman Lake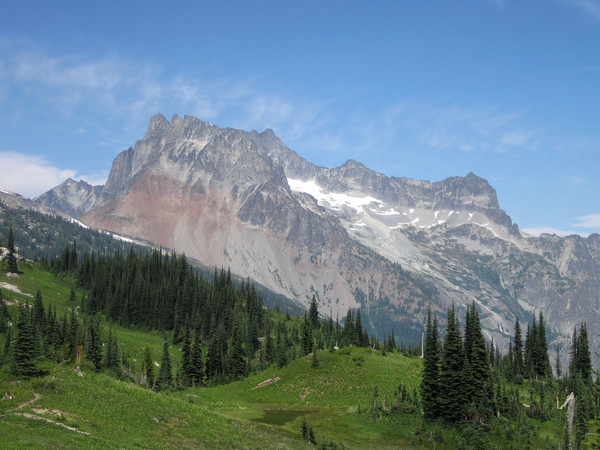 Bonanza Peak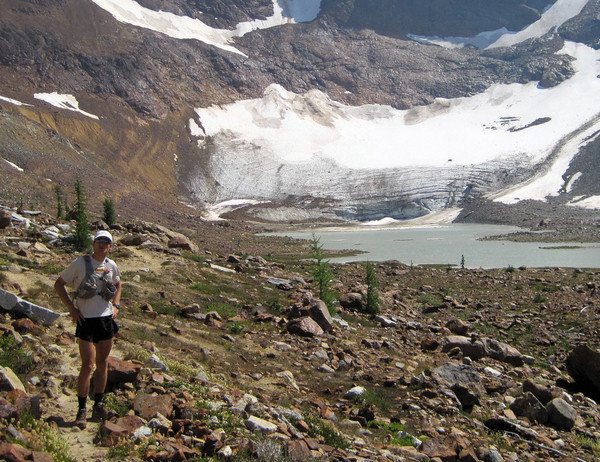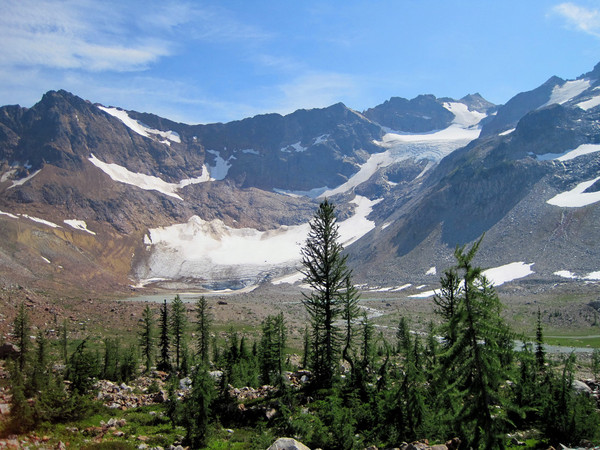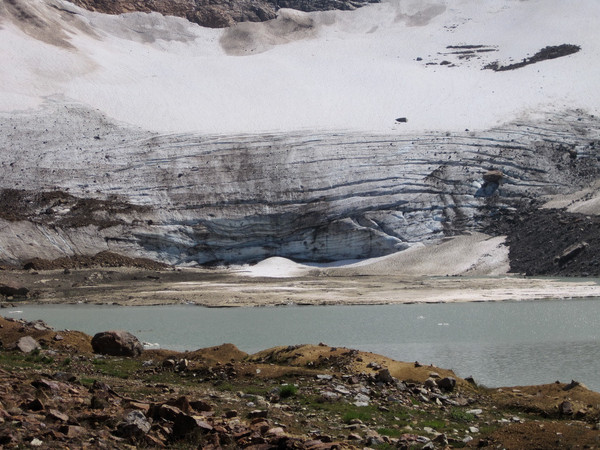 Lyman Glacier Remnant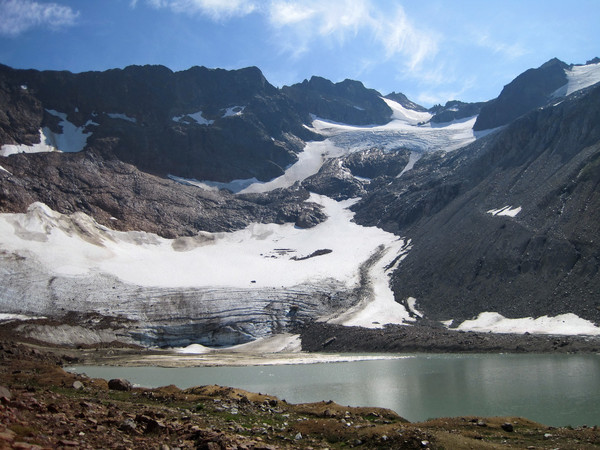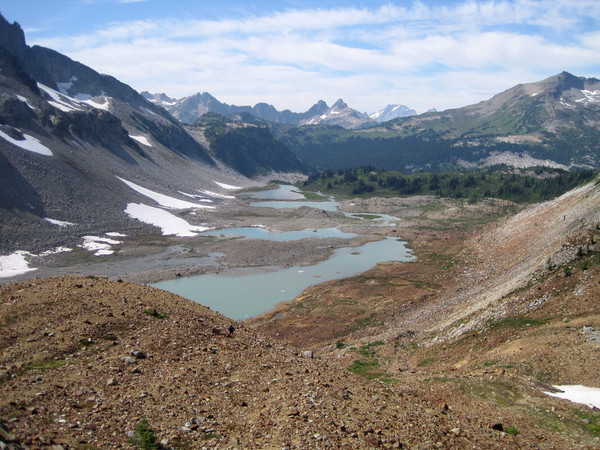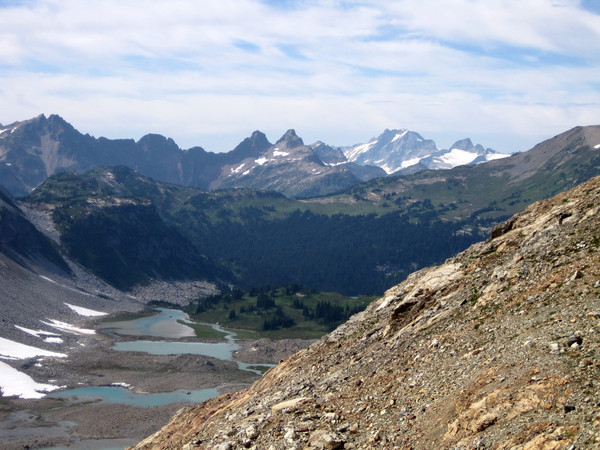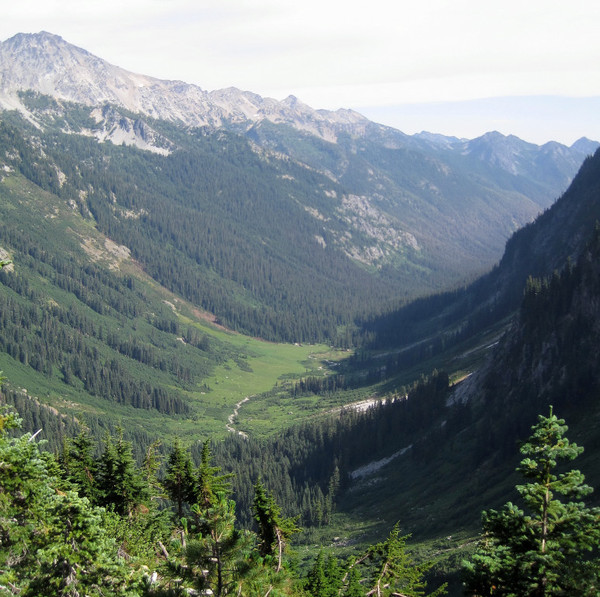 Spider Meadows and Phelps Creek Valley
Gear Notes:
La Sportiva Fireblade Trail Running Shoes, SaltStick electrolyte caps, Clif Shot Bloks, Ultimate Direction Handholders and the Ultimate Direction Wasp pack.
Approach Notes:
The forest service has done a good job logging out the Little Giant Pass Trail and the Phelps Creek Trail. Napeequa Valley is brushy, and the brush is very wet and very cold in the morning! The path up to High Pass is difficult to spot as it climbs from the Napeequa Valley, but it is worth looking for. The path is a bit overgrown, but nothing compared to the slide alder mess you will encounter otherwise. There are a few large logs remaining on the stretch between Buck Creek Pass and Suiattle Pass to jump over or walk around.