Bob Spring (left), writer Byron Fish (center) and Ira Spring (kneeling) select photographs for one of their historic picture books, circa 1960. University of Washington Libraries, Special Collections, Bob and Ira Spring Photographs, Negative #25732.
The Bob and Ira Spring B&W Photographs are now in UW Special Collections.
For mountaineers who came of age in the latter half of the 1900s, the photographs of Bob and Ira Spring have captured some of the most memorable and iconic images of our Northwest mountains.
In later years, the Spring brothers were best known for their 100 Hikes series of guidebooks. But early in their careers, many of their photographs illustrated mountaineering and skiing adventures.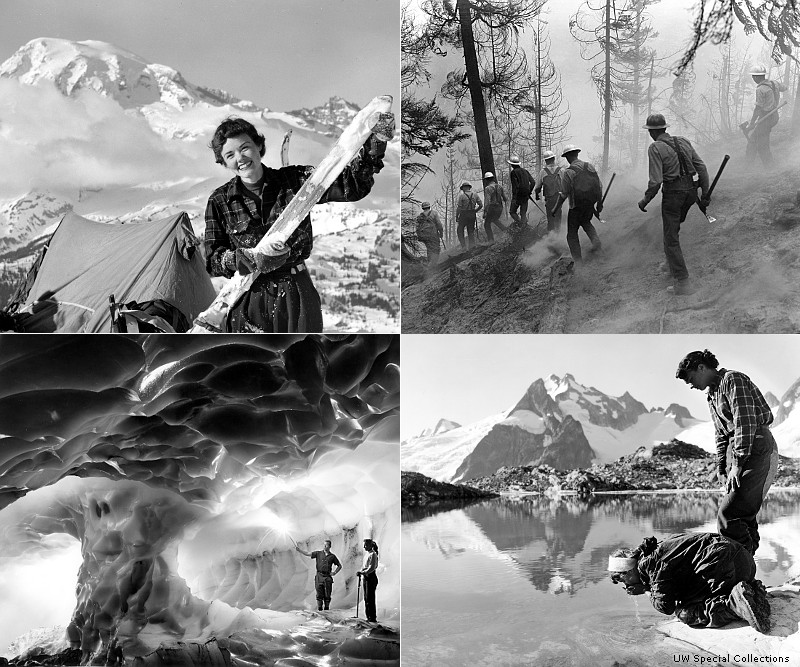 Upper left: Joan Burton ski touring near Mt Rainier, c1958 (print #17276). Upper right: Forest fire fighters in the Cascades, c1958 (print #17884). Lower left: Hikers explore the Paradise Ice Caves on Mt Rainier, c1958 (print #18063). Lower right: Climbers at White Rock Lakes on the Ptarmigan Traverse, 1957 (print #16500).
Through a collaboration between the Spring family and the Mountaineers History Committee, the Bob and Ira Spring B&W photographs have now been indexed and transferred to UW Special Collections, where they can be accessed and enjoyed by the public.
A preliminary finding aid can be seen on the Mountaineers Archives website here:
http://mountaineers.org/history/findaids/spring-bw-photos.html
Eventually, the University will create the its own finding aid, which will reside on the Special Collections website:
http://www.lib.washington.edu/specialcollections/
The Spring photographs cover much more than just mountaineering. During their long careers, Bob and Ira Spring photographed every corner of the Northwest, from ocean beaches to dry scab-lands and from bustling cities to rugged logging camps. The collection also includes thousands of photographs from Alaska, Canada, the western U.S., and much more.
Working with the Spring family and the University to make these photographs accessible has been a long and rewarding experience. I hope this donation opens a new chapter in the appreciation of these wonderful and historic images.
Upper left: "Valley pounder" at Klapatchie Park, c1955 (negative #5275). Upper right: Fred Beckey climbing Lighthouse Tower, 1949 (negative #3410-x02). Lower left: Morton Loggers Jubilee, 1955 (negative #13625). Lower right: Gary Rose ice climbing on Mt Rainier, c1953 (negative #9128).