Trip:
Elephants perch - Various
Date:
8/8/2011
Trip Report:
After responding to a partner request Powderhound and I set out on a little 3 day mission to the Sawtooths to get some good alpine granite in. Since we had a short amount of time we settled on the Elephants perch. I wanted to do the Mountaineers route and he had his eyes set on a little known route that was slightly adventerous.
We left PDX around 4 and hit Stanley at 2:00 AM Monday night. Slept at a sweet spot he knew of just south of Stanley. Caught the boat at redfish around noon and were up at the perch by 2. After setting up at a spot with a nice view of the perch we headed up to do a quick jaunt up the MT. route.
View from the boat heading up to Transfer camp.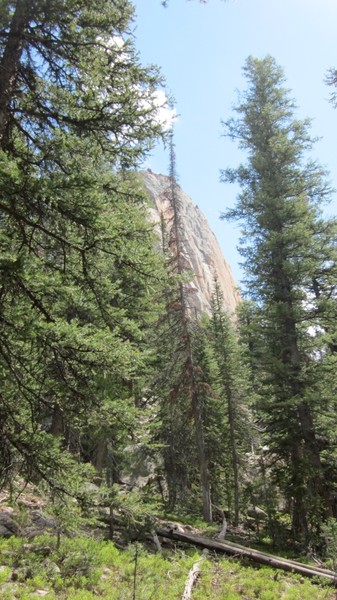 Nice views of the perch on the approach trail.
The Elephants perch in all its Glory.
The Mountaineers route is a pretty sweet little 7 pitch 5.9 that heads up the SW face. Pro was pretty good and the route finding was not to bad. I think we topped out around 9:00 PM in time to enjoy some beautiful sunset views. Since this was my first time here I decided to scramble the extra 400-500 feet to the summit instead of just traversing around to the descent gully.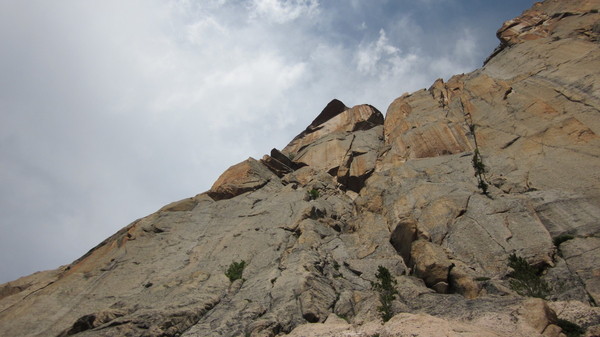 Looking up from the base of the route.
Powdy following the third pitch.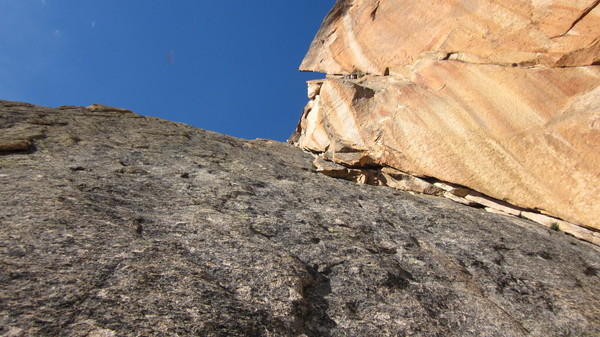 looking up the slabalicious 5th pitch.
Pow-pow hitting the crux after linking the 6 and 7th pitch. Always getting the full value from the 70 meter string.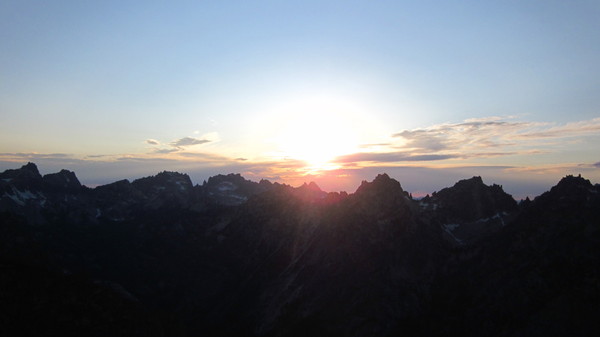 Sweet sunset views from the summit.
On Tuesday we went after Pacadermal plesantries 9 pitches 5.9 A2. This was a more adventurous route that didn't work out quite as planned. Due to a short overnight torential downpour the rock looked pretty wet in the morning and pushed back our departure time a little. Combine that with some difficult route finding on some loose and choosy rock and we got as far as the 5th A2 pitch. After P-hound finished the aid pitch we decided we didn't have the time to finish the following 4 "5.9" pitches and decided to bail.
Powdog working a lovely 5.9 flaring offwidth section just before the aid pitch. YUMMY!
After getting spanked off our slightly overly adventerous plans we decided to get back to a classic and hit Sunrise book on Wednesday. This climb was ridicuilous awesome. 5 pitches of sustained 5.9 and up crack climbing with a crazy traversing chimney and an ubberlong first pitch with a few hard face moves thrown in for good measure. We did the 5.10 C0 variaton of course. "5.12- my right eye" I took the first, third, and fourth pitches and Powdiddy took the second and fifth pitch. He was really eyeing the Bombay chimney and I was happy to let him lead it. A real scrunch fest.
The full route, starts by coming from the right along a ledge.
Good view of the 3rd through 5th pitch. The chimney is a little shorter and deeper than it looks.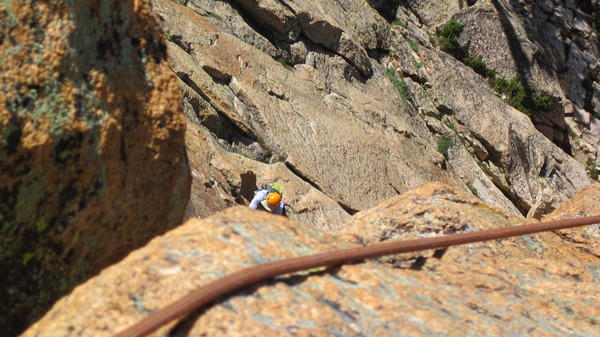 Looking down at Diggidy Pow working through the 5.9+ face moves on the first pitch.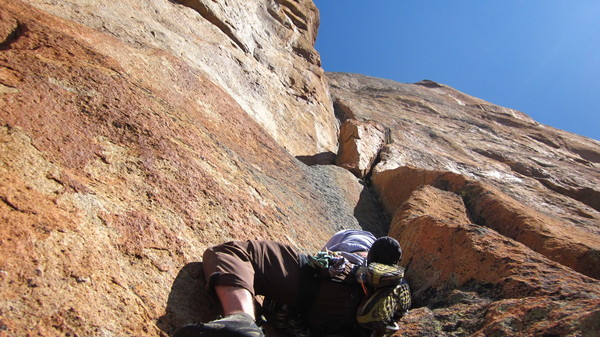 PH starting up the second pitch to work the aid section. Pretty stout for 5.8 C0.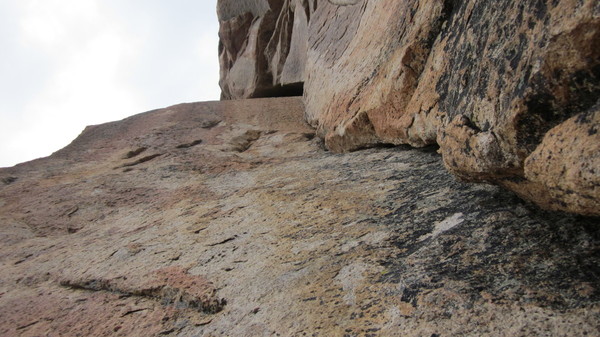 Looking up at the 5.10- crux pitch. Not sure which was harder this one or the third pitch.
In the end I took about 6 or 7 whippers and fell on every pitch I climbed on this route. It was freaking awesome.
We finished the book around 2:30 and decided we might as well get a jump on the ride home. We headed down to transfer camp to catch the 7:00 PM boat and made it there around 6:30. A nice family out wakeboarding offered us a ride back to the lodge but we said no were catching the boat. Unfortunatly for us we had never transferd over to Mt. time and it was actually 7:30 PM when we got to the dock. Alas no boat that night. But left early Thursday morning and were back in PDX by 7:00ish ready fro the next adventure...
Great trip with a great partner.
BTW there is no good climbing in Idaho.
Gear Notes:
Pick a route and get the beta.
Approach Notes:
Easy main trail and farily easy climbers trail up to a plethora of sweet camping spots by the lake.