Climb:
Jack Mountain-South Face
Date of Climb:
9/26/2004
Trip Report:
On Friday the 24th the forecast for the last weekend in September suddenly changed. Instead of increasingly deteriorating conditions, high pressure was now forecast to continue with thick fog in the lowlands and a freezing level at 13K. And that means nothing but clear skies above. Throw in a nearly full moon and I had to make a break back to the south face of Jack Mountain. On August 29th, climbing partner Mike and I made an attempt at it but lingering crappy weather stopped us on the ridge above Jerry Lakes. We talked to two other parties who were heading out without making the climb either and everybody was wondering what the hell happened to the fair weather that was forecast.
Since I couldn't get any positive responses for a last-minute climbing partner I went solo. I gathered my gear together Saturday morning and headed out. Three hours later I was at the Highway 20 milepost-141 trailhead and 5 leisurely hours later I was setting up camp at Jerry Lakes. Nobody on the trail except for a few unlucky early buck season hunters on their way out. Not much in the way of critters either, which made it seem even more eerily quiet and remote – very nice. Fall colors are full-on and though the Tamaracks around the lakes were yellow it didn't frost overnight. It was calm and relatively warm now, but over a foot of snow had fallen in the area since my last visit. All that snow had melted out except on cliffs above 8K and on the glaciers, which made getting across a short section of the Jerry Glacier remarkably easy.
On Sunday morning it took about 2 hours to make the cross-country trek from Jerry Lakes to the base of the climb at the south face of Jack. For all the ups and downs and side hilling I found it fairly easy going. There is no beaten path to the top but there's really only one convenient area to start up since steeper cliffs loom on either side. The south face is a series of steep gullies with ramps, ledges, and stepped-out rock face - not a big deal but a little route finding is in order here and there. The first section, getting onto the climb, is the most interesting since it starts out fairly steep and you just go for it. You may find yourself faced with a difficult stretch, but you would be hard pressed to make this a class 5 route – just look around for an easier way. You ramp a little, climb a little, then ramp some more. Basic and fairly easy moves all the way on great rock, and soon enough it moderates. There isn't really any required route up the face – its all good.
Following 2.5 hours of nothing but rock and snow I was on the 9,066' summit – about 4.5 hours from camp at Jerry Lakes. So, exactly when did this become a 9K plus climb – older maps show it lower in elevation. I ran into a fair amount of fresh soft snow above 8.5K, but it was melting fast and most of it would probably be gone before long. When I got about level with the base of the summit pyramid I began to traverse across towards it to the left – I didn't go up to the ridge crest. I looked for the most convenient way over to and under the bottom of the block, and as soon as I turned that corner I found myself in the final gully, on the west side of the summit, leading to the summit ridge - very straightforward. There was plenty of soft snow piled up in the narrow, steep gully, which made for very easy kick stepping up to the summit ridge. Snow on the north side of the ridge was frozen solid but easy to avoid on the final scramble to the top. Classic climb with the best views anywhere - temps in the 70's, no wind, and no clouds.
I finally left the summit at noon and got back to the trailhead at 8pm with only a few short breaks along the way. That last hour was dark but with the moon and headlamp I had no problems – not even with the chilly wade across canyon creek. Jack is a great all-around challenge and I can understand why climbers get turned around, for one reason or another. The last entry in the summit register was August 19th - 10 days before our previous attempt. Glad that I hit it right this time around – and it's still good to go.
View south from the summit of Jack looking back at Crater Mtn. and Jerry Glacier, showing route dropping down past Jerry Lakes (not all visible) and then up and over the ridge above (north of) Jerry Lakes: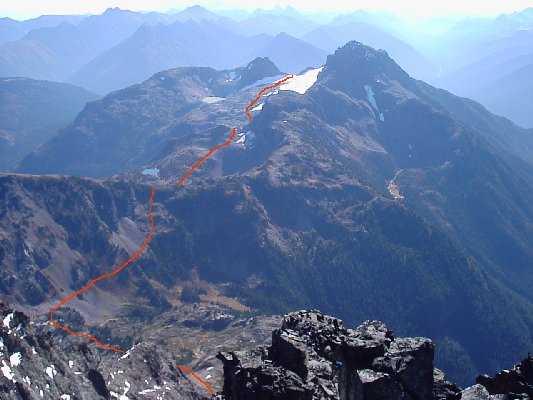 Basic route looking up towards the summit of Jack as you approach the base of the climb: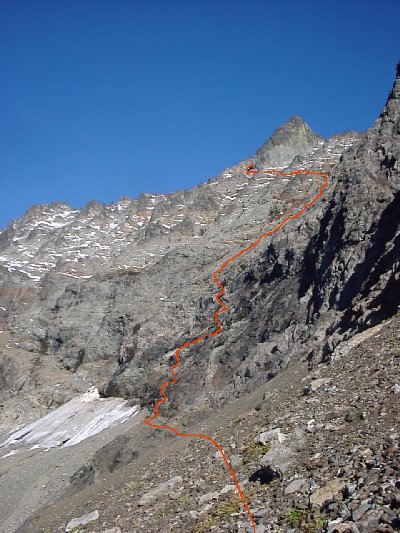 View from the ridge above (north of) Jerry Lakes showing the final approach: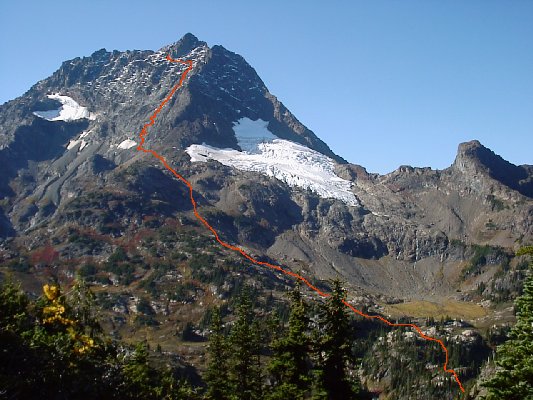 Gear Notes:
Boots & hardhad