Trip:
mount shuksan - sulphide to southeast ridge
Date:
8/11/2013
Trip Report:
A quick trip report on my 3rd accent of the Shuk.
A little background first. 2 years ago a couple friends, A and J got turned back on the route. They were bummed. Last year J and his special lady friend M got turned back on the route. J was really bummed.. So this year I was damn sure I was gunna get the three of them to the summit once and for all. I'd climbed the southeast ridge twice last year. once with partner, once solo. i love this route.
Weekend started out gravy enough, mild weather came in Friday night, little bit of needed rain for us ducks in the PNW. checked the weather forecast one last time... 30% chance of Thunderstorms. 30%? phffft, going!
Friday morning arrival to the parking lot, bunch of cars. figures... start the march.
20 minutes in we ran into a large 12 person guided group coming down. they looked like drowned rats. said they summited the day before, bivied and got soaked. carrying on.
made the tree line in what felt like record time. the new trail through the woods has been beat in pretty damn good, easy to follow. snacked on bugs and flys the whole way. plentiful, good protein.
lower camp was empty and the crew still had juice in the legs, so we pressed on. came upon a duo of tents at the first flat, and kept cruzin. got up to a small protected flat with running water and called it home. dried out on the rocks. alarm set for 5am.
12am. natures paparazzi flashes and the ground shakes. its gonna be a wet night.
5am. pouring. snooze button.
6am. pouring. snooze button.
7am. drizzle. take a piss. brekky. "lets get this show on the road!"
cruise up the sulphide un roped quickly and assess the situation. some good break up, gappers a plenty, heavy sagging bridges. get the string out.
easy snaking through the cracks, make the ridge, dump the packs, rack up, and off i go.
I've never lead rock with three follows before so i had to get creative. I had J bring another rope along for this, and with the use of a Ropeman rope grab, i figured something out.
I would lead the pitch, fix the lead line to the anchor when i made it, have my Belayer keep tension on the line below, have J clip the Ropeman to the lead line and climb up while tagging the other line. He'd anchor in, then we'd belay both the gals up. It worked. slow, but it worked. (note: this whole climb can be simuled, they just didnít feel comfortable doing so.)
made the summit, got some photos and promptly saw the black death clouds skirting around from the east. to the south minor, high clouds had begun to build. time to boogie.
6 raps down the gulley, with one close call from a dislodged rock while pulling the rope. made it down to the snow field, grabbed our sh!t, roped up, and out.
mid way through the gappers it started to sprinkle. shells on, except for me, left mine at camp. dumb move. 10 minutes later we got our first lightning.
pouring now, hustling to get to lower ground and out of the crevasse area so we can un rope. dodged 4 big strikes while moving through the crevasses and finally made it to a relatively safe spot. we got the rope off us and it was time to move. by this time the lightning strikes were about one every 3 minutes. i was getting soaked without my shell on so i said im going to run and we'll meet up at the camp.
i was about 1/2 mile out in front when the whole place got socked in. white out. moist air. sideways blue lightning.
i had to stop and reevaluate.
the ice axe on my back was buzzing, glowing. i could feel the electric charge flowing though wet clothes. Hair was wet, standing on end.
dumped my pack and trekking pole and worked back up the hill to get sight of my partners. 400 yards, found J. 30 yards behind him, was M. "hunker down you guys".
We waited a few minutes, no A....
"im going up".
300 yards back i found A. off trail dragging her pack. scared sh!tless.
"give me your pack, stay a bit back, follow my path."
her axe was buzzing so loudly you could hear it over the thunder that was cracking directly overhead. it was arching through something else metal within the top pocket of her pack.
we got back to the others. by this time the lightning was every 20 seconds, the thunder was immediate.
lightning striking within ten feet of our location would send waves of electric throbs through our soaked bodies. axes were tossed. poles were tossed. heads were down. "yer gonna die!" scared.
this lasted 20 minutes before the cloud moved over us.
visibility improved once the cloud lifted, but the lightning assault continued. fear made us move.
"keep spread out, heads down, and F#@cking move!"
i grabbed my pack, tossed A's on top of mine, and boogied. we were mobile lightning rods, but we were determined to get the hell out.
we made it down to the tents in about 45 minutes. camp was destroyed. we layed low to the ground while we stuffed it all in packs anyway that it could fit. lightning struck the rock ridge 30 feet up above. the taste of electricity soured our mouths. the ground shaking thunder was instantanious.
"lets get out of here"
we made the safety of the tree line by 8pm, with only a few more close call strikes on nearby ridge tops.
soaked, hungry, tired.
headlamps on. mosquitoes out. into the trees. we made it back to the cars around 10:30 pm. glad to be out of there.
j and i assessing the incoming weather

the team coming up the ridge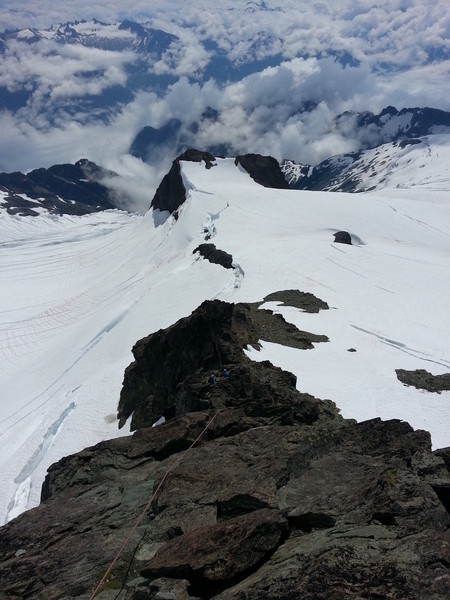 A taking in the beauty the night before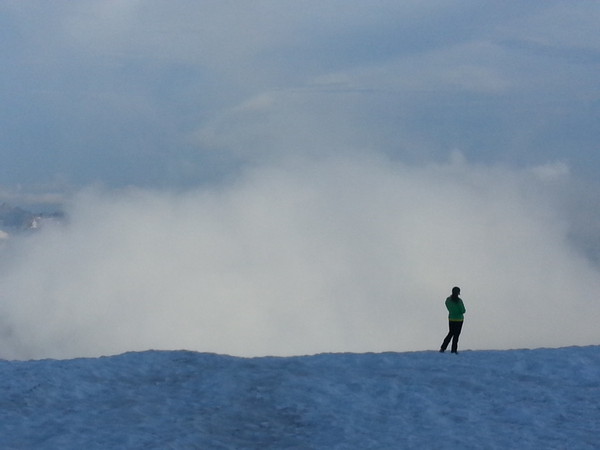 J praying at church the night before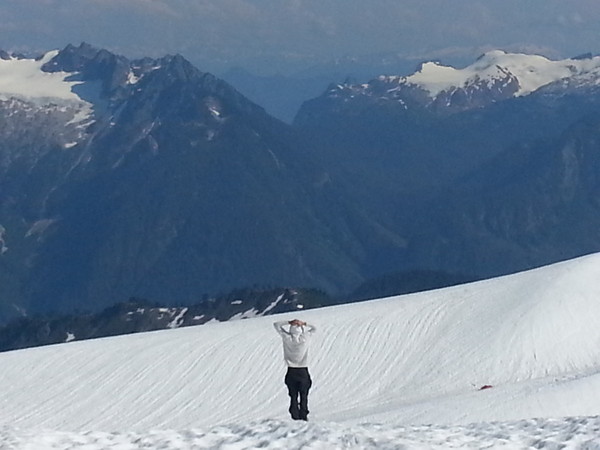 me heading up pitch 4?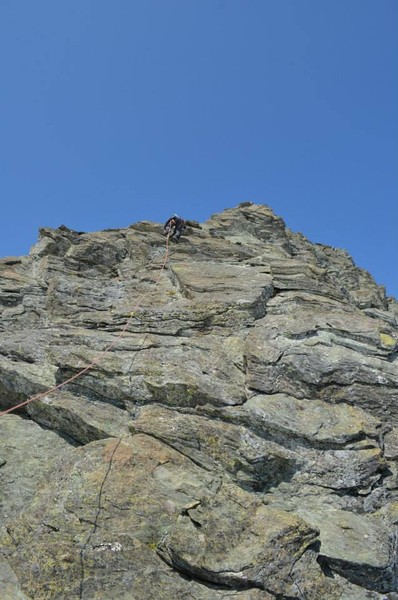 me on the approach, damn the weather was nice then!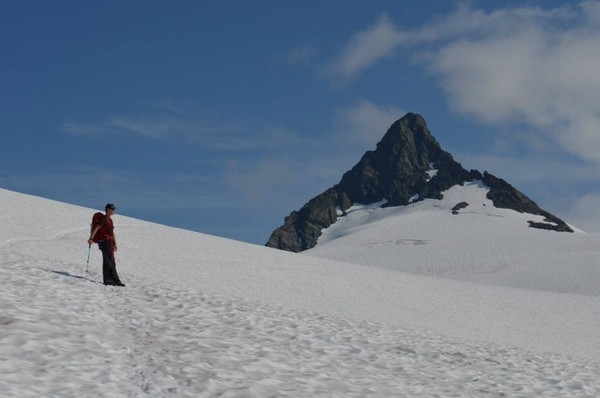 summit photo with weather coming in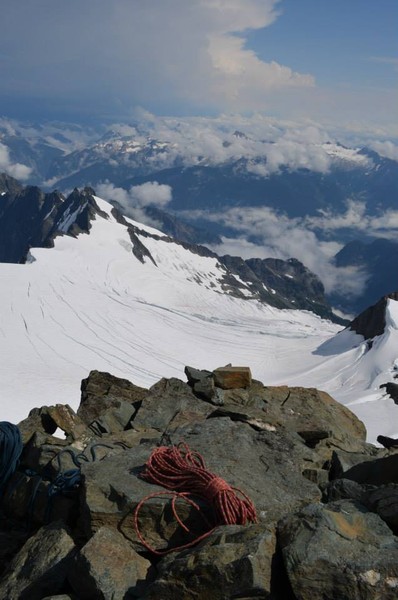 me setting up the first rap out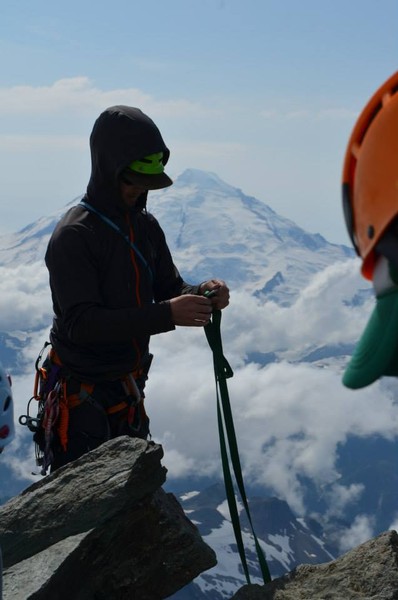 sorry, no photos were taken during the lightning, we were a little preoccupied.
Gear Notes:
small set of nuts, placed only two.
Approach Notes:
trail through the trees is nice now.