Trip:
Index - The Waterway F.F.A. 5.11D
Date:
8/5/2010
Trip Report:
Earlier this week I hiked up to the Upper wall to go check out Good Girls Like Bad Boys but upon reaching the base with my friend Sean we got distracted by the possibility of freeing The Waterway. We weren't prepared to go ground up so we hiked back the the car grabbed some static ropes and then hiked back to the top of the Upper wall and rapped it.
We fixed 3 60m ropes to the ground and then top roped our way back to the top. The climbing was cleaner, better and easier than expected. The only pitch we had problems on was the first but we figured it would go fairly easily.
After borrowing some cleaning supplies we headed up the next day to give the thing a scrub and prep it for the lead. Unfortunately thunderstorms and rain chased us off without being able to clean that much of it.
We figured it was clean enough though and we decided to head on up there for the redpoint yesterday. Sean started up the first pitch around 6pm but got shut down on his first try due to some dirty footholds and hard to place pro. He scrubbed it a little and figured out the key piece of protection and then fired it next try. I followed in a less than secure manner, barely sticking the crux move. We figure around 5.11D. Feeling pumped and dazed from the lower pitch I let Sean lead the next pitch as well.
The second pitch starts off face climbing on good holds and then clips a bolt and moves down and left to good holds and a 5.10 mantle. This is followed by easy liebacking to a small roof that its passed on it left side via good side pulls. Kinda pumpy here. Opposing sidepulls and small feet make up the crux sequence which then leads to easier secure climbing and a nice belay spot. Sean dispatched of this pitch no problem. Great pitch.
I finally felt recovered and took the 3rd pitch which follows an easy hollow flake to small fingers/stemming/liebacking in a corner. Double of small cams (purple tcu) is nice here. It takes good pro but it felt hard to place. Underneath some thin hanging flakes I stepped left using a cool undercling pocket to another undercling flake. I found the move left to be reachy. 50ft of easy (5.8) climbing up amazing rock leads to a couple moderate 5.10 lieback moves. I had already used the crucial stopper that protects the last 5.10 which forced a 10ft run-out or so. I think you need a #5 or #6 BD stopper for the last move. The belay is on a sloping ramp.
Sean took over here and lead off to the right traversing on easy terrain (5.8) with poor gear. He moved quickly up the chimney choosing to run it out for close to 80ft. I think there was available pro but it was almost dark and I wasn't looking for it. After the chimney Sean moved left to a bolted arete to avoid the mungy 4th class gully. Currently the bolted arete is part of a route in progress, it felt around 5.10+ or so. It was to dark to see my feet so maybe it is easier.
We left our fixed lines in place so we/I could put another day of scrubbing in to clean it up for future ascents. Overall we found the climbing to be quite amazing. The route follows natural features and perfect rock. We thought it was classic and hopefully will see some traffic in the future.
Not sure if it can be rapped with one rope but it would be easy to walk to the top and rap Town Crier or Green Drag-on with a single 60m.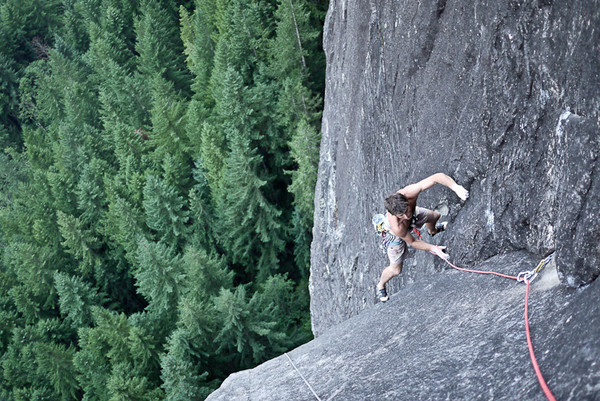 Sean following pitch 3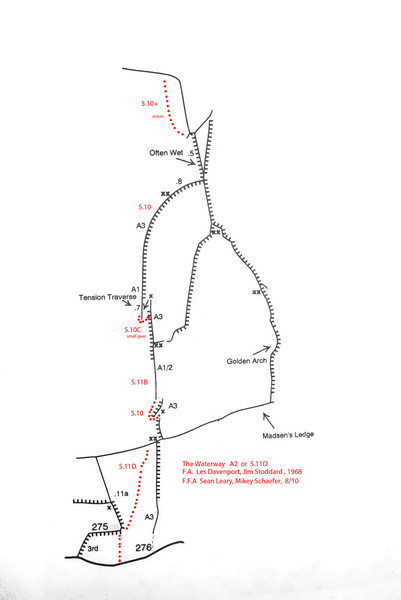 Link to full size topo
Gear Notes:
single grey TCU
Doubles of Purple TCU to #1 camalot
single #2 camalot
Nuts.