Trip:
Lower Doublet - Line of Constant Sorrow
Date:
7/1/2017
Trip Report:
It can sometimes be difficult to find beta for climbs in Montana, partially due to lack of ascents and partially due to a somewhat closemouthed ethic. I recently learned of the climbing around East Rosebud Lake in the Beartooth Mountains, host to a dizzying array of stone. The area holds everything from roadside towers to steep alpine walls, all with relatively easy access by Montana standards. After climbing the standard route on Tower of Innocence last weekend, a fun 8 pitch route only a 30-minute hike from the car, I was stoked to get on some of the bigger climbs in the area. The Doublets may be the most climbed walls in the area, or at least they have the most information available. Excellent beta can be found here:
Beartooth Climbs
and here:
Line of Constant Sorrow
We chose to climb the Lower Doublet via the Line of Constant Sorrow (1,500', 12 pitches, V 5.12 C1), a route put up by Bechdel-Cavanaugh-Goodhart in 2013. The first ascensionists graciously added bolts to many of the belay stations, facilitating route finding and allowing the route to be rapped without leaving gear (thanks!).
We left Bozeman around 6am after my partner bailed at 2am then changed his mind again at 5am. After arriving at the East Rosebud Lake trailhead at 8:30, we started hiking up the valley staring at the imposing Giants Foot and Bears Face. The main face of the Giants foot appears overhanging from afar, and it has not yet been climbed. The main face of the Bears Face has only been climbed once, by Andrew McLean and Alex Lowe in 1998. The lack of ascents on these impressive walls adds to the wild aura of this place, and it feels quite remote once you leave the trail.
Looking up the valley towards the Bears Face (large shaded cliff just left of center) and the Giants foot (difficult to see, but casting a shadow on the Bears Face).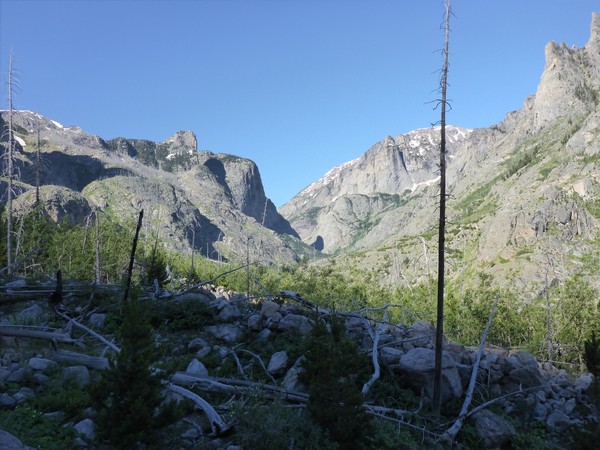 We left the trail after reaching the first main creek full of debris and began hiking towards the Doublets. From here you get a great view of the walls which only gets better as you hike up. We stayed as close to the creek as possible for as long as we could, then began hiking up a steep, burned area. Apparently you can also approach by hiking up Snow Creek, but I don't know which way is best. We reached the base of the climb after about two hours of hiking.
View of the Doublets just after leaving the trail. Lower Doublet has the pointed peak in the middle of the picture, the Upper Doublet is immediately to the right. The Line of Constant Sorrow begins near the top of the trees at the base of the cliff.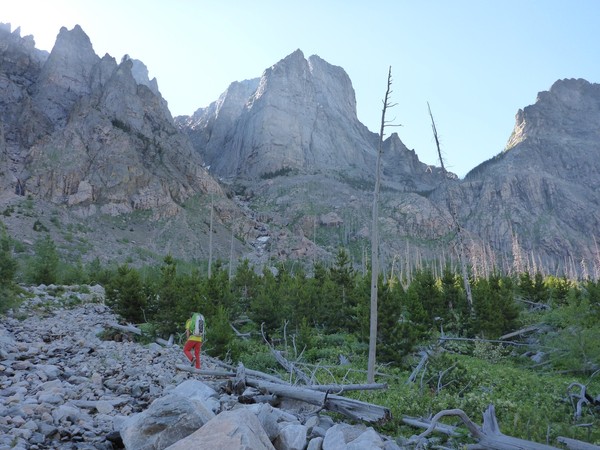 There is an excellent route description in the two links above, so I won't go into too much detail. The first pitch is fun 5.10 climbing, with poor rock in a couple of places but not too bad. This ends at a bolted belay in a black chimney, which turns into an offwidth crack which can be easily bypassed on the right with some fun face climbing (5.10). After reaching a ledge I didn't see any bolts so built a gear anchor, but there is a bolted belay if you go up and right one more step to a smaller (but still large) ledge. Pitch 3 held some fun crack and face climbing, and pitch 4 was a largely unprotected slab. There may have been a couple of 5.9 moves on pitch 4, but mostly it was fun, easy slab climbing, interspersed with frantic searching for gear. I think I placed three pieces in 100 feet, but the hardest move had protection relatively close.
Looking down pitch 4. The slab lies over a steep portion of the wall making for great exposure.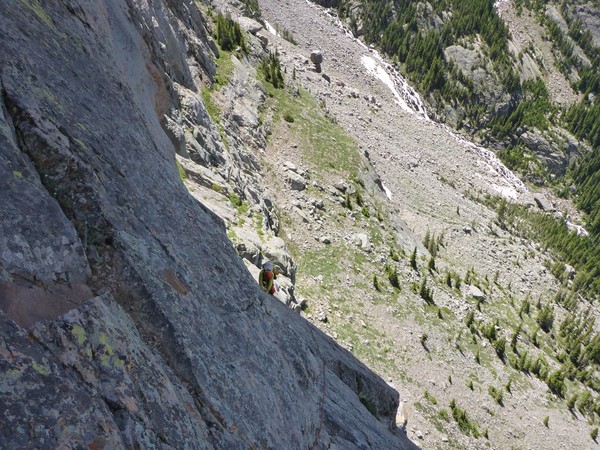 View from top of pitch 4, Snow Lake lies at the head of this valley.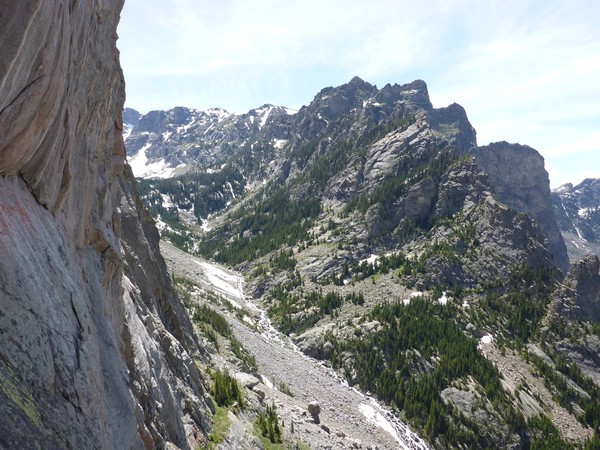 Pitch 5 is where the business begins. It is apparently somewhere close to 12d but has not been freed. We aided up this pitch, along with much of the next 12a pitch.
Beginning of pitch 5. Thin, overhanging corner crack..
Quickly switching to aid mode.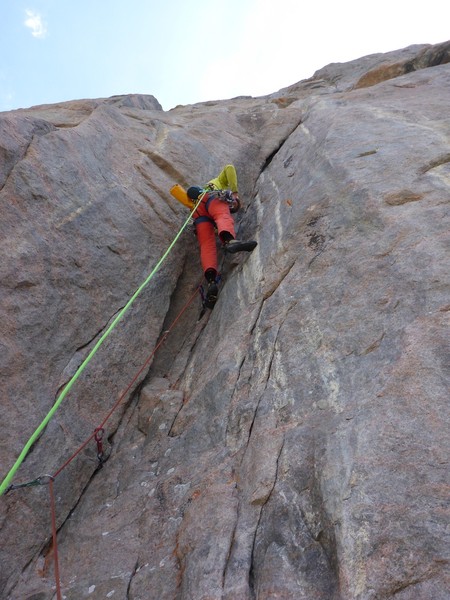 Looking down pitch 6.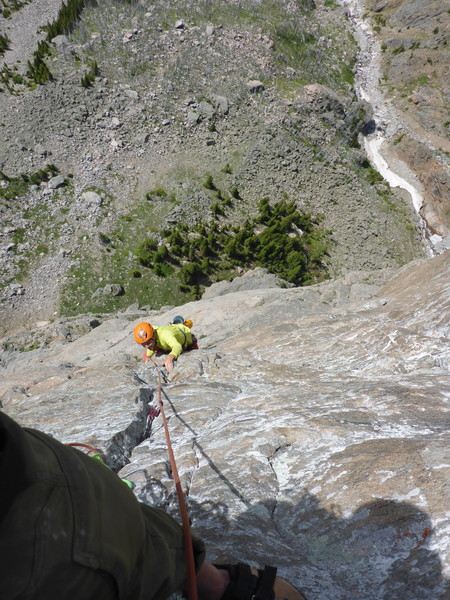 Pitch 7 was a slightly heady 10+, only because the hardest moves included a delicate face traverse with a nasty swing potential; my partner took a tension traverse rather than leading these moves, then aided up the next section a bit because it seemed as if adequately protecting this traverse would create severe rope drag. I'm still not sure if we climbed this pitch correctly, or if there was a better traverse somewhere else.
Looking up pitch 7. My partner is just below the traverse left into the dihedral.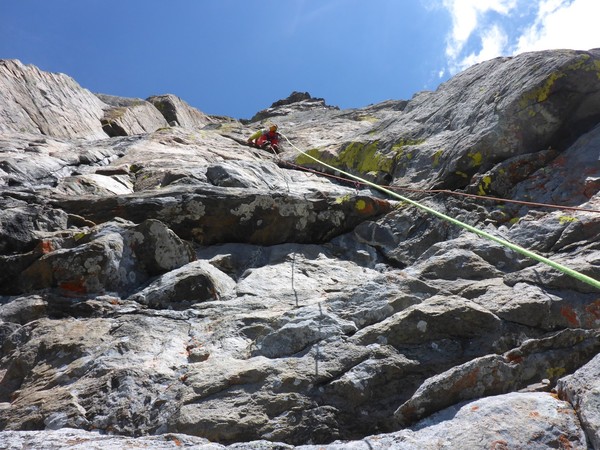 Pitch 8 started with some strenuous crack climbing followed by a short traverse right to a fixed pin; this pitch goes at 11+, but I French freed most of the hard moves turning it into a 10+/11-. After the fixed pin there was some fun thin crack climbing and a slab leading left to a dihedral and ending on a good ledge. We then traversed left to the main prow of the Lower Doublet, where you can climb up via a number of options going at 5.9 or so. Pitch 11 is a fun corner crack, starting out about hand size, increasing to slightly offwidth, and finishing up with excellent fingers. Much of the rock in the corner crack is coated with what appears to be a black lichen/biofilm, which had adequate friction when dry but would be terrible if wet. From there you can scramble up to the summit (fourth class or low fifth).
We reached the top at 8:30 pm, 12 hours after leaving the car. Luckily, the few rain droplets we felt did not materialize into a thunderstorm, although we could see the occasional lightning burst far to the north. Knowing that we would be benighted on the way down, we donned headlamps and began the descent.
Looking towards Rosebud Lake from the summit.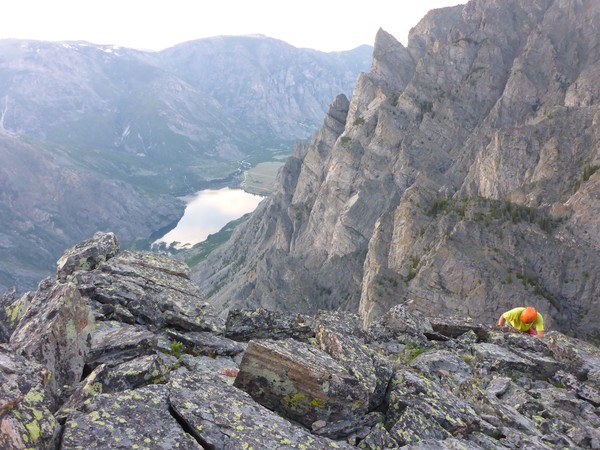 Looking up the Snow Creek valley, the Upper Doublet is the large face on the left. It tops out around 500 feet higher than the Lower Doublet, and it looks like it might be fun to try a traverse from the lower to the upper.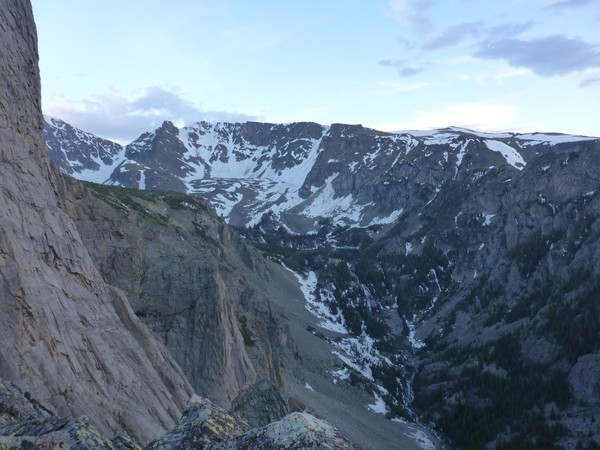 The route can be rapped (I believe it must be, as no walk-offs are apparent), but two 70 meter ropes are recommended; we had one 70 m lead line and a 60 m tag line, and we ran into a few troubles low down. We rapped the route as follows: Pitch 11 to top of pitch 10, a full 60 meters; pitch 10 down to the ledge; traverse over to the top of pitch 8; top of pitch 8 to top of pitch 7; top of pitch 7 to top of pitch 4. From here things get tricky, because pitch 4 was a slabby traverse that seems nearly impossible to safely rap down (as slipping would lead to a huge swing). Instead, we rapped straight down, hoping to reach the large ledge at the top of pitch 2. My partner went down first, and I waited for what seemed an eternity in the dark for the ropes to become unweighted (communication was impossible). As I rapped down, I saw that the ropes did not reach the ledge and my partner was a ways off to the right. I began angling my way over to him, but my feet slipped and as I swung away the rope slipped from his hands, leaving me dangling in space and him stranded on what appeared to be a shitty anchor. Luckily I was able to swing myself close to him and toss him the rope, pulling myself over. We then did a short rap, found the anchor, and did two more quick raps to the ground. I think that if we had two 70 m ropes, these shenanigans could have been avoided.
We reached the ground at around 11:30 pm, exhausted and slightly dehydrated from the long climb. After another two hour hike in the dark we reached the car and considered bivying in the parking lot rather than drive 2.5 hours back to Bozeman. The lack of sleeping bags dissuaded us however, and instead we rallied, making it back home by 4:30 am, nearly 24 hours after we left.
All in all this was a great adventure, and leaves me thirsty for more climbing up there. Don't let the stiff grade on this climb dissuade you, with a bit of extra aiding the route can go at 5.10 C1 or so. If you have the energy though, the hard climbing looked fun and well protected.
Gear: Doubles from tiny to #3, a #4 was also helpful. Two 70 m ropes. Some webbing or cord to replace tat on some of the rappel stations (not all of the bolts have rap rings).
Approximate route and belay stations. All but two belay stations were bolted.