Trip:
Bonanza Peak - Mary Green Glacier
Date:
7/1/2017
Trip Report:
I climb Bonanza over the weekend solo. Here's my trip report.
I woke up at 4 am on Saturday 7/1. I left home at 5 am (eastside of seattle) towards city of Chelan. I had made prior reservations with the Lady of the Lake ferry service for a round trip ticket to the landing of Lucerne, cost for this was $43.75. My boat ride left at 8:30 AM sharp. It took 4.5 hours to get to Lucerne (very slow boat). At this point I got into the Holden Village yellow bus (they carry their patrons from Lucerne to Holden). I did not paid for this in advance. Once I arrived at Holden around 1:30 PM, I had to paid for my bus round trip ticket (cost for this was $15) and I asked about the latest the bus would be departing the following day to Lucerne which happened to be 1:45 PM, this meant that I had less than 24 hours to summit Bonanza and comeback to Holden for my bus ride. Knowing this, off I went for my climb.
Holden Village to Holden Lake:
Well maintained trail with plenty water sources. The beta I read stated it would take 3 hours to cover 5 miles and ~2200 feet gain, but it took me 1h46m to get to the lake. The trail is snow free. There are some lingering snow patches near the lake. The lake is infested with mosquitoes, it's pretty bad. Deet helped but not enough. I definitely recommend bringing bug net.
Holden Lake to Holden Pass:
Terrible. This section starts off with a battle with the alder brush. Pretty mess up bushwack. I managed to avoid the worst of it by staying on the side of the hill to the right of the creek. Even avoiding the worst part did not spare me from my own battle with the alder brush. Not much you can do to avoid this other than bringing a machete and lots of extra time. This section was time consuming due to the bushwack.
Holden Pass to Waterfall ledges:
This section is still snow covered, I put on microspikes, switch over to the ice axe and did a rising traverse to get to the waterfall ledges.
Waterfall ledges to upper Mary Green Glacier:
From beta I had read, I had two choices. One was to climb on the first 'doable' waterfall way before the toe of the glacier OR two climb the waterfall slabs/ledges at the toe of the glacier. Once I was there, the slabs seemed like an ice fall hazard to me so I went up on the first 'doable' waterfall I found. This was very unpleasant as the rock was wet. Once I made it up the waterfall, I encountered more snow and at this point I switched over to crampons as the snow was steep. I continued on a rising traverse until a flat area around 7200-7400 feet. Then I continued further to the Mary Green Glacier.
Mary Green Glacier:
The glacier is in great shape. I stayed away from noticeable concavities and tension zones in the middle of it and worked my way up at the northern aspect of it. I only encountered two snow bridges during this section. The bergschrund between the final scramble and the glacier is still in good shape. There is a significant moat to negotiate while getting into the rock, there was a tiny snow cornice/bridge that allowed me to do it without too much hassle but I doubt this will be there in a week.
Scramble:
Once I was on the rock portion, I took off the crampons and up I went. The scramble as the route description will tell you is indeed very exposed. Mostly class 3 and class 4, but if you're off route you'll be doing class 5. I went a little off route trying to find easier terrain and got myself into trouble so I had to retrace twice due to this. My best advice would be to stay as close as possible to the gullies. The gullies are wet due to melting snow still at the top but just to the right and left of the gullies it is dry and climbable.
Summit:
There is a summit register. Old and rusty metal box. Brand new note pad inside a resealable container. Views are breath taking from up there. I reached at 9:29 PM as per my photo timestamp.
Descend:
Due to the fact that I was on a time clock, I downclimbed in the dark with a headlamp (a first for me). My plan was to get to a safe enough spot to bivy but I didn't find anything suitable while on the rock scramble portion of the route. I went all the way to 7400 feet in 'flat' snow area and decided to call it a day around 12:30 AM 7/2. I slept for 4 hours. I woke up at 4:30 AM and very slowly made my way down the waterfall ledges (I highly recommend a rope even if you're soloing for the rappels, there are several slings through out the route). I didn't have one so I downclimbed the whole thing. Once at the pass, I encountered 3 other parties with the same intention of climbing Bonanza in 3 days. I continued to make my way down. The descend after Holden Pass was uneventful. I finally reached Holden Village 11:26 AM 7/2. My total time Holden to Holden was 21h25m. I ate lunch at the cafeteria ($8) and then waited for my bus that would eventually take me to the ferry back home.
Some pictures and my gpx file follow:
GPX File:
https://www.dropbox.com/s/har94j8mvuvny0o/Bonanza%20Peak.gpx?dl=0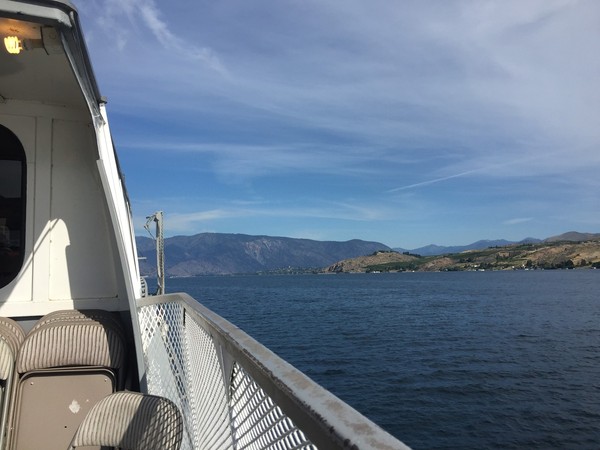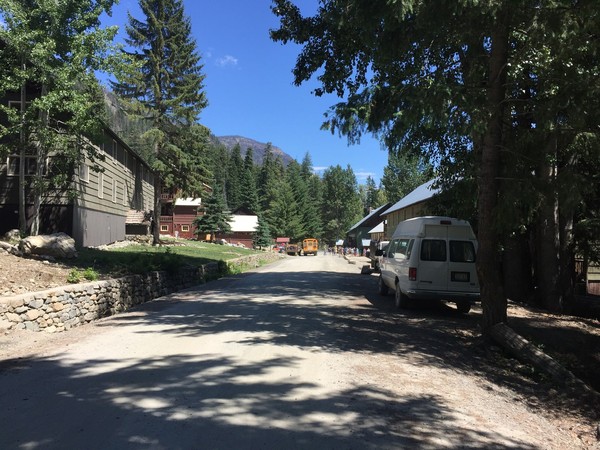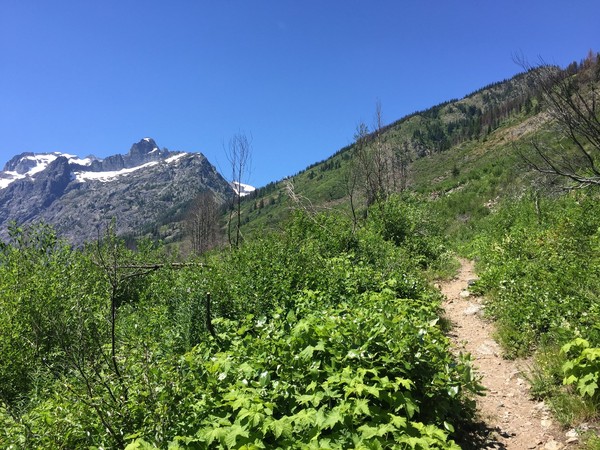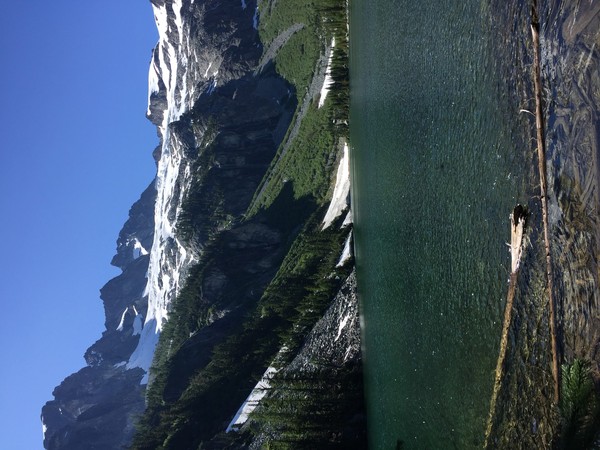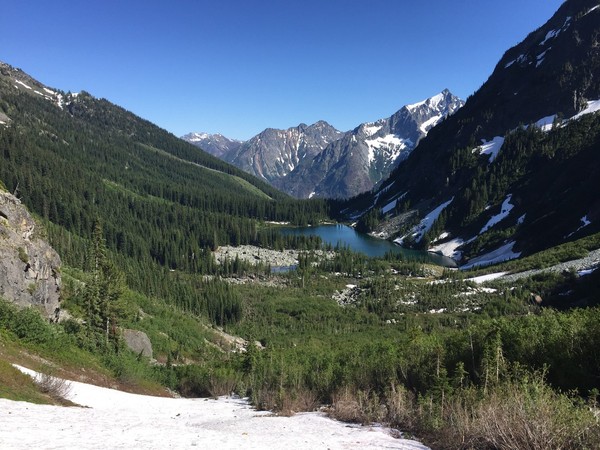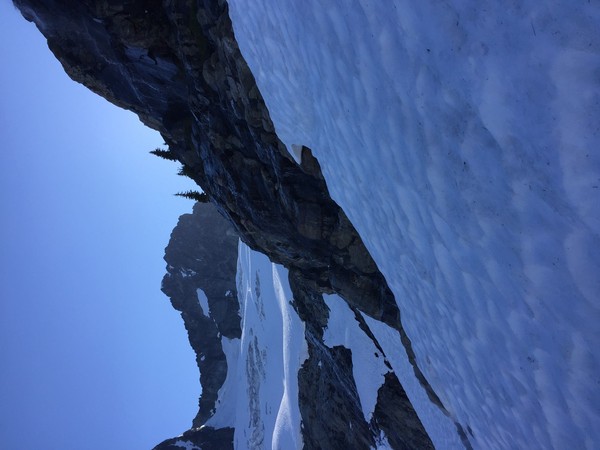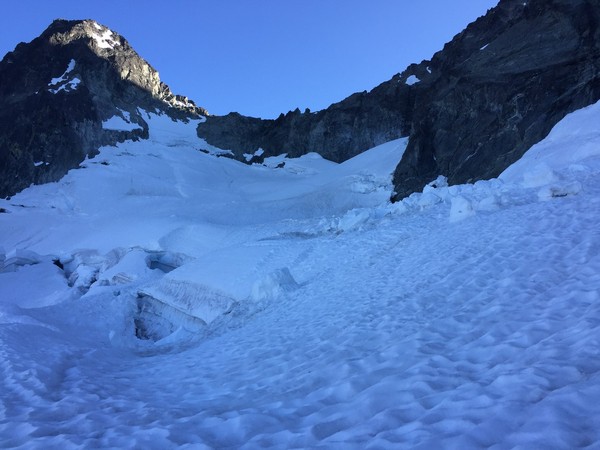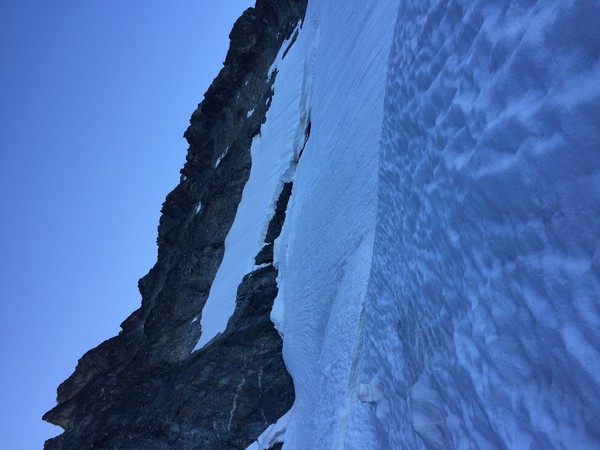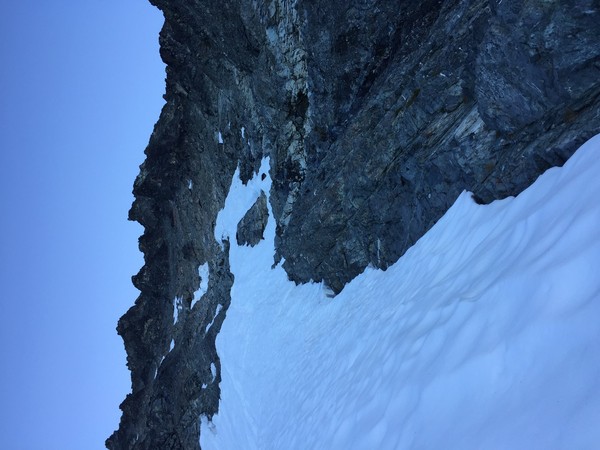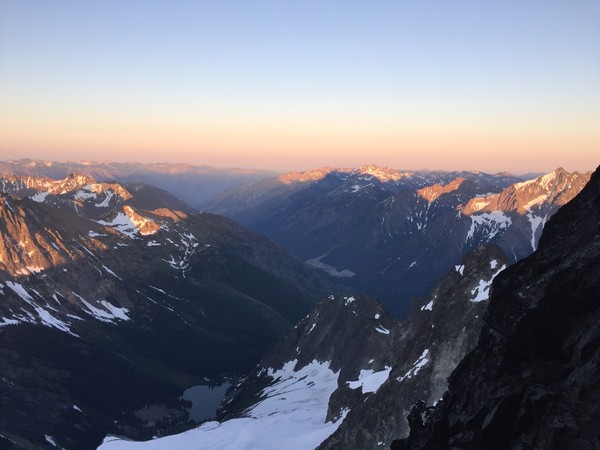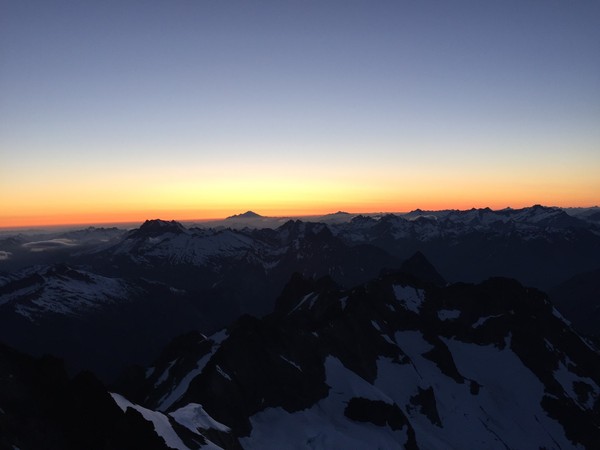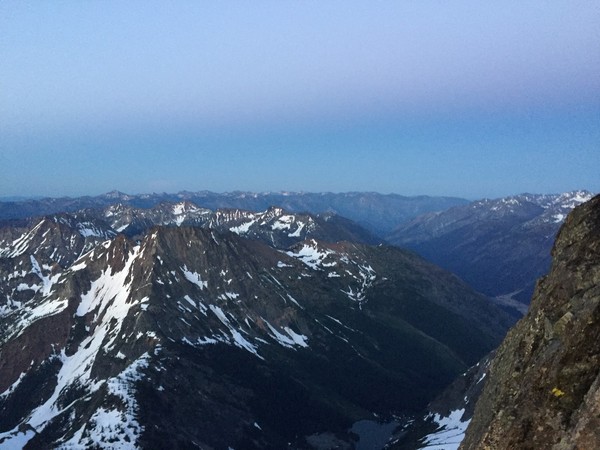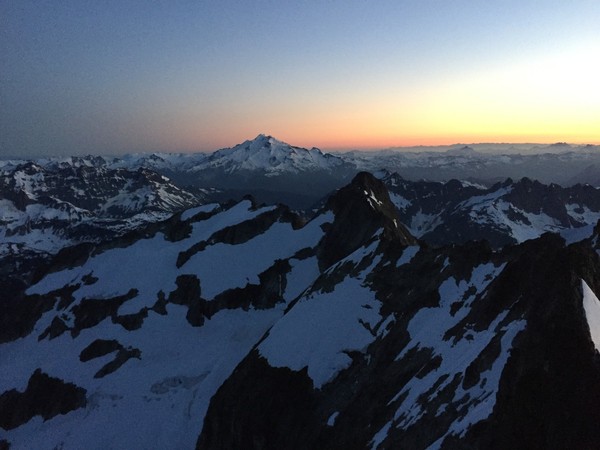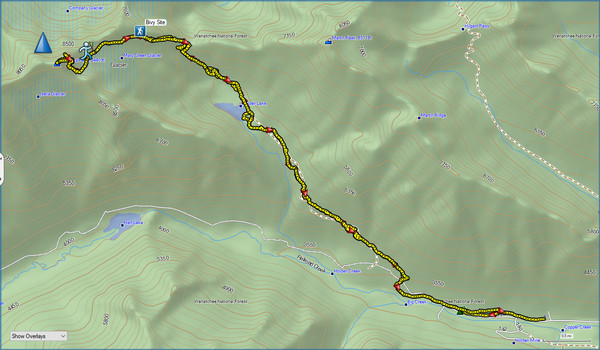 Gear Notes:
Ice Axe, Crampons, Microspikes, Helmet, poles, and overnight gear.
Approach Notes:
The Holden Lake trail is in great shape. Plenty water sources along the trail.