Trip:
Mt. Baker Coleman Headwall Descent -
Date:
7/11/2010
Trip Report:
Wahoo! It's official. I'm 50 TR's old...
Ahh! Springtime in Washington, when ski season truly begins. Corn harvests. Steep, predictable edging. Leather work gloves that smell like sunscreen. Oh wait! It's summer. I was scrambling around for a partner for this weekend. Dan was just coming off his descent of Liberty Ridge, and ever the free-spirited nomad, apparently never listens to his voicemail. Scott McAllister, on the other hand, does return messages. Living in a gated community near Index, (and I'm not talking incarceration, but close), he was leaning towards a tour on Mt. Baker. What to ski???
Jason Hummel posted this TR on his site
and I was sufficiently stoked. Dan and I had tossed around the idea of slaying the direct version down the headwall for a change of pace. So, of course the plan was hatched...
Why is it whenever I tour with Scott, my LDL count doubles? Besides being a ripper split-boarder, a little-known fact about Scott is that he specializes in smoked meats, sometimes subsisting for months on nothing but smoked burgers. Okay, maybe an exaggeration, but this tour he was gracious to bring along some smoked salmon. I picked him up at his Index compound Friday evening. Scott moves quick, and tossed every loose item he owned related to camping and touring into my Exploder, including a laundry basket filled to the rim with a chaos of clothes and gear. I've heard that clutter is a sign of genius, so I wasn't too worried. But I couldn't shake the eerie feeling that we were Sanford and Son rolling north on Hiway 9, the inside of my rig making us look like your next episode of Hoarders.
Arriving on Friday night at the Heliotrope T.H., we ate some of said salmon and promptly hit the sack, vowing an early wake-up time of whenever one of us decided to get up. The parking lot was full and busy, all night, which segueys to my rant...Why, in the dead of night, when I'm sacked out on the ground, do you have to look at me with your 1,000 lumin headlamp while I'm trying to sleep, every time you walk by???
We woke at the crack of 7am. A quick load of laundry later, we were on the trail up to some snow.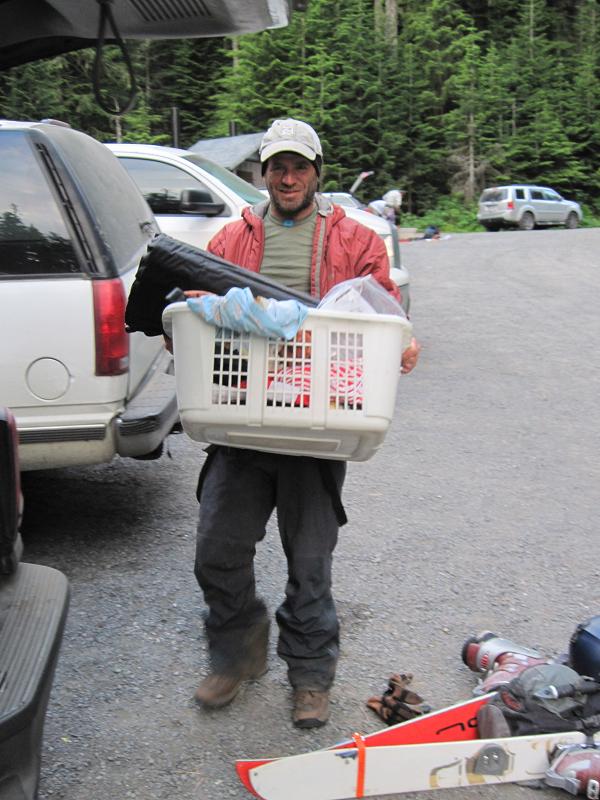 I have taken it upon myself to climb routes before skiing them, but we were way too late to do that with the Coleman Headwall, given the exposure to rockfall and wet slides. It was already blistering out, so we decided to take the cheater way up and at least have a look-see from above. From below, it sure looked to be near impassable with bergschrunds and crevasses and ice.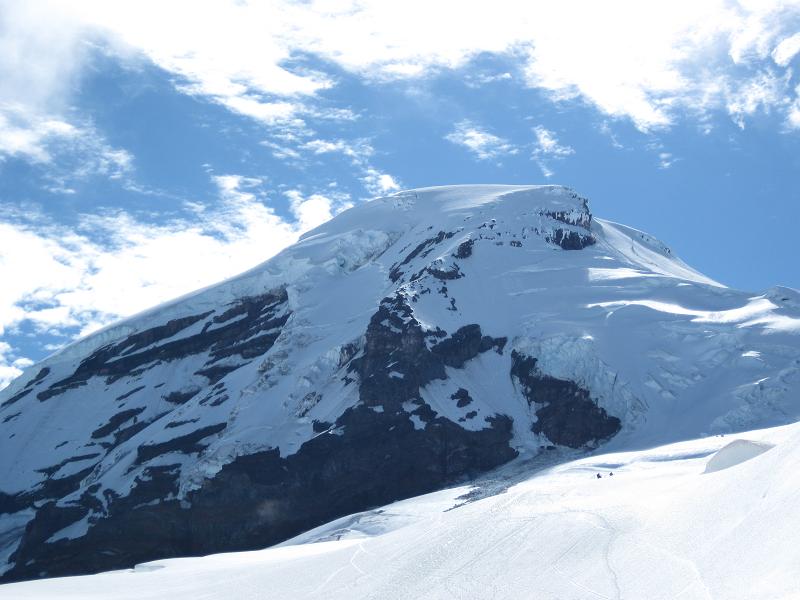 If we squinted and looked at the headwall sideways between our legs, we could indeed see a reasonable passage through the hazards. We summited a few hours later. Scott reclined and feasted on more smoked meat, as I went to tag the true tip of Baker. Being late in the afternoon, 2pm ish, I was alone on top enjoying fine views and windless condishes.
We skied over to the start of the rollover on mushy snow that was not corn.
It kept rolling over, and rolling over until we could see down the length of the route. What we saw wasn't reassuring, either. All I could see were gaping bergschrunds and wet slides that would happily deposit us inside them. And having not climbed the route, we had no idea if any of the 3 or 4 schrunds could be end-run. We detoured from the main headwall, and skied the Roman Nose area (?), and eventually contoured back around to below the Roman Wall, relieved that we were not part of the wet slides we had set off all the way around.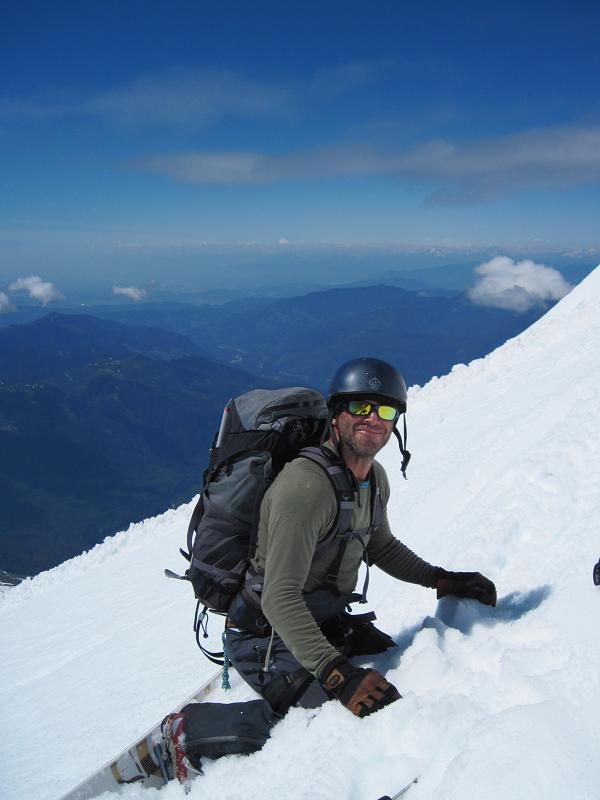 Holy Josh Lewis, this TR is getting too long. So, I'll get to the smoked meat of it...
We ran into Dan Helmstadter at the Graham Store/Bar, and decided to ski the headwall the next day, getting an earlier start. It went off well, with a few hickups in unexpected weather. The route was steep, glorious, amazingly exposed and worth every bit of effort to ski it! Scott rips the steeps on his board, and Dan is, well, Dan as his usual smooth self, who sniffed the line down the headwall around ice and schrund. He even aired it out over the last crack.
Scott working his way up the ridge.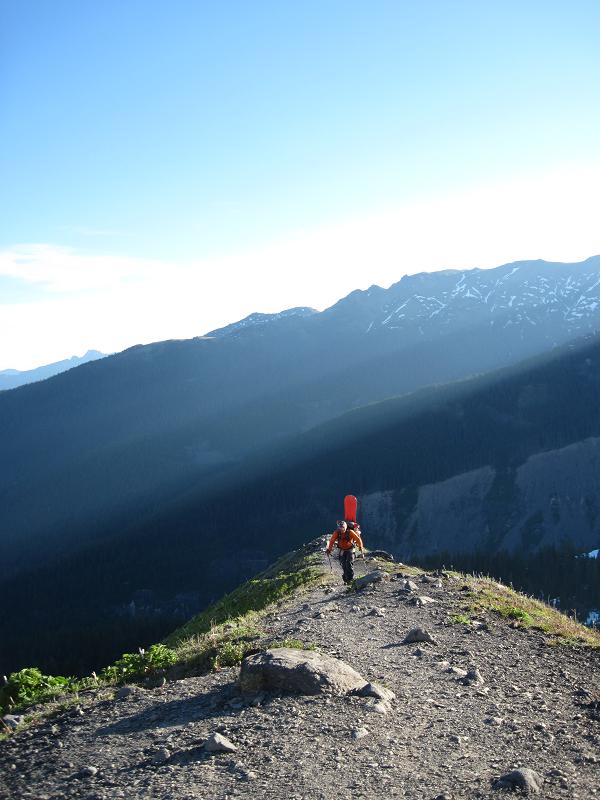 The Scarecrow decided to join us for the descent.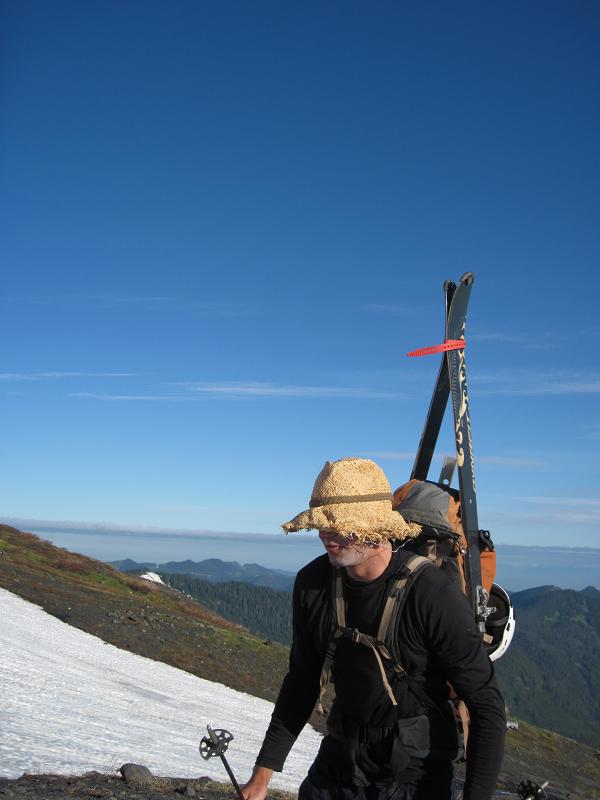 A marine layer moved in...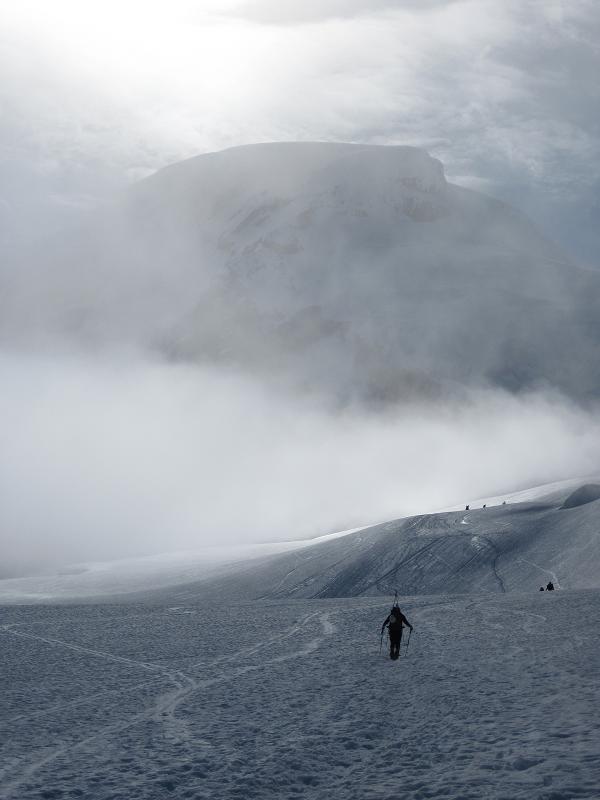 So we waited...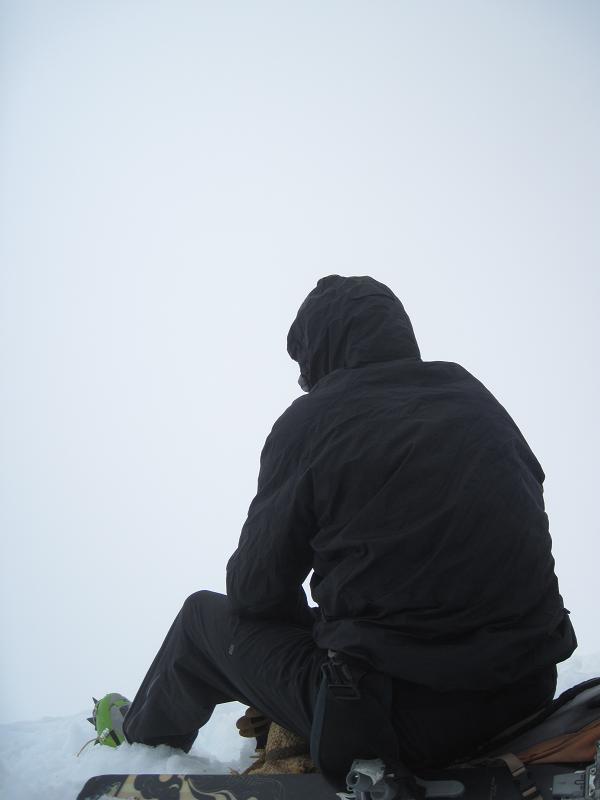 And waited...
And waited some more until it started to look promising, three hours later...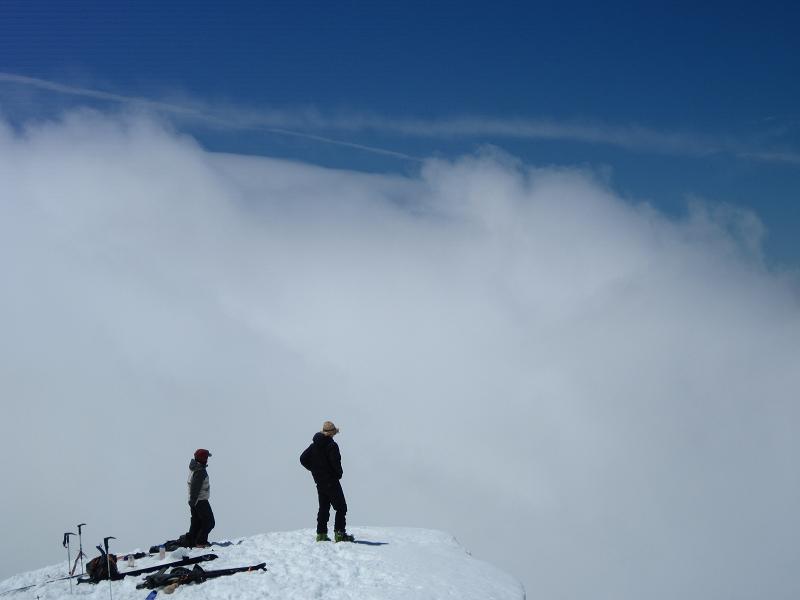 We busted the last 1,000 vertical to the summit, and quickly transitioned into downhill mode. Dan leading the way...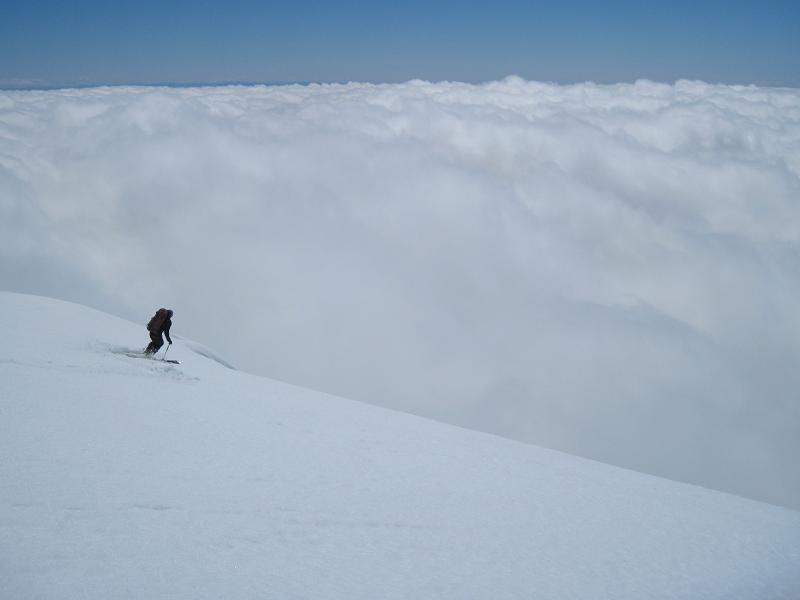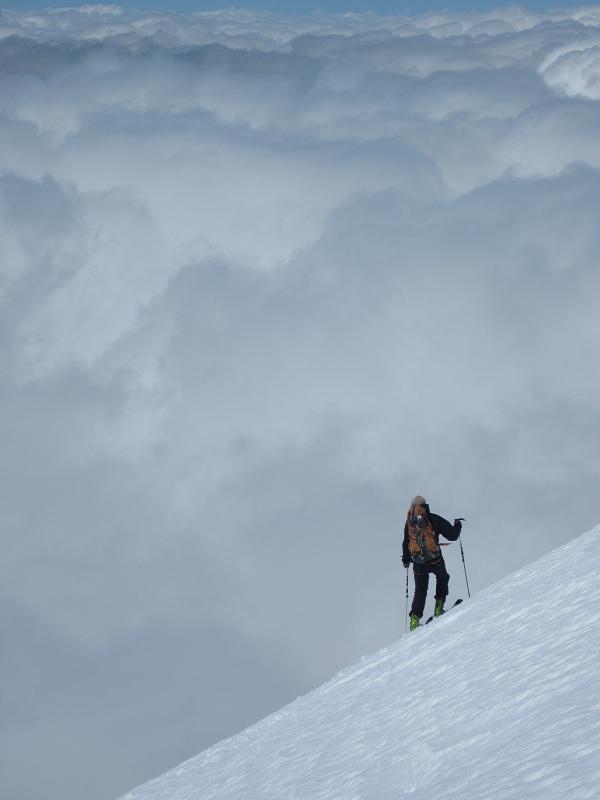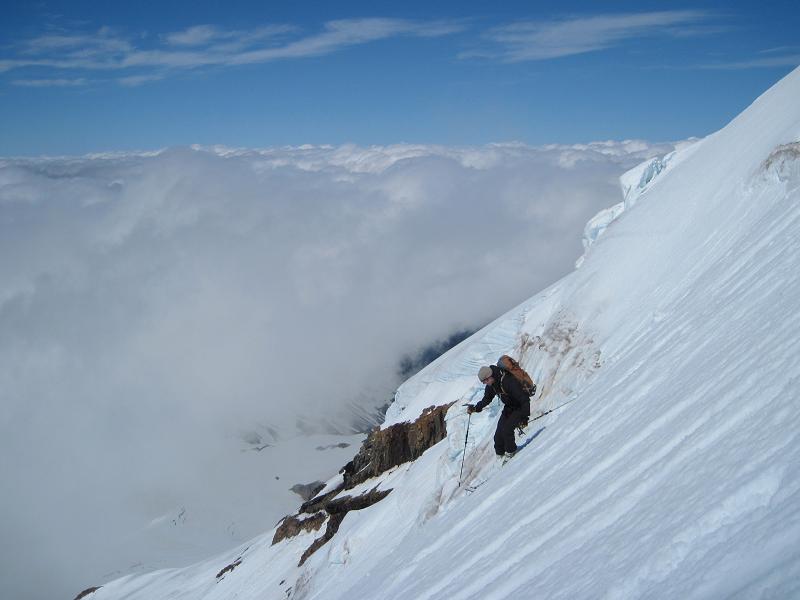 Dan H. in slay mode.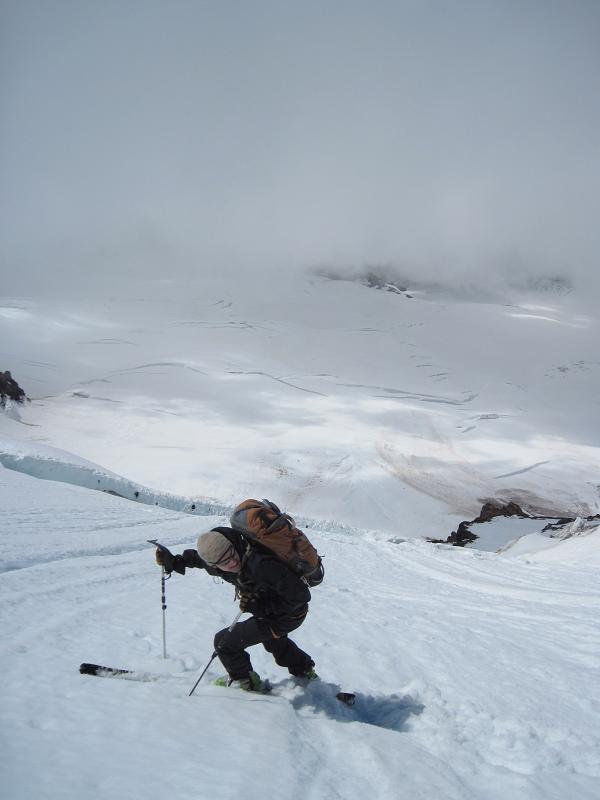 The route could be looked at as consisting of three pitches, with the upper headwall, the middle portion with an ice constriction, and the last 1/3 of long traversing over the final bergschrund, which yielded fantastic fall-line skiing!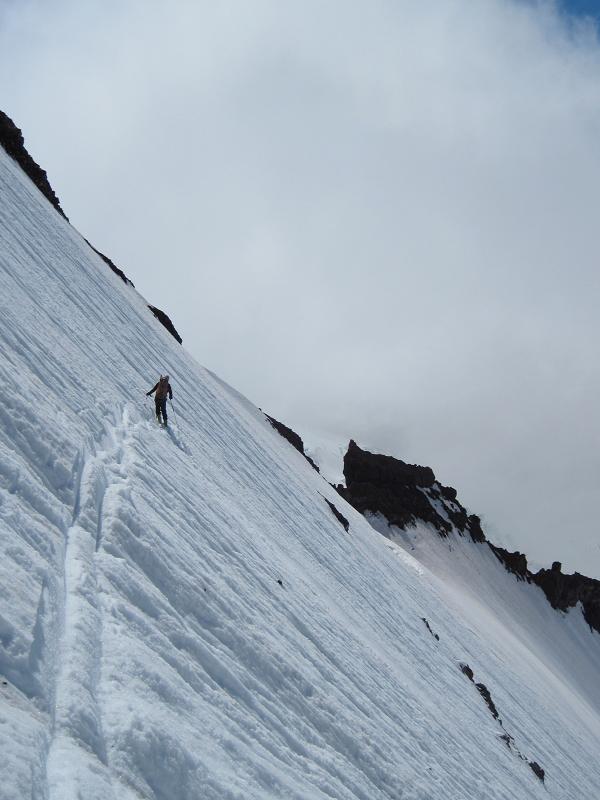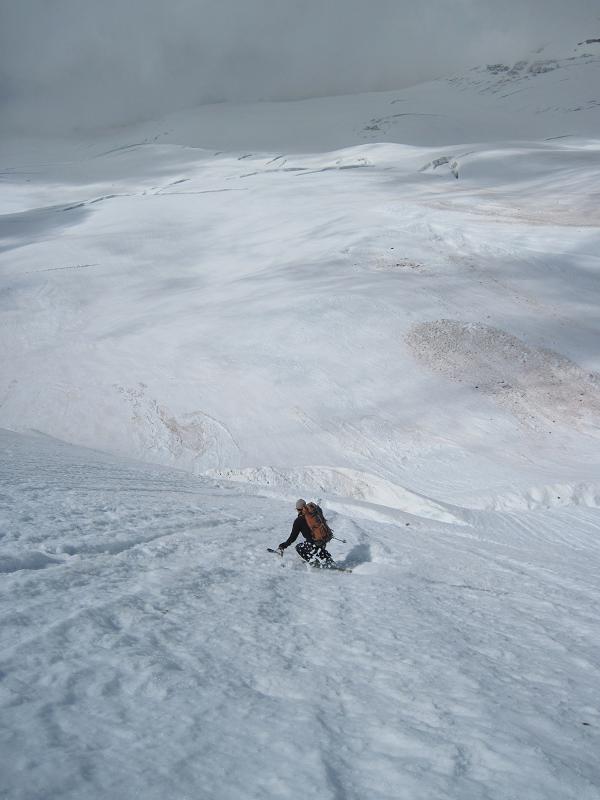 And as you can tell, big turns on a big headwall equal big smiles.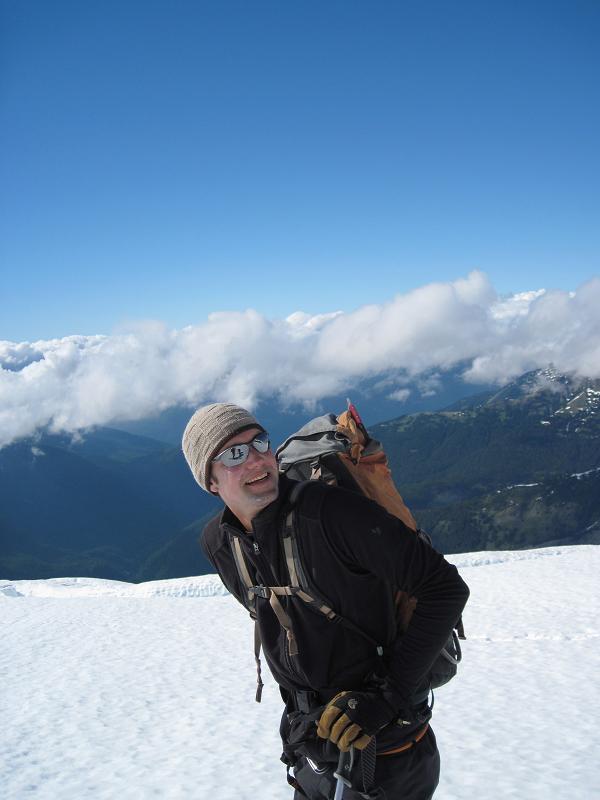 All the way back to the car...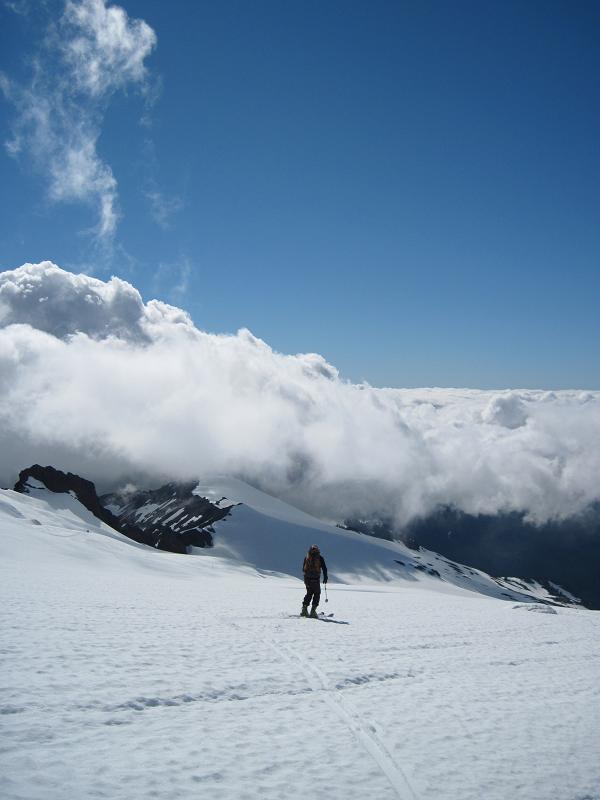 The Route, photo by Dan: