Trip:
Mt. Hood - Pearly Gates, right side
Date:
5/15/2010
Trip Report:
Real quick update on Pearly Gates, right side.
Solid and obvious bootpack all the way up Hogsback and across to the bottom of the gates, with no sign of the 'schrund for now. The bootpack takes you to the "crux," a fairly minor ice bulge about 5 feet tall, with a crazy fin of ice cutting into it from above and to the side. (Watch your head and pack.) This required some solid axe and foot placements, but was never uncomfortable. Above that, more bootpack straight up to the summit ridge. I would guess I saved myself at least 45 minutes from Hogsback by heading straight up through the gates. I looked up into the left gate, but it didn't look to inviting. Very jumbled and kinda steep. After hearing about the ice bulges in the gates, it was actually a little disappointingly easy... The biggest challenge was worrying about the folks behind me following me blindly up, not knowing which route they were after or where they were.
Amazing morning up there, hit the ridge right as the sun came up over the horizon. Didn't carry a good camera, but snapped this iPhone pic of my shadow and halo atop the mountain shadow out above the Old Chute.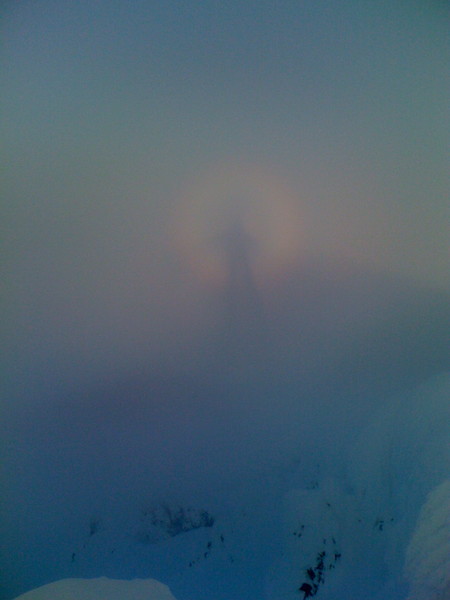 Gear Notes:
One axe. Probably wouldn't have used a second tool even if I'd carried one. Not really any ice to speak of, mostly soft snow with deep ace plants for self belay.
Approach Notes:
Bum a cat ride so you can be the third one to top out and the first one back down. Good snow all the way.