Trip:
Illumination Rock - East Ridge-ish Thingy
Date:
12/13/2016
Trip Report:
Timmy and I opted for a little winter adventure climbing and got all we bargained for! Our original plan had been to try Iron Maiden but the east ridge was too tempting to pass up.
Our route followed the left skyline more or less. You can see me belaying about a third of the way up on a small flat spot.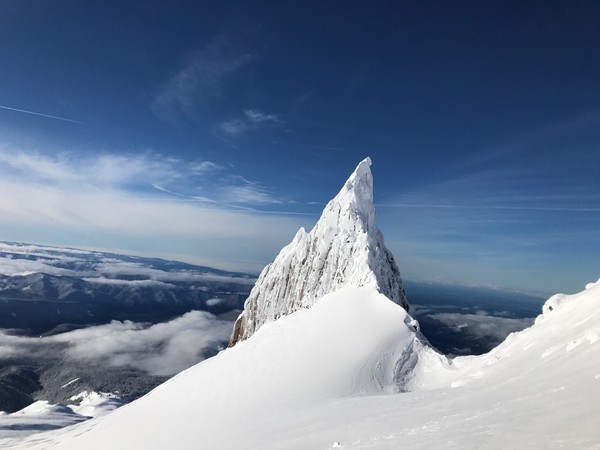 After a leisurely skin up from the lot, we switched to mountain boots and dumped our skis and all but the essentials. I opted for my BD Snagletooth crampons, which proved to be a mistake (more on that later). We also brought every known piece of climbing pro, which proved not to be a mistake (more on that later).
We started just west of the foot of the ridge, inside the south chamber. Timmy led a crumbly rime gully up and onto the ridge top where we built something that was clearly meant to resemble an anchor. Staying just a few feet left of the ridge crest, I set out on the second pitch which involved quite a lot of tunneling through vertical/overhanging rime in choked corners. Without enough ice for screws, I did the gopher dance and dug down to the "rock" in search of placements which proved few and far between. My aluminum horizontal front point caused issues as it wouldn't bite in the brittle water ice under the rime. I had a few feet cut superman moments that made for some cursing and introspection about my life decisions. A KB, one stubby, a specter hammered into a seam, and a pink tricam later, I scummed my way to a ledge and built a bomber rock anchor.
Looking back down the crux chimney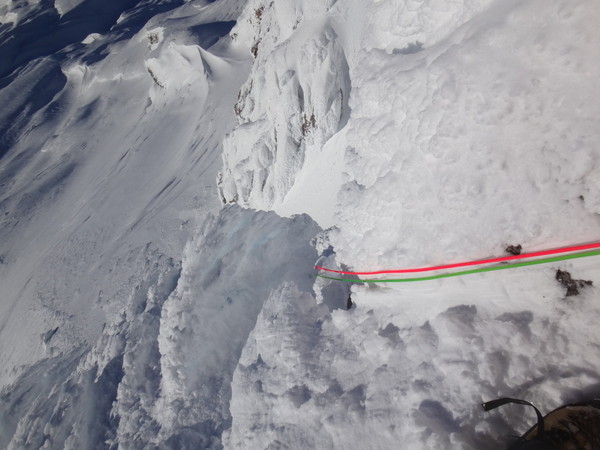 After a good chuckle at the absurdity of our chosen form of recreation, Timmy set off on what became a moderately heinous two pitch top out.
Timmy leaving the belay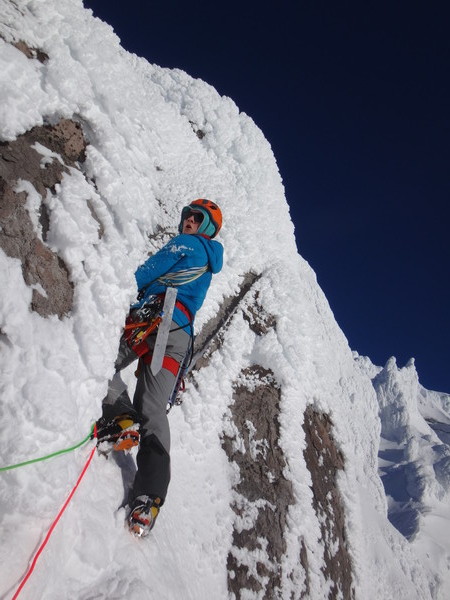 Apparently he meandered onto a large leaning rime cornice which, after thinking better of it, he downclimbed and circumnavigated to the left. This was followed by an unnerving 75 degree rock slab covered in 4 inches of fluff, and a crumbling chimney in which he ran out of rope, triggering a slew of obscenities that I could (fortunately) not hear.
It didn't look bad from below...but it was.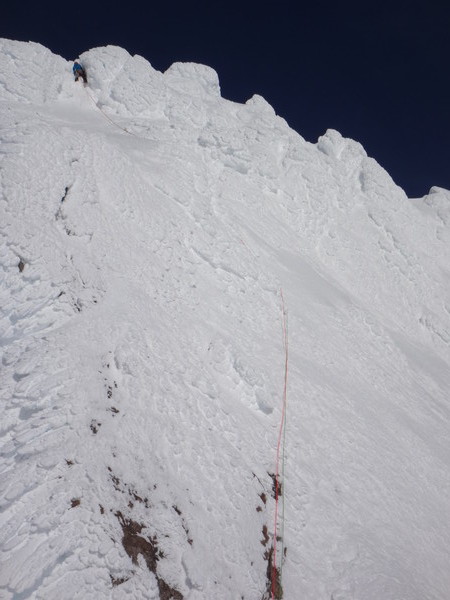 After topping out, we slung a big pile of snow and rapped off the bollard. The second rap was a rock anchor (and I'm not mentioning what we left cause I want it back).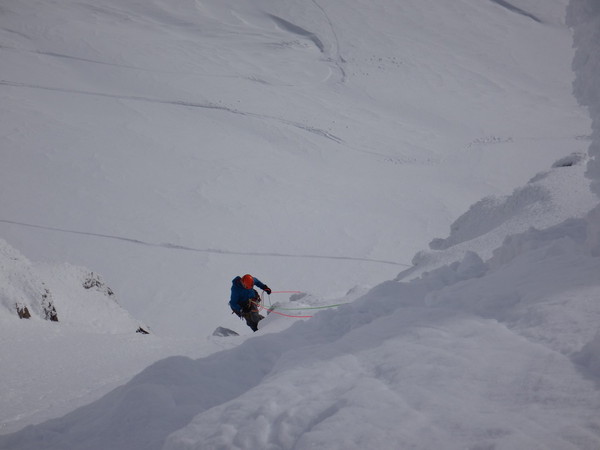 The second rap got us to about 10 ft above the snow slope. Going second, I got to the end, tied off the pull rope to my harness, and let the other slip through the belay device, sending me sailing down into the soft snow and pulling the rope at the same time! I felt so clever
All in all it was a great outing if not a little hairy considering the lack of protectable ice. We did find decent gear but it required a lot of creativity and excavation. Go check it out! It's a gem with easy access and the added benefit of all your friends watching you suffer as they ski deep pow down the south side.
On top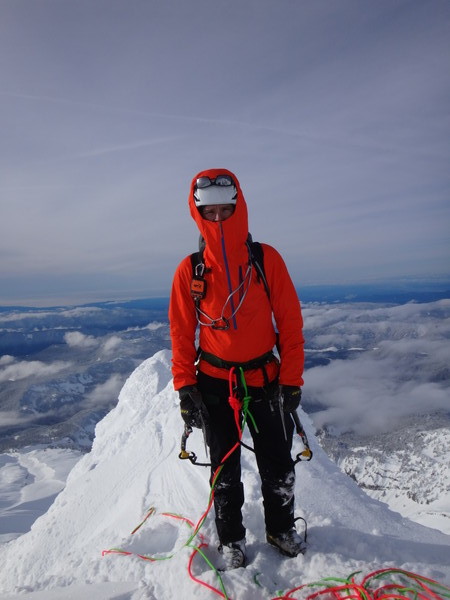 Gear Notes:
6 screws (used 2), stoppers (used several), tri cams (used 2), KB's (used 1), spectre (hell yeah I used it!), hand size mastercams (used 3), chopped pickets (used 2), double 60's. Had we brought the kitchen sink, I'm sure we would have found a marginal placement for it.