Trip:
Mount Stuart - Complete North Ridge
Date:
7/30/2016
Trip Report:
We climbed Stuart via the Complete North ridge, approaching from the South via Ingalls Pass and descending by the Cascadian and over Long's Pass.
Time-relevant beta
The road is no longer blocked off a mile before the Esmeralda Basin trailhead! The washout isn't entirely fixed, but our tiny two-seater Honda Insight was able to make it over the bumps so it should be passable to anyone.
There's some snow remaining on the descent from Goat Pass to the base of the route. It was passable in approach tennies (although I didn't like it much)
The melting glacier means there is water near the base of the route.
There's still snow at the bivy sites at the 8200' notch. We brought a stove but were actually able to fill up on water just from drips from the melting snow.
There's ~20m of relatively steep unavoidable snow near the top of the Cascadian descent. However, there's also a rap anchor, so we just set up a quick arm rappel.
Route
The lower four pitches of hard climbing and the two on the gendarme were very obvious. Other than that, our beta generally was "follow the ridge". Unfortunately, we weren't very good at micro-navigating and kept finding ourselves climbing harder-than-expected, lichen-encrusted rock. Probably the best beta to follow is: if it seems hard and/or has lichen on it, there's probably an easier way. We got better at this on the second day and had a much more enjoyable time.
Timeline
Sat
0430: Leave car
0630: Ingalls Lake (paused for short water stop)
1030: Reach base of route (paused for lunch)
1100: Start climbing
1830: Reach bivy site at notch (including 45min of being passed)
Sun
0600: Start climbing
1130: Reach Gendarme
1530: Summit!
1630: Leave Summit
2000: Reach Ingalls trail
2230: Car
Photos
Photo Credit: Jason Curtis
Google Earth views of our route (GPS track here:
http://peakbagger.com/climber/ascent.aspx?aid=686309
)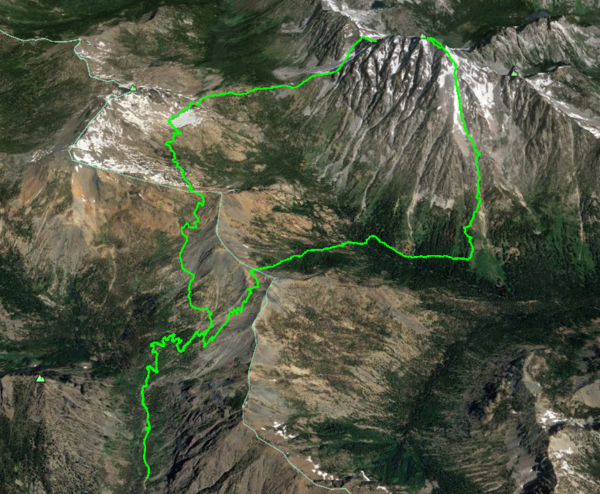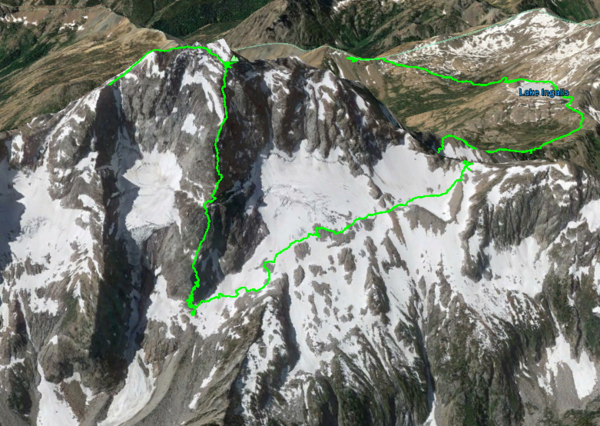 Bags packed in the car the night before: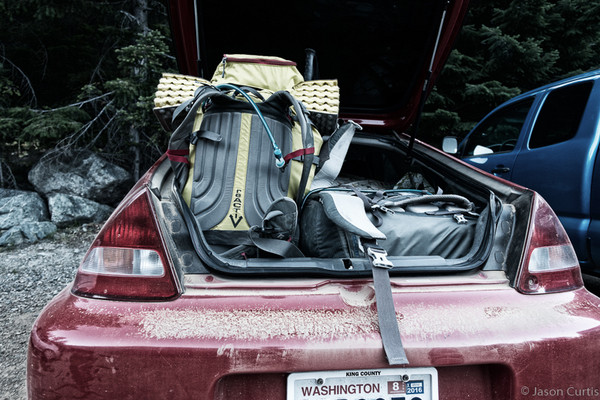 Goats at the North end of Lake Ingalls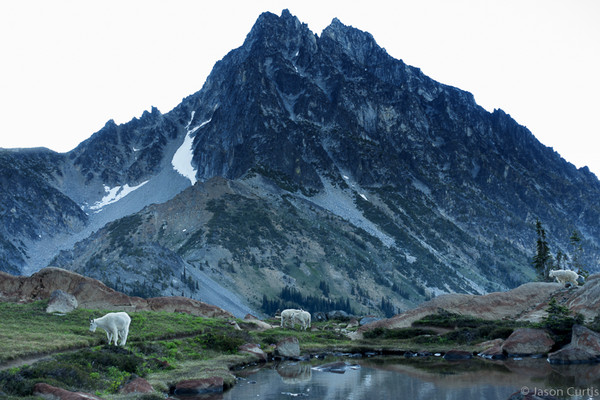 Topping out at Goat Pass: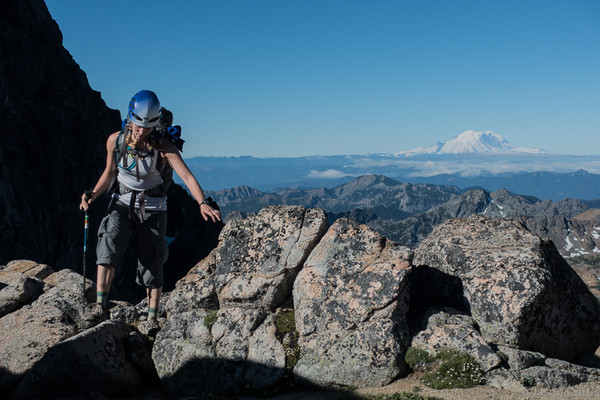 Following the 5.9 pitch: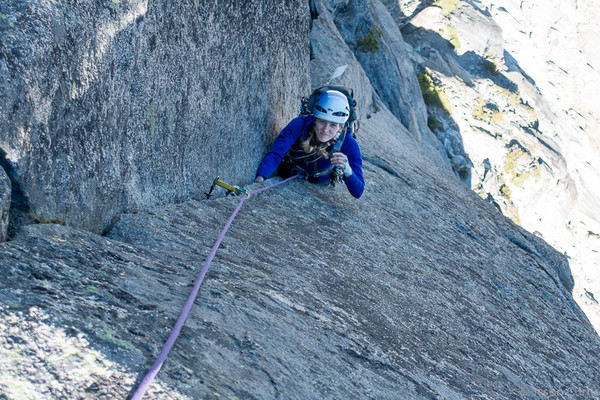 Collecting the snow melt at our bivy at the notch: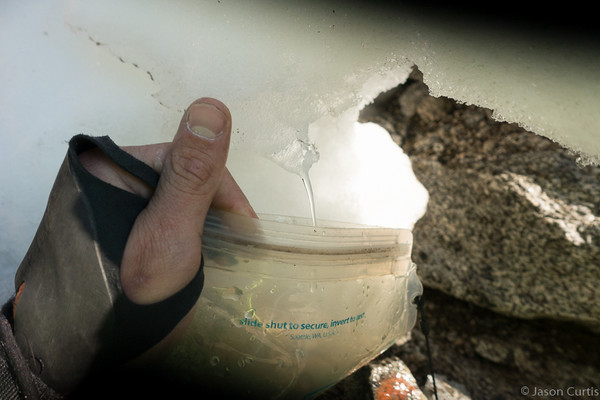 Looking back somewhere on the ridge: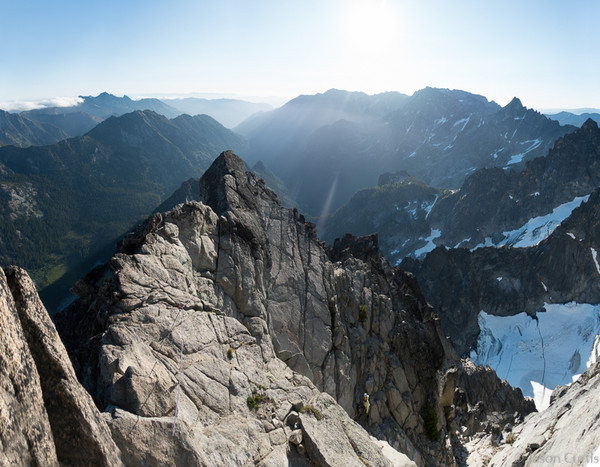 Obligatory "slab with crack" photo: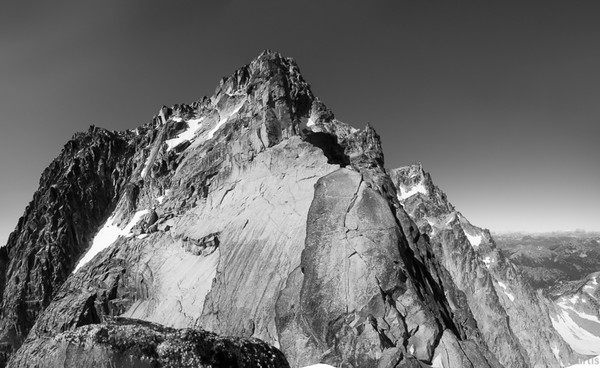 Starting up the slab with crack: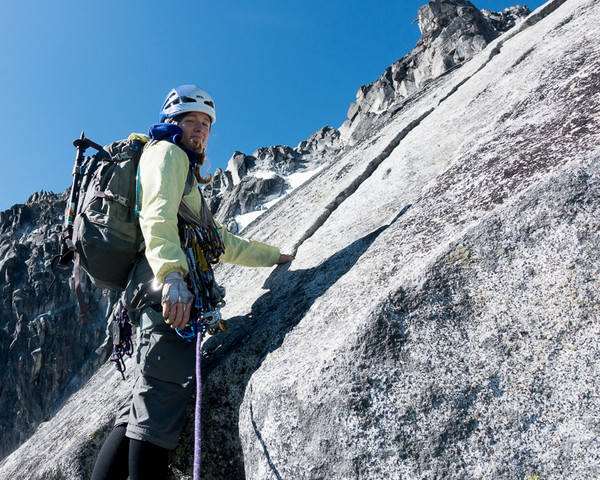 Looking back at the party of three behind us, who apparently believed in ropes but not pro (needless to say they were much faster than us):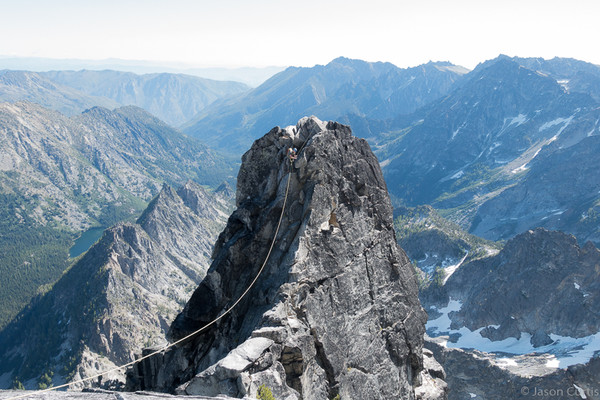 That party quickly passed us. The leader went on to solo the first pitch of the Gendarme, although he did belay his followers up: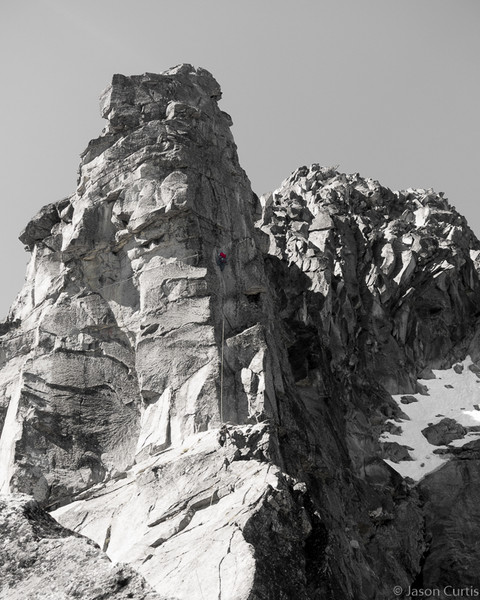 Summit shot: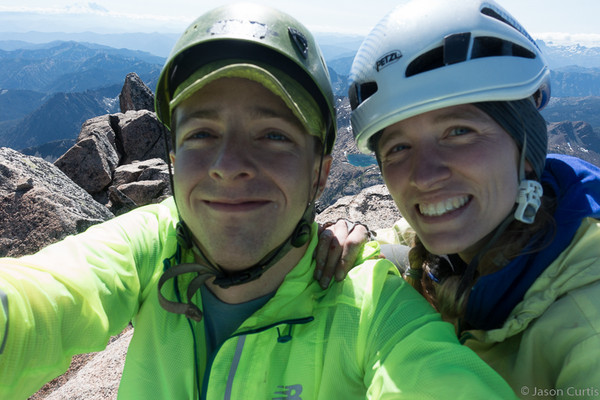 Summit register: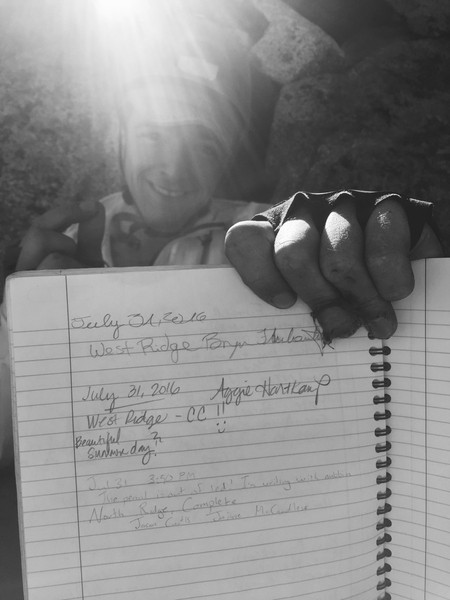 Alpenglow: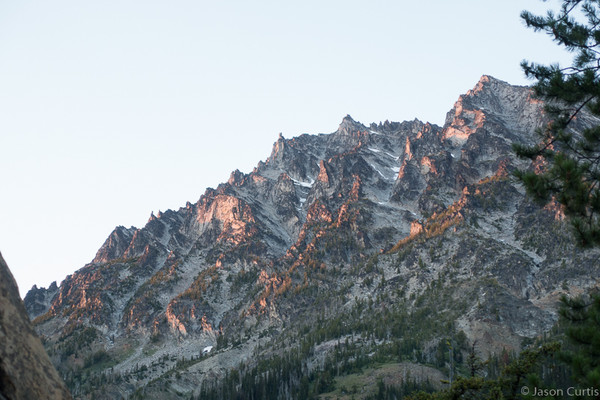 Gear Notes:
- SR .3-3, plus a .75 link cam and extra #2. Probably could have gotten away with fewer cams, but I was happy to have them on the Gendarme pitches
- 1 microtraxion - greatly extended the length of simul pitches we were willing to lead, since we could place it above hard moves to isolate the leader from a follower fall
- 8 singles, 4 doubles
- 60m rope (30m would have worked except we wanted to haul packs on the Gendarme)
- No boots/crampons/ice axes, just approach tennies and one pole each
- We shared a single bivy sack and sleeping bag (and each had a puffy and long johns) and were toasty warm all night. The notch was very windy in the middle of the night, so we were glad to have the bivy sack.
Approach Notes:
Descent
We followed beta from Ilia's trip report:
http://cascadeclimbers.com/forum/ubbthreads.php?ubb=showflat&Number=1141828.
It was generally accurate, although I wouldn't have called the cliff drops "easily passed" by hugging the left side. Those step downs definitely involved loose rock, some downclimbing, and even a bit of bushwhacking. Ilia's report also mentions a trail cutting to the right at a flat spot somewhere between 5900-6200'. We never saw the cairn or the trail breaking off from the couloir itself, so we just blindly forged into the forest a little ways and then gave up and headed back to the couloir and happened to cross the trail (this was just below 5900' but the trail must have started higher). It was a lovely trail through forests and meadows as advertised - definitely worth finding!
When he climbed the West Ridge last year, Jason had taken a "shortcut" descent route which has some similarly uncomfortable sections, but at least spits you out on the Ingalls Creek trail 15 minutes closer to the junction with Long's pass:
http://www.peakbagger.com/climber/ascent.aspx?aid=565928.