Trip:
Feather, Royce, Merriam -
Date:
7/21/2007
Trip Report:
On Saturday we climbed the triumvirate of gorgeous peaks out of the Pine Creek trailhead in the John Muir Wilderness – Merriam Peak, Royce Peak, and Feather Peak. These remote peaks are located between the more frequently climbed Bear Creek Spire to the North and Mount Humphreys to the South. I first saw these mountains from Bear Creek Spire on May 19, 2007 and hoped to return to climb them later in the summer (see photo below). We left the trailhead at 5:40 am and I returned a minute after 5 pm for an 11 hour, 21 minute day. The climb featured approximately 8,000 feet of elevation gain and 25 miles.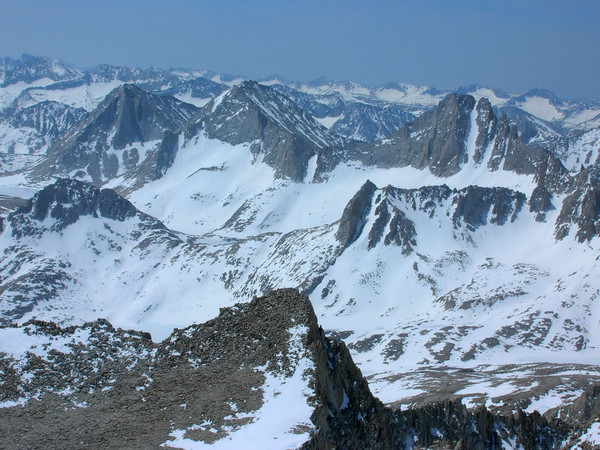 Merriam (left), Royce (center), and Feather (right) on May 19, 2007 from Bear Creek Spire.
The Pine Creek trailhead is relatively low at 7,400 ft, but the excellent trail switchbacking up the hillside quickly brought us up to 10,000 feet at Lower Pine Lake. The only event of note was a barrage of rockfall that descended from the cliffs above (old mines) that was very close to where we were hiking. We were definitely awake after this scary moment! From Honeymoon Lake, we went cross country up to the pass between Peak 12,563 ft and Spire Peak. The view from the pass was spectacular and we enjoyed a beautiful walk across the Royce Lake tundra and up to the Royce-Merriam saddle.
Merriam (left), Royce (center), and Feather (left) from Royce Lakes.
Merriam Peak from one of the Royce Lakes.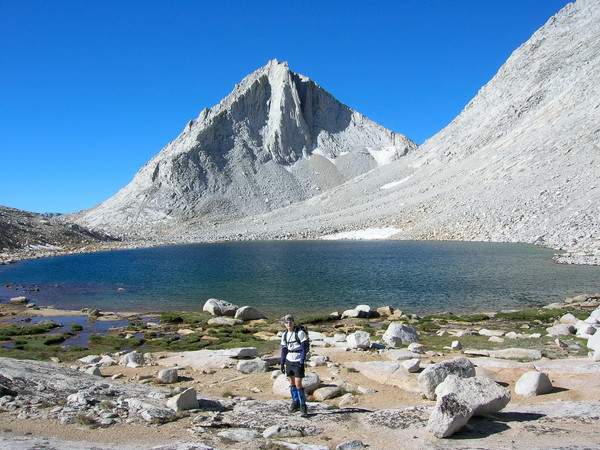 North Buttress of Merriam Peak
From the saddle, we ascended the Northwest saddle scramble route, arriving at the summit at 9:50 am.
Panorama from Merriam Peak.
View towards the Evolution Peaks from Merriam Peak.
After a break on the summit, we returned to the Royce-Merriam saddle and slogged up the South slope of Merriam Peak, arriving at 10:56 am.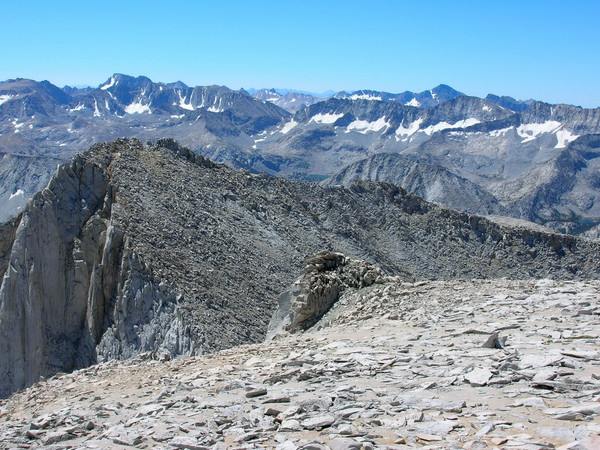 View from Royce Peak with Merriam Peak in the foreground. Royce has a small summit plateau reminiscent of Mount Darwin and Mount Mendel.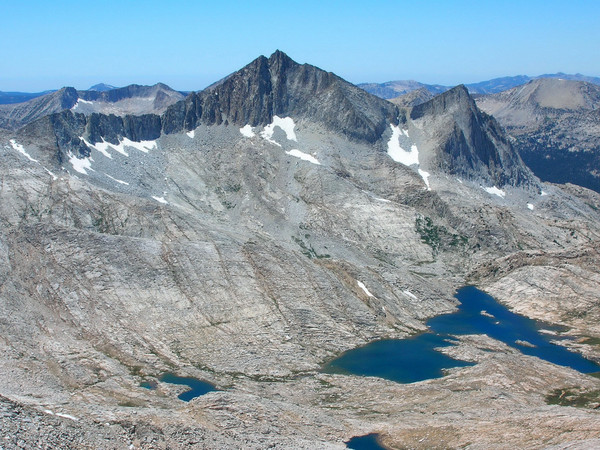 Seven Gables summit from Royce Peak.
View form Royce Peak summit to Feather Peak, Mount Gabb, Mount Abbot, Mount Dade, and Bear Creek Spire. Feather Peak has a weird red streak that appears to be a dropped load of fire retardant??
After a rest on the summit of Royce, we descended down via the Northwest chute route, which was incredibly loose, tedious and tiring. We finally made it to Feather-Royce Saddle and continued up the Southeast slope of Feather Peak. Feather Peak was the most enjoyable climb of the three with some really fun class 3 slab climbing for the top couple hundred feet.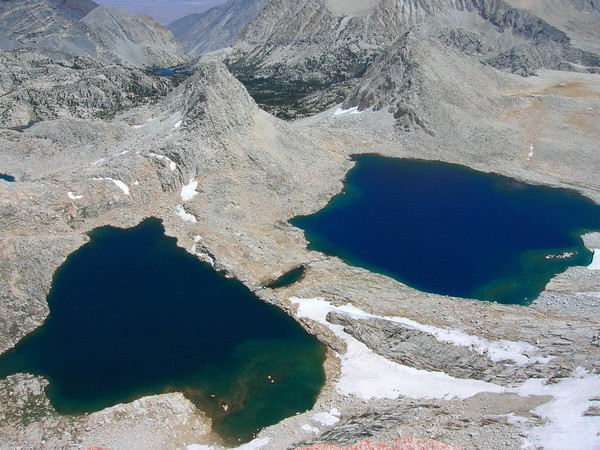 Feather Peak also had the best view, with a huge drop down to the glistening Royce Lakes.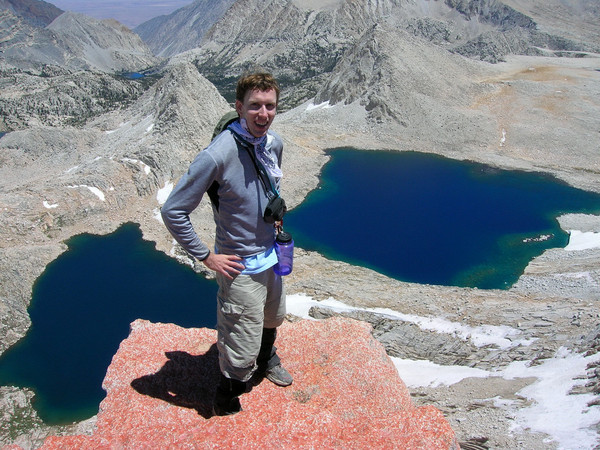 View from near the Feather Peak summit.
After 25 minutes on Feather, we retraced our steps back to Feather-Royce saddle and then downclimbed/glissaded the hard snow slopes from the saddle down to Royce Lakes. This steeper snow slope will become icy within a couple weeks. Also, for those ice climbers, Feather Couloir looked like it had at least a few pitches of solid ice from our summit vantage point.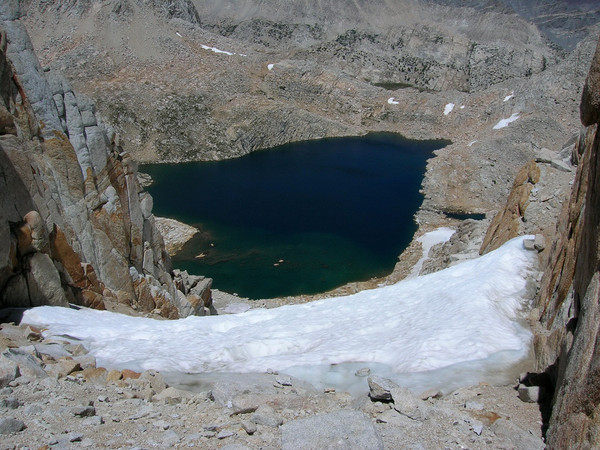 View down from Feather-Royce Saddle.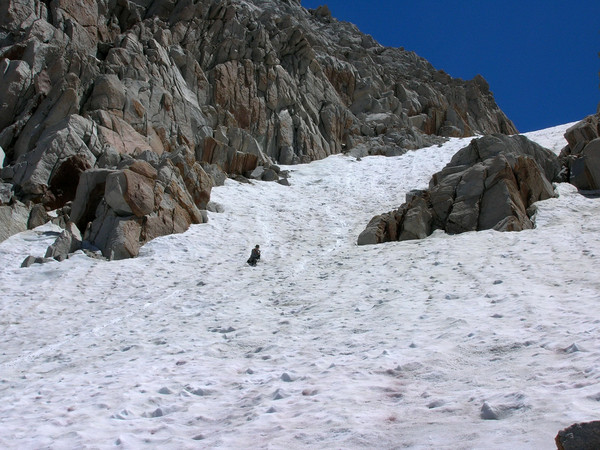 Glissading the hard snow down from Feather-Royce Saddle.
Panorama of the Royce Lakes basin from below Feather-Royce Saddle.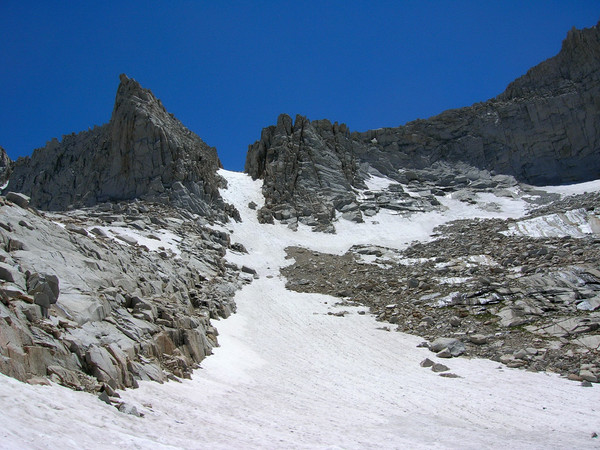 Feather-Royce Saddle.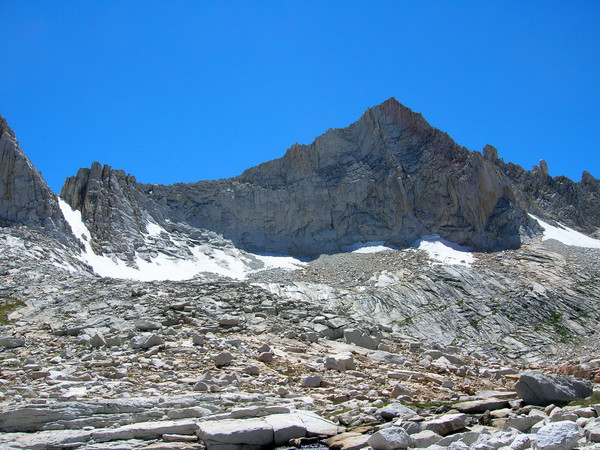 Feather Peak and Feather-Royce saddle on the left.
Royce Lakes Basin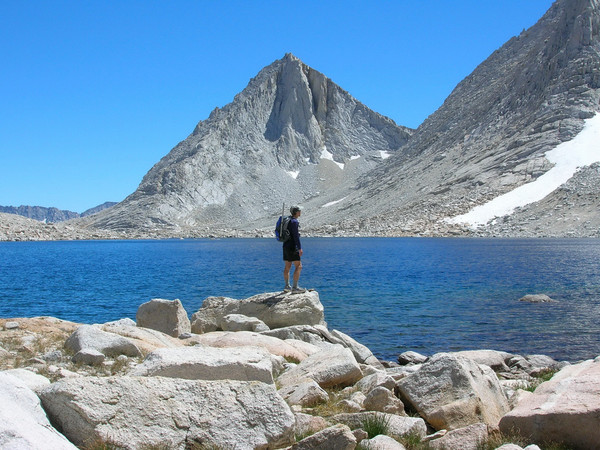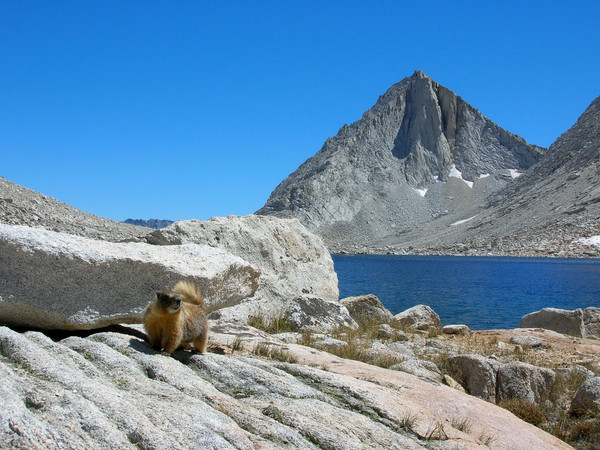 The walk down from Royce Lakes back to Honeymoon Lake was very pleasant slab and meadow walking. The trail descent was also nice, but I was happy to be finished with the switchbacks just after 5 pm. We had the entire Royce Lakes basin to ourselves, seeing nobody past Upper Pine Creek Lake the entire day.
TH: 5:40 am
Merriam: 9:50 am
Royce: 10:56 am
Feather: 12:50 pm
TH: 5:01 pm
Total: 11:21
Gear Notes:
Axe required for Feather-Royce saddle. Crampons probably necessary too, although we did not use them on our descent/glissade.
Approach Notes:
A great trail compensates for the relatively low trailhead elevation. Watch for rockfall from cliffs above.