Trip:
Enchantments Traverse -
Date:
May 22-23, 2010
Trip Report:
After a hard but successful summit of Hood via Leutholds, I knew I needed to get into better shape. What better than an Enchantmens traverse with the plan of hitting several peaks? Teresa and I orginally wanted to start at Colchuk Lake and come out Snow Creek, but only wanted to bring one car over. How to get from one trailhead to the other at the end of the climb? I took an idea straight out of the Josh Lewis Experiance: a bike! However, going from Snow Creek to Colchuck is all uphill, so we reversed it and stashed a bike at the Colchuck Lake trailhead, then drove down and started the hike Saturday, May 22 at Snow Creek. The hike in was under blue skies with a great view of Snow Creek Wall.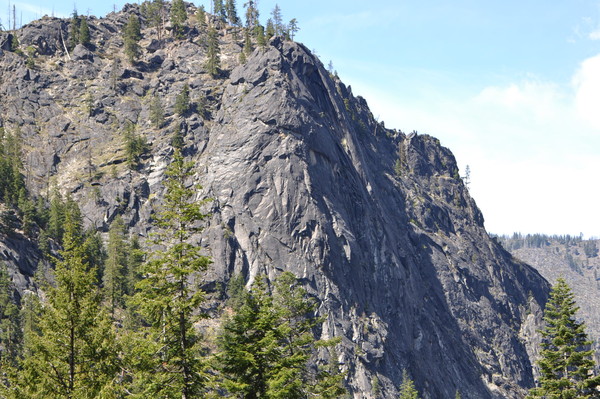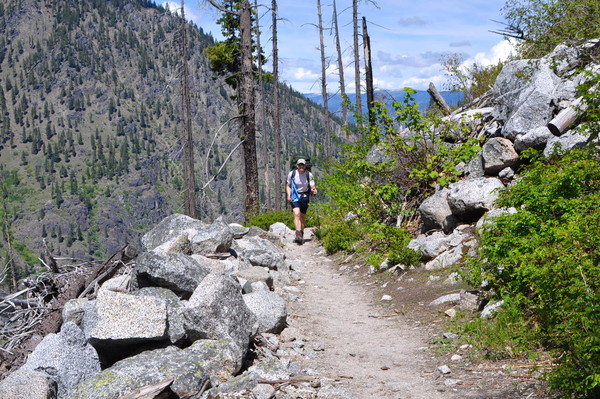 After passing the wall we ran into this guy. He waited until we were five feet away before bounding up onto a rock and letting us pass under him.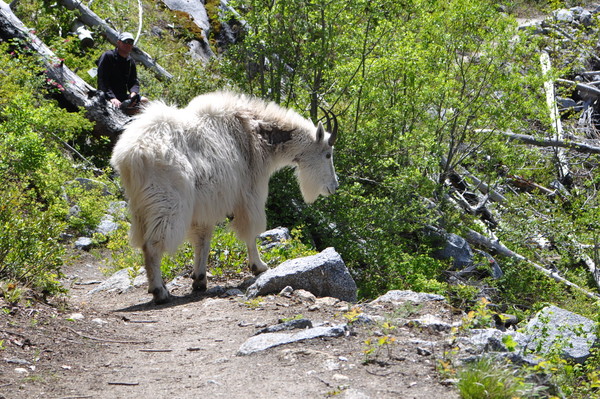 Nada Lake was still mostly frozen, and passing above it we saw these magnificant looking slabs.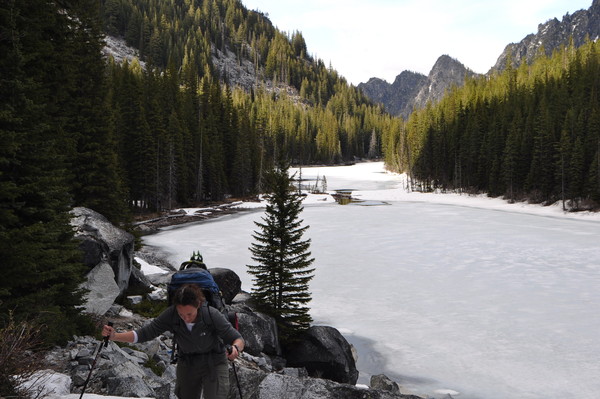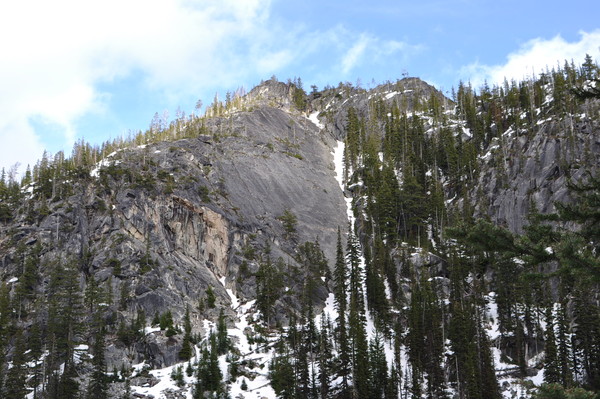 We reached Snow Lake and found a spot mostly snow free, dug it out a little more and had a beautiful site. Next morning we rose and started the long trek up into the Enchantments Plateau. This was slow due to all snow and no trail, so we picked our way through the trees towards the top. As we climbed, our blue skies faded into a mass of swirling dark clouds and threatened to obscure our first peak; Little Annapurna.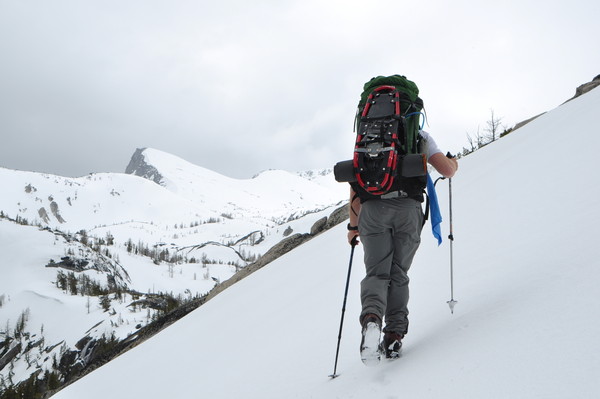 By the time we found a decent site at the base of Little Annapurna, it was windy and snowing. Wanting to summit Little Annapurna, we looked up and it was completely engulfed in dark clouds. Instead, it was time to tent.
Being only 3:00 PM, we set up the tent determined to wait out the storm and summit when we had visibility. Six hours later, we were still waiting with an inch of new fallen snow. It was off to sleep with the sounds of snow hitting the tent. At 5:30 AM, Teresa and I were lying awake, looked outside to see blue skies above and three inches of new snow on the ground. We rushed out to climb Little Annapurna, forgoing coffee and breakfast until we got down. An hour later we were on the top.
View to the north from the summit (and my favourite picture.) The background is Enchantment peak: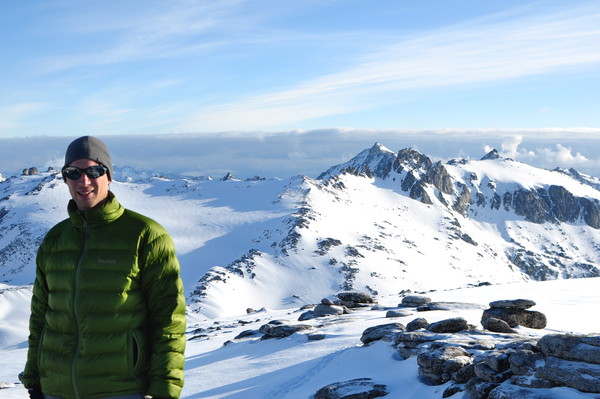 View to the south: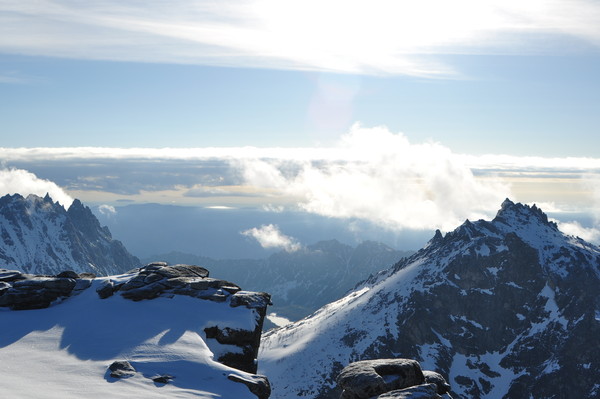 Prusik Peak: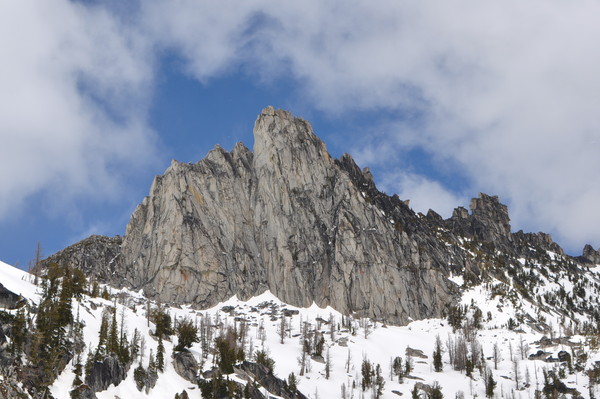 However, those pesky clouds were reforming to the east, and by the time we were back at the tent making coffee, the summit was engulfed and light snow was falling. We packed and started walking towards Asgard Pass with the plan to drop the packs there and scamper up Dragontail. However, Dragontail was never visible, just more dark, ugly clouds.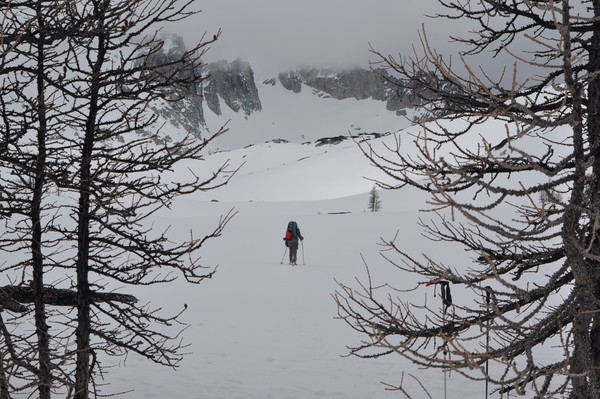 Striking a pose near Asgard Pass: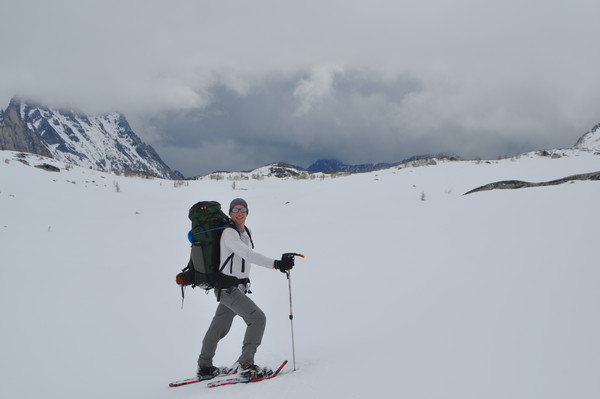 We reached Asgard with no break in the clouds and an increasing wind, and still lightly snowing, so oh well, no Dragontail. Down the Asgard we go, which was a bit icier and steeper than I thought it would be. Note to self; on an icy slope, do not step on a glissade chute! I landed on my ass faster than a mouse on cheese, but arrested myself and got back onto unpacked snow. The rest of the descent was uneventful.
Teresa and I reached the lake and crossed over a section of it. It was still very frozen in the middle, but some of the edges were melting out. Our plan was to camp here and climb Colchuck in the morning, but the clouds showed no signs of letting up. Colchuck and Dragontail will have to wait. Deciding that the weather was not our way, we hiked out instead of spending the night, and reached the trailhead two hours later. We met a ranger coming up to do trail maintenance, and he stated the weather was only supposed to get worse. That made me feel better, as hiking out became the right decision.
The hike out: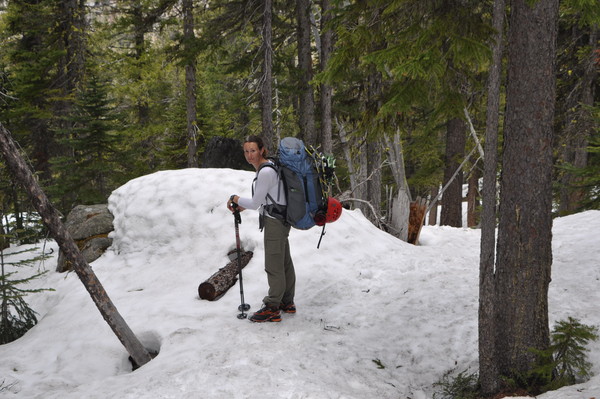 At the trailhead, I got the bike and zipped down the dirt road to the pavement. The paved road was even faster as I didn't have tire-devouring potholes to deal with. I retrieved the car, retrieved Teresa and an hour later found myself eating burgers and Oreo shakes at 59ner Diner. We only climbed one of the three peaks on our agenda, and cut the trip a day early, but it was still great fun.
Gear Notes:
Snow shoes were handy for the Plateau. Still lots of snow up there.