Trip:
City of Rocks - Ten days at the City
Date:
9/20/2015
Trip Report:
Spent September 20 - October 1 at the City of Rocks. First time at the City for me - we had perfect weather and the climbing was superb! Lots of great trad and sport climbing on sweet granite - definitely won't be my only visit.
Upon arrival: sunset on the City from campsite #42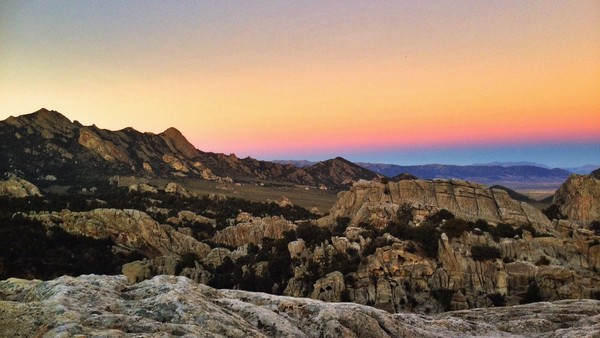 Day One
Climbed at Bath Rock.
- Coffee & Cornflakes 5.10a sport
- Private Idaho 5.9 trad
- Colossus 5.10c sport. JP red pointed it - good work!
Took a mid-day break, then went to Elephant Rock - it was shaded and empty.
- The Pygmies Got Stoned 5.10a sport
- Wheat Thin 5.7 trad
- Rye Crisp 5.8 trad
Judy on Wheat Thin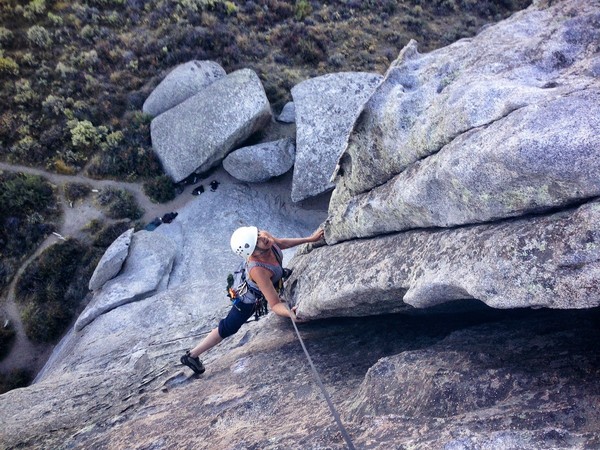 Matt on Rye Crisp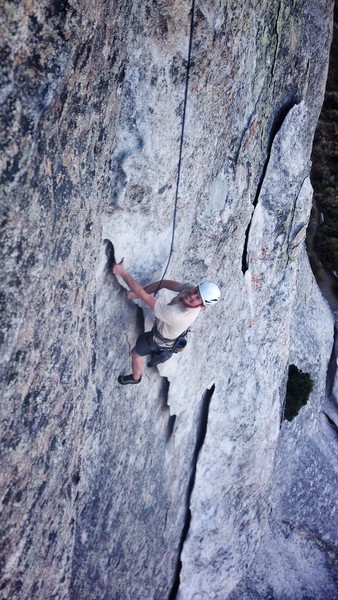 I tweaked a rib that evening when I wrecked while fooling around on a mountain bike in the parking lot.
Day Two
- Skyline 5.8 trad
- Fall Line 10b sport
Kira on Skyline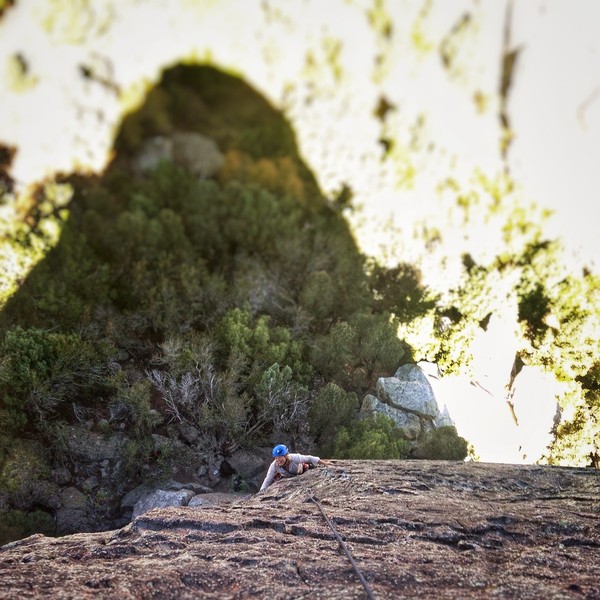 Day Three
Spent the late morning to early afternoon at the Bread Loaves, west side.
- Carol's Crack 5.8 trad
- Nipples and Clits 5.10a sport - short & crimpy with some exciting runout to the first clip
- Abortions on Parade 5.10c mixed
Moved to the Super Hits - Bloody Fingers side in the afternoon.
- Twist and Crawl 5.8 mixed. It was 30 feet to the first bolt. Really sweet arÍte/slab climbing after that, then a splitter finger/hand crack to the top. I extended the anchor to make a 70m top rope work.
- Bloody Fingers 5.10a trad. Sweet jambs through a low crux was followed by some face climbing, then more varied sized crack climbing followed - a 110 foot route! Best crack climb of the trip.
Matt on Bloody Fingers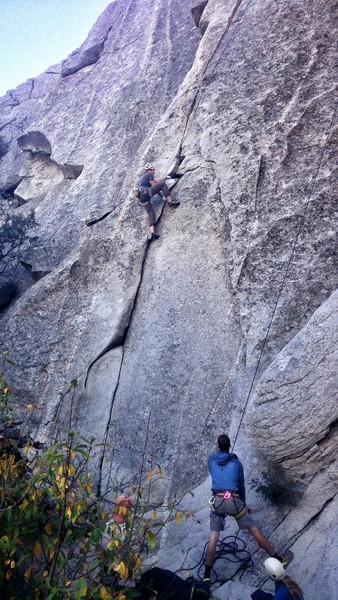 Day Four
Went to Bath Rock.
- Immortal Porpoises 5.8 trad. What an adventure! Obviously not a high traffic route, it dealt me a lead full of thoughtful route-finding and creative gear placements, including slinging a huge chicken head as my penultimate piece of pro. So fun!
- Rollercoaster 5.8 sport
- Colossus 5.10c sport (red pointed it)
Tony on Immortal Porpoises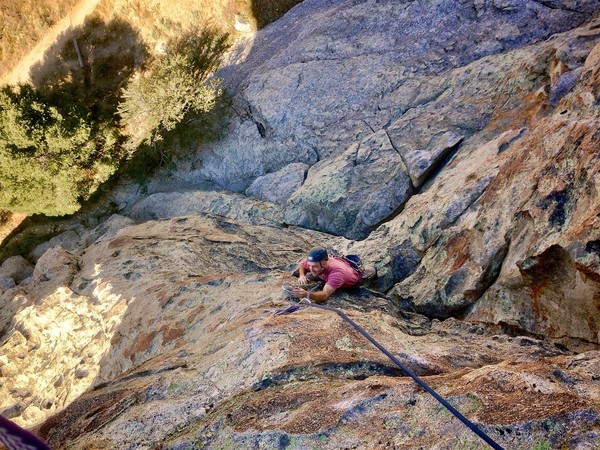 Red pointing Colossus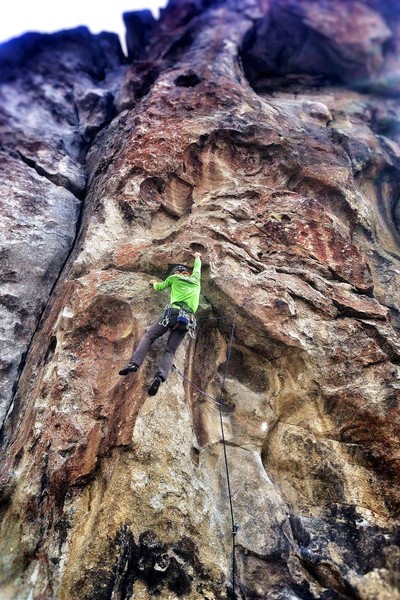 After lunch we hiked around to the west side of PLR.
- Funky Bolt 5.9 R trad, a superb route: a flared crack with tricky gear, then wild runout stemming over a roof, then more crack and finally easy unprotected face climbing to a belay on the biggest chicken head I'd ever seen.
JP & Judy on Skyline, Morning Glory Spire from my stance on Funky Bolt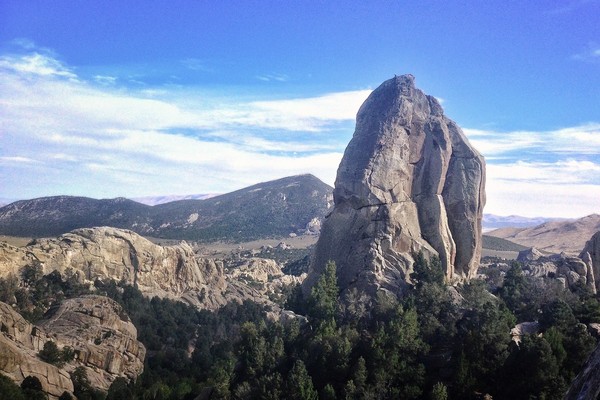 Day Five
West side of Parking Lot Rock in the morning.
- Delay of Game 5.8 sport
- Batwings 5.8+ trad
Both were superb routes. They required two ropes to rappel, so I trailed a second and we simul-rappelled. Worked out nice.
- Thin Slice 5.10a trad. Found it more challenging than Bloody Fingers, but not as satisfying. More vertical certainly, but less actual crack climbing I think.
Tony leading Delay of Game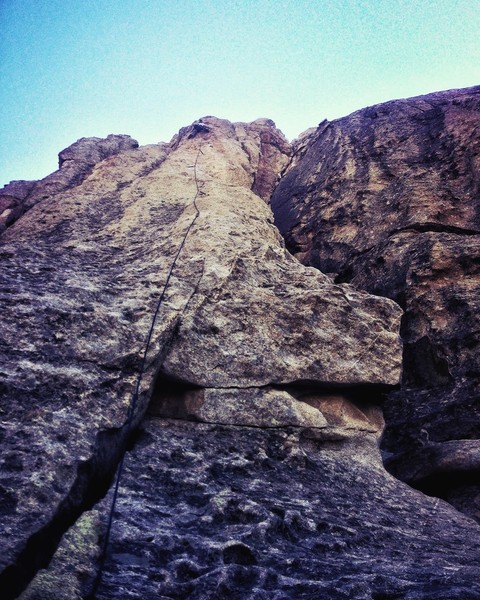 Day Six
I rested - my rib was hurting too much to climb.
Got some great shots of my friends climbing at Bath Rock though.
Betsy leading Private Idaho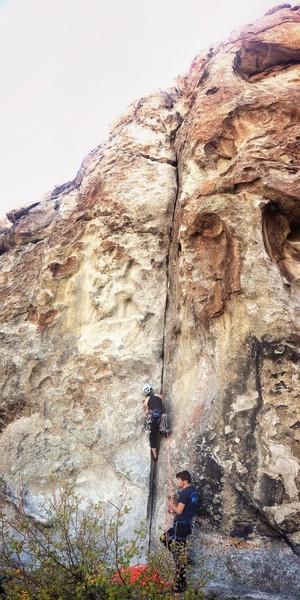 Mirasol red pointing Colossus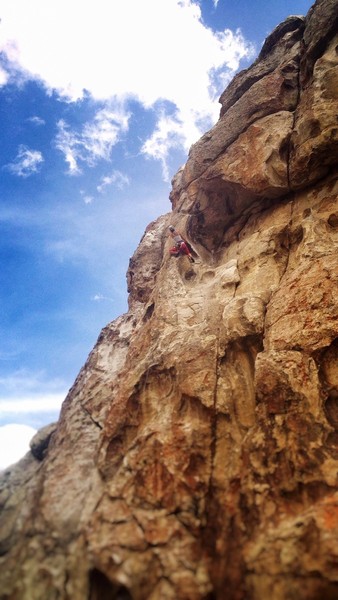 Went into Almo and hit the hot springs, then pizza & beer at Rock City after.
Durfee Hot Springs is da bomb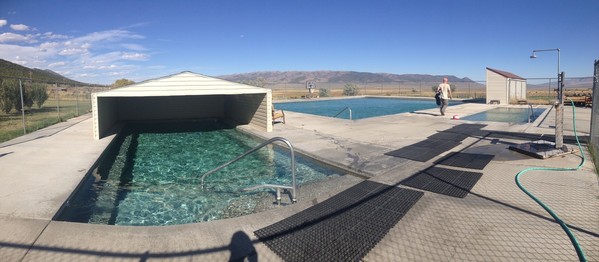 Day Seven
- Lost Arrow 5.7 R trad. Another CoR classic, I led both pitches with a single rack.
Lost Arrow Spire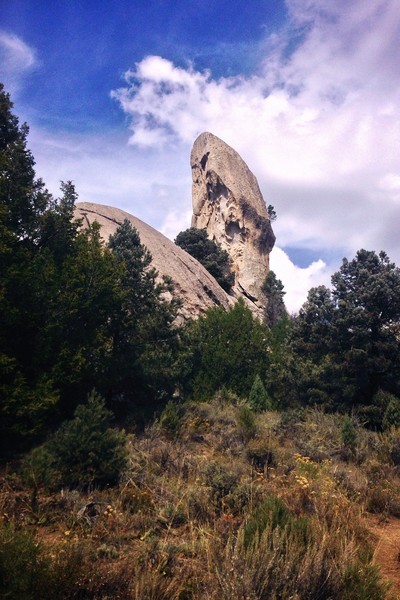 Summit selfie: Tony, JP, Judy and me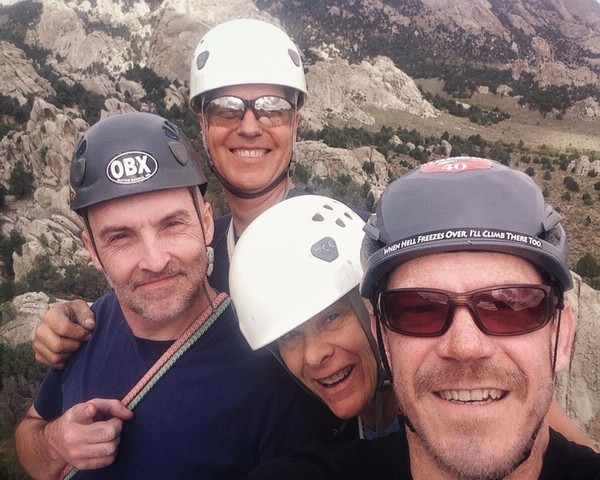 Hanging rappel from Lost Arrow - fun!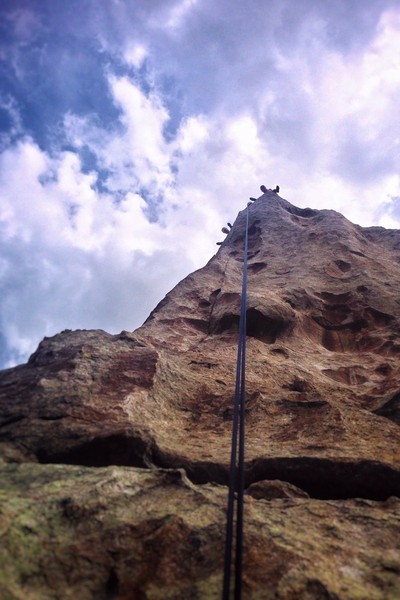 After Lost Arrow we moseyed over to Stripe Rock.
- Dike of Gastonia 5.7 R - a three pitch climb on a quartz dike. It went fast since it only took two pieces of pro: a #2 & #3 Camelot on the first pitch. Other than that it was runout, juggy climbing on the occasional slung chicken head to the top. Super cool.
Tony on Dikes of Gastonia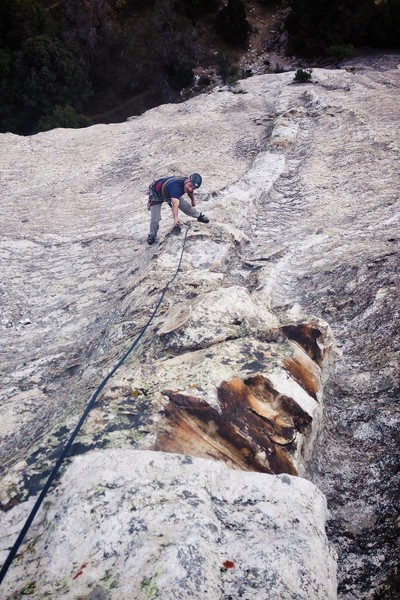 Pitch two anchor on Dikes of Gastonia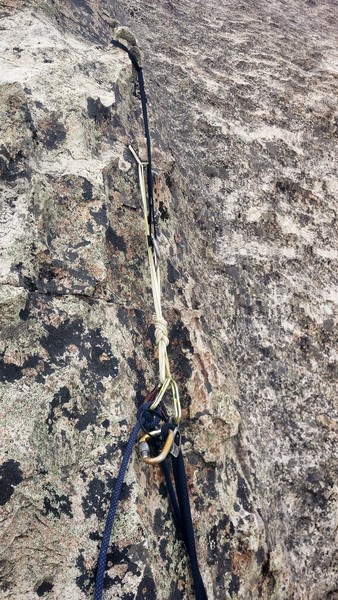 Day Eight
Bumblie Rock.
- New York is not the City 5.9+ sport
- Mystery Bolter 5.9 sport
Kira leading New York is not the City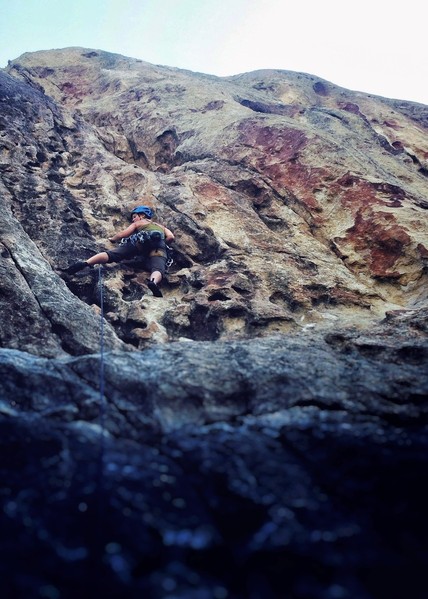 Moved to the Elephant Rock area in the late afternoon.
- Columbian Crack 5.7 trad
Day Nine & Ten
This morning my rib hurt the worst it had all week - didn't climb for the remainder of the trip.
Watched everyone else climb:
- Animal Cracker 5.10a trad
- Thin Slice 5.10a trad
- Tow Away Zone 5.10- trad
- Just Another Pretty Face 10c
- Batwings 5.8+ trad
- Delay of Game 5.8 sport
- Suburban Sprawl 10a sport
JP starting up Animal Cracker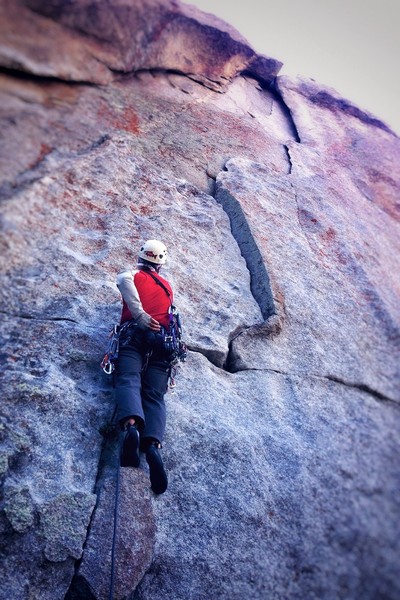 JP pulling the crux on Animal Cracker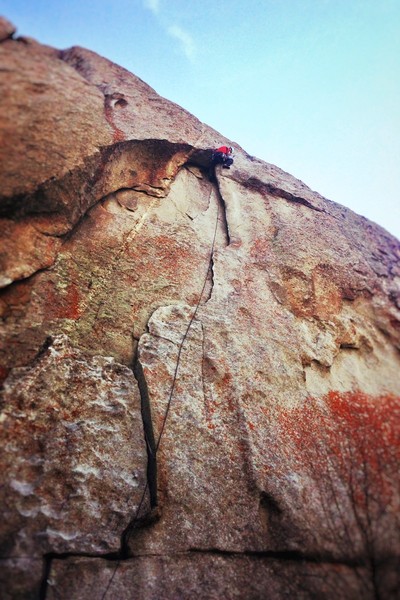 JP leading Thin Slice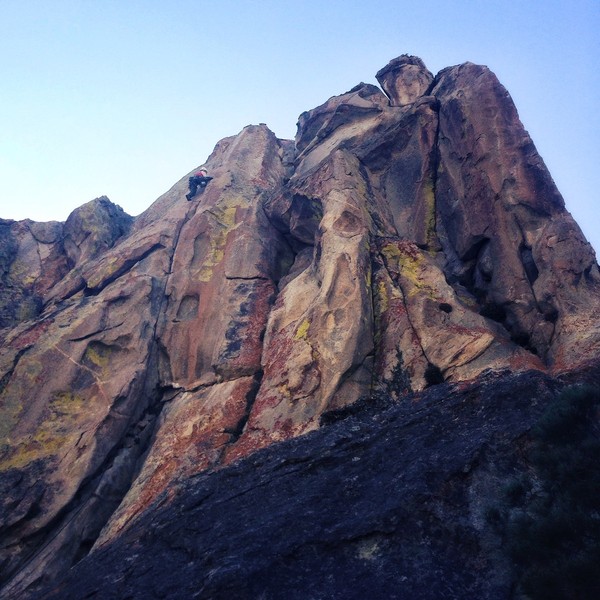 The evening on the last day, I soloed to the summit of the Buzzard Perch via the Summit Scramble route, 5.5. The view from the top possessed the ultimate vantage of the City.
View from atop the Buzzard Perch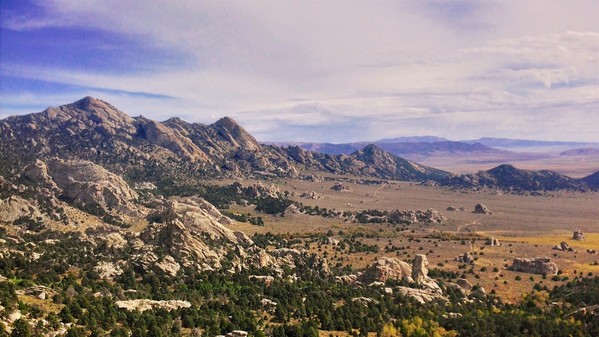 View all my
City of Rock photos on Flickr
Gear Notes:
70m rope is useful, even then an 80m rope would have been nice at times. Trailed a second when in doubt.
Approach Notes:
Stopping at
Barley Brown's
in Baker City on the way is mission critical!