Trip:
Mt Hood - Cooper's Face (North Face Aborted Attempt)
Date:
1/6/2014
Trip Report:
In short, we set out to climb the right gulley on the North Face of Mt Hood. In summation, we did not think that it was "in" without some rock climbing. My camera died the moment I pulled it from the case, but you can take my word for the fact that there was almost no ice on the first or second ice steps.
The consolation prize was the plumb line up the face parallel to the gullies. We found variable conditions: dribs and drabs of ice/snice here and there between the rocks, some hard neve, wind slab, as well as some sugar snow.
For the sake of ambiguation, I am going to call the line(marked below) Cooper's Face.
We merged with the true Cooper Spur route at about 10,500'.
Lest anyone think this is a chest beat about a "F.A.", it seems that the line has also been skied.
http://skisickness.com/post/vt107-mt.-hood-north-northeast-face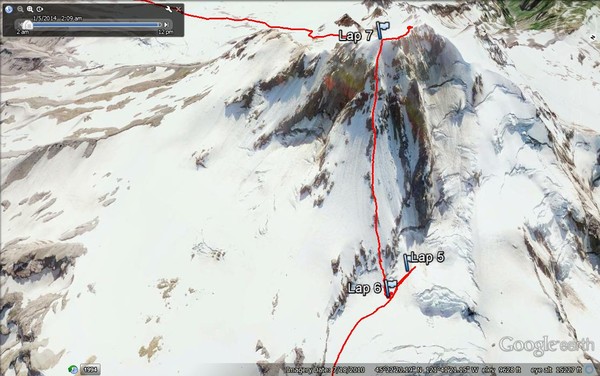 Gear Notes:
We carried a whole bunch of metal things that we never used. It was easily solo-able, but the exposure was there for sure.
Approach Notes:
Late night stroll up the Tilly Jane Trail.
The Tilly Jane Hut is locked. The Stone Hut on the spur is dug out.