Trip:
Beartooths - Funeral for a Friend
Date:
11/4/2012
Trip Report:
The ice climbing forum has been stale for a while and I always like taunting westerners with the climbs in my backyard. First ice of the season, and a route that said "climb me!" the first time I saw it in the guidebook over a year ago.
My buddy Justin and I hatched a plan for a rad FA in the Beartooths, and a full weekend was allotted. Envisioning 2000 feet of mixed ice and rock we packed a single rack with a bunch of KB's and baby angles, figuring there wouldn't be much ice we only brought 4 stubby screws. I met Justin in Laurel around 9.30 friday night and we drove up to the Glacier Lake TH in the dark, where we managed to get some sleep crunched up in the back of the troop. The next morning we got up, hiked to the dam and got blasted by the bitterly cold wind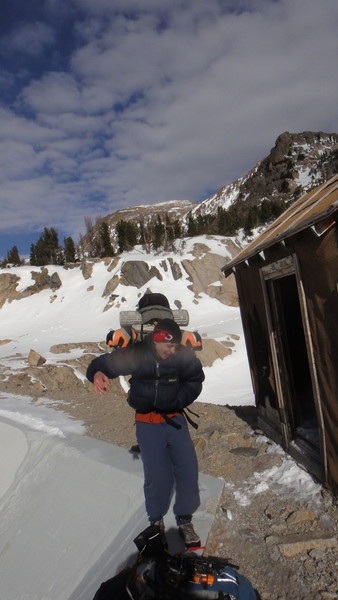 Camp was set behind a big boulder and we both promptly passed out for a few hours, the last thing we wanted to do was overexert ourselves
Half of the junior supine alpine club in action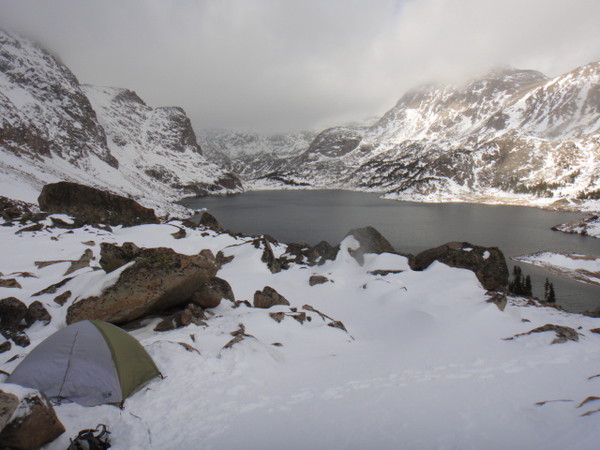 In the afternoon we roused ourselves and walked up to scout out our rad FA, a line of mixed terrain to a prominent ledge system halfway up the face was picked out. As an afterthought we walked up to take a peak at Funeral, just "to see how it looked". Well, see for yourself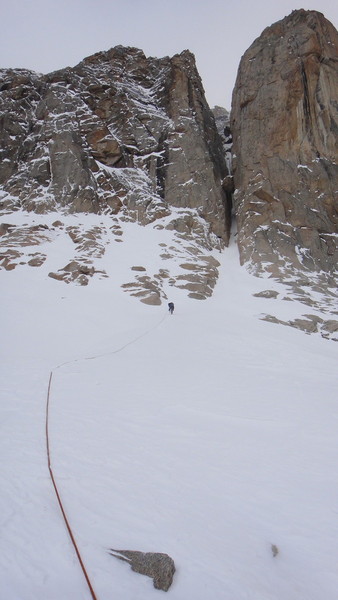 Yeah, that looks a lot better than 800 feet of unprotected/scary snowed over rock that will never get repeated ever. Plans were quickly scrapped and the Friendly Funeral was on for the next day.
11 relaxing hours of sleep later and coffee was brewed, hot cereal was consumed, and warm jackets were donned. Retracing our steps from the afternoon before we found ourselves at the base. I led up the first snowy approach "pitch", below the giant chockstone, and built a belay with 2 of our 8 KB's, spindrift was blasting down the chute giving a good alpine feel to our icy gash in the granite face.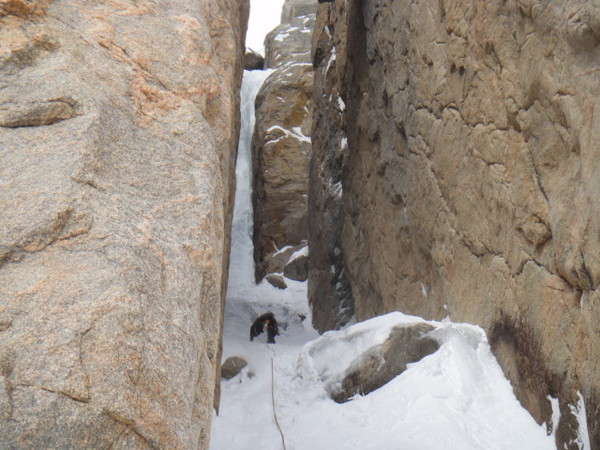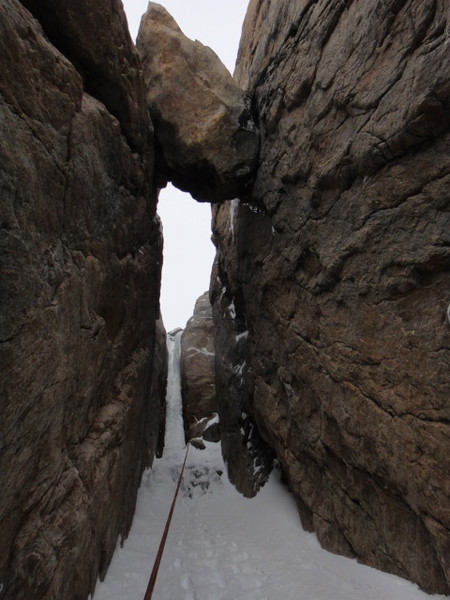 We were convinced that there were two pitches still above us, so I led off again, heading up a fantastic slot of ice, the steepness made easier by stemming off either side.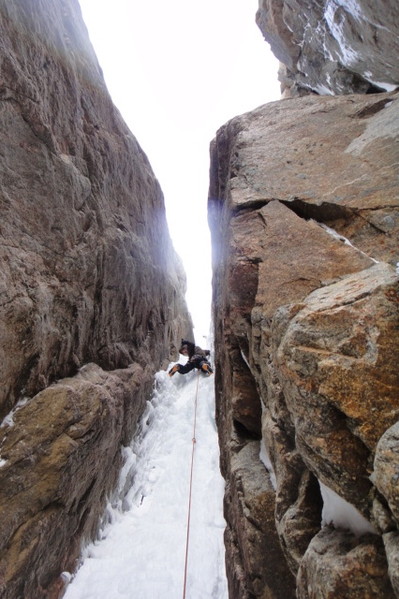 Only having 4 stubbies I ran it out quite a bit, so much for easing into leading ice this year. The envisioned cracks in the walls for pins never appeared, fortunately the climbing was so good I didn't spend much time worrying about the gaps in gear.
The last 30 feet from the comfort of the rappel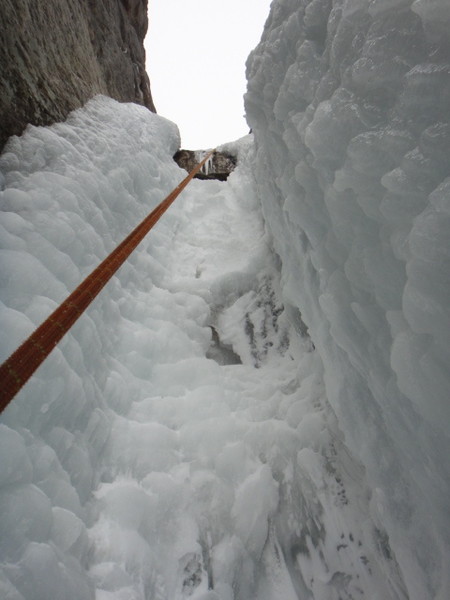 I reached the cave belay at the top and brought Justin up
We had tossed around the idea of continuing up the extension that Shepard and Mulkey did a few years back at M6, but seeing as Justin had forgotten his climbing pants in his car and was wearing my rock climbing pants with patented duct tape gaiters© we figured it was prudent to bail.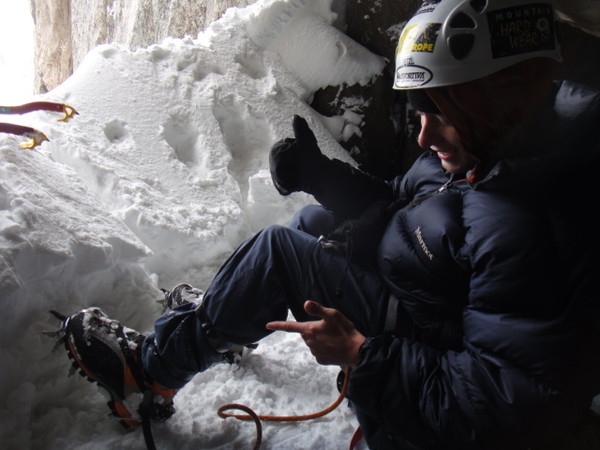 Not without the standard selfie.
Raps were made to the tent, where a hour long siesta rested us for the arduous 4 mile downhill hike to the car. Made it back home to find that the friendly Bozeman police department had visited a get together hosted by my roommates the night before. As bummed as I was that I missed them I have solace in the knowledge that perhaps they'll come by again. Hopefully I'm out climbing.
Gear Notes:
Bring 6 or so screws, a couple KB's might be good for belays. Top anchor can be backed up with a nut when the fattest member of your party goes first.
A warm sleeping bag and bottle of scotch would be hard to beat if the 2 day ascent (highly recommended) is decided upon.
Approach Notes:
Drive 8 miles up Rock Creek Road, walk up the trail to Glacier Lake. Sleep, if you feel like climbing do so, but it is optional.