Trip:
Mt Rainier - Disappointment Cleaver
Date:
7/24/2008
Trip Report:
The Rainier forecast looked perfect for Thursday with very light winds expected, so I decided to do a quick solo trip up the DC. I started hiking from Paradise at 3:15am, the waning gibbous Moon was bright, so no headlamp was needed. Reached Muir at 5:45am, just minutes after sunrise. Put on my harness and helmet, but no crampons yet, and headed up at 6am.
The shadow of Rainier at sunrise, with Mt St Helens at left.
A few cracks are opening across the boot pack on both the Cowlitz and Ingraham Glaciers, but no real problems yet. The crossing onto the nose of the Cleaver is still easy, and the fixed lines which were there a couple of weeks ago have been removed. The route above that is in great condition, with an excellent boot pack switchbacking up the south flank of the Cleaver through huge fields of waist-high penitentes above 11600 ft. Very beautiful, even a few chest-high penitentes in places. On the way up, I followed the bare path near the crest of the Cleaver, which is in decent shape, while on the descent I stayed on snow down the switchbacking boot pack.
View of the Ingraham Glacier and Disappointment Cleaver.
Reached the top of DC at 12300 ft at 8am, put on crampons, and continued up after a short break. The fields of penitentes extend up to nearly 13000 ft, with much smoother snow above that. The ski conditions are very poor below 13000 ft, and even the Muir Snowfield looks very rough. I brought the AT skis and boots in the car, but I'm glad I left them there and just went in my mountaineering boots. The entire route was in much better shape for skiing back on July 7, but that time I turned around atop the Cleaver at 12300 ft due to high winds.
Looking down at a rope team in the penitentes.
There is only one spot with real crevasse hazard, near 13300 ft, and the guide services had placed a single horizontal ladder across a 6 ft wide crevasse at about 7-8am Thursday, shortly before I got there. Apparently, there was quite a traffic jam of ascending and descending parties while the ladder was being installed. Three other crevasses right near the ladder required 2-3 ft jumps right now, so the route may be rerouted around that area soon.
The failing snow bridge near 13300 ft, just above the ladder.
Looking down at the Emmons Glacier and the newly-installed ladder from just above the failing snow bridge.
Reached the crater rim at 10:15am, and Columbia Crest about 20 minutes later. Beautiful, sunny, and calm winds, 28 F air temp, maybe the first time in 11 summits that I've been on top in complete calm. Tried to nap on Columbia Crest, but couldn't get any sleep since there was a group of 7-8 there already and over 40 more people would summit in the next hour: about 20 via Emmons (mostly guided), 16 via Kautz (12 of them guided), and the others via DC. Finally got some peace and quiet for a while after everybody else left around 11:30am, but winds had slowly increased to a light breeze (5-10mph), so I headed down just before noon.
View looking south from Columbia Crest at Mt Adams, Hood, and Jefferson.
Snow conditions remained very good on the descent despite the moderately late hour, with easy plunge stepping in crampons all the way down to 11600 ft (no balling). Then several hundred feet of bare dirt and rock, so crampons off the rest of the way. Passed Muir around 2:15pm and back to the car at 3:50pm. Just over 12 hours round-trip, I guess that's not too bad considering the long breaks and all the extra stuff in my 30 lb day pack.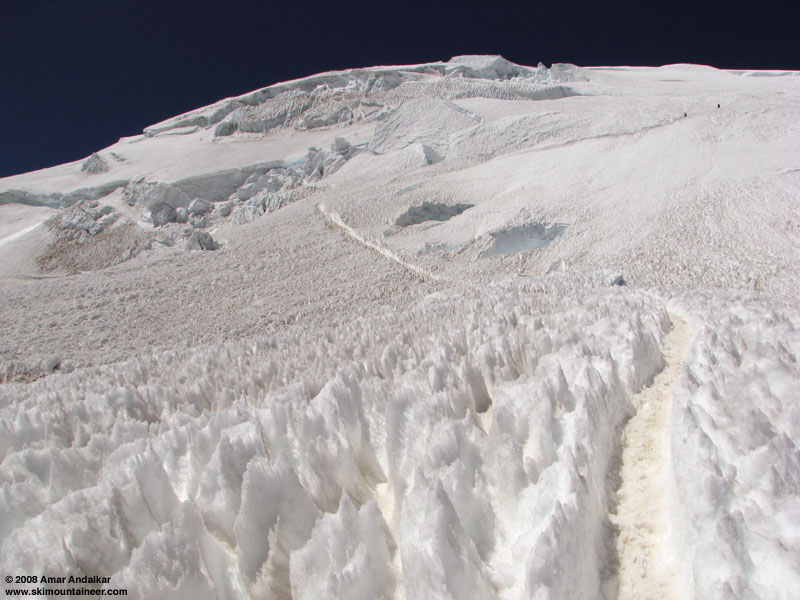 The route feels more like a long day hike than a real climb right now, with a smooth boot pack to follow the entire way to the summit, just a very fun hike with amazing scenery. The crevasse hazard is definitely increasing though, and with 2 or more people, it would be best to rope up from at least 12300 ft to the crater rim, and probably while crossing the Cowlitz and Ingraham Glaciers too.
Gear Notes:
Harness, helmet, crampons, 2 ski poles with Whippets, lots of extra clothing including down jacket, 3 L water.
Approach Notes:
Almost all snow from the parking lot to Camp Muir, except bare trail from Glacier Vista to Pebble Creek (6300 to 7200 ft).