Trip:
Mt. Baker - Coleman Deming
Date:
5/21/2017
Trip Report:
We had been planning on doing Mt. Baker last weekend for a while. For some, it was their first Cascadian volcano and/or glaciar climb. PNW had gifted us with an absolute gem of a weather window and it seemed like the perfect way to kick off the climbing season. Since we weren't the only ones who had honed in on the weather window, the road to the TH was already packed with a ton of cars when we got there Saturday morning around 9AM. The road was still snow covered about 2 mi out which delayed our departure from the TH.
We had eyed the base of the Black Buttes as our campsite and made it there by mid afternoon. While making camp and getting ready to melt water, some ominous clouds rolled in which made us think that we might be facing a whiteout for our summit bid the next day. But they cleared up soon enough to clear skies and order was restored. After setting up and laying down the ropes, we went to sleep at 7PM (or at least tried to).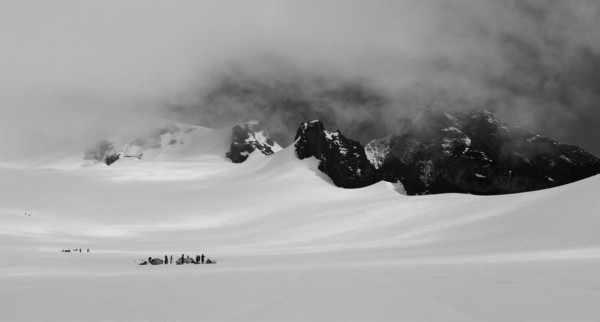 clouds lurking
The next morning, we left camp around 1AM. The route had a solid boottrack which eased our workload. After the saddle (9000'), it got a bit congested. Avoiding any epics, be they major or minor, we made it to the top a little after 7. The skies were clear throughtout our climb with not a hint of anything sketchy. On our way down the Roman Wall, some people were uncomfortable with the exposure and the snow conditions. We took it very slow to the saddle just to be extra careful. From the saddle, the descent to camp was pretty quick.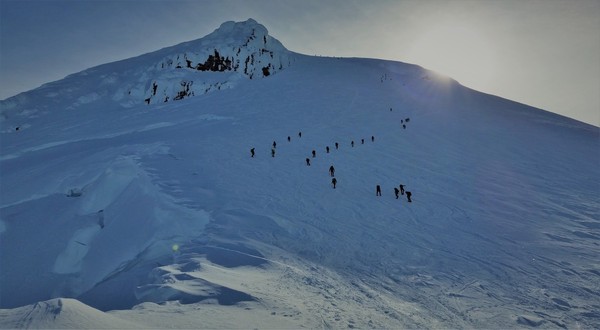 A lot of tiny creatures on the Roman Wall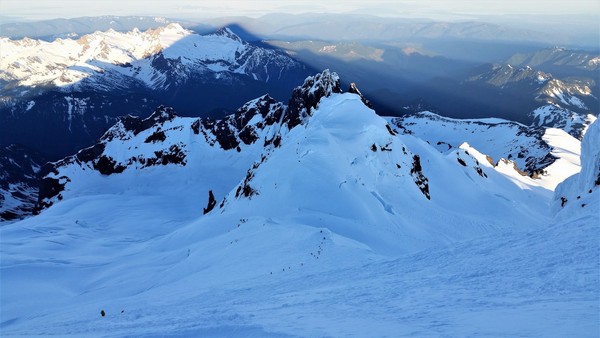 You can see our entire route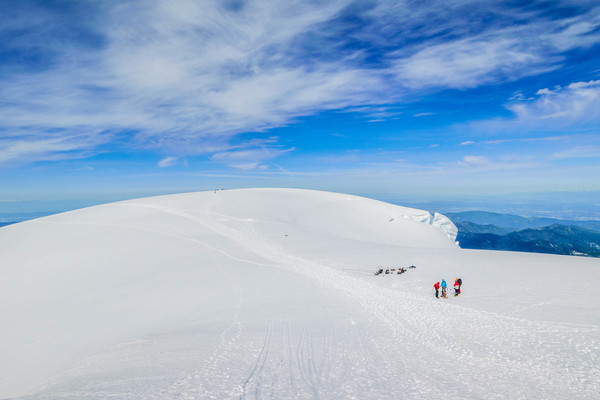 trust me, behind us, it's very crowded
After napping and melting water, the group tore down the camp and left around 2. Some supreme glissades helped us get to the treeline (5000') in no time. The walk back to the cars from then on, like any other approach, was annoying and brutal. The ~2 mi from the TH to the car didn't help the situation either. However, a successful summit more than made up for it.
Key stats -
TH (3800') to Camp (7000') - 5.30 hrs
Camp to Summit - 6 hrs
Summit to Camp - 3.30 hrs
Camp to TH - 2.45 hrs
Since the road was snow-covered, it added 30-45 mins to our approach.
For the GPX,
Mt. Baker (Coleman Deming) PeakBagger TR
.
Gear Notes:
3x 60m rope (4 person rope-team), picket per person, shovel, snowshoes, crampons
Approach Notes:
The road is snow covered but it should clear up soon.