Trip:
WA Pass - DEB + Lib Crack
Date:
8/15/2015
Trip Report:
This is kind of a tag-on TR from my Pickets one:
S. Pickets TR
This will be much shorter but I just wanted to really encourage people to get on these routes. Both are excellent and very doable, but I think their position and rep cast a bit of an intimidating shadow.
Friday night Nick met me at the North Cascades Mountain Hostel in Winthrop... which as I write is evacuated due to fires. But when they get back open along with the rest of that region that is a great place to crash for a night in a real bed and a shower, as well as great company. I was loathe to leave new friends but the mountains called and I was like a child on Christmas morning.
We headed up to the pass that night and bivied road-side. In the morning we headed up to the DEB (Direct East Buttress) on SEWS. This route seemed really intimidating to me because of the grade but honestly if you are solid on 5.9 and pull on a couple draws the route is really very quick and easy.
A short approach with relatively little scrambling leads to easy 5th for a rope length, then two pitches of solid 5.9, then the slab bolt ladder (11-), a traverse pitch (can be combined with the pitches on either side of it, we combined with the pitch after), and a vertical bolt ladder (10+ on good pockets and edges), followed by much easier climbing (5.6 to 4th) to the summit.
We polished the route off in 5.5 hrs and it felt quite leisurely. If we had not been doing Lib Crack the next day I think we would have added on another route like NW Corner or W Face on NEWS. We hiked down to Blue Lake but in the future I would probably try the scramble down to the hairpin as it looks much quicker and not that sketchy.
We briefly scoped the apporach to Lib Crack, even easier than DEB, and then headed to the cars for a nap and food. That night Nick made us a dirtbag deluxe dinner (DDD) steak marinara on pasta. There had been people fixing a line on the first two pitches of Lib Crack. Something we had eschewed for the true single push rah-rah-rah BS. We discussed what we would do and joked about microtraxioning the first three pitches on someone elses line just for shits in the morning... funny looking back and now knowing what they were for.
We woke at 6am and headed up to the big ol' face of our Liberty Belle. And were climbing sometime around 8am. On both routes we opted for a small followers pack with a 4L drom (half full on the DEB and full on LC), extra clothes, some bars, headlights, etc. Nick lead the official pitch 1 (5.11-/10+) and was able to free it with style. I followed with a full pack and pulled on gear.
I took the Lip pitch, Nick watched and laughed at me as I had no roof aiding experience but it was perfectly doable. I tied off the rope once Nick was past the lip and started short fixing pitch 3. Nick arrived just in time to put me on for the first bashie, something that I had never used before and found a little spooky. I was able to aid fairly easily through most of the next pitch quickly with only a few easy free moves and some chicken choking (supposedly there is a sweet hook move somewhere but I didn't bring one and had no idea where it was supposed to be, we got by fine without). While this happened the owner of the fixed ropes walked up... none other than M.S. the Wallstein himself, must be trying to free the roof crack so we both felt like a couple of total noobs floundering around on a stupid C1 pitch... cest la vie.
Nick took the next pitch (5.10 hands, the lucky bastard) and I flailed after him with the pack. The next pitch was the 5.8 "burly wide" pitch but required no OW technique and honestly can be well protected without many big cams. I placed a #4 and #3 C4s but could have easily found alternatives. I think this route could go comfortably with a single #3 if you're willing to run it out 15' on 5.8/9.
Nick lead the next pitch to the "rotten block". He spent several minutes on the "5.10 flare" before abandoning that option to french around the block on the fixed pieces out left (pretty smooth and featureless). This was quite a shit-show pitch for us, and we had a good laugh as I flopped onto the belay like a beached whale. The next pitch starts with more 5.10 chimney moves which I shamelessly frenched/stepped on the belay bolts to get past. I linked this pitch with the next one quite easily (5.7/8 slab corner with a couple moves of 5.9/10) to the first good belay ledge of the route (sweet tree to sit on) but it was impossible for Nick to hear me and took a while to get him up there.
Nick then tackled a 5.6 chimney and linked it with the 5.9 corner pitch before running out of rope. He established a quick belay, brought me up to the last good ledge and then finished to a good bushy ledge in the middle of the 5.0 slab pitch. From here we simul-climbed a short bit of easy terrain until we reached the tree covered ledges for the descent and unroped.
We did the Beckey scramble to the summit and hung out in the sun for a while before the standard descent on over-exposure to the notch. We were back at the car by 8pm (13hrs car-car) and Nick took off immediately to make it to work in Bend for the next morning... that is what we call dedication. What a boss!
I spent a couple nights enjoying the company of new friends and headed back to Bend myself.
Both these routes are awesome and very doable. Liberty Crack is definitely much harder than DEB and much more sustained, but it is still much more attainable than I imagined. Get after it!
Pictures>>>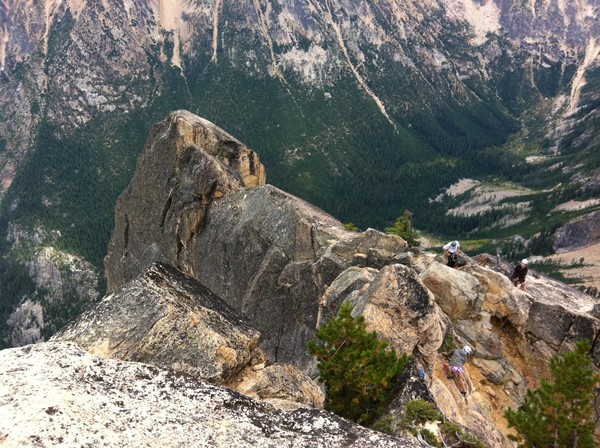 top out on SEWS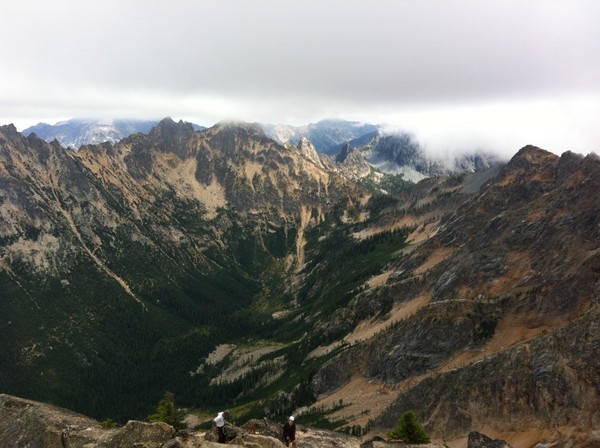 perfect North Cascades weather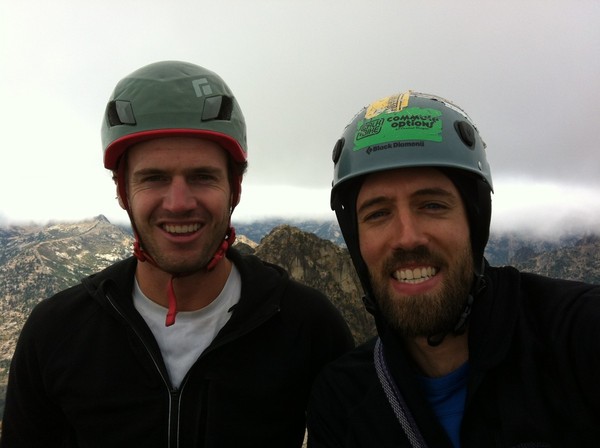 SEWS summit!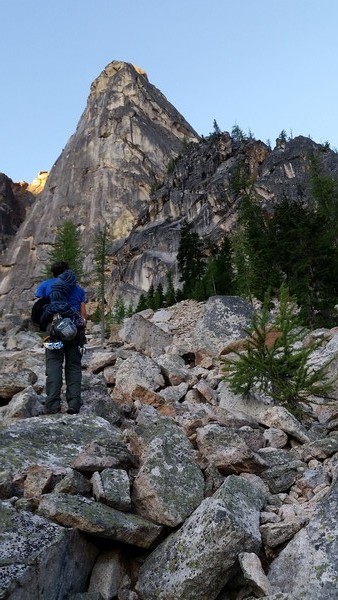 yours truly approaching da Belle (photo by Nick Mestre)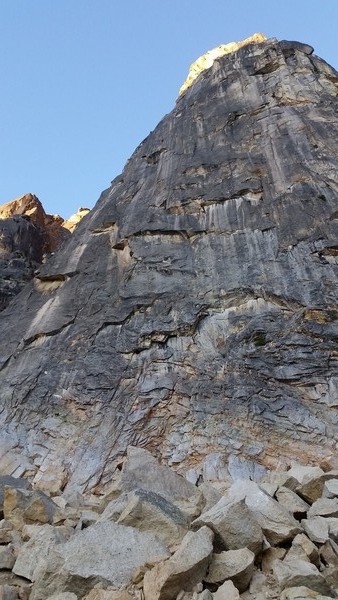 under the face (photo by Nick Mestre)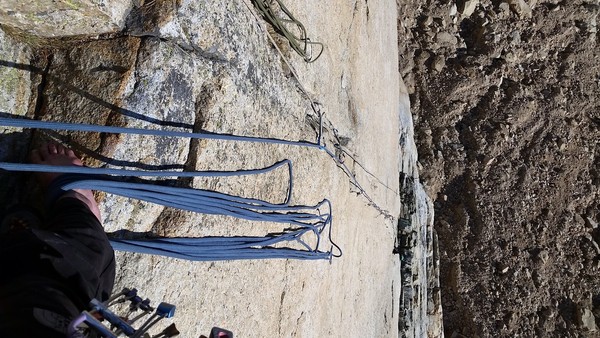 Nick at the belay having freed pitch 1 (photo by Nick Mestre)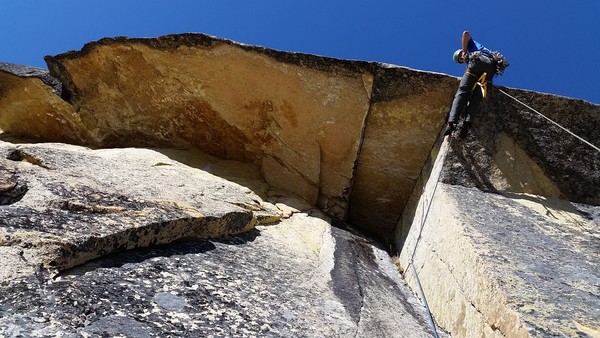 myself struggling at the lip (photo by Nick Mestre)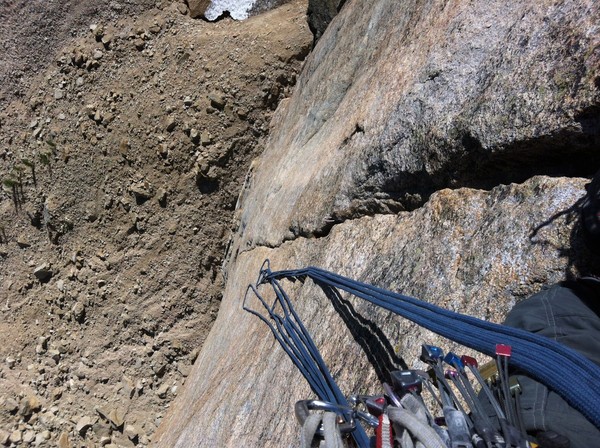 looking down pitch 3's sick finishing finger crack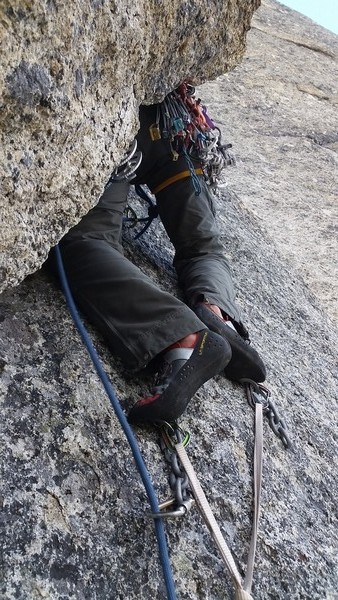 myself exiting the rotten block belay with impeccable style (photo by Nick Mestre)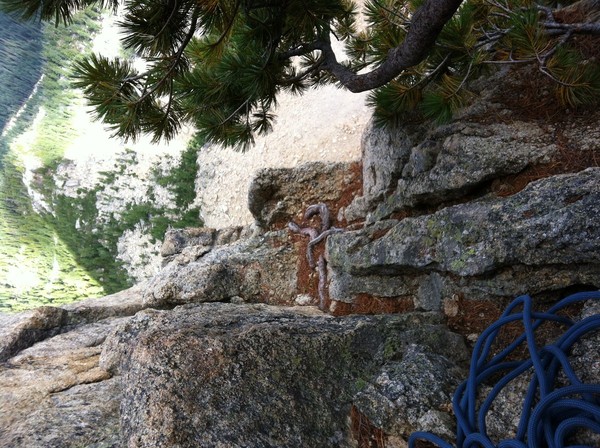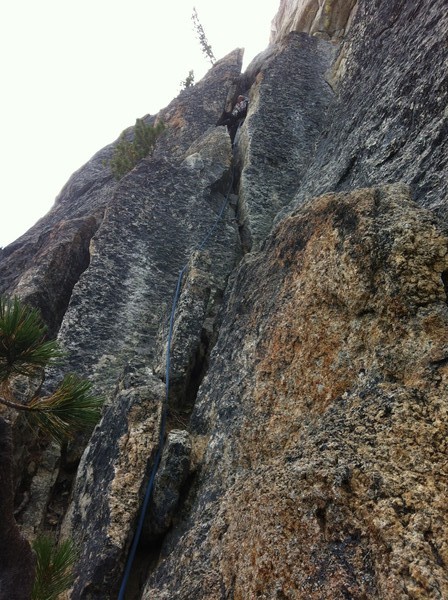 the awesome tree belay ledge and nick getting it on in the 5.6 chimney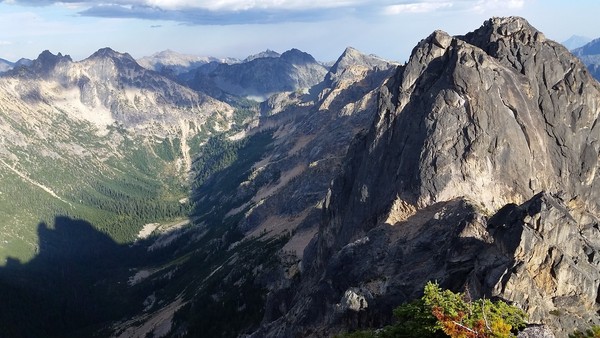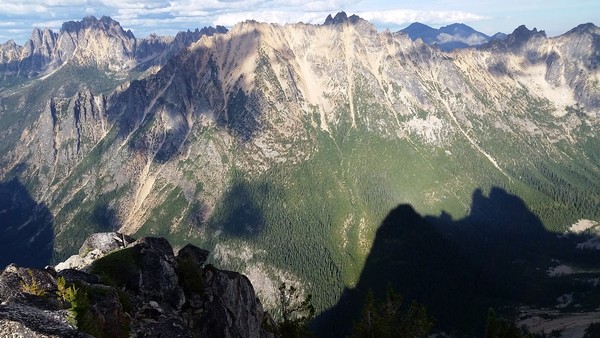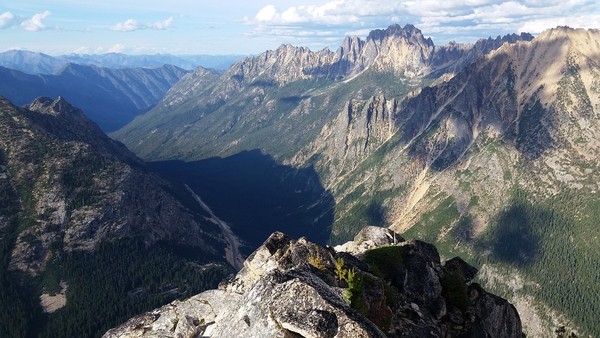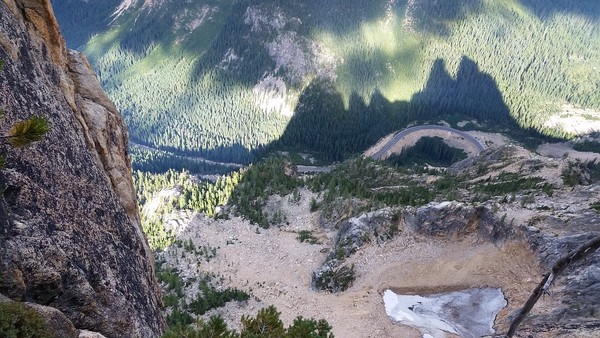 summit pics (photos by Nick Mestre)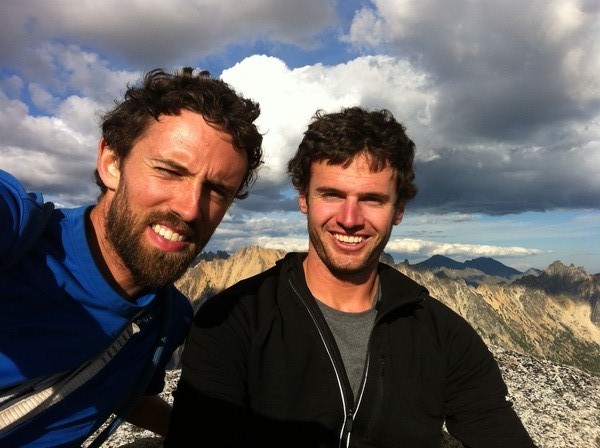 summit... Nick stoked despite the fact he has to be at work in 12 hours
Gear Notes:
DEB... nothing special, a selection of cams and draws, 60mx9.4mm rope.
Lib Crack... doubles from #0 TCU to #3 C4, small offset nuts, one set etriers, small ascender setup for pitch 2 (we used microtrax + grigri for a mere 1/2 pitch and follower just frenched the rest), 4L of H2O all got drank, 70mx10mm rope used but could have gone with a 60m.
Both... 30L lightweight followers pack for approach shoes, water, bars, and spare clothes while climbing.
Approach Notes:
Short climbers trail to some scrambling on both routes.