Trip:
WA Pass - Clean Break, NEWS WF, Da Bell NWF
Date:
6/27/2015
Trip Report:
Over the last two weeks I've made two trips up to the WA Pass area while visiting my friend Ryan who recently moved to Leavenworth. While these routes are fairly popular I figured folks would appreciate some disambiguation and encouragement to get after it.
The first trip (6/18) Ryan and I climbed Clean Break on Juno Tower in 13 hrs car-car and 6 hrs on route despite getting lost and spending some time in slide alder purgatory.
Ryan has the Supertopo guide and we noticed several inaccuracies: first the climbers trail starts on the left side of Silver Star Creek not the right, and the route topos were fairly disproportionate (something that held true for all the routes we climbed), and lastly the description says to stay right of the crest at the top of the route but we found the left side to be consistently easier and more solid.
We also consulted Steph Abegg's TR and found her beta to be pretty spot on...
Steph's TR
Two places on the approach that we screwed up:
1. waiting too late to cross Silver Star Creek (you can cross pretty soon after the valley levels out and then head straight up the hillside and traverse around to Clean Break, thus avoiding the slide alder creek beds)
2. not traversing far enough over to reach Bench Camp and the Burgundy Col trail on the descent (we had never climbed in this area before and did not realize how far skiers left you need to traverse, so we traversed back right to find the trail we thought we'd missed, crossing more slide alder creeks and finally just following some game trails straight down to the road)
Besides that the route is fantastic (great rock, great climbing, great belay ledges and awesome position) and much less sustained than the pitch break down would suggest. GO GET IT!
Pics: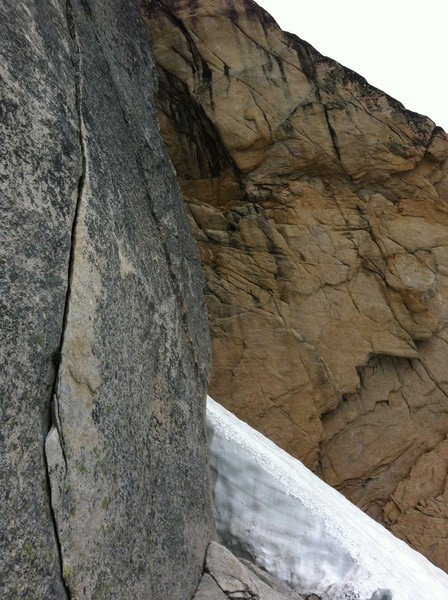 Pitch 1, with lots of snow next to it.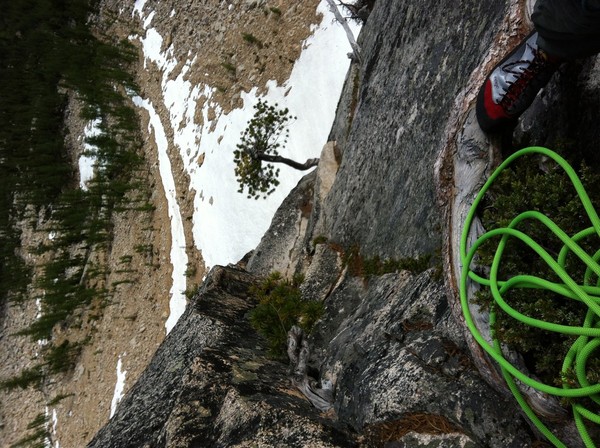 mellow climbing
Ryan psyched for sunshine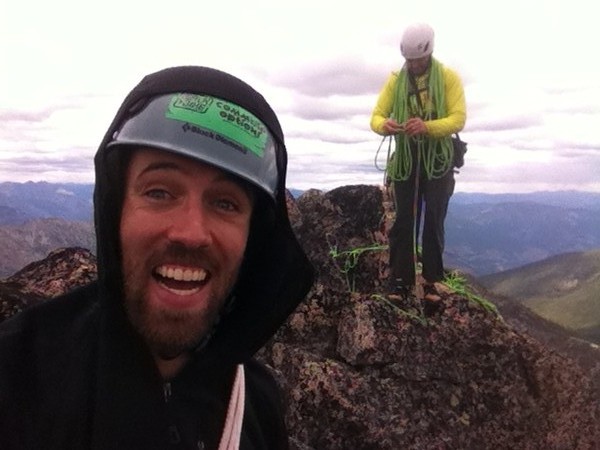 Top-out stoke!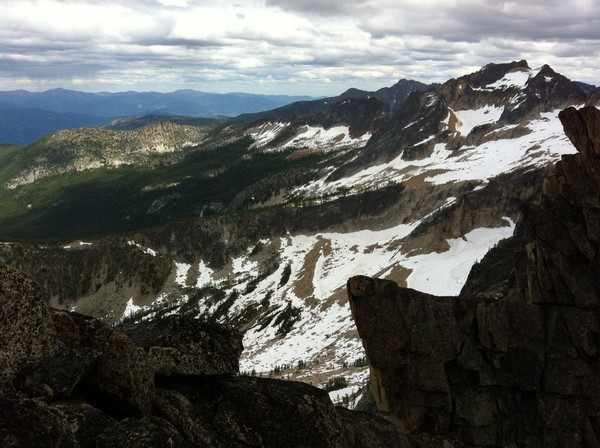 Looking up toward Silver Star's N Cirque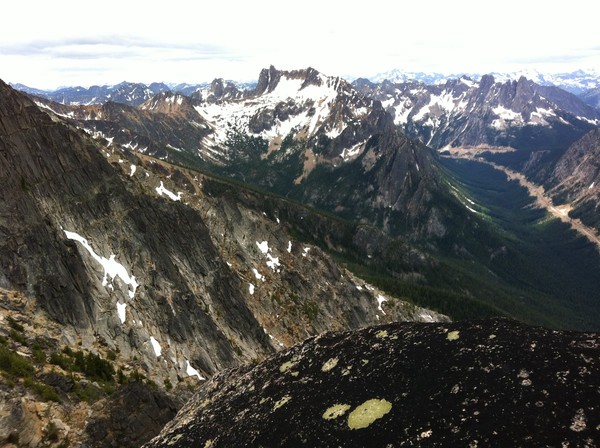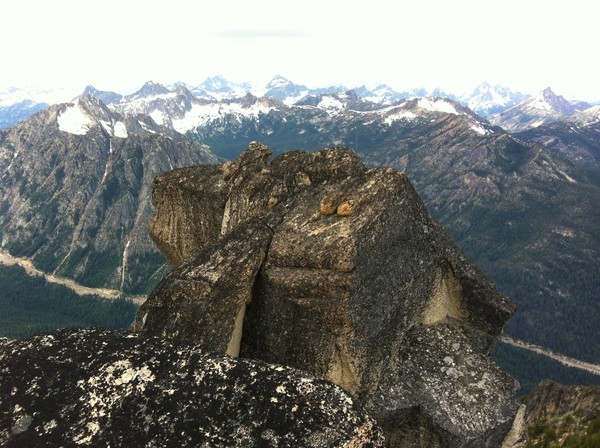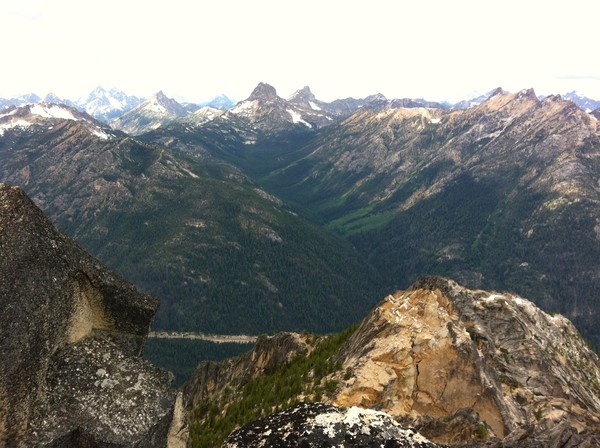 West facing pics L-R from summit.
The second trip our friend James came up from Bend and Ryan's friend Megan came along so we could do 2 rope teams. We initially planned on an enjoyable stroll along the Torment-Forbidden ridge line but with weather looking no bueno for Sunday/Sat-night, the excessive heat, and a potential lack of permits, we decided to just enjoy some alpine cragging on the Liberty Group.
Saturday we drove up late in the morning and spent the afternoon OD'ing on vitamin D while being stuck at hanging belays behind two ladies on the West Face of NEWS (the bottom of the route was more crowded than morning glory wall on the first saturday of spring break!
). Just in case you are super stoked on doing this route... it is OK... that's right, I said just OK. Others may disagree but the pitches are generally very short (Supertopo says 60' for the crux 11a pitch but I would be surprised if it is over 20', basically a slab boulder problem on sharp finger locks). On top of this several of the belays are not that comfy, especially when the sun is on you. Maybe a cooler day where we could have burned it off in a couple hours would have swayed my opinion, it is certainly a good route, just not a 5-star classic as some people have suggested... my 0.02, end of complaints.
It is worth noting that we managed to totally sink a brand-new nut on the crux pitch. It is a totally bomber fixed piece above the crux and none of us could extract it, funkness style, nut tool or otherwise. Finally, there is a new bolted rap line climbers right of the West Face route that goes straight down the face, it is very nice, but I have not done the other rap line into the gully so can't compare.
Pics: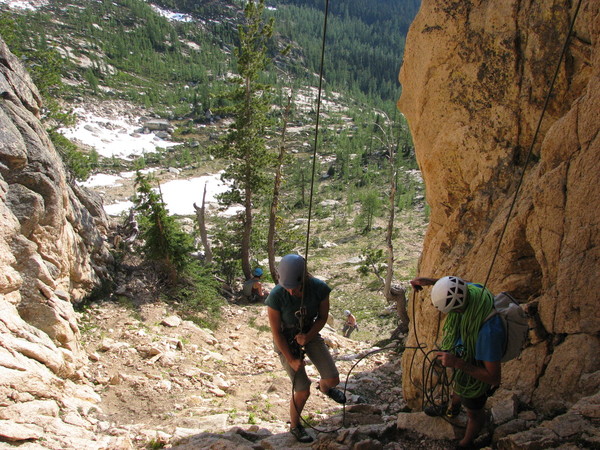 simul rapping the WF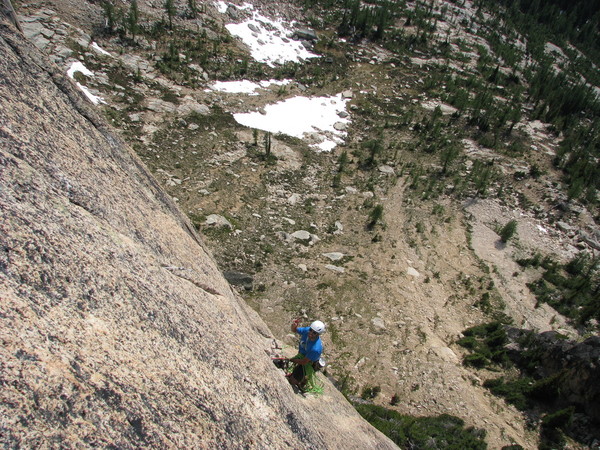 Ryan at an exposed belay stance on WF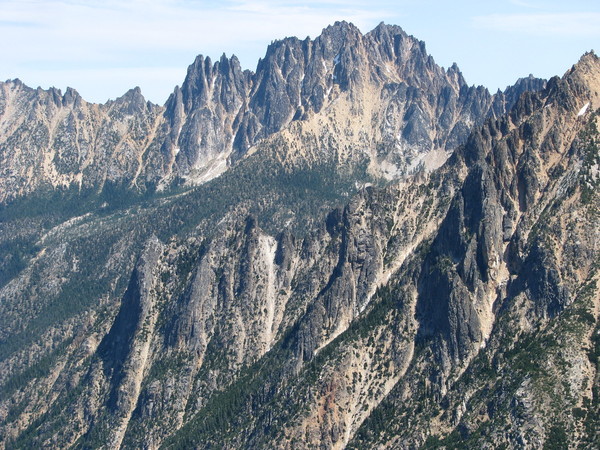 Wine Spires looking attractive
Sunday we woke up somewhat tired and dehydrated from the day before and opted to do a mellow adventure route before heading out. We settled on the NW Face of Liberty Bell to avoid crowds and the heat, although with rain in the forecast and overcast skies we could have probably climbed anywhere. The approach is pretty straightforward once you know it. The Supertopo guide says go up a step of low 5th 75 feet below a cave. There are three potential caves in the approach gully, we went up below the highest one and it worked fine but we had to hike down and around some slabs, it looks like the next cave down would have been more direct but we didn't climb up there so I can't guarantee it goes easy.
The Supertopo says that you follow a ledge system above this step to its end and the base of the route. The "ledge system" you follow is really a big hill side covered in trees, we were unsure if the ledges ended above these trees and the slabs but you just keep hiking down and around and back up and you will see that where it ends is a really big drop-off. Everything in the route topo is pretty accurate except the length of pitches 2 and 3 are flip-flopped: pitch 2 is actually the long one and you want to stop on pitch 3 before going into the dihedral (P4) because you can't link them with a 70m rope and will end up in an awkward hanging stance (believe me I know). I thought this route was fantastic and tons of fun, but the flakes on P3 are definitely hollow down low and some of the moves in the P4 dihedral are awkwardly difficult, not everyone in our party agreed with me. Compared to the W Face of NEWS the pitches are long and interesting and the position is pretty wild feeling, things I really like in a route.
Pics: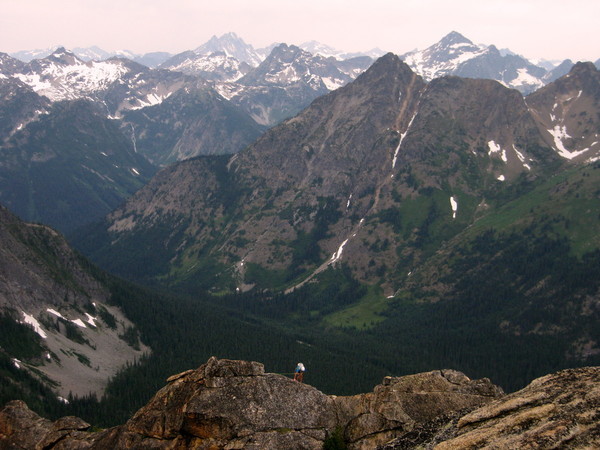 Ryan topping out the NW sub-summit of Lib Bell
Summit shenanigans... I was too hot in that t-shirt and its color had the unfortunate quality of attracting several wasps while leading the crux pitches
Conditions pics as seen from summit of NEWS 6/27, I would love it if someone could help me identify all of these: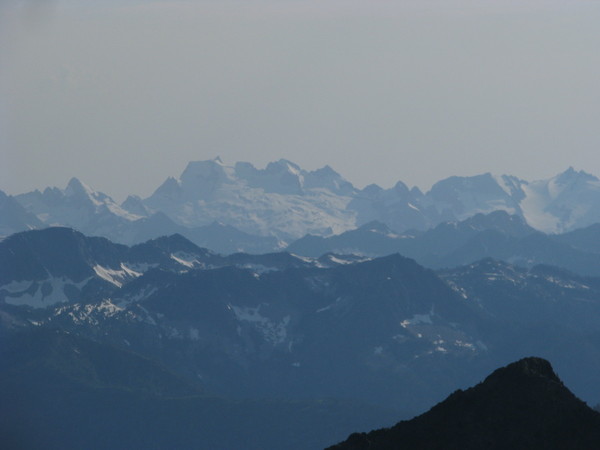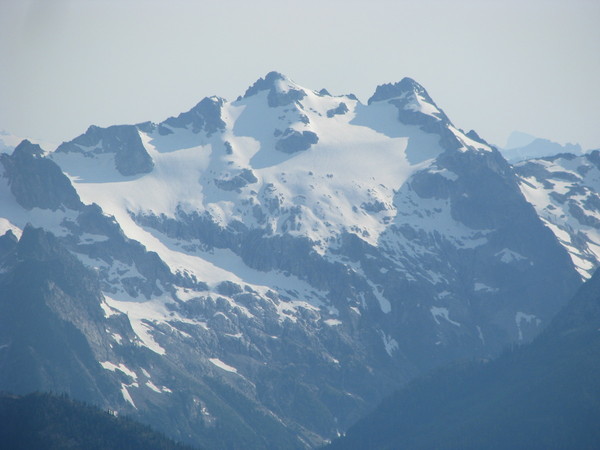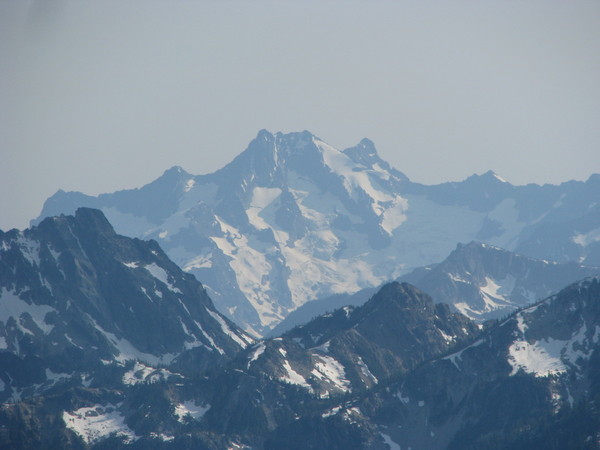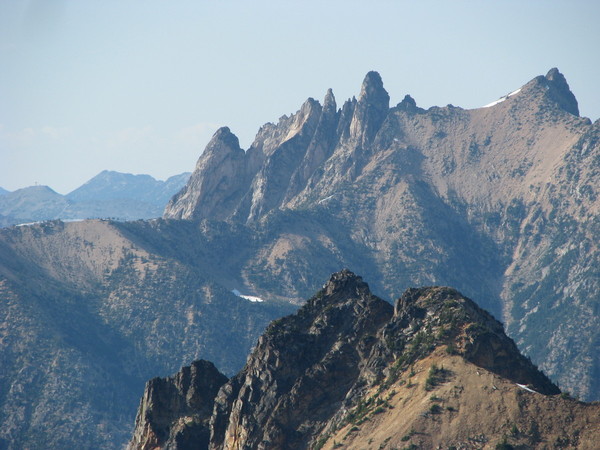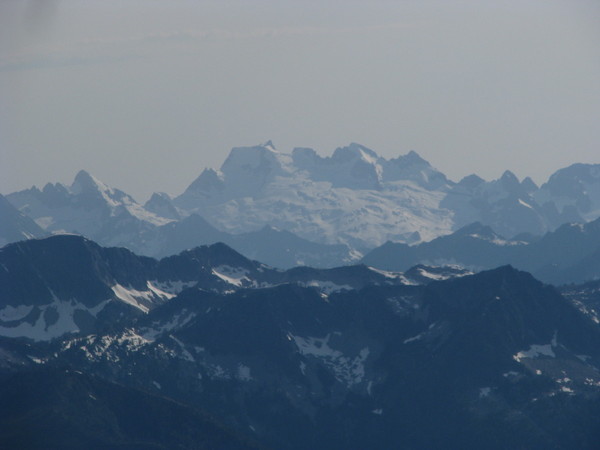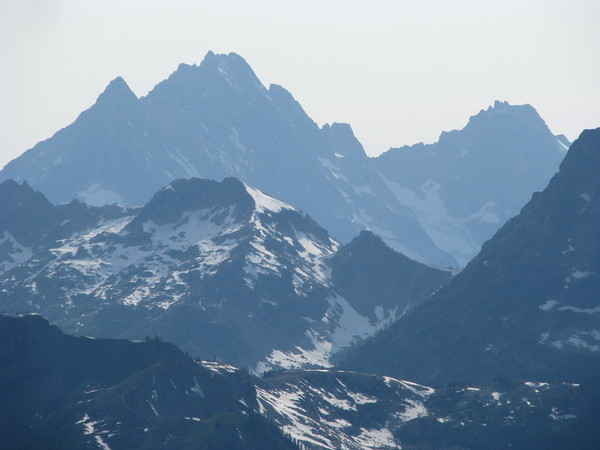 Gear Notes:
We found the supertopo gear lists to be right on, this past weekend sunscreen was more important than a windbreaker, I never used another layer, climbed in shorts and took my shirt off whenever possible, especially in the shade... climate change sucks.
Approach Notes:
See above, avoid slide alder, keep moving to avoid mosquitoes.