Trip:
Needles Traverse - Johnson- Deception
Date:
7/27/2014
Trip Report:
July 26- July 28, 2014
Four of us hiked in to Imperial Tarn July 26th planning on climbing Deception, Johnson, and hopefully some other stuff in the Needles. After some discussion, we decided on attempting a traverse from Johnson to Deception with as many other summits as we could.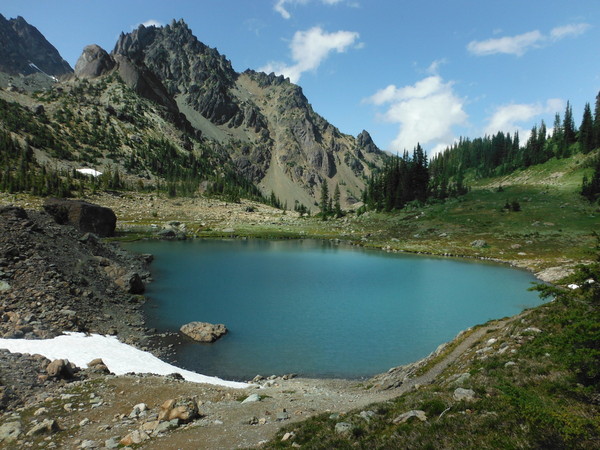 We were moving by 6:30am on the 27th and had started the scramble at the head of Surprise basin in about an hour. Curiously the scree below Sweat and Gasp contained a couple of relics: A nearly empty iso-butane can and a crushed red Petzl helmet. Same incident? I was just glad not to find a skull still buckled into the helmet. We picked up both items and continued up a couple pitches of low 5th class to the notch between Sweat and Gasp (The Olympic Mountains Climbing Guide mixes up the two in the photo of page 151).
.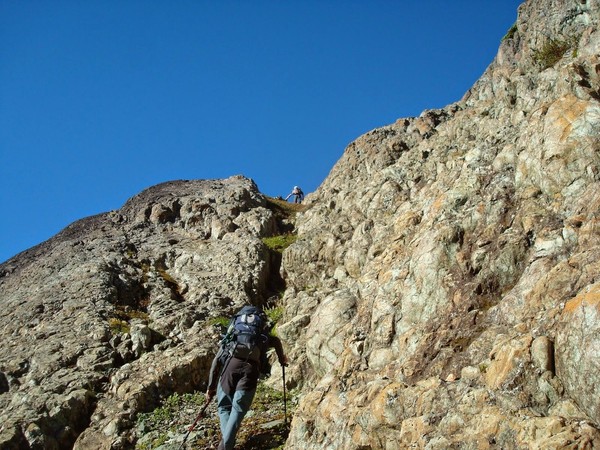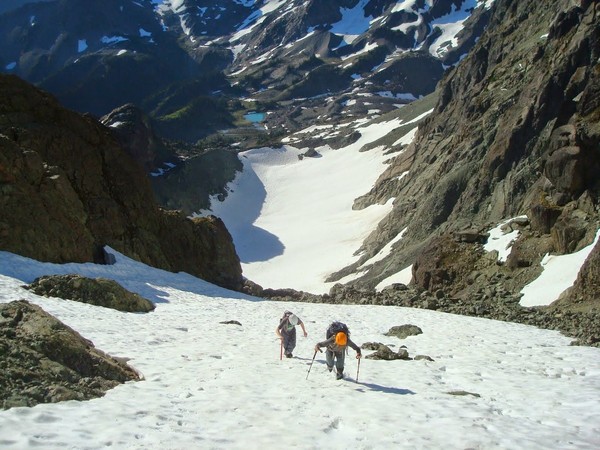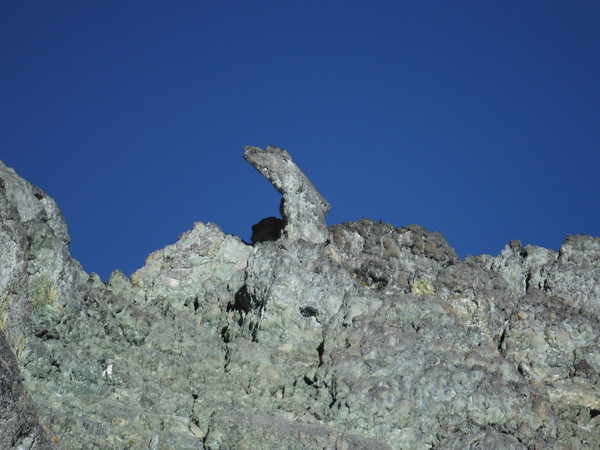 [
A distinctive feature on the ridgeline just south of Johnson
Just below the notch I found a fixed #1 rigid stemmed Wild Country Friend. To my surprise when I pulled on it, it came right out. Bonus! At the gap between Sweat and Gasp, we found the bivy site from this TR 4 years ago: (
http://cascadeclimbers.com/forum/ubbthreads.php/topics/970953/TR_Tyler_to_Walkinshaw_to_Need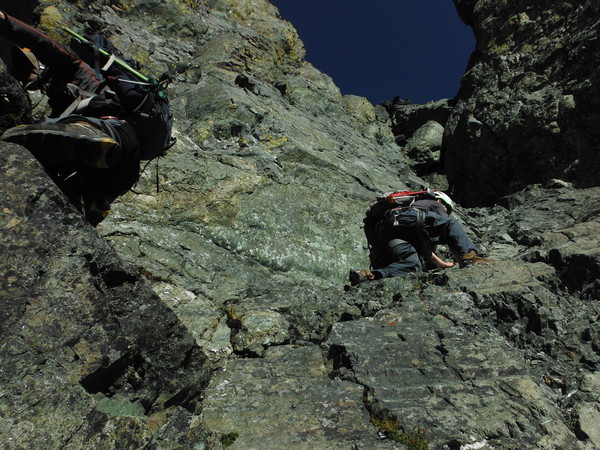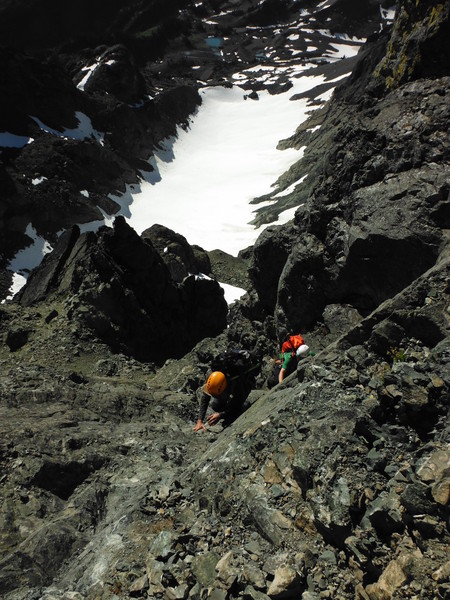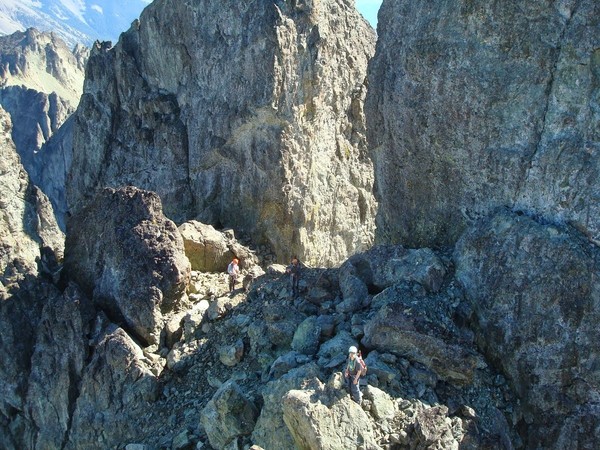 The West side of Gasp(left) and Sweat Spire(right)
Based on the amount of time it would have taken for four people to climb on one rope, we decided to skip Sweat and go for Johnson which was just a short distance away. The chimney to the summit was about 100ft of steep 4th class. This was our only summit where we found a register. There was an inch of water in it and a split pencil. It appears that it gets climbed about once a year or so. There was no rap sling so I slung a horn near the top and we all rapped down. Looking towards Martin, the traverse looked fairly complex and the book did not give a whole lot of info, other than it was 4th class.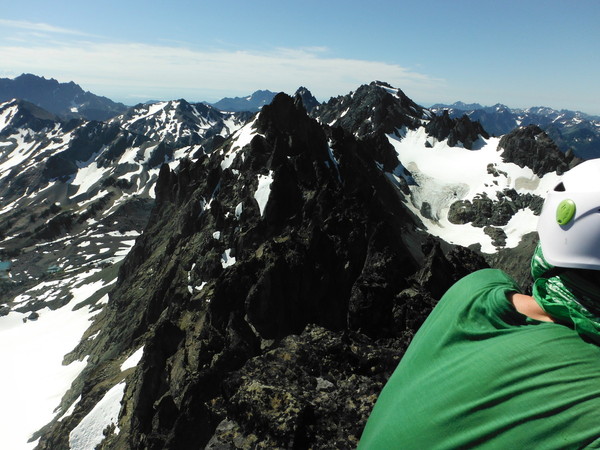 Looking south towards Martin and Deception from Johnson. A long ways to go yet!
We continued on, connecting 3rd and 4th class ledges and gullies sometimes on the east, sometimes on the west but mostly staying on or near the ridge crest. We opted to simul-climb most of this section because of moderate exposure and some short sections of 4th class up-climbing and down-climbing. Plenty of horns and flakes offered easy pro.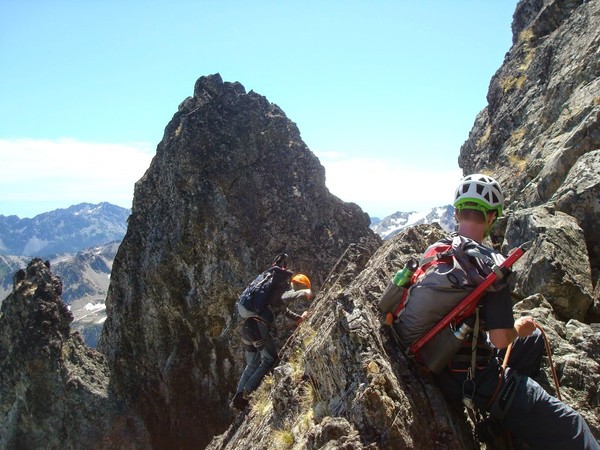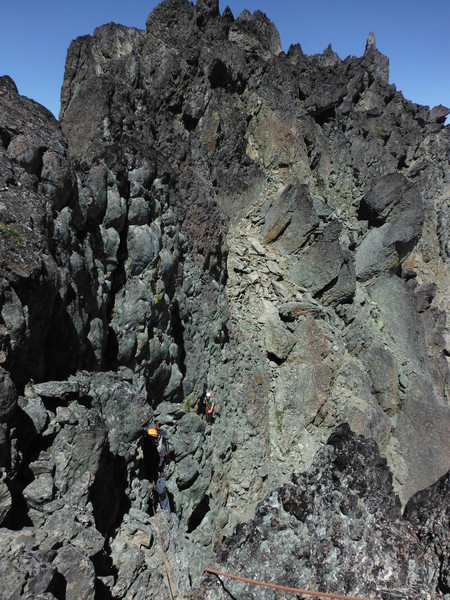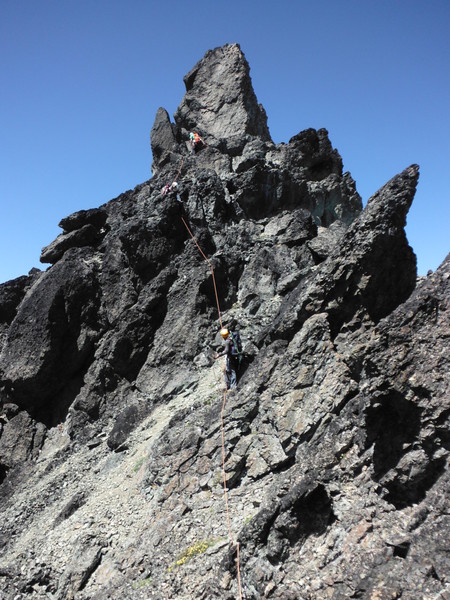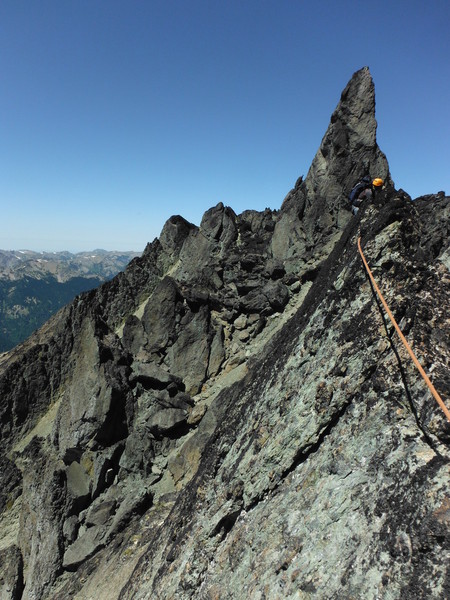 We by-passed the Incisor at its western base and continued toward Martin by traversing just below the ridge on the west side before crossing to the east just before Martin's summit block. Then we traversed on snow around Martin's eastern base to the south shoulder. We arrived on the summit of Martin Peak at about 3pm and attempted to scout the best way to continue the via the "Mt. Deception- Martin Peak traverse" listed in the Olympic Mountain Climbing Guide as a route for Martin.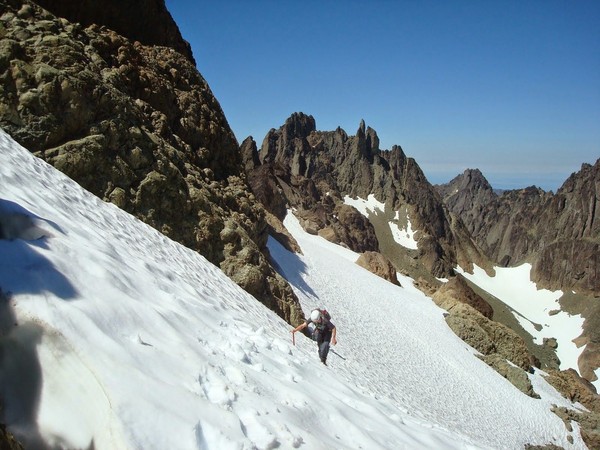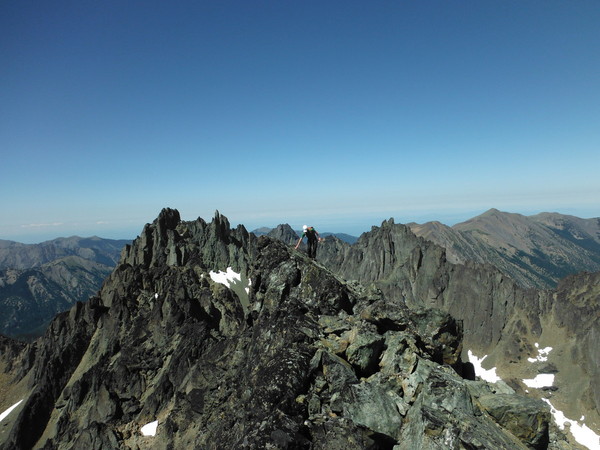 Summit of Martin looking north back towards Johnson (furthest left).

Again the book offered little in terms of a description other than the route follows ledges below the ridge crest. We ended up traversing this section on dirty class 2 and 3 scree ledges 100- 200ft below the ridge crest on the east side. This was my least favorite section of the traverse. I kept trying to stay high but it proved less efficient. Near the low point on the ridge between Deception and Martin, we climbed directly up blocks and boulders to the ridge crest and descended scree on the west side to the Deception Glacier. The snow finger to the east of Gilhooley Tower was not continuous so we circled around to the west and summited Deception around 6pm.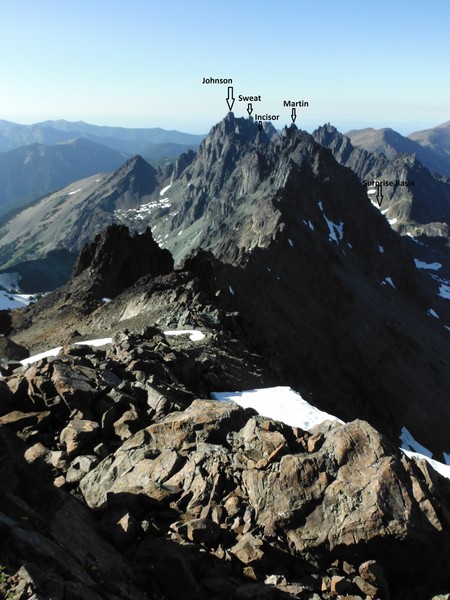 From the summit of Deception looking north at our route.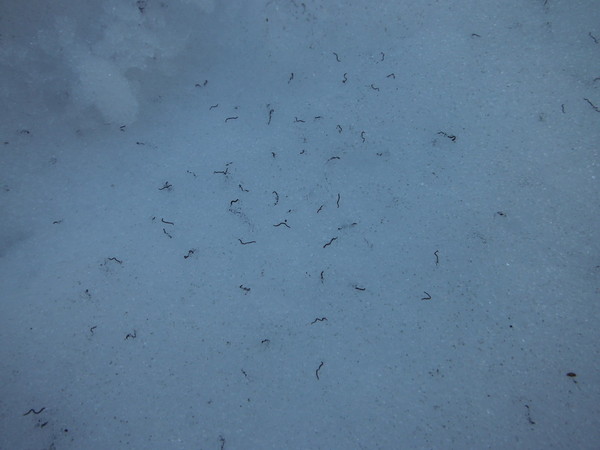 Ice worms on the Deception Glacier.
We descended back to the low point on the Deception- Martin ridge and scouted around for the best way down. The sketch on page 144 of the Olympic Mountain Climbing Guide appeared to show the "class 2" route descending down the south side of the basin back towards Imperial Tarn. The description only mentions talus and easy rock. We searched in vain for an easy way down to a talus ramp we could see sloping to the south above a short cliff band about 100ft below us but we were tired and losing daylight, so we slung a horn and we rapped down.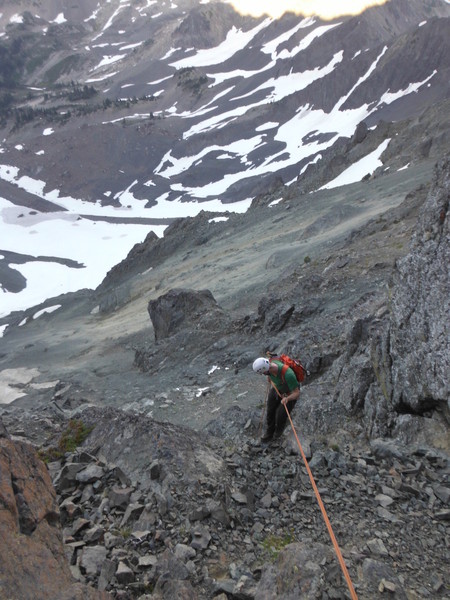 Rapping down towards the talus ramp. Eventually we made it to the dirty snow finger on the left.
To make a long story short, what appeared to be a long, easy scree slope below Deception's North East Face was not. It was steep hard pan with a surface coating of loose rock. We ended up wandering around before finally down climbing a steep (but solid) class 4 chimney in the dark. More scree and finally snow brought us back to camp.
In hind sight, I think the sketch in the book was showing the route with continuous snow conditions. If the snow is not continuous, I think the preferred route traverses scree on the north side of the basin, below Martin Peak to the low point in the ridge.
All in all it was a really fun traverse. The section from Johnson to Incisor was the most fun and aesthetic. It took us about 4 hours from Imperial Tarn to Johnson, 4 hours from Johnson to Martin, and 3 hours from Martin to Deception. We weren't really moving very fast. A smaller team more familiar with the route could probably do it in much less time. There was no liquid water on the ridge, but plenty of snow patches. There were also ample bivy sites along the way. A 60m rope got us down from the summit block of Johnson which had a few moves about 50ft up that seemed like they would have been fairly intimidating to down climb. The rock varied greatly in soundness so almost every hold needed testing. The rock is also very abrasive and sharp. My rope got a good deal fuzzier and everyone's hands took a beating.
Gear Notes:
-60m 8.9mm
-set of nuts
-4 cams
-sacrificial slings
We weren't sure what we were going to do so I went a little heavy on the rack. If doing the traverse as we did, a 60m half or doubled twin, slings, and a light set of nuts would probably more than suffice. Of course, if planning to add Sweat, Incisor, etc, your rack may vary. Bring sacrificial webbing- the snafflehounds seem to have a strong taste for nylon in the Needles.
Approach Notes:
Royal Basin- Imperial Tarn. Watch out for Poison Oak!