Trip:
Sloan Peak - Corkscrew
Date:
8/15/2007
Trip Report:
After West McMillan Spire on Tuesday, Colin A. and I looked for a shorter but still rewarding climb. Since both of us have wanted to climb Sloan Peak for some time, it was an easy decision. The climb was indeed shorter than West McMillan, taking me 7 hours, 9 minutes, and the corkscrew is a classic cascades route for good reason. We saw nobody else the entire morning.
BlackHawk's
trip report
from July 7, 2007 is very accurate and helpful (thanks!) and conditions remain virtually the same. The cool weather this summer has kept Sloan Glacier from breaking up and we found the glacier crossing easy and direct.
Location (Elevation): Time Elapsed / Split / Real Time
Trailhead (1,900 ft) :
0
/
0
/ 05:37
Arrive Sloan Summit (7,835 ft) :
4:07.07
/
4:07.07
/ 09:44
Depart Sloan Summit (7,835 ft) :
4:43.79
/
35.53.79
/ 10:30
Trailhead (1,900 ft) :
7:09.57
/
2:26.56
/ 12:36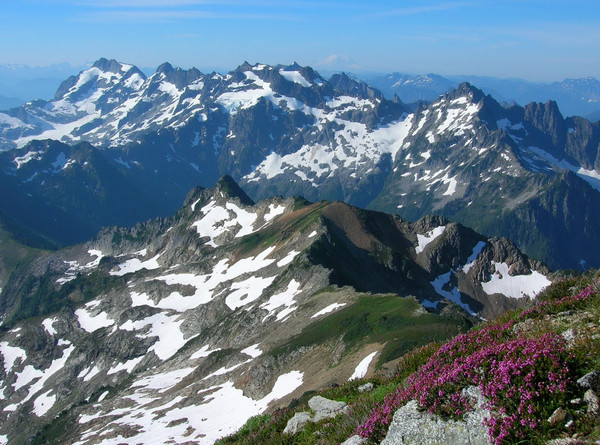 We set out from the trailhead at 5:37 am. You can really keep your feet totally dry this time of year. We walked through one stream on the way in, but on the way out I was able to stay totally dry. Cougar Falls is indeed a great sight on the way up the mountainside. I saw a black bear in the avalanche swath, but it scampered away before I could pull my camera out.
We ascended the trail through to the meadows and the rocky/slabby section to a hard snow slope that took us to the ridge beside the Sloan Glacier. Once across the glacier, we hiked the famous corkscrew to the summit, enjoying great views south to the Monte Cristo Peaks.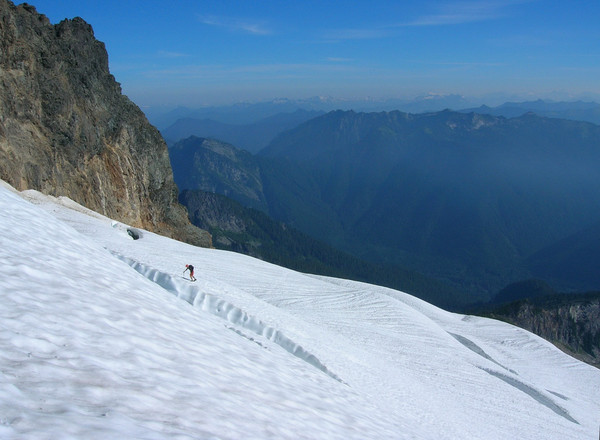 Ascending the Sloan Glacier.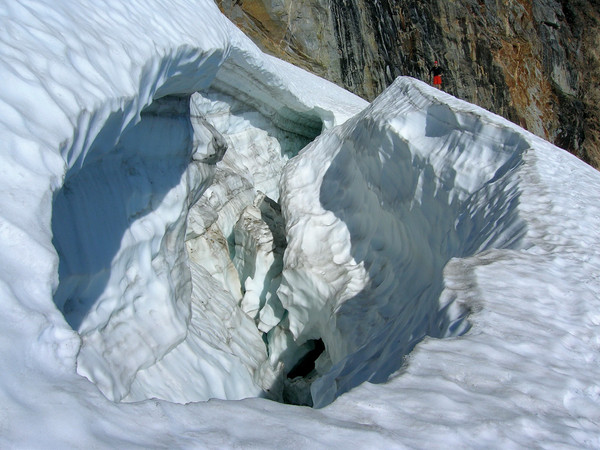 Large crevasse in the Sloan Glacier, notice Colin standing on the bottom lip.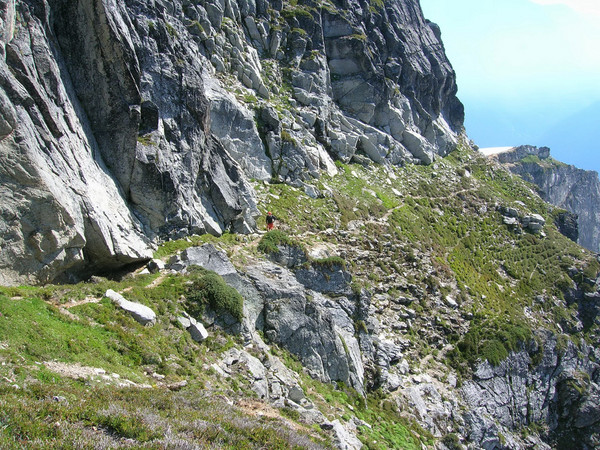 Famous corkscrew trail on the heather shelf.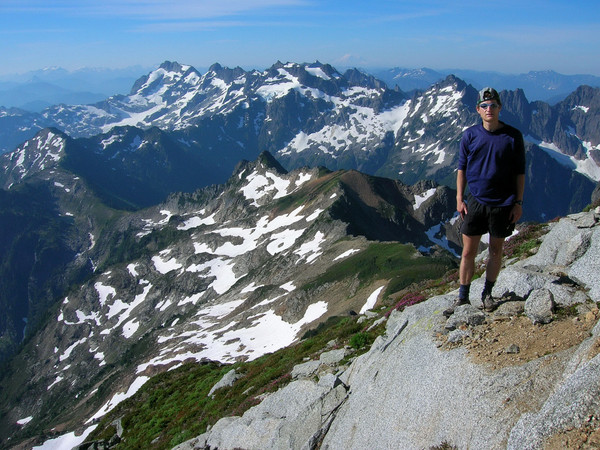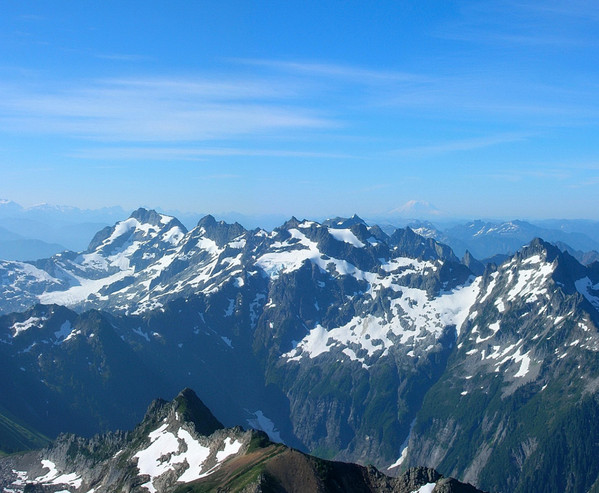 Great summit view to Monte Cristo peaks and Mount Rainier.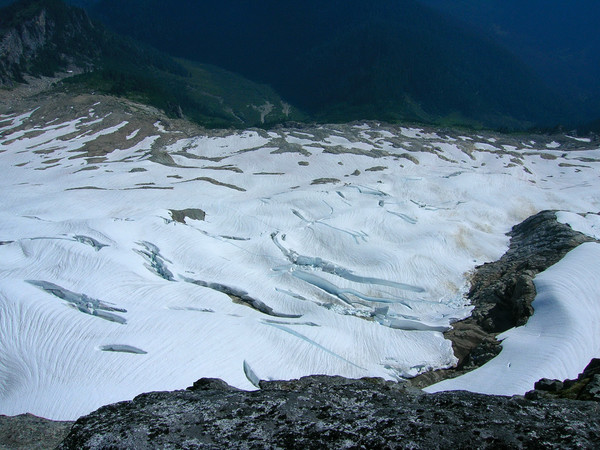 Sloan Glacier from the summit.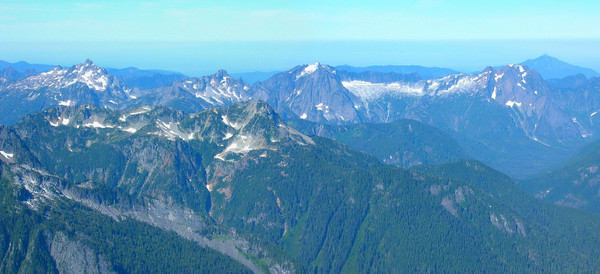 Del Campo, Sperry, Vesper, Big Four, Pilchuck.
We heard a helicopter as we were putting our crampons on at the glacier and this chopper returned as I stood on the summit. The helicopter did several loops around, below, and quite close to the Sloan summit as I was standing on top. It must have been quite dramatic to see somebody standing on top of Sloan's pinnacle from the air.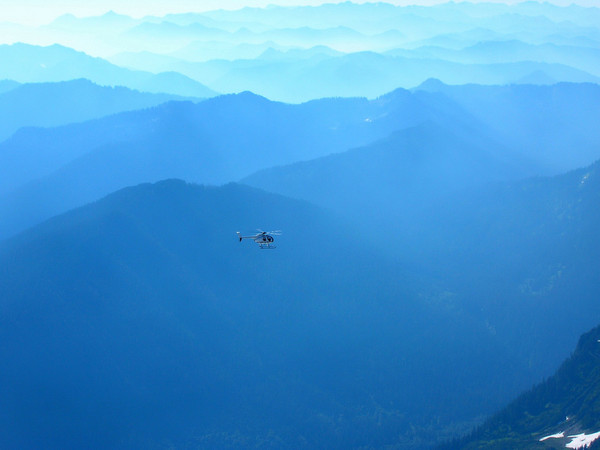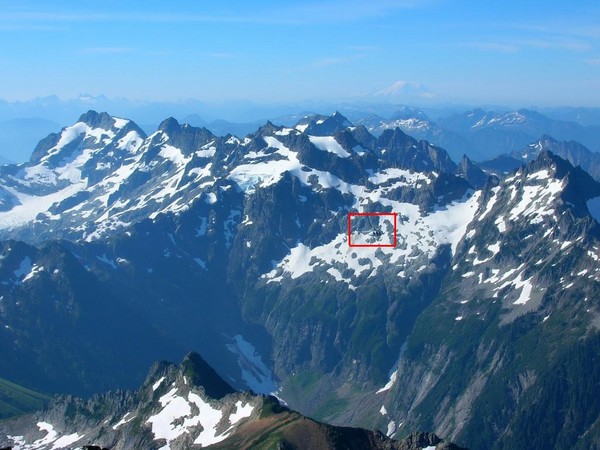 Helicopter in red box.
The descent went smoothly and I was back at the trailhead at 12:36 pm, 7 hours, 9 minutes roundtrip.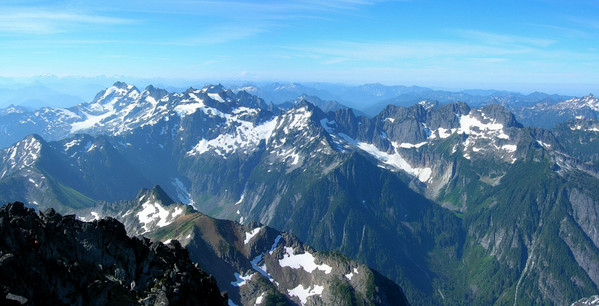 Gear Notes:
axe, crampons
Approach Notes:
Can get by without getting feet wet. Brushy, overgrown, many downed logs as advertised.