Trip:
New routes in Leavenworth - Colchuck NE Face, Snow Creek, Tumwater Canyon
Date:
3/31/2011
Trip Report:
It's hard to beat winter in Leavenworth. We were climbing ice the day before thanksgiving, climbed roadside ice and skied deep powder through December, and had three weeks of good alpine climbing conditions in January and February before the arrival of a long pow storm cycle. Sometimes the possibilities seem endless.
In late January Jens Holsten and I headed up to Colchuck Lake with heavy packs and a couple of days to kill. Our main objective was the NEB of Colchuck. This outing was similar to the other times that we have headed up to check it out in that we didn't climb the route. At least this time we got to climb a couple of (hard) mixed pitches before we were stopped by unconsolidated snow and iced cracks. On the way down we stopped to scope out a flow of ice running down the NE face to the right of the NE couloir.
The next morning a well timed start had us as the base of this flow by sunrise. Two pitches of perfect AI3 ice had us at a snowfield. From here one could go up and right on easy snow and maybe wrap around and connect with the NBC, but we simul climbed up and left for a few pitches. The path of least resistance took us over a pitch and a half of mixed climbing and snow covered rock before a snow bowl. The snow on these pitches was very unconsolidated and we pretty much had to keep digging down to rock for pro and ground solid enough to support our weight. In better conditions you would be able to cruise over these pitches, but in worse conditions they could shut you down. Above the snow bowl I set up the belay below a nice looking ice filled dihedral, but it turned out the white stuff wouldn't support any weight. This would be a fun and more direct option if it forms up. Jens traversed about 20 feet to the next weakness, a steep chimney that we climbed in two pitches. Overhanging and technical, but with enough moss and pro to make it work, this was the crux of the climb.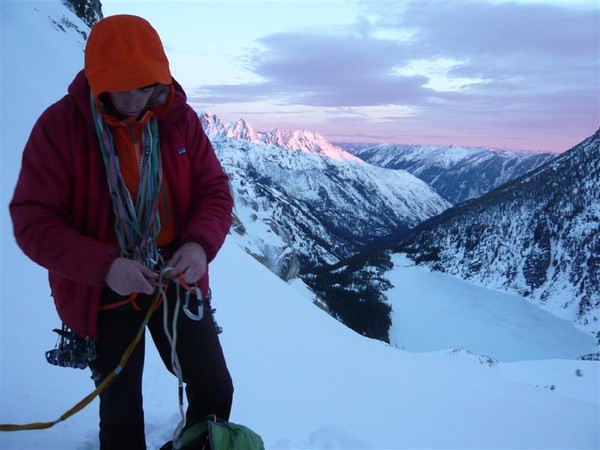 Jens gets ready.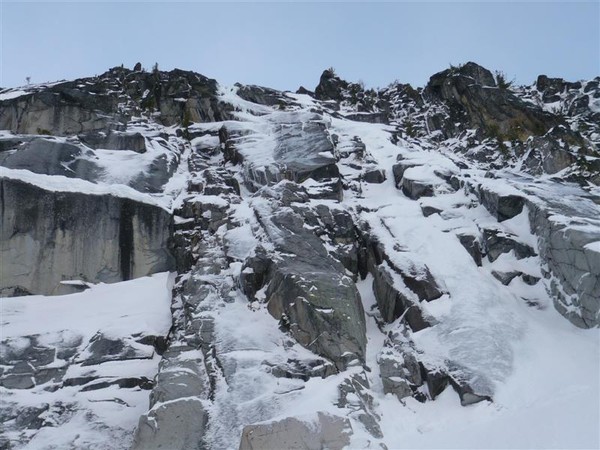 The route from the base.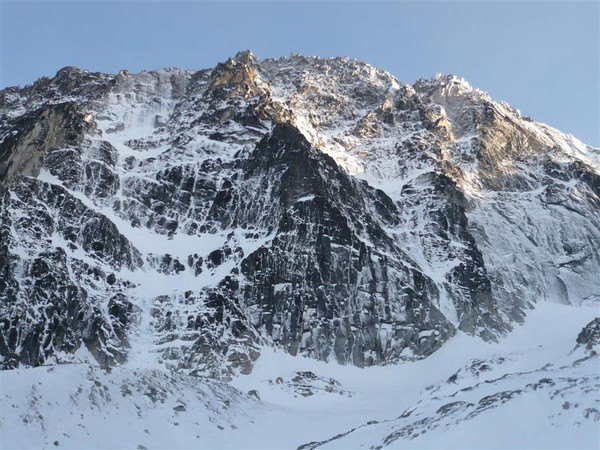 Dragontail lookin good.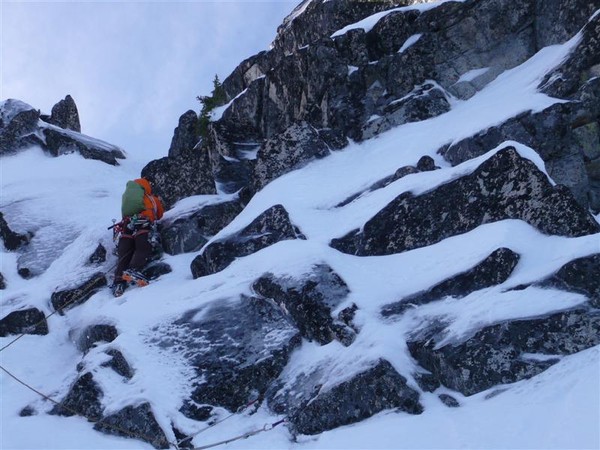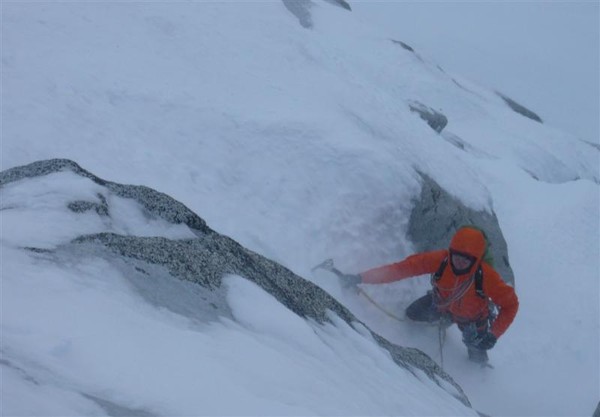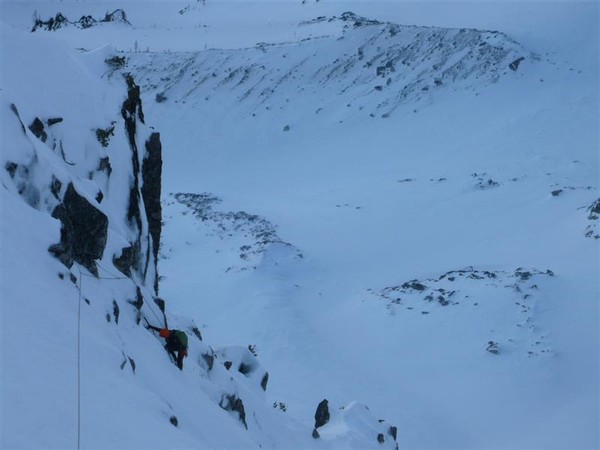 More steep snow and mixed climbing took us to a low point in the north ridge. Pulling onto the ridge was one of my more wild moments in recent memory. All that was left of the sun was a pink glow on the horizon, and a stout wind tried to push us off our perch. After dark I am able to climb and stay relaxed knowing that at least it won't get any darker, but there is something unsettling about dusk when you are on a route without bivy gear. The summit felt a long ways off and a 15 foot tall 4-5 inch wide crack stood in our way. No big deal if we were down in the icicle, but here, now, with crampons on our feet and no number 4 cam it was a disheartening sight. Jens made due with a couple of pins (one is now fixed) and after a short fall and some tense moments he ran the rope out along the ridge. A traverse brought us to the NW couloir which took us to the rime covered summit and the easy descent. After some of the best ramen I have ever eaten and a quick nap we packed up our camp and walked back to the road on shaky legs. By the time I got home it was time to go back to the mountains to go to work. That night I stood in the driving rain next to my chairlift at Stevens Pass and tried not to smile as my co workers groused about the bad skiing conditions on our weekend. We are calling the route the Holsten-Hilden 1,600' WI3 M6, steep snow.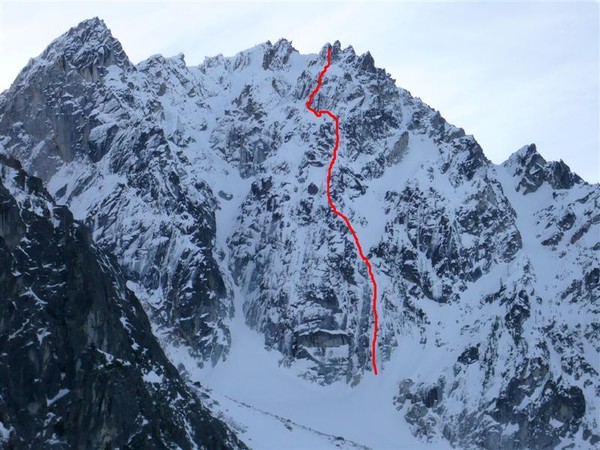 One thing that most people don't know about Jens is that he is an extreme snowshoe enthusiast. It doesn't matter what weather or conditions are like, he just goes out and walks hundreds of miles in those things every winter. Sometimes on his walks he sees lines on crags and mountains, and stores these memories away for later use. Promises of white granite, blue ice, and unclimbed mixed lines led me to strap on the snowshoes to head up the Snow Creek Valley a couple of times this winter. At the end of February's high pressure we headed up to try a route on Temple Ridge, and while we did climb some nice ice in the sun, the switch in my head was flipped from up to down when the sun caused an apparently windloaded bowl above us to slide on our route, a bit too close for comfort.
A couple of weeks later the death of an acquaintance in an avalanche on Mount Cashmere shook the community and my confidence. He was doing what he loved in an area that he knew better than almost anyone, a short snowmobile ride from his home. It was a beautiful day and he was with good friends, skiing steep, deep powder. The kind of day that we live for. A day that people around the world dream of, full of the moments which make magazines and ski movies, but for him it was just another day in the life of a guy who chose to live his dream. Today would be Danny Z's 29th birthday.
When someone dies climbing or skiing it's hard to avoid dwelling on the risks I've taken and will take, sometimes knowingly, sometimes unexpected and unaccounted for. Without risk however, climbing wouldn't mean much. Summits and nice views are great, but deep down I climb to learn about myself and see where my limits are. This mindset is inherently dangerous, and sometimes it all seems pretty pointless. I want to be an old man someday, but at the same time I want to be able to inspire my kids and grand kids to live their dreams. In the words of Henry David Thoreau "I went to the woods because I wished to live deliberately, to front only the essential facts of life, and see if I could not learn what it had to teach, and not, when I came to die, discover that I had not lived."
Last week Jens and I headed up to another potentially new line in the Snow Creek Valley and with the first swings of my tools all of the doubt and fear of the last few weeks was gone. The question of why does not exist in the mountains. Our route followed an ice runnel and a snow ramp to an obvious 200 foot ice filled corner, and up steep snow and rock bands to the summit of a small middle of nowhere tower. To get there start heading uphill just before the millennium wall, aiming for the tower with the obvious dihedral. The route is directly across from the Snow Creek Wall, and is about the same height. Jens is calling the tower Millennium Tower, and at the time he suggested calling the route 1,000 Swings to Nowhere, which I think is pretty fitting. M5, steep snow.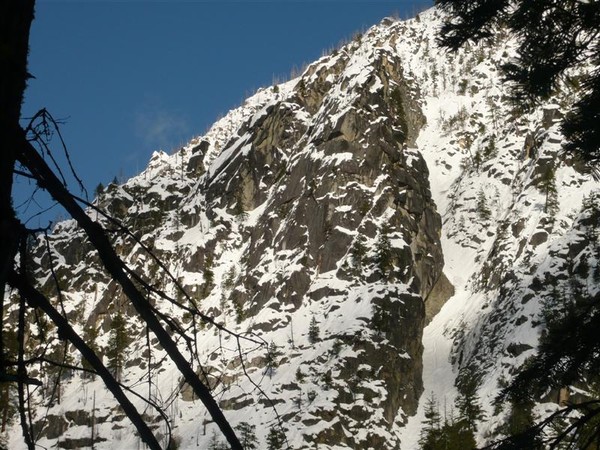 The route goes up the slanted corner splitting the face left of photo center.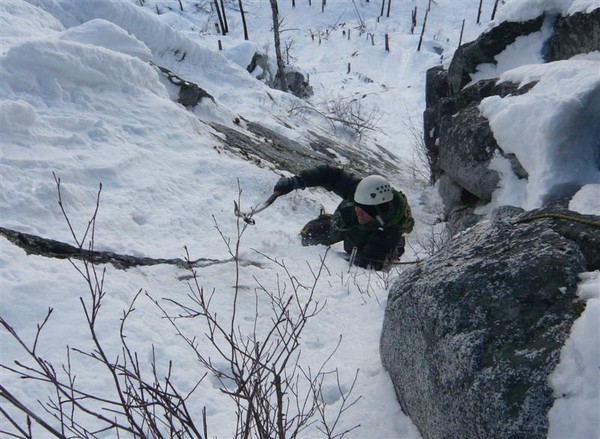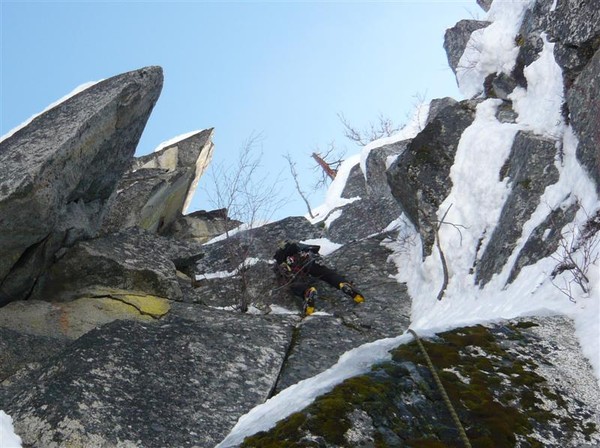 Earlier in the winter Kurt Hicks, Aaron Scott, and myself also climbed an undocumented ice line in the Tumwater. Mr. Gecko has a picture of it from the road in this thread (to the right of Comic Book Hero):
http://cascadeclimbers.com/forum/ubbthreads.php/topics/997719/5
Walk across the red bridge, head west on a hopefully packed down old road grade for 20 minutes to where a rock slide blocks the path, and start climbing. Two pitches of WI2, and at the top we climbed an amazing pitch of WI 4 in a chimney. One of the cooler ice routes that I have done in L-town for sure. No one told me it was a FA until we were down, which was neat. An alternative to the last pitch that we climbed is to climb the obvious, less steep flow left of the chimney. I returned the next night to climb that after dark (because snow and rain was about to ruin everything), but downclimbed about halfway up because it seemed a bit wet and insecure. We never really talked about a name. Aaron liked Milf School 6, after a DVD he found on the highway that morning. I kind of like the name Another Roadside Distraction because I looked at the thing so many times driving up to the pass before we climbed it, but it doesn't even exist anymore anyway, so maybe it doesn't matter.
Kurt has better pictures of this one
here
.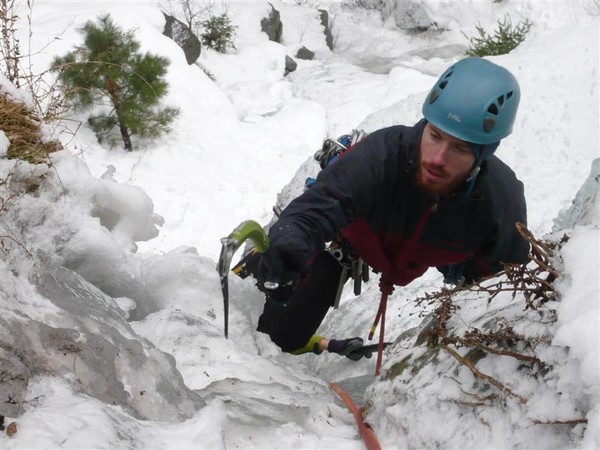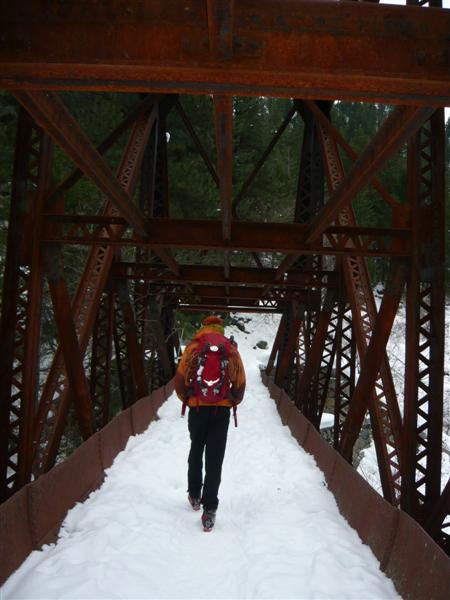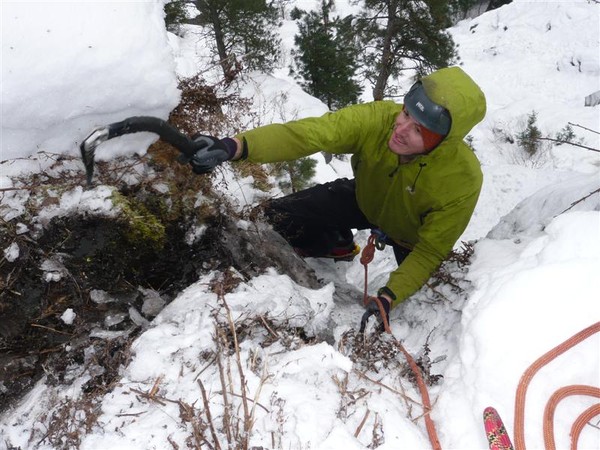 A very PNW topout.
Gear Notes:
Colchuck NE Face: Double set of cams to 2" singles of 3 and 4. Nuts, pins, and 4 or 5 screws.
Millennium Tower: Cams (singles), nuts, screws.
Tumwater route: Screws (Stubbies too!) and you might be able to place a small cam or two in the chimney.
Approach Notes:
Walk like you mean it.